Review: The 2019 21.5-inch iMac 4K is iterative, not transformative
We've been using and testing the new 2019 iMac 4K for about two weeks now, and while the spec bump is greatly appreciated, an otherwise unchanged machine is more iterative than transformative.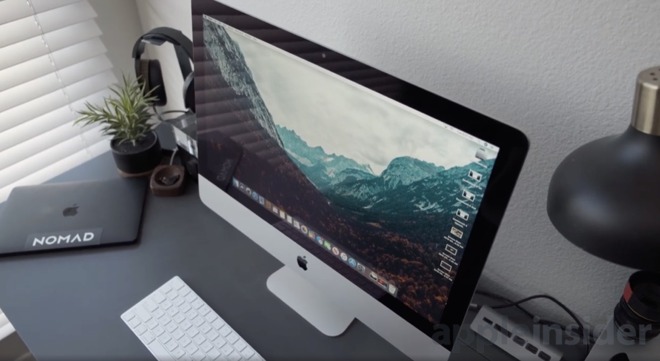 2019 21.5-inch iMac 4K
For 2019,
Apple debuted
new 21.5-inch 4K and 27-inch 5K
iMac
models. While we will be reviewing the latter soon, here will focus on the former.
Specs and design
The 21.5-inch 4K iMac that we're reviewing is the base model iMac that you can buy for $1,299 (or on sale for $1,249
at Amazon
) and it features a Quad-core i3 Processor, 8GB of RAM, a 5400RPM 1TB Hard Drive, and it's also equipped with a Radeon Pro 555X with 2GB of VRAM.
The overall design of the iMac 4K remains unchanged since its 2015 debut. There isn't an abundance of additional commentary we can add to this tried-and-true design, you like it, or you don't. You're fine with it, or you think that it's dated. Mileage may vary.
The thick black bezels are still surrounding that gorgeous 4K panel, and the same narrow, tapered design that we've seen since 2012 is here in all its glory. We don't think it's that the iMac has a bad design, we just feel that it could use some slight updates for 2019.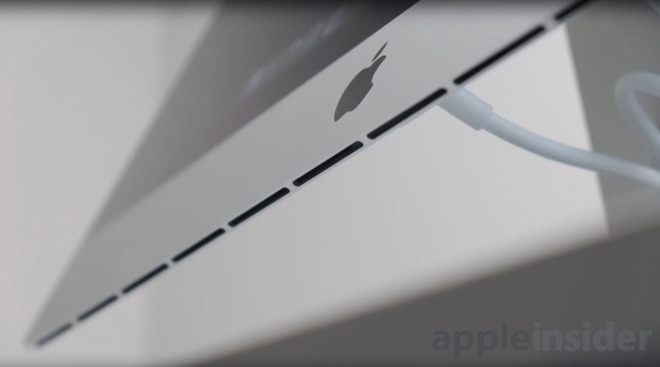 2019 21.5-inch iMac 4K vents
The speakers on this 21.5-inch iMac 4K are still great. For such a small and lightweight all-in-one, the speakers are loud, full, and don't distort in high volumes. There's plenty of bass, and while It's not an iMac Pro which sounds a lot cleaner and louder, listening to music at max volume can fill an entire apartment just fine.
Considering this is an all-in-one, most people will find these speakers more than suitable without the need for external monitors.
The display itself, as we mentioned, is gorgeous. It's still that LG-provided Retina 4K display with a resolution of 4096 x 2304 capable of supporting one billion colors. And, it's bright. It has 500 nits of brightness which is perfect if you're using this machine in a really bright environment. It also supports P3 Wide Color gamut which makes the display richer, more vibrant and capable of outputting lifelike colors.
This display is a perfect match for those who are in the creative field who wants an all-in-one machine that can display an accurate reading of colors. High-end color accurate displays are often quite expensive in their own right. It's not going to suit every creative pro in regards to color calibration, but it will cover nearly all of them without niche, very high-end needs. And, if you have those needs, you aren't really looking for an iMac screen anyhow.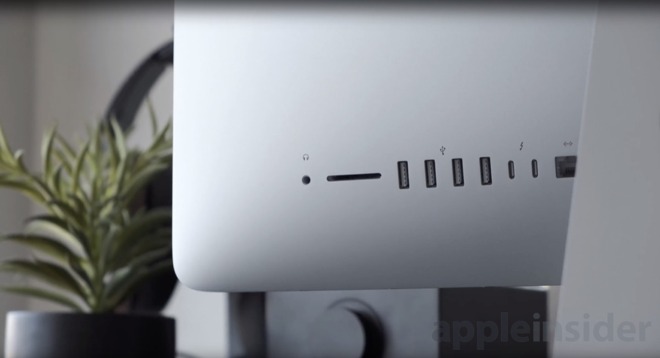 2019 21.5-inch iMac 4K ports
Port selection on this iMac is pretty good for 2019, just like its bigger brother the 27-inch iMac 5K, you get a headphone jack, an SD card reader, four USB 3.1 type A ports, two Thunderbolt 3 ports, and a Gigabit Ethernet port.
Performance
That new quad-core processor is the key to the iMac 4K upgrade. We're focusing on the low-end iMac 4K configuration which we believe is 65 percent of Apple's sales historically on the iMac.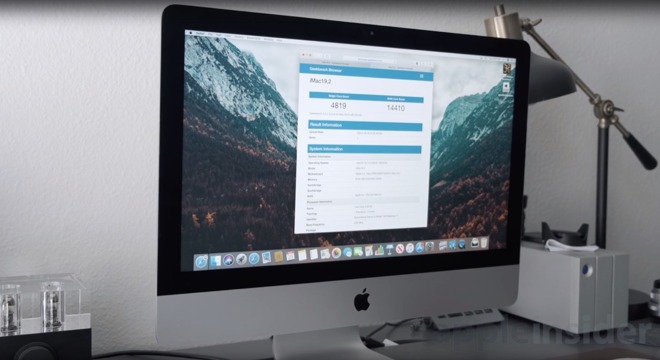 2019 21.5-inch iMac 4K Geekbench 4 results
Performance on the base model iMac is decent. If you've seen
our first impressions
, you know that our base model iMac got a Geekbench score of 4819 in single core, and 14410 in multi-core. It also received a CPU score of 1472 in Cinebench R20.
Next, we fired up Unigen Heaven which is a gaming benchmark to test the graphics. With everything set to default, and quality in medium, we decided to run this test several times to find out how the Radeon 555X performs under load.
Our iMac 4K got a score of 749, and an average frames per second of 29.7 with a max FPS of 56.6. But, $200 more gets you a better processor and graphics card, and there is the more expensive Vega 20 graphics option as well if you're into that -- but we'll talk more about that in a bit.
The 2019 4K iMac will get the job done in regards to 4K video editing, but we don't recommend it as a main mover for that task. It's great for light video editing, daily computing, consuming media, and some light photo editing work.
We pushed this machine pretty hard, even running three simultaneous benchmarking tests, and barely got the fans to spin up. When they did, they were very quiet and we didn't notice them much at all during our time with the machine. We're still working on the iMac 5K reviews, and beefier processors will likely spur the fans on more, but in the case of this i3 base model, it didn't happen in daily use.
Our biggest hangup with this base-model iMac is the storage, but again, your mileage may vary. For what we use a Mac for, the 5400RPM Hard Drive is just unacceptable in 2019, but that isn't the case in the far larger buying population of this particular configuration.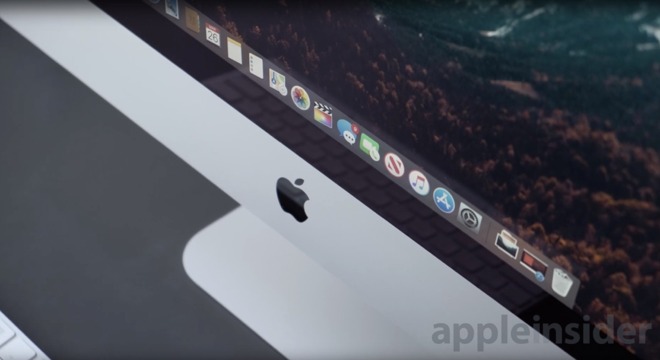 2019 21.5-inch iMac 4K
At the very least, for $1299, the internal drive needs to be a 7200 RPM one. Plus, while Apple doesn't use them in any great volume, preferring its own PCI-E flash storage, SATA SSDs are so cheap now, we'd like to see that at this price-point, and feel that it would serve the "iMac as appliance" crowd that buys this model.
With that 5400 RPM hard drive, just like any typical spinning single hard drive, it takes a long time to load into macOS after a shutdown. In our case, it took well over a minute and a half for our machine to power on from a cold boot, and only slightly less for a reboot. As compared to flash media, loading apps or files is slow.
You can, however, configure this iMac with a Fusion Drive at purchase which can improve the performance a bit, or spend a bit more and get an NVMe SSD which is what we would recommend that most
AppleInsider
readers do. Your grandma may not need it, or even notice the speed on a SSD, though.
But, the issue with paying $100 or $200 more on non-terrible internal storage puts you at the same price point of the next tier model.
AppleInsider's take
The way Apple has set up its iMac models makes it (likely intentionally) a slippery slope of upgrading and/or making concessions. The legacy iMac that is still available has a 2.3GHz Dual-Core Processor and an HD display
for $1099
, and we don't recommend that at all. Paying $200 more gets you the model we reviewed with a 4K display, a quad-core 3.6GHz processor, faster RAM, and better graphics. That is a no-brainer.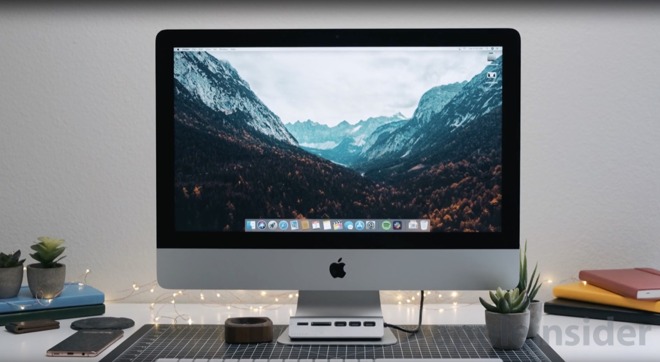 2019 21.5-inch iMac 4K
For the
AppleInsider
core audience, the biggest issue with the baseline iMac 4K is the speed of the storage. If you spend $100 or $200 to correct that, you are looking already at $1499 -- the same price as the
next tier up
. If you opt for that instead, you get a faster 1TB Fusion Drive, better graphics, and now a six-core processor.
If you absolutely had to get the iMac 4K, our ideal setup would be to get the higher-end 21.5-inch model and add a 256GB NVMe SSD at purchase to get better performance and stick with external storage via Thunderbolt 3. Alternatively, since the machine is stationary, get the big internal spinning metal drive, get either an external SSD, be it with a SATA to USB or NVMe to Thunderbolt enclosure and boot from that.
Giving the new entry-level iMac 4K an overall score is tough. The
AppleInsider
audience isn't the same as the target market for this machine, like we already discussed. While this machine is a solid 4.5 out of 5 for nearly all of the iMac-using population, if you're a regular reader, it's probably a 3.5 out of 5 because of that 5400 RPM hard drive alone.
Where to buy
Apple's new 2019 21.5-inch iMac 4K is currently
$50 to $150 off
at Apple authorized reseller Adorama with coupon code
APINSIDER
. Prices start at just $1,349 for the CTO models after the coupon discount, with full step-by-step instructions for redeeming the code available in our
savings guide
.
For a full rundown of the latest deals and product availability, be sure to visit our
iMac 4K Price Guide
, which is updated throughout the day.
2019 iMac 4K deals
16GB RAM, Radeon 555X
32GB RAM, Radeon 555X
6-core processor