Disney CEO says Disney+ likely coming to Apple TV, intends to stay on Apple board
Following Disney's announcement regarding pricing and availability of its Disney+ streaming service, CEO Bob Iger elaborated on the upcoming release, saying the company plans to offer the product on Apple TV.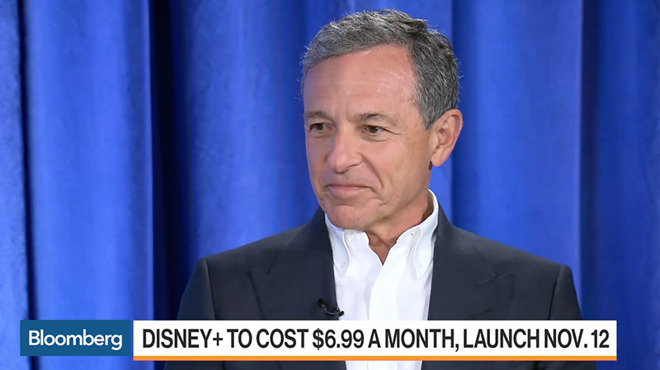 Disney CEO Bob Iger.
Iger revealed the
launch strategy
in an interview with
Bloomberg
shortly after he and other Disney executives
revealed plans for Disney+
during an investor event at the company's California headquarters.
At the keynote, Disney specifically mentioned deals with Roku and Sony that will deliver Disney+ to set-top boxes, smart TVs and PlayStation devices, but failed to present an exhaustive list of platforms that will support the Disney+ app. Iger clarified the issue in the interview.
"The app will in all likelihood be available through traditional app distributors, Apple being one of them," Iger said. "So I'm fairly certain that if people want to buy the app -- sorry, subscribe to the app is probably a better way to put it -- they'll be able to do so through Apple and the iTunes Store."
While not an explicit admission that Disney+ will be made available on Apple TV as a tvOS app, the statement suggests Disney has no issue with marketing the service on Apple's branded set-top box. Doing so would subject Disney to Apple's customary 30% revenue sharing scheme (15% for subscriptions lasting longer than a year) and put it on a platform owned by a market competitor. Apple plans to launch its own Apple TV+ service this fall.
The move is unsurprising as most streaming companies, including Netflix and Amazon Prime, offer tvOS versions of their apps. Like any other content-centric business, streaming services strive to reach as many viewers as possible, and Apple TV accounts for a significant share of the set-top device market.
Bloomberg
also queried Iger on his role as an Apple board member, a position that
could be in jeopardy
given the two companies will soon be streaming industry rivals. Iger seemed to suggest that there is no conflict of interest, at least not yet.
"Obviously I'm mindful of my fiduciary responsibility to Apple shareholders as a member of the board, Iger said. "When the subject is discussed at Apple board meetings, I'm careful to recuse myself, and I'm in constant dialogue about making sure that I'm not doing anything that in any way would essentially cause me to be wouldn't be in keeping with what an Apple board member would do."
It seems the topic is rarely broached in board meetings, but that could change once Apple TV+ launches and efforts to expand the service intensify.
"That business is still nascent to Apple and still relatively small, so it's not really discussed all that much," he said. "So far it's been OK."