T-Mobile 'crazy in love' promotion of OnePlus 7 Pro tweeted from iPhone
Posted:
in iPhone
edited May 2019
It was so hard to contain the excitement of having
#OfficiallySwitchedtoAndroid
that even a media influencer working for T-Mobile forgot to actually use the BKK OnePlus 7 Pro she was "crazy in love with" and instead tweeted out her new device relationship status from her iPhone.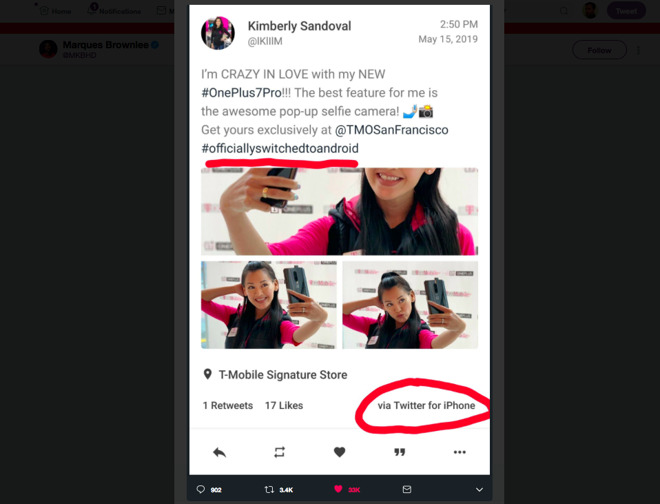 Marques Brownlee captured the T-Mobile tattle tweet
The promotion for the product, occurring at a San Francisco T-Mobile retail store, intended to draw attention to the device's "awesome pop-up selfie camera" and to suggest that the phone was exciting enough to have prompted Kimberly Sandoval to switch to Android. However, as
Marques Brownlee
noted, the tweet betrayed the hype with tattling metadata that showed the message was sent from Twitter on an iPhone.
The tweet was later removed and reposted without the metadata, but as the incident gained attention and comments on Twitter, the entire account was eventually taken offline.
To Tell iPhony
Tweeting out endorsements for Androids from iPhones has become a common practice because the people paid to pretend to use cheaper phones are typically not actually users of cheap phones. And they're frequently not even users of expensive Androids.
Even a promotional New Year greeting from China's phone giant Huawei was
tweeted out
from an iPhone this January, just a few days after the
international incident
involving the arrest of Huawei's CFO Meng Wanzhou on fraud charges related to violating U.S. trade sanctions against Iran.
It was later revealed that Meng herself was
carrying a full range of Apple products
at the time of her arrest, including an iPhone, an iPad Pro, and a MacBook Air.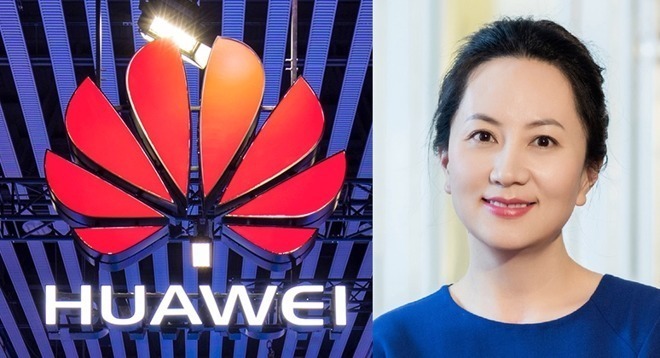 Huawei CFO Wanzhou Meng has Apple fever
Huawei quickly and savagely blamed and then demoted two low-level workers and cut their monthly salaries cut by 5,000 yuan, or about $728, for tweeting greetings from their iPhone. However, Meng was apparently not penalized for her more embarrassing publicity of the routine use of Apple gear by Huawei's top executives.
Huawei with words
Despite making headlines for its embarrassing
security lapses
, fraud charges, and its preference for iPhones, Huawei has oddly enough become a media darling. The same pundits who scoffed at Steve Jobs' portrayal of an upcoming
Post PC future of computing
are now evangelizing the idea that we are already in a "Post iPhone" world, where everyone has switched to a Huawei phone because nobody can afford a premium phone like Apple's latest $999+ models-- unless of course it's a $1,000 Huawei,
in which case it's a bargain
.
The bizarre media narrative portraying Huawei as a rising leader comes despite the rather obvious reality that most of us are still using iPhones, and nobody in the world's most affluent phone market can even buy a Huawei phone. We have no data showing that vast numbers of iOS users are abandoning Apple's platform in any region. In the U.S., U.K. and Japan, the installed base of
iOS users
is now reaching up to 60 and 75 percent.
In fact, even in China, we know that Apple's installed base of iPhone users is
remaining solidly stable
-- even growing slightly to
closely rival Huawei
in the March quarter, despite the reported surge in Huawei shipments globally.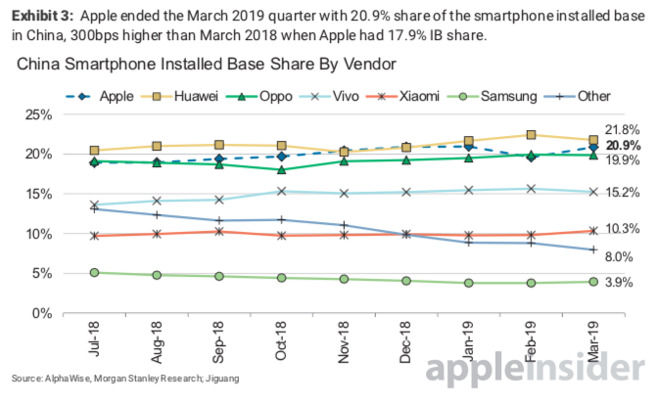 Source: Morgan Stanley
Taking turns as the rising giant of Android
But facts don't matter when Huawei is trending as the brightest prospect in all of Androidland, effectively becoming the Xiaomi of 2019, or perhaps this year's Oppo. Regularly creating a new "leading brand" to carry the Android flag is important because there's an awful lot of failed Android heroes falling by the wayside.
BKK, the maker of OnePlus phones, has seemingly avoided the scrutiny of Huawei. Beyond its upscale OnePlus brand, the Chinese company sells two other major brands, Vivo and Oppo. Market research companies puzzlingly refer to the three brands as if they are different companies, separating their sales in a way that portray Huawei as China's long-established leader in phone shipments.
IDC's most recent global smartphone market estimate, which was
lambasted
for making up "embarrassing" figures for Apple and presented numbers that Xiaomi
insisted
were "inaccurate and unfair," presented Oppo and Vivo shipments separately, without including figures for OnePlus.
As recently as 2017, IDC was offering a different perspective to anyone with $4,500: that BKK's Oppo brand was "The Rising Smartphone Giant" that was "challenging" Samsung and Apple with commodity Androids with features and designs that stood out. Yet a year and a half later, IDC is now reporting that Oppo is losing market share nearly as fast as Samsung. Was any of that ever true?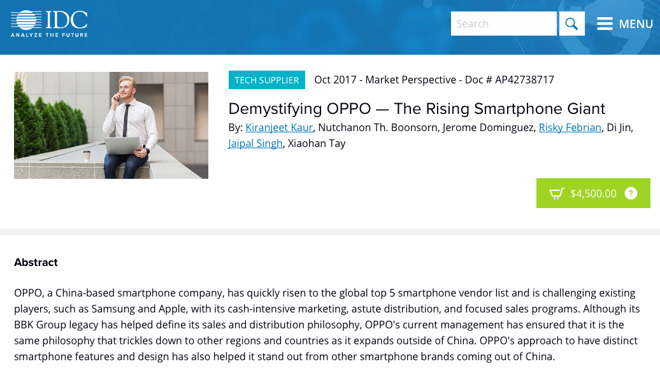 How time flies: Oppo was the Rising Smartphone Giant of late 2017
Added together, BKK's three brands would be larger than Xiaomi or Apple, and potentially ahead of Huawei. BKK's phone shipments were certainly ahead of Huawei a year ago, despite consistently being cut up into sub-brands that dilute its real market presence and call into question why IDC and other companies are advertising free data that appears to be sliced and diced into anything but a realistic portrayal of any sort of market reality.
What is real is that Apple is selling virtually all of the world's premium handsets that actually make any money. It's also earning virtually all of the global profits earned from smartphone sales.
Fake Use
Yet market research reports focusing on unit shipments-- which were earlier used to marginalize iPad and then to portray Apple Watch as a middling failure-- are nearly as commonplace as paid Android endorsements from celebrities who are still using iPhones. Companies licensing Android have a long history of eroding their own brand value by preferring to use iPhones to deliver their marketing messages.
A year ago, Huawei paid "Wonder Woman" actress Gal Gadot to serve as its
brand ambassador
for the high-end Mate 10 Pro, but the star posted her endorsement via her iPhone.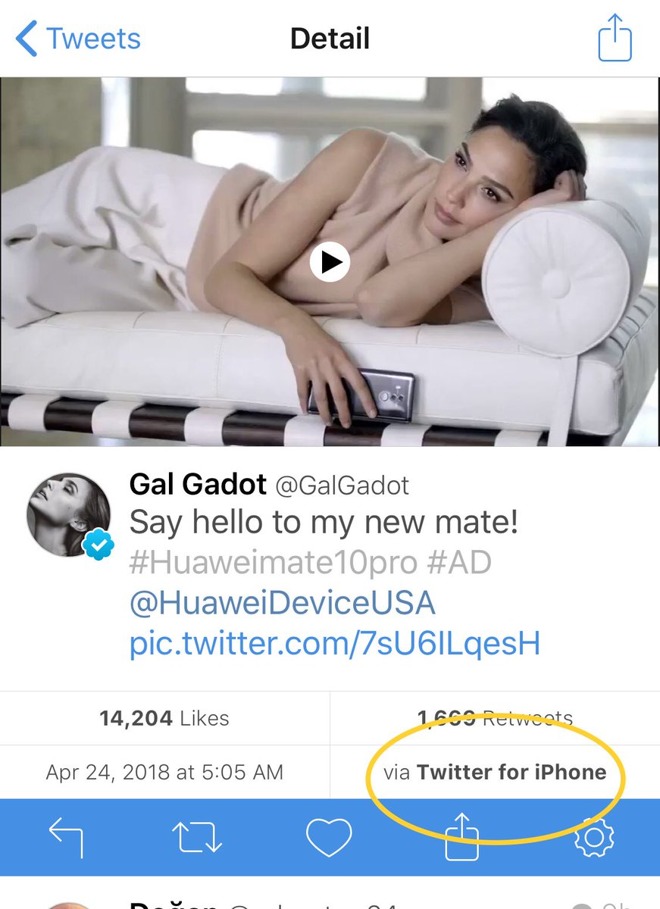 BKK is also no stranger to paying Apple users to claim that they use its products. The previous May, professional tennis player Sania Mirza tweeted out "Not rly a techie, but totally love using the OnePlus 3T the past few months. More in my story onepl.us/a5
#oneplusstarcommunity
." That too was sent from an iPhone.
In March 2013, after the Chinese government's CCTV propaganda channel began airing reports stating that Apple was "biased against Chinese consumers in its warranty and customer service policies," a series of
orchestrated tweets
on China's Sina Weibo from various celebrities and other well known personalities voiced unison disapproval of Apple on cue after the broadcast, many of which were sent from iPad and iPhones.
At the height of Peak Galaxy, Samsung created a fantasy soccer league in 2013 intended to "combine fans' universal love for football and GALAXY devices," but then the legendary leader of its fantasy team Franz Beckenbauer tweeted his canned endorsement from his iPhone.
Shortly afterward in April, Spanish tennis player David Ferrer
tweeted
his satisfaction with his
#GalaxyS4
and that he was "configuring S Health on my new
#GalaxyS4
to help with training
@SamsungMobile
," all via Twitter,
que contento estoy con mi iPhone
.
Just prior to that, the chief executive of T-Mobile, John Legere, intended to use Twitter to direct attention to Samsung Mobile's latest Note 3 phablet, but inadvertently did so via his iPhone 5s.
It hasn't just been Android getting fake praise from iOS users. In 2012, Oprah Winfrey used an iPad to
send out
tweets endorsing Microsoft's Surface, using the hashtag "#FavoriteThings" to say she had bought a dozen of them for Christmas gifts.
In 2011, after BlackBerry paid Alicia Keys to serve as its Creative Director, she
sent
a personal tweet from her iPhone in February, then removed it and claimed her account had been "hacked."