The best USB-C to Lightning cables released so far
Posted:
in iPhone
edited March 2022
It's been some time since Apple first allowed third-party USB-C to
Lightning
cables, and there are a ton of options. We've collected and tested a bunch of cables and here's what we like.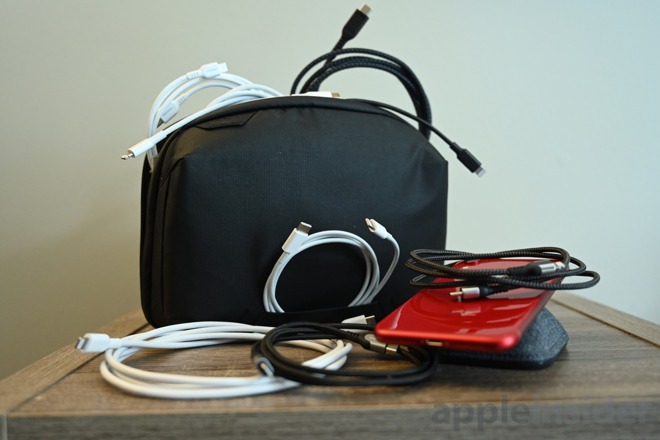 USB-C to Lightning cables in the Peak Design Tech Pouch
USB-C
to Lightning cables used to be exclusive to Apple but in early 2019, Apple
allowed other manufacturers
to officially put their own spin on them.
With the right AC adapter, USB-C to Lightning cables can be faster at charging than standard cables. They can connect an iPhone to all of Apple's latest Macs without an adapter, as every currently shipping Mac has at least one USB-C port.
We get pitched a lot of knock-off junk on an hourly basis -- these cables are not that. All of these cables we've tested ourselves and verified Apple certification before recommending them. All of the cables have similar specs including support for fast charging.
We will continue to update this list as further cables are announced and released.
Bullstrap --Added March 2022
Rating: 5 out of 5
The Bullstrap cable comes in only one length -- six feet. This lengthy cable is managed by a built-in leather cable tie with the Bullstrap wordmark debossed on it.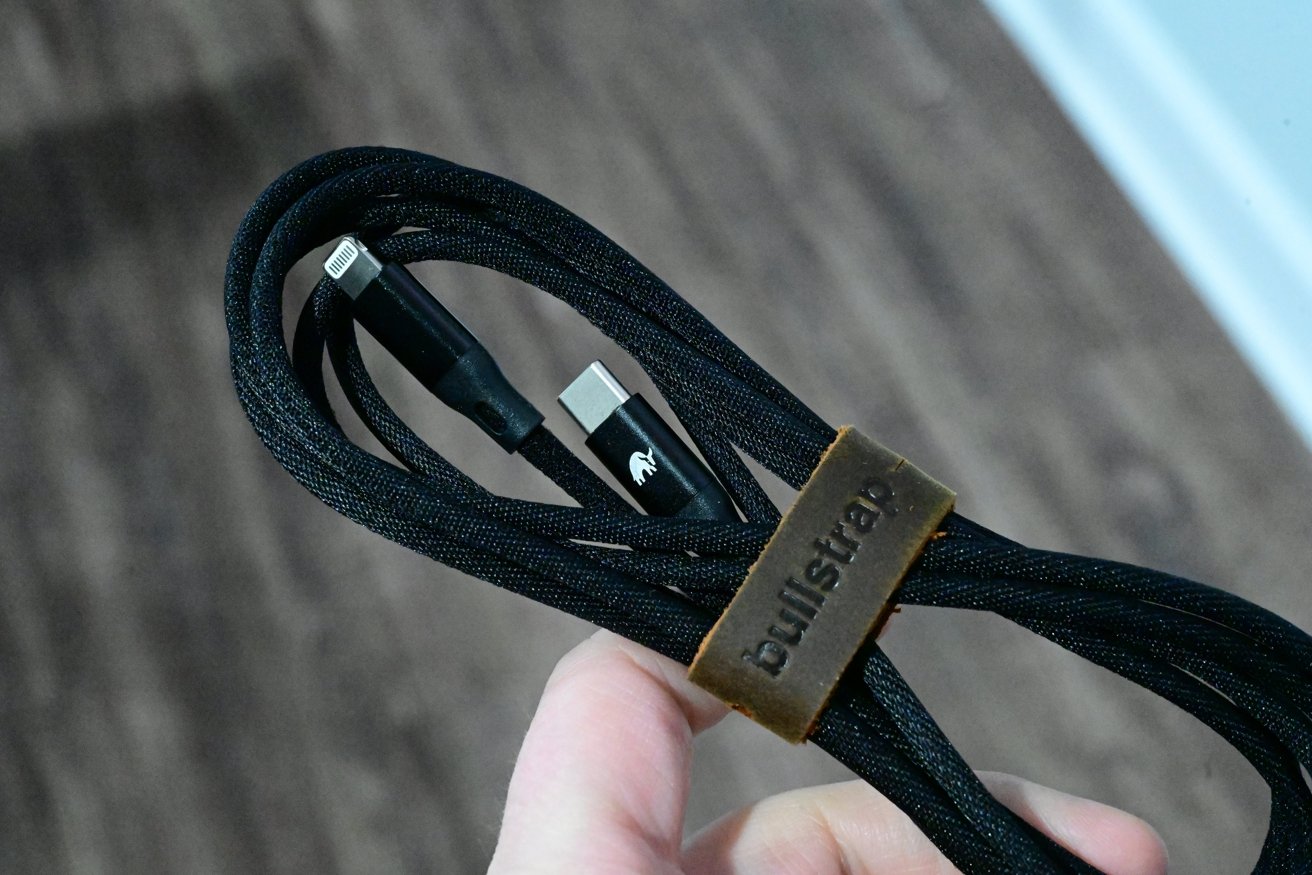 Bullstrap's Lightning to USB-C cable
This fast charging cable is BT4 nylon-wrapped cable is exceptionally durable and is backed by a lifetime warranty. Should the cable break at any time, Bullstrap will replace it for you. Both of the ends are reinforced by stainless steel overmolds.
You can pick it up in black for $55
from Bullstrap direct
.
Nomad Sport Cables --Added Dec 2021
Rating: 3 out of 5
Nomad has Kevlar-reinforced cables that carry weighty price tags, but the Sport cables come in at a more affordable price point. They're nylon-reinforced but are otherwise unexciting.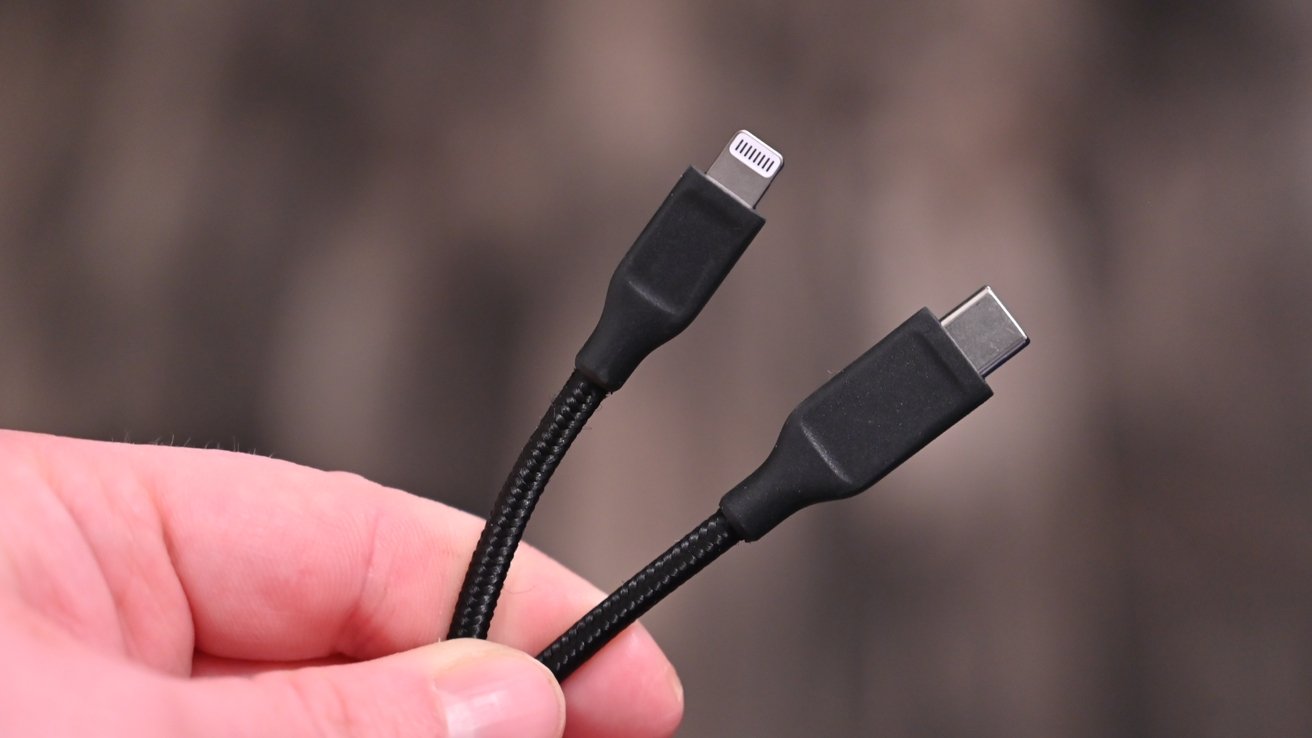 Nomad's Sport cable
To manage the cables Nomad uses the reliable silicone loop that is molded to the cable itself. It's easy to adjust and won't get lost when not in use.
Unlike Nomad's Kevalr cables, the ends and overmolds are plastic, rather than aluminum. This isn't a problem but feels like a difference in quality between these and other ones available.
The Sport cables start at $24.99
from Nomad direct
and go up based on design and size.
Anker Powerline III Flow --Added March 2021
Rating: 5 out of 5
For a truly unique cable unlike any others our list thus far, the Anker Powerline III Flow is here. This premium, yet affordable cable comes in both three-foot and six-foot lengths.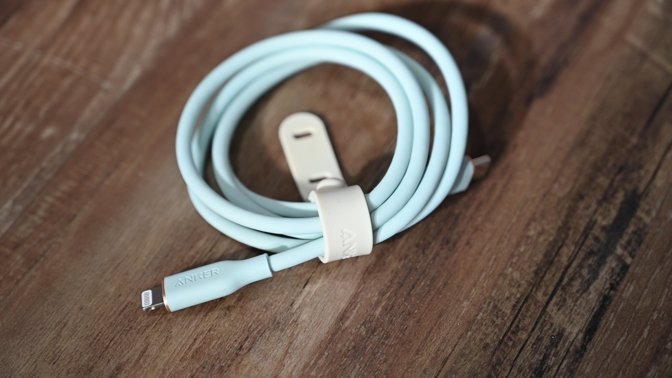 Anker Powerline III Flow in green
It is made from a velvety soft-touch silica gel material that feels great. This not only feels nice in your hand, but resists tangles and kinks that other cables are prone to.
Each end has a copper-colored metal ring before the overmold kicks in. Anker says it can withstand over 25,000 flexes making extremely durable as well and is backed up by a 18-month warranty.
To keep it in check, a soft integrated cable tie is included. It is extra long so you can use it for the Powerline III Flow cable and a few other cables you may bring with you as well.
You can pick it up in black, green, white, grey, and pink colors all that lean a bit towards the pastel side. The three-foot runs $22 and the six-foot runs $25
on Amazon
.
Spigen DuraSync --Added October 2019
Rating: 3 out of 5
Spigen's new DuraSync USB-C Lightning cable is the latest to enter our lineup.
It comes in both black and white and has a durable exterior cable of over 10,000 bends. Spigen attributes this to their Utlraflex technology which also resists fraying.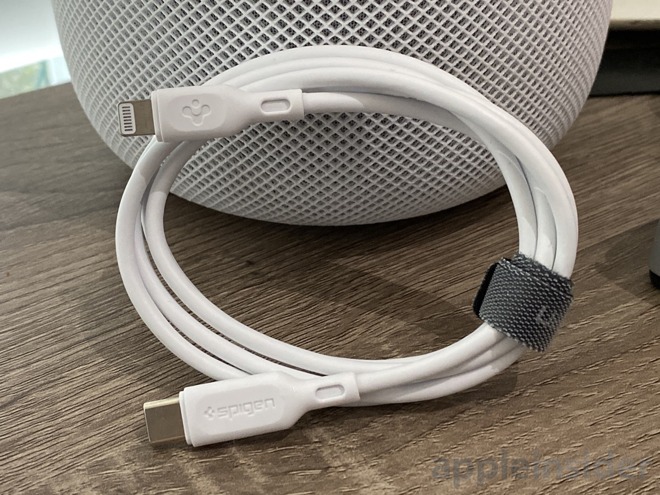 Spigen DuraSync USB-C to Lightning comes in black/white and single or a two-pack
The cable itself isn't nylon wrapped like some of the other rugged cables, but it feels more solid than Apple's offering.
Spigen offers the cables by themselves, or in handy two-packs to help USB-C take over for USB-A even faster.
You can pick up the individual cables for $15.99 or
$26.99 for a two-pack with greater savings
.
Mophie USB-C Cable with Lightning Connector --Added August 2019
Rating: 4 out of 5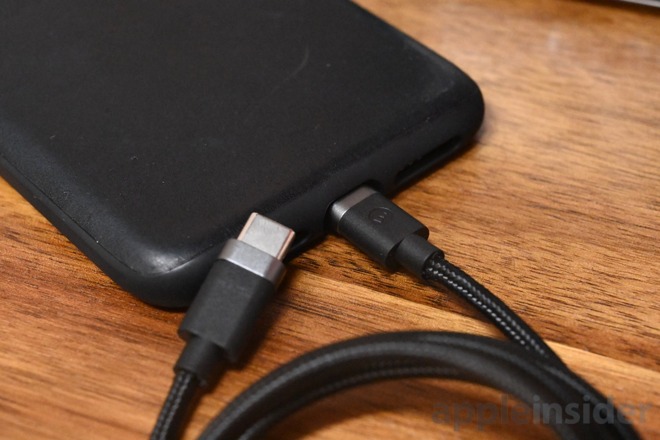 Mophie's brand new USB-C to Lightning nylon cable
Mophie has just announced a huge lineup of new USB-C accessories, all of which are capable, though here we want to talk about the USB-C Lightning cable.
It comes in a one-meter length and has a black, braided nylon covering. The cable feels solid and strong and is unlikely to tangle because of the smooth, glossy exterior. The over-molds appear strong and durable with metal caps on the end.
Mophie includes a two year warranty with each cable.
The cables are available now and can be
purchased from Mophie for $19.95
, as can the rest of the USB-C lineup.
Belkin BoostCharge DuraTek + Strap --Added August 2019
Rating: 4.5 out of 5
The Belkin BoostCharge USB-C to Lightning + Strap is made of the company's own DuraTek technology which makes the cables much stronger than standard Lightning cables.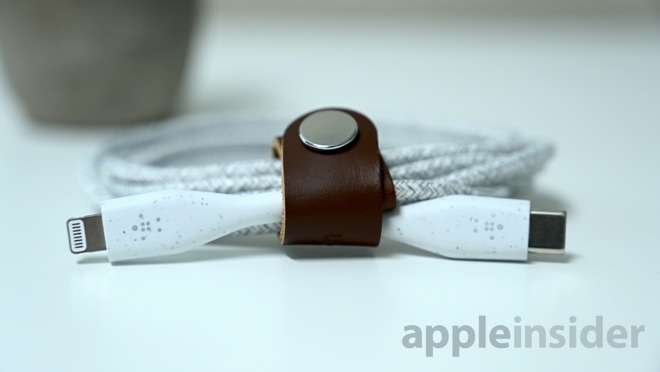 Belkin BoostCharge DuraTek + Strap USB-C to Lightning cable
The connectors are precisely laser-welded and the heathered exterior of the cable is tightly woven with Aramid fibers. Kevlar is one popular brand that uses para-aramid fibers which should give an idea of how strong this cable should be.
We also really love the look of the Belkin cable, differentiating itself with the textured cable and pebbled over-molds.
This version of the cable also comes with a genuine leather strap for cable management.
To back it all up, Belkin includes a five-year warranty
It is available now
direct from Belkin
in a four-foot length, in white or black for $29.99.
Nimble --Added 7/31/19
Rating: 4.5 out of 5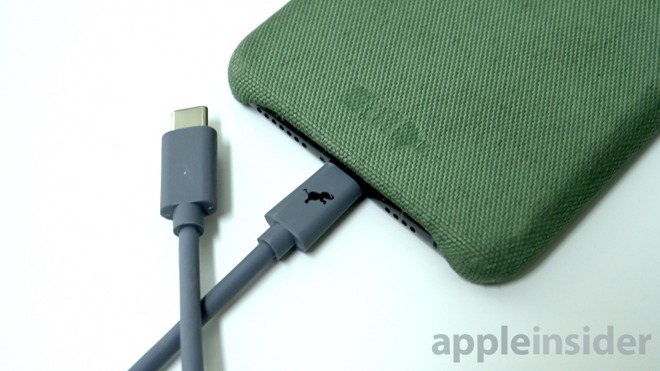 Nimble USB-C to Lightning cable with the Bottle Case
Nimble, maker of quality environmentally responsible accessories, has their take on the USB-C Lightning cable now available. Like the previous products the company has introduced, the cable is designed with the environment in mind. The cables are entirely BPA and PVC-free and come in a one meter length.
We recently checked out
Nimble's Bottle Case
and this pairs well with that if you want a sustainable and solid cable.
The exterior is a little boring, but there are those that are going to love the simplicity of the matte gray finish.
These cables can be picked up direct
from Nimble for $19.95
on its own, or $14.95 with the purchase of a portable charger.
UGreen --Added 7/22/19
Rating: 4.5 out of 5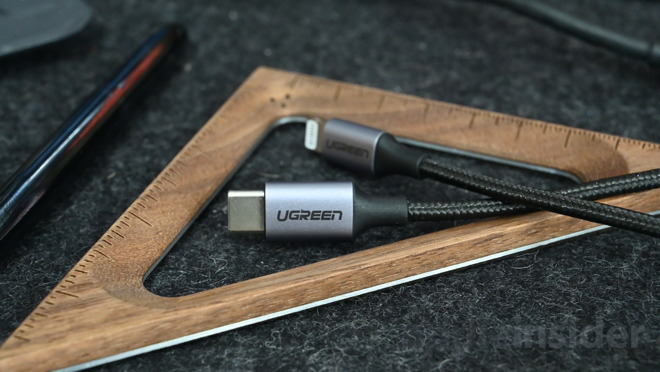 Ugreen nylon Lightning to USB-C cable
Ugreen previously released a bare-bones version of a USB-C to Lightning cable and now they have an updated version that is more robust. It is able to withstand over 15 thousand bends and comes with an 18-month warranty.
This updated cable has aluminum metal over molds and a nylon-braided cord in between.
It certainly has a more premium feel and look than their simple first generation. Best of all, we liked that the Ugreen nylon and aluminum model is only $13.99 (and is currently an additional 20-percent off). That is the most affordable of this type that we have seen to date.
Nomad -- Added July 2019
Rating: 5 out of 5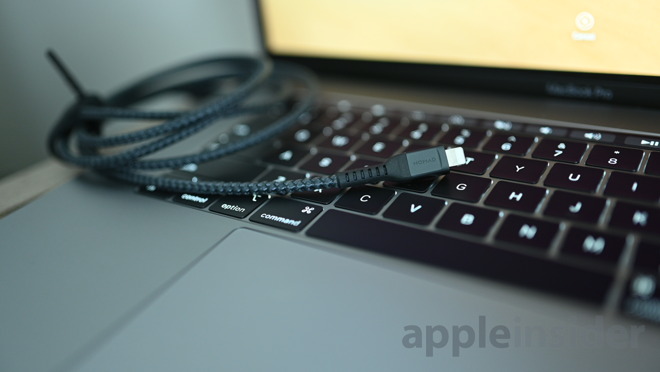 Nomad Kevlar Lightning cable
Nomad has arguably the most impressive lineup of USB-C to Lightning cables around. They are the only manufacturer to partner with Dupont to integrate Kevlar into their cables. The durable fiber is both integrated into the exterior wrap as well as into the core. This is in part what gives their cables such a long lifespan.
In other changes since Nomad's last cables are new metal allow over-molds that have become commonplace in the industry for premium cables.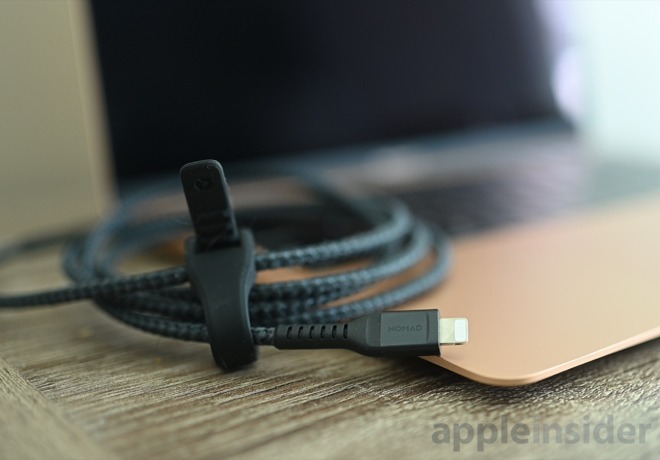 Nomad Kevlar Lightning cable
Nomad has launched a crazy number of cables -- 11 to be exact -- in different sizes and styles along with their brand new Lightning cables. There is a standard USB-C to Lightning cable (in 1.5M and 3M sizes), an upgraded 100W USB-C cable (1.5M and 3M sizes), USB-A to Lightning with the new Kevlar integration (1.5M and 3M available), a new universal USB-C cable that now supports 100W with a Micro USB adapter on one end and a USB-A adapter on the other (.3M, 1.5M, and 3M sizes), and lastly a new universal USB-A cable with micro USB, USB-C, and Lightning adapters on the end in both .3M and 1.5M sizes.
You can find all of the new cables over
on Nomad's website
.
RAVPower -- Added June 2019
Rating: 4 out of 5
RAVPower has put out an impressive line of charging accesories and now they've added USB-C Lightning to the lineup. This is another very simple cable that goes for the low price of entry but still maintaining solid quality.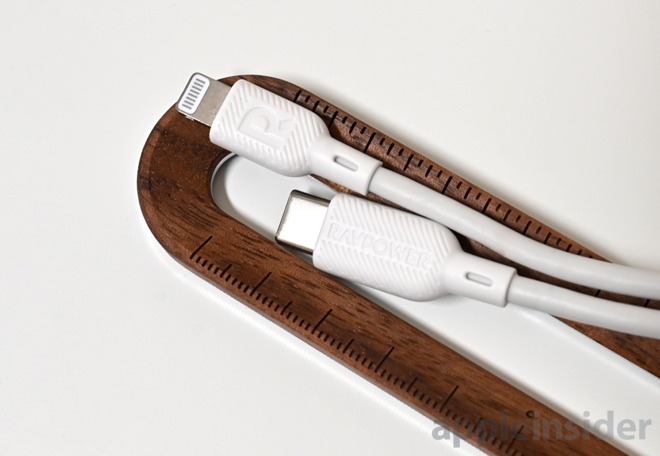 RAVPower USB-C to Lightning cable
One end of the cable has an "R" emblazoned on it while the other bares the full RAVPower logo. Each end also has an angled texture that makes it much easier to grip than some of the others on the list.
If we wanted to change one thing with the cable we'd prefer a bit more coverage for the cable itself but this is supposed to be a lower cost option below all the nylon-wrapped ones we've already covered. Even without any additional covering, this cable is rated to withstand over 30,000 bends.
The RAVPower USB-C to Lightning cable comes in 3-foot and 6-foot sizes and in either black or white. They start
on Amazon at $14.99
for the 3-foot, but are worth the extra $2 for the longer variant.
Kanex DuraBraid -- Added June 2019
Rating: 3.5 out of 5
Apple-accessory maker Kanex is throwing its hat into the ring with an entirely new lineup of USB-C accessories. They have the standard USB-A to USB-C and USB-C to USB-C cables but also launched a
DuraBraid USB-C to Lightning
variant. DuraBraid is its name for its premium nylon-wrapped cables which is stronger, more durable, and prevents the tangles often found with rubberized cables.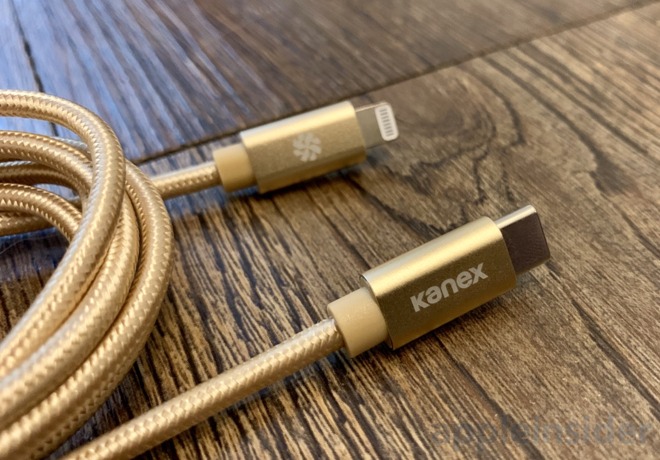 Kanex gold USB-C to Lightning DuraBraid cable
These cables feel very solid and we appreciate the metal over molds on each end. There is a small plastic collar between the over mold and the cable which looks a little bit on the cheap side, however. This collar is a necessary strain relief but we wish it was integrated slightly better -- though this certainly qualifies as nitpicking.
We picked up the gold color of the USB-C to Lightning DuraBraid cables since Kanex is so far the only one offering that color scheme in these new connector types. Black, silver, and dark grey are also available. They come in a four-foot length which is just long enough to be useful but not too long to be frustrating.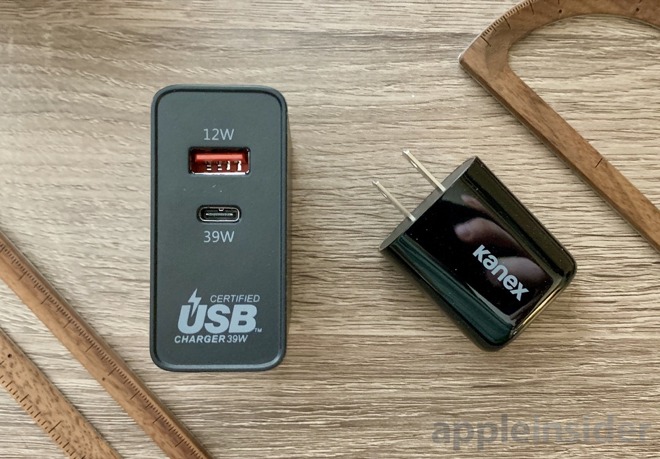 Kanex GoPower USB-C chargers
Kanex is pairing the new USB-C line with two new
GoPower USB-C wall chargers
. First is a simple 18W compact power brick and the second is a dual-output charger that has a 39W USB-C port alongside a 12W USB-A port.
The new DuraBraid USB-C to Lightning cable can be picked up
on Amazon for $24.95
.
Anker PowerLine II
Rating: 4 out of 5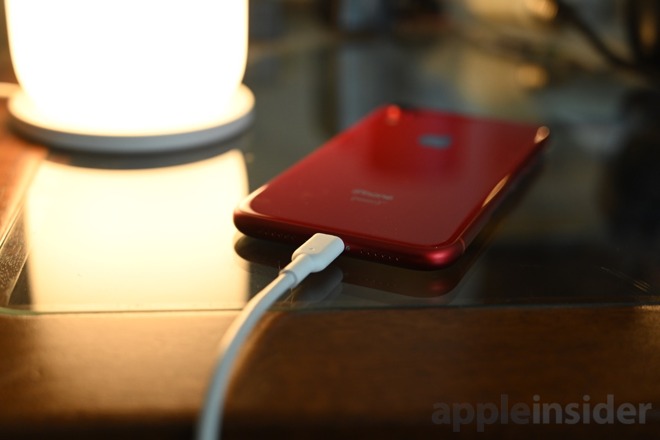 Anker USB-C Lightning Powerline II cable
Anker was the first to start shipping an official USB-C to Lightning cable certified through Apple. The cable is fairly no-frills as you can see in
our review
but it is more durable and affordable than Apple's own.
Since we originally reviewed it Anker has gone ahead and added a black color to go alongside the white as well as released a longer version of the cable.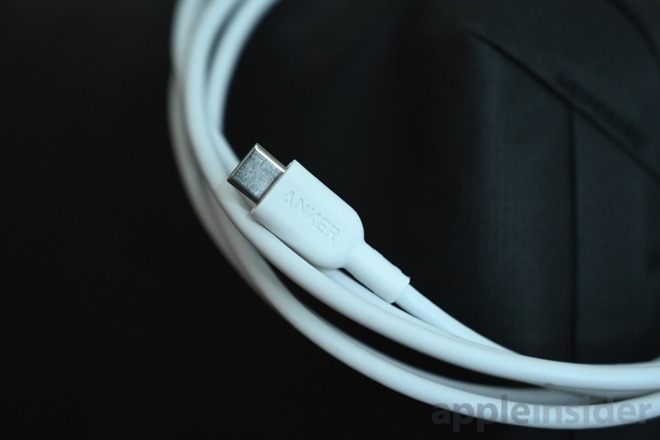 Anker USB-C Lightning Powerline II cable
You can grab the cable directly
from Anker
starting at $15.99 or from
Amazon
.
Additionally, they've released the PowerLine+ II which offered durable metal over-molds and a nylon wrapped cable for additional protection for only a
$6 premium
over the standard model.
Scosche
Rating: 3 out of 5
The new Scosche StrikeLine USB-C to Lightning cables are very similar to others in this arena with simple exteriors, lower price points than Apple, and an encompassing warranty.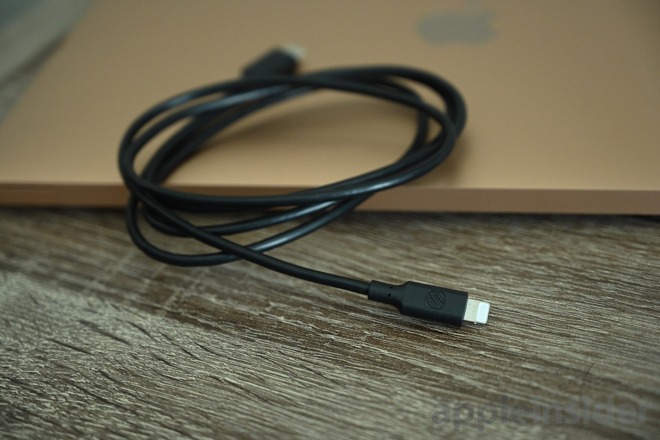 Scosche Strikeline USB-C Lightning cable
These are available in both white or black color options with nothing more than a simple logo emblazoned on the ends. The reinforced over-molds are all one piece for added protection and durability on the ends.
Unlike others that are usually three feet in length, Scosche goes the extra foot and offers a four-foot cable instead.
You can pick them up
on Amazon
for around $23.
Ugreen
Rating: 3 out of 5
Ugreen produces a lot of Apple-certified accessories so it was no surprise they were quick to the game with their USB-C Lightning cable.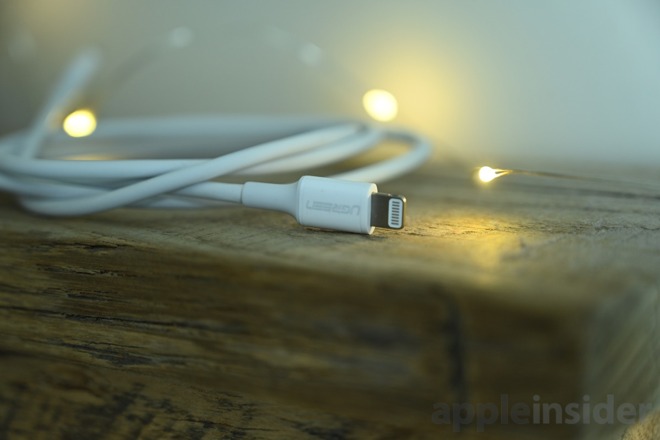 Ugreen USB-C to Lightning cable
They too are simple cables that aim to undercut Apple on price with great durability -- 15,000 bends so says Ugreen. Each end is plastic with a soft rubber neck that helps make them grip-able as well as durable. They are also just slightly thicker than Apple's which is a good balance between too thick and too thin.
They are on
Amazon for $13.99
but if you use code
FF2PBYUD
you can save an extra couple dollars as an
AppleInsider
reader.
Apple
Rating: 4 out of 5
Of course, Apple has to be in the lineup of cables. Naturally, Apple released the original USB-C to Lightning cable. Apple sells them in two different lengths though they do carry higher price tags than nearly all others on this list.
Apple USB-C Lightning cable on the Peak Design Everyday Backpack
They are very simple cables that mimic the aesthetic on Any of Apple's other first-party cables.
You can grab them
from Amazon
, the Apple Store, or other third-party retailers.
Read on AppleInsider