Foxconn's Wisconsin factory starting production in May 2020 with just 1,500 jobs
Foxconn will launch its controversial Wisconsin factory in May 2020, Governor Tony Evers said this week, but the display and network hardware facility will only start up with 1,500 jobs.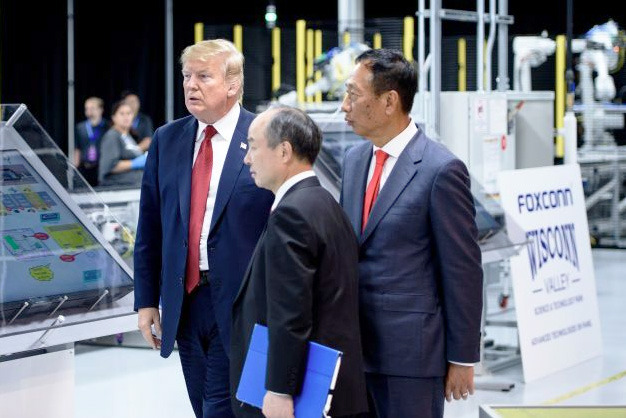 President Trump touring a Wisconsin Foxconn facility in June 2018. | Image Credit: Brendan Smailowski/AFP/Getty Images
That will leave it
300 jobs short
of the 1,820 it needs by the end of 2020 to secure $270 million more tax credits out of a total $4 billion in incentives,
CNBC
said. The company missed a 2018 deadline by hiring a mere 156 people in the state instead of 260, and it's not yet known if it will reach the 520 people demanded in 2019 in exchange for $222 million.
It has until 2032 to reach 13,000 workers in total, a level promised when chairman Terry Gou and U.S. President Donald Trump
broke ground on the factory
in June 2018. At the time, Scott Walker was state Governor.
Foxconn has radically altered its plans over time. While it was one point offering an LCD factory measuring 20 million square feet, it's instead working on a complex one-twentieth the size. Instead of making 65-inch TV panels it will instead produce smaller LCDs, as well as assemble servers and other networking hardware.
An April expose showed that much of the company's presence in Wisconsin consisted of
empty buildings
, or even ones still occupied by other tenants. The lack of progress has created a major political issue in Wisconsin.
Foxconn is Apple's primary assembly partner, churning out iPhones and other devices, mostly out of Chinese plants. At one point it was rumored that the Wisconsin factory might help supply Apple, but that appears unlikely.