Editorial: A record $4.3B R&D spend proves Apple is building for the future
Apple's reported operational expenses for research and development in the June quarter hit a new all-time high of $4.257 billion, well over twice the quarterly spending it reported in 2015. Apple's aggressive expansion demonstrates the company is building for the future even as its rivals retreat from tablets and smartwatches and fail to keep pace with Apple's aggressive OS updates and custom silicon work.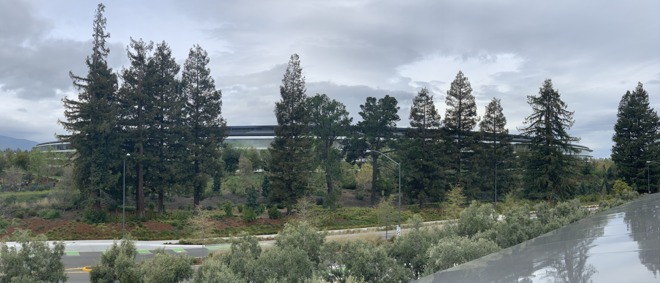 What did Apple spent over $4 billion on this quarter inside its $4 billion Apple Park?
Software R&D
While R&D is often imagined to be secretive spending on a blockbuster new product, the reported figure refers to all investments related to unreleased products. That includes all the software Apple builds, including this year's iOS 13 and
macOS Catalina
, advancements in the new iPadOS and watchOS, and Apple's Xcode 11 development tools.
Software investments also include Apple's work in the development of the world's largest Augmented Reality platform, including this year's release of new Reality Composer shipping with ARKit 3. Apple is also expanding its investments in Machine Learning, along with other new development initiatives including
SwiftUI
, Combine and
Project Catalyst
.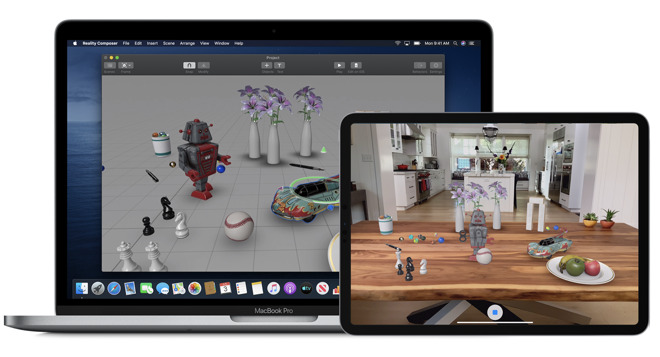 Catalina's Reality Composer makes it easy to construct AR worlds for iOS users
Apple is also leveraging its own development tools to build new and enhanced apps, including the new Reminders and Find My apps for both iOS and Macs, as well as the
revamping of iTunes
into custom apps for Podcasts, Books, TV and Music that will now work consistently across its platforms. Apple is also consistently enhancing free apps including Photos, Messages, FaceTime, Pages, Numbers, and Keynote that work across its platforms to enhance the experience for users who invest in Apple hardware.
Hardware and Silicon R&D
R&D also includes the product development of entirely new machines like the revamped Mac Pro, its advanced Pro Display XDR, and the entirely new architecture including Onboard Infinity Fabric Link, support for new MPX expansion modules, and the new
Afterburner card
with a custom Field Programmable Gate Array for rapidly accelerating tedious media workflows.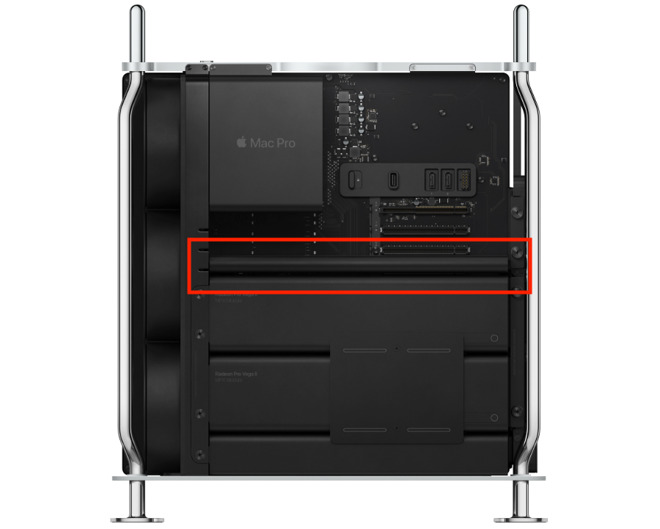 The Afterburner installed inside a Mac Pro
The reported R&D figures are also funding the development of custom Apple silicon driving advancements for iPhones and iPad, as well as the new
T2 chips
that bring iOS security, encryption, media handling and camera imaging features to new Macs. Apple's advanced custom silicon work is also fueling the advancement of Apple Watch and AirPods with advanced wireless and high performance, ultra-efficient processor packages that competitors don't have any access to.
Apple separately just acquired Intel's baseband wireless processor team, enabling the company to expand its custom chip efforts to include a custom-developed integrated cellular modem for its mobile devices ranging from iPhone and iPad to Apple Watch, and conceptually even mobile Macs in the future. This work should complement its existing efforts to build custom SoC subsystems ranging from the ML-accelerating Neural Engine to the relatively new Apple GPU and other custom controller sub-processors that handle storage, encryption and imaging logic.
Services R&D
Along with relentless enhancements to hardware and software, R&D is also funding the software powering Apple's Services push, something many tech media personalities
failed to grasp the purpose of
earlier this year.
The development of Apple's new cross-platform TV App with support for individual subscription Channels, as well as the work to support new
Apple Arcade
titles across iOS, tvOS and Macs, both required substantial work. Both are examples of areas that Apple's competitors are not similarly investing in TV boxes, tablets, and desktop computer platforms.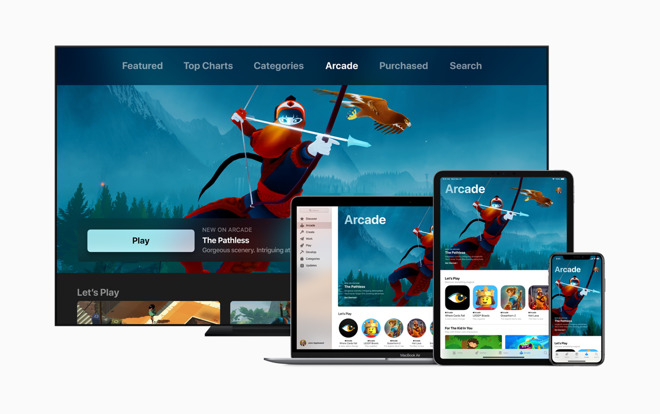 Apple Arcade is a major ecosystem expansion for Apple platforms
Apple is also unique in its ambitious efforts to expand into subscription content with
AppleTV+
. It is funding its own alternative to Netflix, Amazon Prime Video, and the offerings of various studios producing original content. That's an expensive proposition, but Apple's vast cash holdings mean that it will be able to invest liberally in funding the development of new content even as it enjoys a global position of having created a tight ecosystem of affluent buyers that now involves well over a billion active devices.
Signing up and retaining subscribers is one of the
largest problems
for companies like Netflix. But Apple is already selling a portfolio of Services to its vast installed base, ranging from Apple Music to iCloud storage and the emerging
News+
.
R&D also includes the money invested in building out
Apple Card
as an app-centric service that leverages the global work the company has already invested to make Apple Pay the most popular way to make secure electronic purchases. With Apple Card and Apple Pay Cash, the company will have an even closer relationship with its customers, making it that much easier to offer paid upgrades, hardware trade-in programs, entertainment, and information services.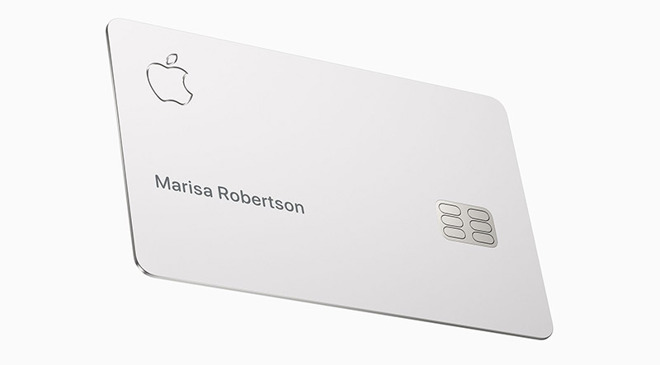 Apple Card required R&D to deliver
Apple is also spending significantly on free-to-use initiatives that enhance the value of its hardware products. That includes its revamped Maps with street-level "Look Around," which it expects to expand across the US this year and eventually bring to other countries. The company is also aggressively expanding its massive global lead in supporting Siri across the most languages. iOS 13 brings new language support to India, where Apple reported new growth in the quarter. There's still a lot of work to be done to expand free Services including News, Maps, and Siri to other countries and languages, but Apple now operates a series of R&D centers across the world to work on these language localizations and regional customizations.
Apple's Services segment now brings in over $11 billion per quarter, largely from handling third party subscriptions through the App Store. As Apple's platforms become increasingly important, this growing Services income will enable the company to benefit from its work to make secure, privacy-centric platforms that don't rely on surveillance advertising. All of Apple's competitors-- notably including Samsung, Huawei and other licensees of Google and Microsoft platforms-- are currently shipping phones, tablets, PCs and TVs that are priced so cheaply that they are
forced to rely
on revenues from spyware and user tracking to monetize their hardware and software.
A marked change from Apple of the 90s, or Google today
While Apple is now spending more than it ever has on R&D, the rapid pace of its new hardware product introductions, new silicon, new development tools, new apps, and new services is also occurring a lot faster than ever before. Notably, Apple is not developing a series of conceptual products or whimsical initiatives in public that drag along under development for years before being abandoned or failing in the market.

Apple's R&D spending. Source: Ycharts
In the 1990s, Apple's Advanced Technology Group burned through money developing concepts and working on prototypes that largely went nowhere. Apple invented email protocols and search systems and mobile ideas, and created the forerunner of RSS and consumer hypermedia and VR surround video and advanced typography, only to lose out to faster innovators or others who acquired its work and ultimately brought products to market.
The failure of the ATG's R&D to generate sustaining revenues capable of supporting future research made it a money pit on the order of Xerox PARC or Bell Labs before it, where advanced technologies were developed at extraordinary cost but effectively monetized elsewhere. Apple's previous era of ineffective spending is now being replicated at Google, where today's tech media cheer on impractical concepts like the modular Project Ara phone or the wildly experimental Google Glass, and scores of other expensive moon shot projects that either fail to take off or burn up tons of money never actually making it to the moon.
And while Apple's current R&D budget is its highest ever-- currently about five times the pace of its spending when Steve Jobs was alive-- it's relatively low compared to other big-spending peers. That includes Amazon, Alphabet, Samsung, and Intel, all of which spent significantly more money on R&D than Apple last year while delivering less valuable technology incapable of keeping up with Apple's valuable innovations.
Apple's ability to turn R&D into immediately practical applications-- from paid hardware and Services to free apps, OS upgrades, and development tools that enhance its ecosystem and attract and retain buyers-- is earning the company so much money that its efficient R&D budget remains an extremely small percentage of its revenues.
Analysts have vocally criticized both the amount Apple is spending on R&D and the fact that its peers are spending more. This spring, Wedbush analyst Dan Ives said that despite all of its R&D spending, "we've seen minimal fruits of that labor," indicating that Wedbush doesn't really understand what R&D is nor what Apple is developing. And in parallel, Bernstein analyst Toni Sacconaghi announced that there is a "somewhat strong correlation between R&D as a percent of revenue and gross margin," and concluded that "Apple could double its R&D and be relatively inline with peers," again confusing the spending of money with the creation of valuable products.