AirPods Pro use custom silicone ear-tip, basically non-repairable
As it does with every Apple product launch, iFixit has completed its tear-down of the AirPods Pro, and have found that it is still essentially not user repairable at all.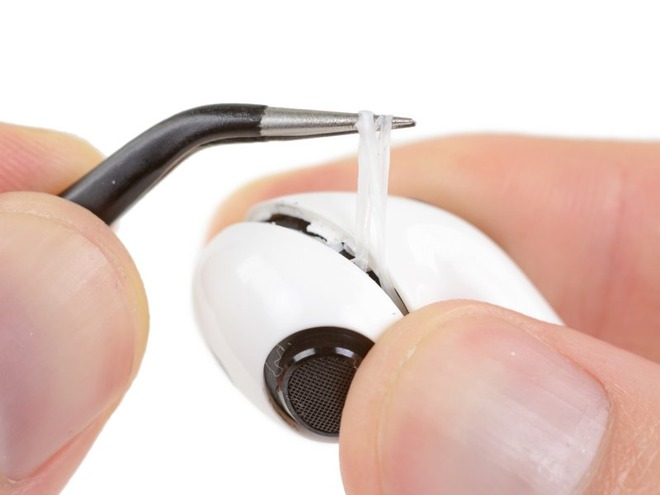 AirPods Pro initial disassembly, photo courtesy iFixit
The silicone ear inserts on the
AirPods Pro
use a custom attach point, meaning that ear inserts from other devices cannot easily be used on the AirPods Pro. However, Apple's "fancy engineering" provides a larger opening for sound than is normally seen in an earbud, according to
iFixit's teardown
.
Apple's engineering choices including solder and glue are intended to keep the product as small and as light as possible. However, in an interesting design choice, the iPods Pro earpieces use a cell-style rechargeable battery. It is theoretically replaceable -- but it is soldered to the contacts.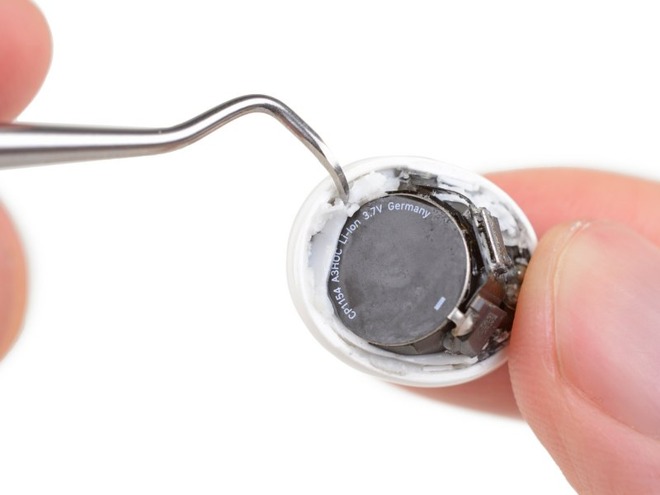 Theoretically replaceable coin battery in AirPods Pro, photo courtesy iFixit
That assembly is connected with a ribbon cable with a zero-insertion-force (ZIF) connector to the stem. The electronics in the stem don't just slide out, though, and require the bottom to be cut off the stem for release.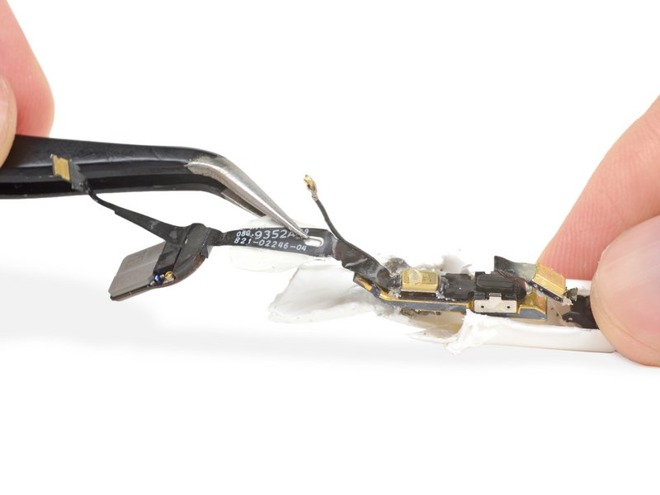 Stem electronics in the AirPods Pro - photo courtesy iFixit
The battery case is very similar to the previous generation, and uses many of the same chips. The Lightning port is modular, and can also theoretically be replaced, assuming you can find a replacement part to do so.
Apple's existing service policies are to replace broken AirPods Pro ear pieces and charging cases in the store. It has never been clear what Apple does with units from customers that it swaps out -- iFixit believes that the new units are "potentially be a tiny bit more repairable" but not by consumers. It theorizes that Apple could potentially repair broken AirPods Pro or the Charging Case by replacing the in-ear portion with a re-use of the stem electronics, given the ZIF socket and modular nature of that component.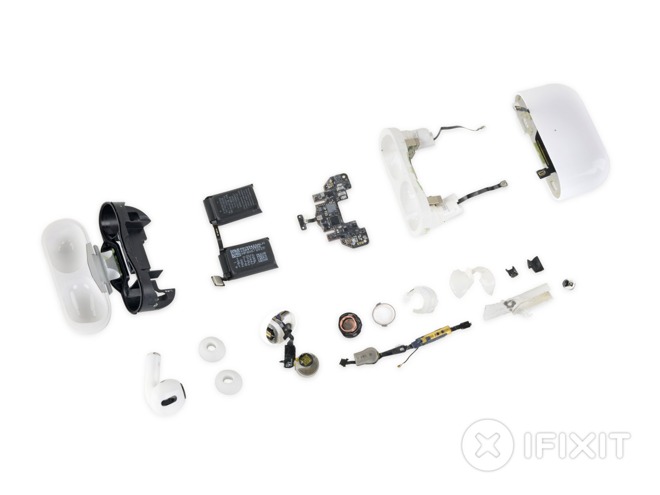 Exploded view of iPods Pro and Charging Case - photo courtesy iFixit
For the consumer, iFixit has given the AirPods Pro a 0 out of 10 repairability score -- which is no surprise.
After weeks of speculation, Apple announced AirPods Pro
on Monday
, featuring Active Noise Cancellation and improved sound. The $249 earbuds rely heavily on Apple's H1 chip, with the company saying that the extremely low audio processing latency of H1 enables real-time noise cancellation, delivers high-quality sound using adaptive technology, and responds to hands-free "Hey Siri" requests -- all simultaneously.