Apple Pay Express Transit users hit with unintended charges at New York City turnstiles
A small number of subway riders in New York City this week complained of a bug in Metro Transit Authority (MTA) tap-and-go turnstiles that inadvertently activates the Apple Pay Express Transit feature on user iPhones, resulting in double billing.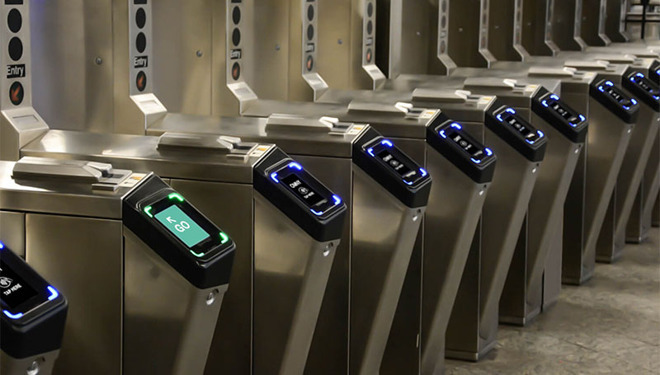 The MTA's One Metro New York, or OMNY, contactless fare readers are
scanning rider iPhones
even if the device is in a purse or pocket, reports the
Gothamist
. Those who experienced the error complain of charges on both a swiped MetroCard and through
Apple Pay
.
Express Transit enables
iPhone
and
Apple Watch
owners to conduct touchless terminal transactions without unlocking or waking their device.
Macartney Morris encountered the issue while passing through a reader at Grand Central on Tuesday. He entered the turnstile using a tap-to-pay MetroCard, which worked as advertised, only to find a standard fare also applied to Apple Pay.
"When I got to Queens I saw I had an Apple Pay notification that I was charged $2.75," Morris said. "My phone was in my jacket pocket, where I always keep it. I was really taken aback."
A number of customers shared similar stories on Twitter.
Morris and other notified the MTA of the apparent issue. Chief Revenue Officer Al Putre in a statement to the
New York Post
said "
about 30 customers
" had complained about unintended Apple Pay charges, adding that the public benefit corporation is working with Apple to fix the problem.
"The system is a popular success that's working well for the vast majority of people and we're in touch with Apple about addressing the issue of unintended taps," Putre said.
An Apple spokesperson told the publication Apple Pay Express Transit has not encountered issues in other cities. The feature is currently rolling out to select metropolitan areas after a U.S. debut
in Portland
last May.
"When a customer enters the greater New York transit area, they receive a notification that a payment card in Apple Wallet can be used for Express Transit. NYC residents are also informed about Apple Pay Express Transit when they add a payment card to Apple Wallet for the first time," Apple said in a statement. "Customers can easily turn off the feature in Settings on their iPhone at anytime and use Face ID or Touch ID to ride transit."
The MTA began rolling out Apple Pay Transit Express support to OMNY terminals
last year
. As of December, OMNY was live at 85 subway stations across NYC, all MTA-operated buses on Staten Island and two Staten Island Railway stations. Wide availability at all subway stations and MTA buses
is planned
for completion by the end of 2020.