Rumor: Apple developing 'iPhone SE 2' variant with Face ID, 5.4-inch screen
Posted:
in iPhone
edited August 2020
A convoluted rumor on Tuesday suggests Apple is working on an update to iPhone 8 that swaps out Touch ID for a TrueDepth camera module with Face ID, enabling integration of a larger 5.4-inch screen.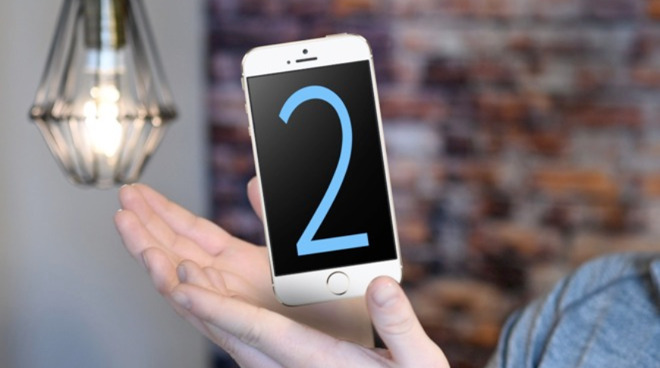 Citing supply chain sources who displayed wares at
CES 2020
,
MacOtakara
reports Apple
could be developing
a
Face ID
-toting
iPhone 8
follow-up alongside a much-rumored Touch ID version media outlets have tentatively dubbed "
iPhone SE 2
."
The rumored handset will pack a 5.4-inch screen into a case close in size to that of the iPhone 8, which itself was just over 5.4 inches tall. A 5.4-inch display would be a notable improvement over the so-called "iPhone SE 2's" predecessor, as both iPhone 7 and iPhone 8 featured 4.7-inch LCD screens.
A switch to Face ID and, presumably, the deletion of iPhone 8's top and bottom bezels -- affectionately referred to as its "forehead" and "chin" -- will free up space for the larger display, the sources said.
On the back is a "much bigger" camera as compared to iPhone 8, while the True Tone flash is said to "return" to a size seen on iPhone 7. While a bigger camera is expected, both in terms of megapixels and physical size, the True Tone flash comment is confusing as the part is identical on iPhone 7 and 8.
Today's report adds to a veritable mountain of "iPhone SE 2" rumors. Analyst Ming-Chi Kuo was among the first to deliver news of the upcoming low-cost handset last June, saying he expects the model to
borrow most of its internal hardware
from iPhone 8. Kuo later revised expectations and said the phone will share design elements from iPhone 8, including a 4.7-inch screen and Touch ID, while
incorporating some modern parts
like the A13 Bionic chip introduced with iPhone 11.
More recently, the Apple analyst pegged "iPhone SE 2" to debut in March as
the first of five iPhones
to launch in 2020. Interestingly, Kuo believes a 5.4-inch iPhone will see introduction this fall alongside a 6.1-inch LCD model and 6.1- and 6.7-inch OLED options.
It is possible that
MacOtakara
sources are confusing the supposed "iPhone SE 2" with an expected 5.4-inch model due out this fall, in which case the report offers no new information aside from the adoption of a smaller form factor. Apple's iPhone 11 measures 5.94 inches tall and 2.8 inches wide compared to iPhone 8 at 5.45 inches tall and 2.65 inches wide.
Further confusing matters, Kuo in December said he expects Apple to release an "iPhone SE 2 Plus" device with a 5.5- or 6.1-inch screen in 2021. The handset is predicted to feature a full-face display, but instead of Face ID will rely on a Touch ID module integrated into the power button.