Disney+ attracts 28.6M subscribers in less than 3 months
Disney's new video streaming service, Disney+, now boasts more than 28 million paying subscribers after launching against market competitor Apple TV+ in November, the company revealed on Tuesday.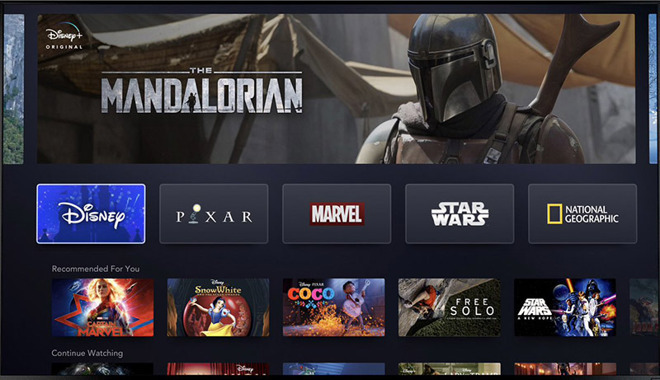 The figure was officially reported in Disney's quarterly earnings report as 26.5 million subscribers at the end of December, but CEO Bob Iger in an earnings conference call after the bell said the service hit 28.6 million
as of Monday
, according to
The Verge
.
Disney has leaned heavily on promotions to help push subscriber numbers, presenting new users with deals on annual subscriptions during the holiday shopping season, providing discounts for multi-year obligations and offering a
year of free service
to select Verizon customers. Apple, too, is dishing out free access to its streaming product,
Apple TV+
, to new
iPhone
,
iPad
,
Mac
,
Apple TV
and iPod touch owners.
Disney also notched increased subscriber numbers for Hulu and ESPN+, which jumped to 30.4 million and 6.6 million subscribers at the end of December, respectively. Those gains are in large part thanks to deal that bundled Disney+, Hulu and ESPN+ for a
monthly fee of $12.99
, according to the report.
After a successful domestic launch, the entertainment giant is looking to fuel growth through international expansion. Disney plans to debut the service across Europe
in March
followed by a rolling global launch throughout 2020.
The news arrives a week after Apple conspicuously failed to mention Apple TV+ subscriber numbers in an earnings report for its first fiscal quarter of 2020. Apple CEO Tim Cook in a conference call last Tuesday had little to say about the service beyond noting it is off to a "
rousing start
," a vague metric he later clarified to be based on total subscribers.
Disney+ launched
in November
with a mountain of content, including access to Disney, Pixar, Marvel Universe, Star Wars and National Geographic movies and shows, as well as hotly anticipated originals like "The Mandalorian." The service notched more than
10 million subscribers
in one day.