Samsung unveils its Galaxy Z Flip phone during the Oscars
The forthcoming foldable Samsung Galaxy Z Flip was revealed in a commercial during the live telecast of the Academy Awards -- and so was a crease, its display "feature."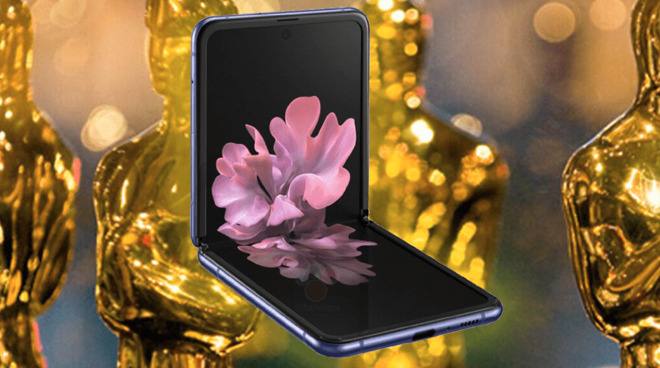 Samsung revealed its Galaxy Z Flip phone during the Oscars. (Image: The Next Web)
Samsung has launched its Galaxy Z Flip smartphone with an advert that premiered during the ABC network's live telecast of the 92nd Academy Awards. The 27-second ad demonstrated the flip clamshell phone in action, but underneath the hero shots, there was a footnote about screen quality.
"You may notice a crease at the center of the main screen, which is a natural characteristic of the screen," it said.
That note was shown for six seconds. As well as being hard to spot, you'd be forgiven for then not seeing the crease in any of the product shots because of the next footnote. "Screen images simulated," it added.
Samsung has not yet announced pricing or a release date for the phone, but it is expected to reveal more at its
Samsung Unpacked event
on Tuesday February 11.
The new Galaxy Z Flip phone follows the Galaxy Fold, which was revealed at 2019's Samsung Unpacked. The Galaxy Fold is a $1,980 smartphone and initial review units
proved so poor
that they were retrieved by the company and launch plans were delayed.
The company eventually released the Galaxy Fold seven months later in September 2019, although for its first few weeks it was
only available in Korea
.
Samsung's warning of a visible crease in the new phone's display suggests that the company has not surmounted the issues that affected the previous version.
Motorola has also been
working on a foldable phone
, version of its classic Razr flip device. The new Motorola Razr was formally announced it in November 2019 and has yet to ship -- but initial reviews are not good.
Apple is reportedly working on foldable phones too, but with a
more robust bend radius
.