Apple software head Craig Federighi explains iPad's trackpad support
Apple's iPads are officially getting full support for mouses and trackpads later this month. Company SVP of Software Engineering Craig Federighi demonstrates how the unique system works in a video released Wednesday.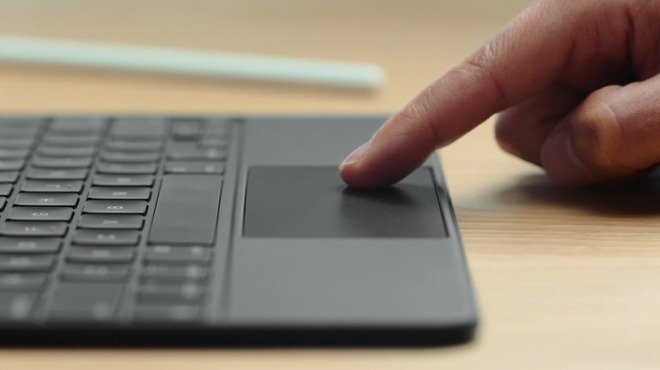 Alongside a new Magic Keyboard with Trackpad, Apple is adding expanded support for mouse cursors and trackpad gestures in iPadOS.
Mouse support first showed up as an Accessibility feature in iOS 13, but Apple is taking things a step further in its next version of
iPadOS
. Essentially, trackpad support is part of a larger overhaul of the user interaction system. Specifically, the cursor.
As Apple software head Federighi detailed in a video
provided to
The Verge
, the new cursor has been specifically designed for iPadOS' touch-first UI. In other words, it isn't just a Mac pointer slapped onto the tablet operating system.
For one, it'll only show up when you need it. Instead of being a persistent element of the UI, the mouse or trackpad pointer will appear only when your finger is on the trackpad.
The shape is also different -- it's a small dot instead of an actual pointer. It'll behave similarly to a computer pointer, with the ability to bring up the dock by hovering at the bottom of the display or the Control Center by clicking on the top status icons.

An example of how the cursor changes shape over certain buttons and clickable elements.
But most interestingly, the cursor will actually change shape and adapt to various UI elements to make it clear what you're pointing at, whether it's a button or a piece of text.
Speaking of text, the cursor will undoubtedly make it much easier to select, drag and otherwise manage large blocks of text than using your finger. If you're working in a spreadsheet, the cursor will help with the precision selection of cells.
The cursor is only one part of expanded pointer support in iPadOS. Another major addition is trackpad compatibility. And while there won't be the same set of gestures as a MacBook Pro or Air, the trackpad will support some multi-touch gestures, such as the ability to pinch-and-zoom.
With three fingers, you can go home with a swipe, invoke the multitasking menu with a swipe-up-and-hold, and quickly switch between open apps by swiping to the left or right. (The latter gestures also work seamlessly in Slide Over.)
Mouse and trackpad support appear tailor-made for Apple's new
Magic Keyboard with Trackpad,
but third-party accessories and non-Pro iPads may also be able to take advantage of it. Alongside the new Magic Keyboard, third-party Apple partner Logitech debuted a
pair of keyboard cases
with trackpads for the 10.2-inch iPad and the new iPad Air.
It isn't clear, at this point, if those trackpads will also support the same set of gestures and shortcuts available on the new Magic Keyboard.
The
2020 iPad Pro
models and the new Magic Keyboard with Trackpad will launch on March 24, while preorders are available now. Broader mouse and trackpad support are coming in iPadOS 13.4, which drops on the same day.