How AppleInsider staff work from home and what gear we need to do it
AppleInsider staff work all around the world, and most of us have home offices. If you're looking for the ideal desk setup, we can show you that there isn't one -- but here are eight favorites that help us get our work done.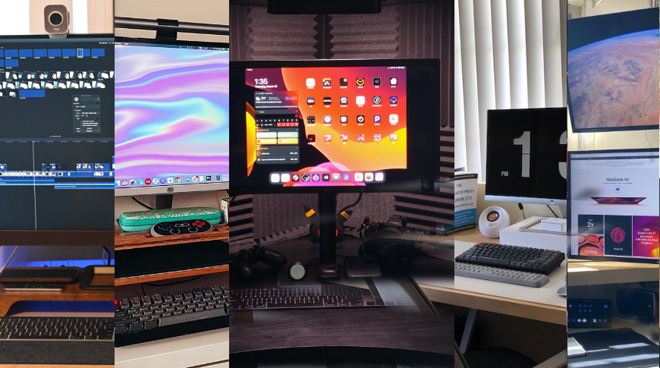 No two Apple users are the same.
Of course it's not fun being abruptly forced to work from home. It's a difficult adjustment, there's a lot you have to do to simply carry on with your job as best you can, and it's likely that money is tight. Yet as well as being essential to your workload, and your mental health, taking what time you can to create the right desk setup for you is actually rather enjoyable.
We discussed in general terms
how to work from home
a few weeks ago. Even before then, we had a certain background level of requests for specifics involving our specific setups. After publication of that piece, the requests flooded in.
We all need a bit of enjoyment, and, frankly, if you're not even the slightest bit nosy about other people's Mac and iOS setups, well, we are. Come for the startling array of technology, and stay for how this shows that productivity and comfort are hugely different for everyone.
Here are the desks -- and the words -- of those
AppleInsider
staff who tidied up quickly.
William Gallagher, writer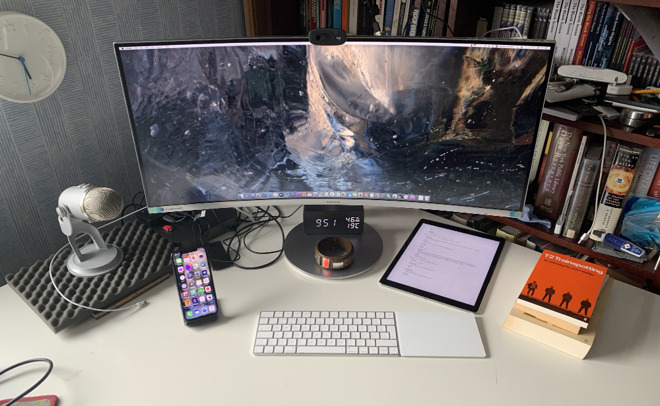 That's a Liberator teleport bracelet from BBC's Blake's 7 underneath William Gallagher's monitor.
If you'd asked me about this three weeks ago, I'd be showing you how my
2018 Mac mini
was plugged into the cheapest, lowest-res monitor I could find. Then about two weeks ago, you'd have seen practically a Rube Goldberg lash-up of a contraption, as I'd got my mostly broken 2012
iMac
acting as a display for that Mac mini.
Just last weekend, though, I moved to this. It's the same Mac mini but the display is a 34-inch ultrawide Samsung LC34J791WTUXEN. That name looks as if I just tripped over the keyboard, but in so many ways, this is the best monitor I've ever had. Certainly I don't want to go back to a regular, non-ultrawide one. It's the first one to make me forget my preference for iMacs.
It's great enough that I've gone a bit crazy with the app
Keyboard Maestro
. Now using that, I have a couple of keystrokes that open all the apps I use for
AppleInsider
, and arranges them around the screen. Another keystroke replaces all of them with what I need in my other role as Deputy Chair of the
Writers' Guild of Great Britain
.
Now that I've tried ultrawide, though, I do want to go even wider and am enviously eyeing up ridiculously expensive
49-inch models
.
I just also know that I need to pay a lot of attention to the resolution. This Samsung is exceptional for all the work I do, but it's not tremendous at playing movies or TV. It's fine, but at 3440 x 1440, it isn't wonderful.
As for the rest of the desk, please picture me placing my arms at the very edge of the frame and then sweeping outwards to clear away the debris. What remains includes, on the left, a
Blue Yeti microphone
, a red
Luna Display
adapter atop my Mac mini, plus a
TP-Link 7-port USB hub
, my
iPhone 11 Pro
on an
Anker Qi charger
.
On the right, it's mostly my current reading material, with a script on that 12.9-inch
iPad Pro
. It's an original iPad Pro from 2015 and is creaking. It's early morning as I write this and I've already had the low battery warning. Plus certain parts of the screen no longer respond to touch. Yet it's still a workhorse for me, and what I read on a huge amount.
The Mac wallpaper, by the way, is mine. It's a very closeup shot I took of discarded shards at a glass factory here in the UK.
Amber Neely, writer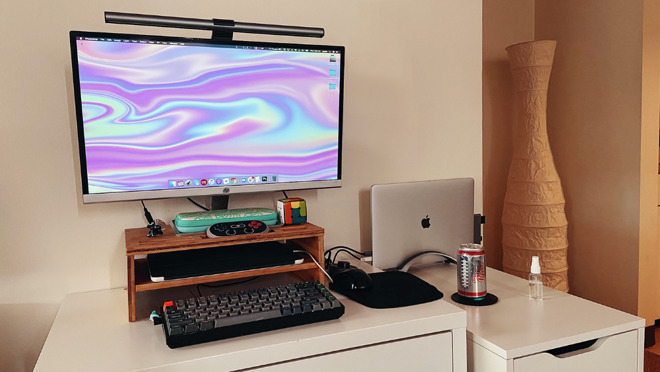 As well as writing for AppleInsider, Amber Neely is an artist, and you can tell with this best-designed desk setup of them all.
Since I live in an under 600-square foot studio apartment, I don't get a separate office space that I can pack with tech. You could call my setup minimalist, but it's mostly just born out of necessity.
The desk is a Micke desk from Ikea -- the smallest that they offer. It's only 28 inches wide, which means we can fit two of them in a relatively small area without taking up the whole room.
At the top of my monitor, I've got a
BenQ ScreenBar
that I like to use in the early part of my shift. When I wake up for work, it's still dark out for nearly a full hour. Having a small light that I can use at my desk without fear of waking up my partner -- it's a studio apartment, remember? -- is nice.
The monitor itself is an HP 25-inch Low Haze FreeSync Monitor, which I've owned for a couple of years. I find that working on a laptop screen isn't great for my posture or my eyesight, so the addition of a larger monitor to my setup was crucial. Below my monitor is a flat-pack monitor riser, which works to keep everything at eye level and out of the way.
On the monitor riser is my
GoCube,
a Bluetooth-enabled speedcube. There's an
8BitDo N30
Pro Bluetooth gaming controller -- I highly recommend looking at picking one up if you play Nintendo, SNES, or PS1 games. Lastly, I also keep my
Nintendo Switch Lite
on hand -- tucked safely away in its
Animal Crossing New Horizons carrying case
.
Inside the monitor riser is where I store my iPad Pro. Giving it a proper space ensures that I use it a fair amount, too. Below the monitor is a
Keychron K2 mechanical keyboard.
To the side of my desk is an Alex drawer unit I got from Ikea. Adding a set of drawers to my setup gave me not only plenty of space to store paperwork and supplies but also an additional 14-inches of flat space.
On top of the drawer unit, I have a 15-inch
MacBook Pro
that I keep in a
Twelve South BookArc
. It's been instrumental in giving me a little extra space to play around with.
Andrew O'Hara, video producer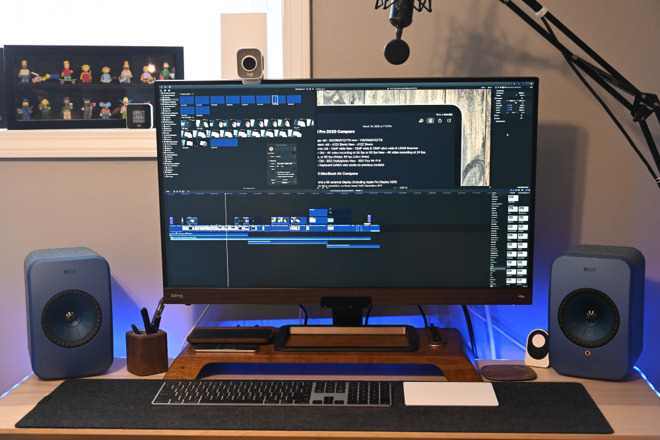 Andrew O'Hara has serious video production tools -- plus "The Simpsons."
I'm using a simple
Lisabo Ikea desk
as my main work station which has a natural wood color very reminiscent of an Apple Store. On it I have a set of Kef LSX monitors on either side of my
32-inch BenQ EW3280U monitor
. Atop the monitor is my
Logitech StreamCam webcam
as the
Mac Pro
I work on doesn't have a dedicated camera of its own. That sits under the hovering
Yeti Blackout Spark SL Blackout edition
that I swing down when recording podcasts or VOs.
The monitor is atop a walnut stand that I made which has an opening beneath it where I can tuck my keyboard if I need some extra space. Also on the walnut stand is my
Nomad Walnut base Station wireless charger
, my Apple TV Siri remote, and the Grovemade Task Knife for opening packages.
I also have a set of Grovemade walnut coasters and a pen cup. I don't often have to charge my Apple Watch during the day, but when I do or if I wear it to track sleep, I have the
Studio Proper block aluminium watch dock
.
My
Magic Keyboard, Magic Mouse 2, and Magic Trackpad 2
all sit on top of Grovemade's wool desk mat.
That is all that is on top of my desk but there is a lot more going on. To the side, I have a separate stack where I keep my peripherals. That includes the
20TB LaCie 2Big Thunderbolt 3 dock
. I keep the
CalDigit TS3+
handy for connecting anything else that I may need. There is also the new Sonnet Thunderbolt 3 XQD/CFExpress 2 dual card reader for quick import of footage from my
Nikon Z 7
and
Nikon Z 6
cameras that I shoot on.
Powering the monitor is also the new BlackMagic eGPU Pro which connects over
Thunderbolt 3
then HDMI to the monitor itself. We have only the base graphics in the
Mac Pro
and this allows me to connect my MacBook Pro to the eGPU when I need to dock my portable machine for edits.
The back of my desk is wrapped in the
HomeKit
-capable
Eve Light Strip
which not only can add some color in here but looks good while shooting on my desk.
My office is located in my studio which means that I have a lot of lighting rigs and shelving located around as well as a couple different sets depending on what is getting shot that day. For more immersive sound -- I hate to work in silence -- not only do I have the LSX speakers on the desk but I have the
Naim Mu-So 2
as both a set piece in the background but a functional AirPlay 2 speaker that I can control via Siri. I also have a
HomePod
in the studio which is helpful as many of the lights (as well as the Apple TV and AirPlay 2 speakers) can be controlled via
Siri
and HomeKit.
Mike Peterson, writer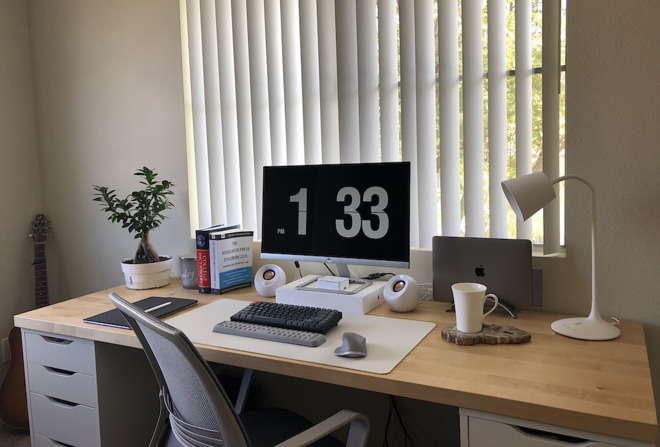 You'll never guess what time of day Mike Peterson took this shot.
I run a 13-inch MacBook Pro mounted on a BookArc and plugged into an HP monitor and a pair of cheap
Creative speakers
from Amazon. Much more important is the mechanical keyboard, a Keychron K2, which makes long bouts of writing much more enjoyable. I'd also highly recommend the MX Master 3 for a good, ergonomic mouse.
The setup's simple, but it's been more than enough for writing and light multimedia work. The desk itself is actually a kitchen countertop on two Ikea cabinets. For companionship, I have a nice indoor Bonsai tree. And to prove that I'm not too much of an Apple zealot, I've got a
Raspberry Pi 4
at the ready for hardware or security tinkering.
That iPad Pro to the left is several years old, and mostly used for reading Apple News.
Daniel Eran Dilger, writer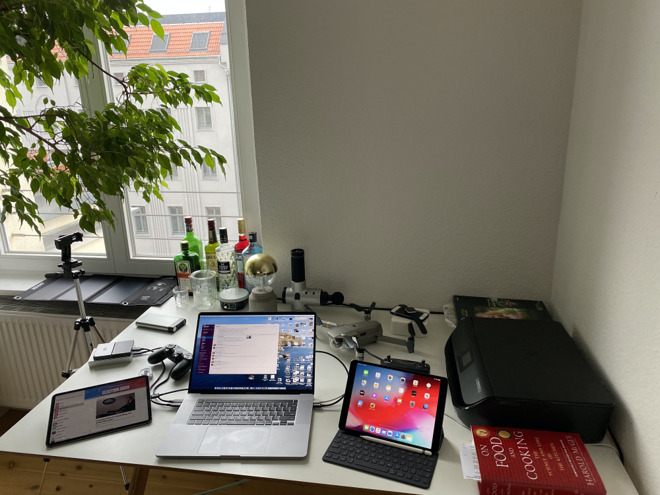 Daniel Eran Dilger's desk must be about two-thirds serious Apple gear, and one-third interesting toys.
Daniel Eran Dilger is an
AppleInsider
columnist who at any time can be writing from his home, or on the road at events such as WWDC. His work revolves around his heavily-used MacBook Pro, but here he's spread out his other essentials -- and some surprises.
Working very roughly from left to right, you can pick out where he's got an Elefull 30k mAh battery, which he notes he rates for how it has Mini USB, USB-C and Lightning charging inputs, plus fast USB-A output.
Speaking of power, there's also an
Anker Power Port solar charger
, and speaking of USB-C, you can spot Western Digital & LaCie Backup drives.
While the MacBook Pro is his central machine, notice that he has both an iPad Pro and
iPad Air 3
, along with an Apple Pencil.
But alongside the work tools, he's also got a
DJI Mavic Pro Platinum drone
. There's also an old Apple Watch Series 0 with an LCD screen that springs loose, an iPhone 5 bricked by an iOS dev beta -- and a massage gun.
Wesley Hilliard, writer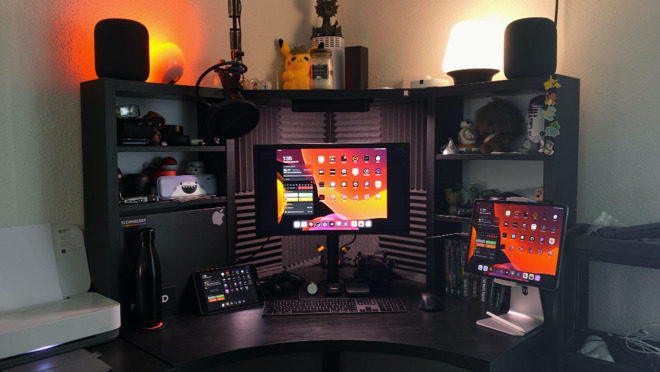 That's not a Mac on writer Wesley Hilliard's desk, it's an external monitor for an iPad Pro
I do not use a Mac anywhere in my workflow, and I know that may be borderline blasphemous to most, but I truly love working and using my third generation
12.9-inch iPad Pro with 1TB internal storage
, and cellular data, as my workhorse. I use this device in three configurations; as a desktop, as a laptop, and as a tablet.
The image of my desk is my "desktop mode" and is where I spend most of my time working. The iPad Pro is in a
Viozon stand
that keeps the iPad sitting just how I need it, with the Apple Pencil nearby for photo editing and image design.
The iPad Pro is connected via USB-C to the LG display, and has a Bluetooth connection to the Apple extended keyboard. I chose the LG Ultrafine 22-inch display for its integration with True Tone and power delivery over the USB-C connection. Having the iPad displayed in front of my face without looking down at a smaller screen means much more comfort and easier reading.
Connected to the LG display is a Stay-go hub by Twelve South. This has the Corsair mouse dongle, a 1TB Samsung T5 SSD, an
Audio-Technica AT2500 microphone
, and an Ethernet cable connected to it, and thus, to the iPad Pro.
The iPad mini serves as a second screen during work. I keep
Slack
and
Reeder
open on it for my entire shift throughout the day so I can focus on my work on the main screen.
Our publishing client is on the web, which I use Safari for.
IA Writer
is where I store all ongoing projects and text for archival purposes. I use this app for its integration with Files, plain text exports, and historical file recovery.
Picsew
combines images and screenshots effortlessly, and lets me put those device frames on screenshots for work.
Affinity Designer
is used to make unique images for stories that require more editorialized content.
Affinity Photo
is my go to editor for images from my Sony A7II camera.
Pixelmator Photo
is great for quick color corrections and
Pixelmator
is used for fast image resizing for our website template.
Overall working from this desktop is comfortable and has everything I need within arms reach.
Notable mentions on the desk include an official Apple water bottle from
Apple Park
and the
Satechi Trio Wireless Charging Pad
. That's the
Apple Smart battery case
and
AirSnap Pro case
from Twelve South. The
desk is from Ikea
.
When I need time away from the desk, the iPad Pro goes into the Brydge Pro keyboard case and comes with me as a laptop. The iPad mini comes along too of course.
Victor Marks, writer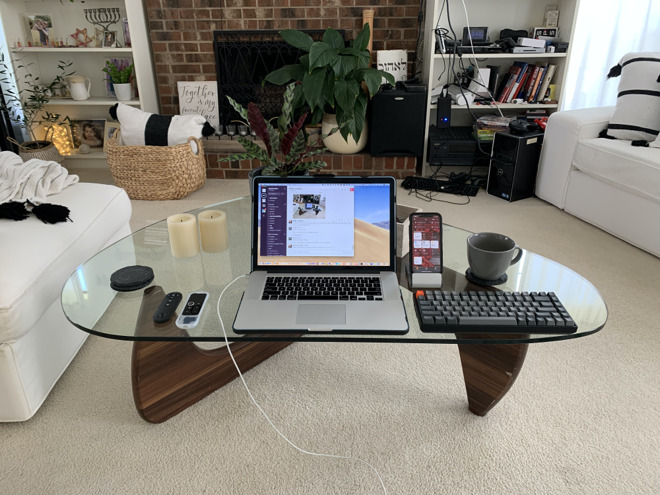 Even a desk isn't a requirement, as writer Victor Marks works from his gorgeous living room
I primarily work from my lounge, with the laptop or keyboard perched on the high arm of the couch. The coffee table is always a part of the space, with the
Belkin Flipstand
, shale coasters, and (according to William Gallagher) secretly British tea cup.
The remotes control the ceiling fan (which is also soon to be on HomeKit via
RavenSystem's HAA
) and AppleTV. The keyboard is the mechanical
Keychron K2
.
Malcolm Owen, writer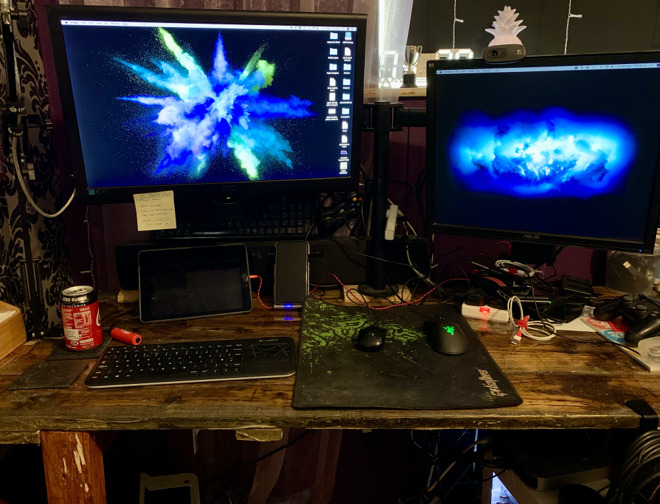 Writer Malcolm Owen's desk is home built.
So far, I have spent over eight years in a work-from-home situation, but said situation has changed a few times over the years. Originally I was holed up in a back room with my head mere inches from a repeatedly-ran washing machine, then after moving I was able to dedicate an entire room to work. Now, my workspace has shrunk down a little bit, but it is more than enough room for what I need it to be.
The workstation is a 2014
Mac mini
with a dual-core 2.6GHz Core i5 processor, 8GB of RAM, and the old spinning disk replaced by an SSD. I admit it's probably a little under what I require for my job, in part due to my habit of using
Chrome
and web apps and not being able to add more memory, but it is going to be replaced by an upgrade very, very soon.
The displays are in a similar state of being old and needing to be replaced. They're from AOC and ASUS, were the cheapest ones to do the job when I bought them, and they're in the firing line to be upgraded to 4K screens. Both are attached to a
VESA mount arm
, which again was the cheapest I could acquire from Amazon, with the aim of retaining as much desk estate as possible by not using the included monitor stands.
As I am a gamer, as well as believing in a separation of work and play, I do have a PC nearby. Primarily used for gaming, the self-built PC is also used for some data storage and handling of the occasionally-required screenshots of Windows. The Mac mini is perched on top of the PC, so at least some of the rat's nest of cabling can be under the desk instead of immediately visible.
Peripherals are connected to the Mac mostly through USB extension cables around the back of the desk, though I also have a USB hub stuck to the monitor mount to save me from stretching too far. Also on the desktop are an iPhone XR and a 9.7-inch iPad Pro, a mouse and keyboard for each of the two computers a Blue Snowball microphone, an ancient Logitech webcam, and a secondary power source that is used for low-power devices and recharging items while an under-desk UPS handles the main power distribution.
I route as much audio as possible through the PC, with the iPad Pro handling my non-verbal work playlist piped through an iRig to it, and then output through headphones. In rare occasions where I have to take a phone call or listen to something sourced on the Mac that won't be quickly listenable from the iPad-via-PC setup, I use some
Anker in-ear Bluetooth headphones
.
Backups for both the Mac and PC are handed via Time Machine and File History respectively to separate 2TB external hard drives. In the store room is an old PC that is used as a file server, though feasibly it could also be used for backup purposes down the line with sufficient storage upgrades.
Behind the desk is a curtain of lights to help prevent eyestrain while working, and a clock is kept on the window sill to display eastern time, to save me from having to work out the time difference between the US and the UK during working hours.
As the space is used for both work and play, I also have many things near me for the latter of the two areas. Drawing, playing card, and magic-related items are at hand to my left, while behind my seat is an electric guitar. An
Amazon Echo Dot
also sits on the PC, to handle non-headphone playlist duties, as well as to save me the two-foot stretch to turn on my office fan.
Mike Wuerthele, editor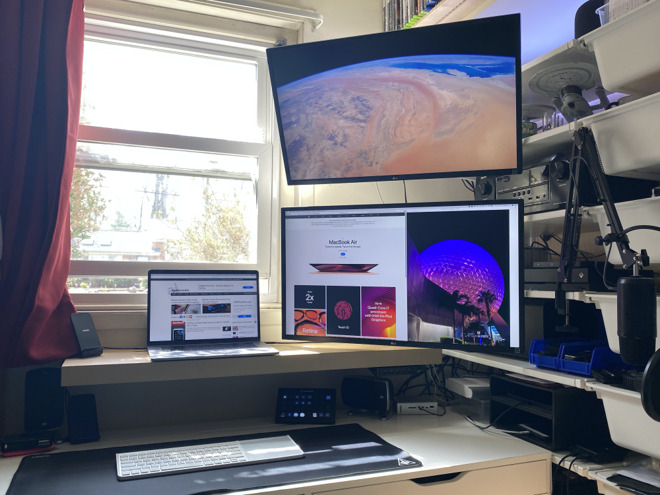 Everybody's different, but editor Mike Wuerthele has also spotted that everything changes, too.
I joked on social media that 30 years of life experience has led to this moment. Between
submarine service
, and 18 of the last 20 years as work from home with much of that caretaking a disabled child in this office/bedroom, not a lot needs to change in the short term to support the
coronavirus
"new normal" that we've found ourselves in, at least temporarily.
My main work machine is a
2018 i9 15-inch MacBook Pro
, which connects to a
Razer Core eGPU
and
Radeon VII video card
. This, in turn, connects to a
Denon AVR-S920W receiver
in conjunction with all the rest of the AV equipment, which then connects via HDMI 2.0 to a pair of
LG 32UK50T-W
32-inch displays that are mounted to the wall with articulating VESA mounts.
I don't have peripherals plugged into the eGPU, nor do I have anything daisy-chained off of it. Instead, I use a
CalDigit TS3+ Thunderbolt 3 dock
to power the MacBook Pro, and connect my peripherals like the Amazon Essentials condenser microphone for podcast recording, and the
El Gato Stream Deck XL
for a quick control panel and monitor for some of my system's parameters.
Not all that long ago, I was planning on picking up a pair of second-hand server racks for the array of gear next to the desk. But, I found that the Ikea Algot closet system would do what I needed it to do, and do it cheaper, with more flexibility.
The ersatz rack holds the Denon, the eGPU, a couple of consoles and set-top boxes including an
Apple TV 4K
, plus my iPad and tablet charging station. Most importantly, below the level of the desk surface, it also holds my 2018
Mac mini
-based home server, with a pile of hard drives hanging off it in relatively old original Thunderbolt enclosures.
That Mac mini is a Time Machine server, is a local cache of Apple update content so we only have to download OS patches once, and stores all of our downloaded iTunes content, and movies that I own on DVD that I've encoded for Home Sharing. We've got the media library there, not just to keep overall bandwidth use down, but also to help keep the kids entertained in the case of a Netflix or Disney+ outage.
But, looking at the picture, I realize how much has changed over time. Like watching a child grow up day-to-day, you don't always see the changes in the short term.
In the last two years, nearly everything in this work and leisure setup has changed, one piece at a time. The overall takeaway from that is, is do what you need to do to guarantee comfort and an optimal setup for work from home. It isn't worth skimping, or "making do" if you don't have to.
Even relatively minor improvements in a space can make a big difference for the overall habitability and workability.
A world of difference
As closely as we all work together, none of us had seen everyone else's workspaces from the worker's viewpoint before we started assembling this piece. Then even though we have different roles and responsibilities, a lot of our work has to overlap, and all of it of course involves similar deadlines, similar requirements.
Yet despite all that, not one of these desk setups is the same. Everything is molded to each person's needs, tastes and also budgets.
William has changed monitors three times in the last month, though he wants you to know that before this he only had two monitors over eight years. We are replete with Mikes, but Mike Wuerthele noted how his setup has transformed without his even noticing. We create these spaces for ourselves and it never ends, we never stop making and remaking our working environments.
The one constant across everyone here is that this adaptability we need means we use Apple gear. You would expect anyone working on
AppleInsider
to be using Macs and iOS, but for everyone here, it's not the case that we use it because this is where we work. It's much more that we work here because this is the equipment we use and, to be quite honest, love.
Keep up with AppleInsider by downloading the AppleInsider app for iOS, and follow us on YouTube, Twitter @appleinsider and Facebook for live, late-breaking coverage. You can also check out our official Instagram account for exclusive photos.