Review: 2020 iPad Pro is more about future software than the hardware gains today
Posted:
in iPad
edited January 2021
The new 2020 iPad Pro is slightly more powerful than ever, and that minor spec upgrade that it got this time around, it is now more about what can happen with software down the road than hardware improvements today.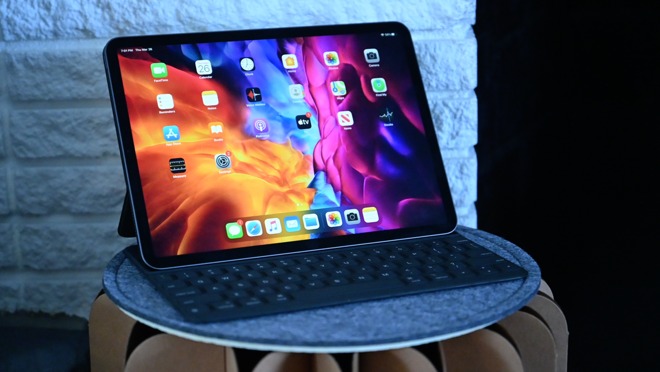 11-inch 2020 iPad Pro with the Smart Keyboard Folio
When Apple launched
iPad
back in 2010, it didn't quite know what iPad would be. It went through a number of exploratory phases like going all-in on periodicals with Newsstand before killing it off then coming back with Apple News+ years later, and adopting the Apple Pencil.
During the time of the first iPad, little did we know that iPad would eventually embrace the mouse or trackpad, and cameras would play a huge part of the iPad's feature set.
Yet here we are, in 2020, with the latest iPad Pro that does all of those things. Apple's iPad is no longer just a consumption device or a casual tablet for light work -- it is a full-on content-creation, multitasking, mouse-wielding, portable device that can get the job done.
When we tell people that we use iPad as a tool to produce 4K videos or as our writing instrument of choice, people no longer show surprise or act as if its some insurmountable task. People everywhere have embraced iPad for a huge array of different purposes and the 2020 iPad Pro is absolutely the best one yet -- even if the differences model-over-model aren't all that riveting.
Hardware changes on iPad, like iPhone before it, have become a bit more predictable and a bit less flashy. Apple has iterated on tried-and-true tactics to perfect the device while also focusing strongly on the software.
Apple started down this road in 2019 with the branching off of iPadOS from iOS to allow more iPad-specific features and we expect Apple to continue that trend.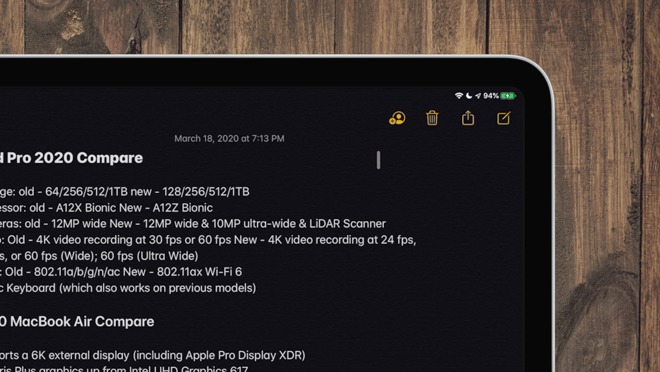 Cursor support arrives on iPad
Announced alongside the new iPad Pro was
iPadOS 13.4
that, much to everyone's surprise, brought full-fledged cursor support plus support for Bluetooth mice and trackpads to the tablet line. For productivity users, this update paired with iPadOS will play a large part in how successful the iPad Pro is as a pro tablet.
De-prioritizing hardware changes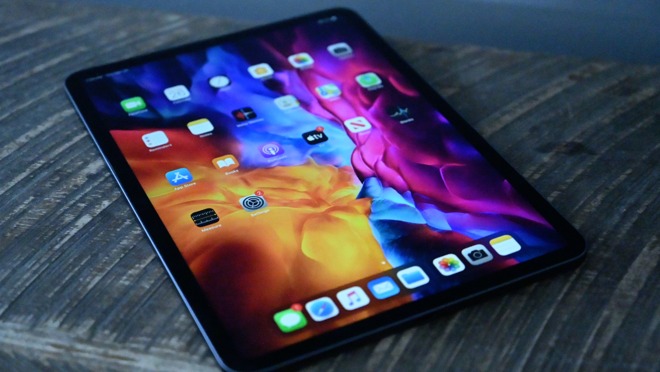 11-inch iPad Pro
This time around, the physical changes to iPad Pro are minimal. It looks identical to the 2018 iPad Pro.
The new iPad Pros still have the same gorgeous Liquid Retina display, the same support for Apple Pencil, and the same TrueDepth camera system.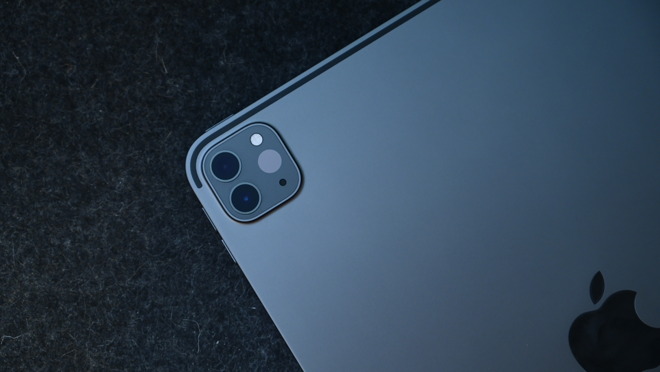 The new camera bump houses a 12MP wide-angle camera and a 10MP ultra-wide angle camera
Where it changed primarily was with the rear-facing cameras. It got a new 10MP ultra-wide-angle camera and a new LiDAR scanner. These are big changes, but if you don't ever use augmented reality or take photos with your iPad Pro they are largely a moot point.
The tablets now support Wi-Fi 6, though you need a Wi-Fi 6 router to take advantage of that feature. The base models now start at 128GB of storage rather than only 64GB.
Apple even slipped essentially the same processor as the previous generation in, just incrementing the letter and activating one additional GPU core. A
new report
says the
A12Z
is the exact same chip as the A12X, but the latter had one of the eight GPU cores deactivated. They enabled it with the A12Z and stuck a new marketing name atop.
That paints a fairly underwhelming picture if you own a 2018 iPad Pro and wanted a big worthwhile, headline-grabbing reason to upgrade. Fact is, almost everyone on the 2018 iPad Pro will have no need to make the jump, unless you want that LiDAR scanner.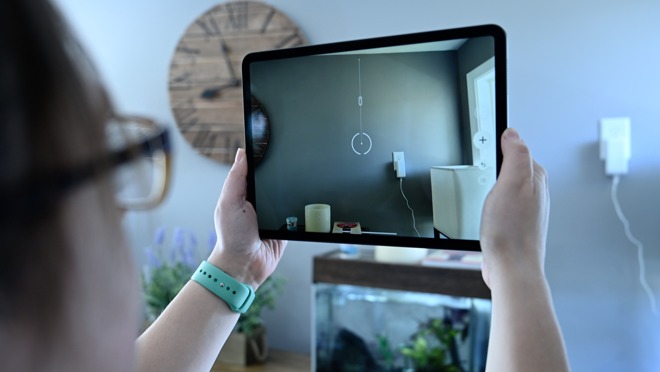 Taking measurements with iPad Pro as a massive viewfinder
iPad Pro, as much as some don't want to admit it, is starting to be more like a computer. Most folks don't upgrade their Mac every year because a new model drops, yet a kitted-out iPad Pro can get into 13-inch MacBook Pro territory.
So while these changes aren't flashy for 2018 would-be upgraders, they are quality of life improvements for anyone else who was contemplating picking one up.
The iPad Pro was already such a powerful and polished device that its biggest gains were to be had through software, and possibly additional accessories. We're looking at you, Magic Keyboard, that has yet to ship.
Performance ceiling
There is something to be said for Apple making its own chipsets. They are industry-leading in power and battery utilization and have been for some time. It poses a bit of a query for Apple when developing a new chip. In the case of iPad Pro, most users weren't hitting the performance ceiling that the A12X Bionic imposed.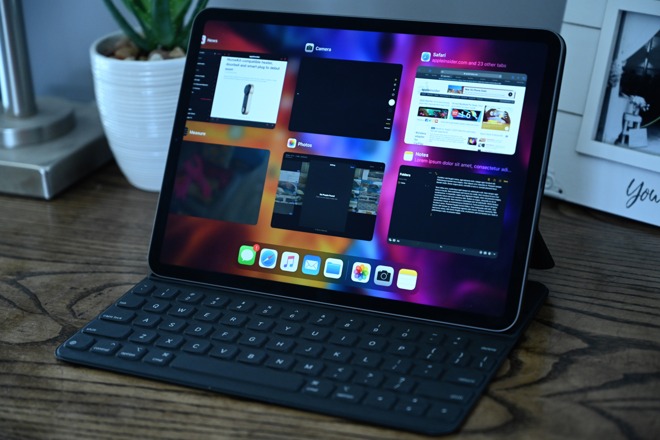 Multitasking App Switcher on iPad Pro
In reality, the biggest spec iPad Pro had to boost was graphics. And not because the previous-generation graphics were underpowered, but because you can always encode that video faster or export that massive RAW image quicker. This is what Apple gave us in the new A12Z Bionic processor, slightly better graphics.
To test, we ran the latest Geekbench 5.1 benchmarks. Our 2018 iPad Pro delivered around a 1116 single-core and a 4584 multi-core score. The new 2020 model garnered a similar 1117 single-core and a 4653 multi-core. These are effectively identical results if you take into account the variability of Geekbench testing.
An extra GPU core means better graphics scores. 2018 iPad Pro (left) compared to 2020 iPad Pro (right)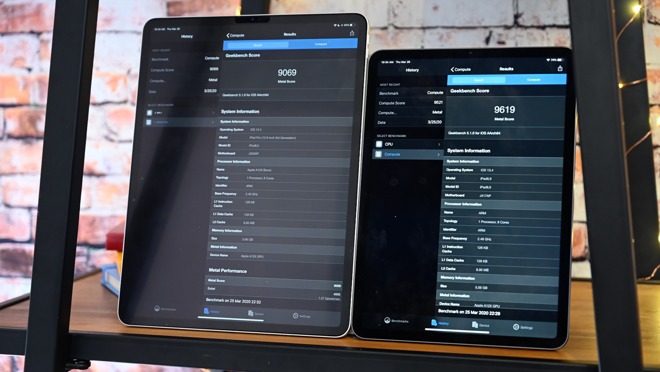 Geekbench Computer Metal graphics test on 2018 (left) and 2020 (right) iPad Pros
When we turned to the Geekbench Compute benchmark which tests the Metal graphics performance, the 2018 Pro earned a 9069 while the new 2020 pulled a 9616. This gain is explained by the increase in GPU cores within the A12Z Bionic.
For another test, we turned to iMovie. We created a four-minute and 39-second 4K video on the new and previous-generation iPad Pro and exported the video for sharing. The 2018 iPad Pro took 20.05 seconds to complete and the 2020 iPad Pro only took 5.12 seconds.
This is a practical real-world gain and demonstrates why even just one additional core can make a difference. Videos editors who are doing more than just a four-minute clip are going to be happy with those improved render times.
iPad Pro cameras
The iPad Pro doesn't have quite the same 12MP camera as the iPhone 11 does, but it isn't far off. The cameras aren't just used for taking pictures of your pets, there are a ton of commercial and professional applications as well. For these, a competent camera is necessary.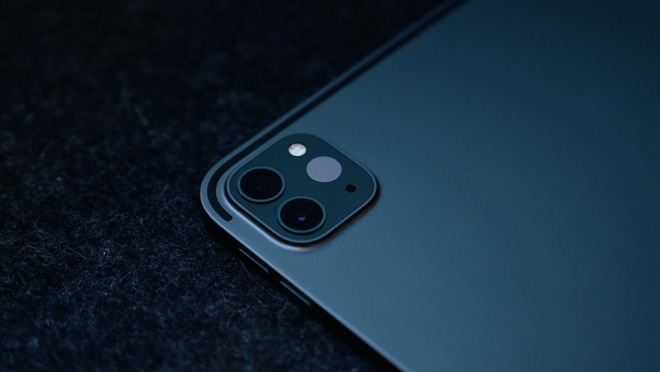 New camera module on 2020 iPad Pro
The ultra-wide lens helps out further. It is only 10MP, but otherwise takes decent shots. The ultra-wide, like it does on the iPhone 11 line, takes in up to twice as much horizontally. Perfect for close quarters or scenic views.
There is a part of us that wishes Apple would have taken advantage of this lens to enable 1X portrait mode on the iPad, or even standard 2X with the help of both lenses or even the LiDAR scanner. At the same time, we don't want to necessarily encourage everyone to prioritize taking pictures with a massive tablet.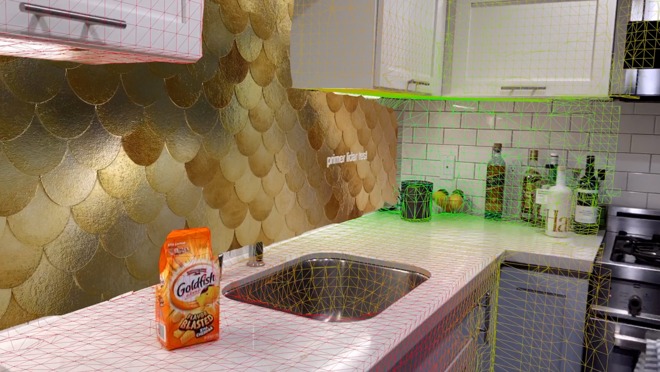 LiDAR demo using a pre-release version of the Primer app
The LiDAR scanner sits next to the other dual shooters. LiDAR, an acronym for light detection and ranging, measures how long it takes for light to hit a surface and return which allows the system to create a 3D image of the scene in front of it.
The most obvious use of LiDAR is to enhance augmented reality capabilities, a vertical Apple has been exploring for quite some time. LiDAR assists with person occlusion and is able to create a real-time mesh around complicated scenes.
We saw this for ourselves when we spoke to the developers behind the Primer app. This app allows you to preview wallpaper, paint, or tile in your own home. After only a couple days with the updated ARKit 3.5 SDK they were able to get a working build. It is quite impressive, though it loses its luster if you don't have any practical application for AR in your own use.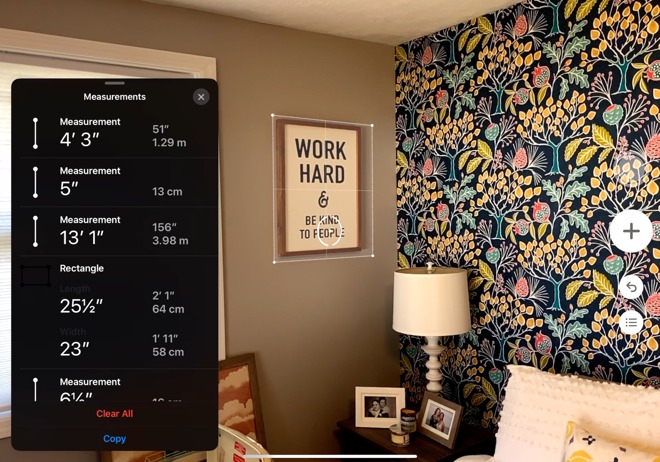 Updated Measure app on iPad Pro
Without any user-facing application, other than the Measure app, most users may never even know the LiDAR scanner exists.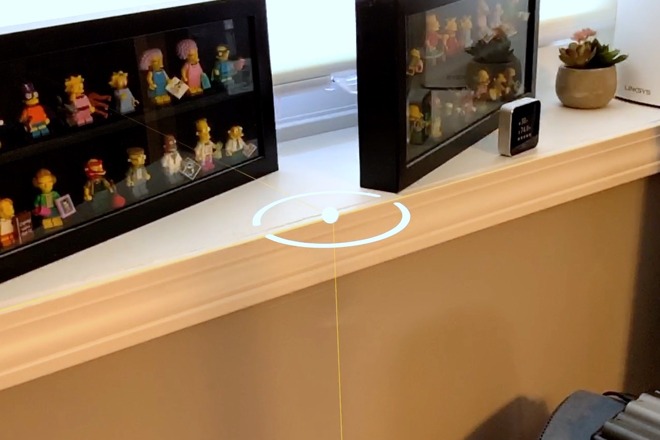 The new Measure app easily finds vertices
Speaking of the Measure app, Apple did take the chance to improve it on the new iPad Pro. In our tests, it is more accurate, faster, better at detecting surfaces, and can display a running list of measurements for you to copy out to notes, a message, or an email.
It snaps to edges, can project angles, and aws closer to the actual values when compared to a physical measuring tape measurement.
The Apple accessory lineup
Per usual, Apple has myriad accessories it hopes to add to your iPad Pro setup.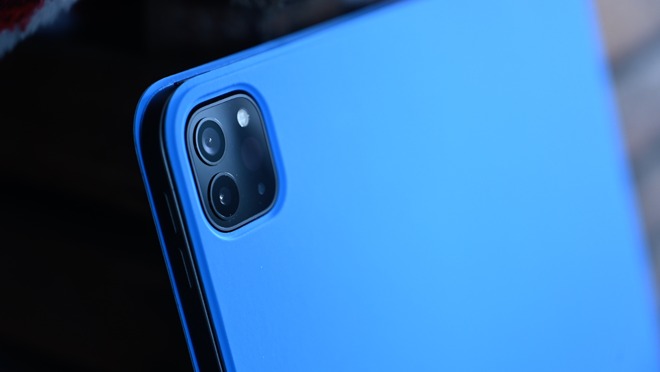 2020 iPad Pro in the blue Smart Cover
There is an updated version of the Smart Cover which comes in new colors but otherwise functions as it always has. Using magnets, it wakes and sleeps your iPad Pro when it opens and closes and can roll back to act as a stand for the iPad Pro in both vertical and horizontal orientations.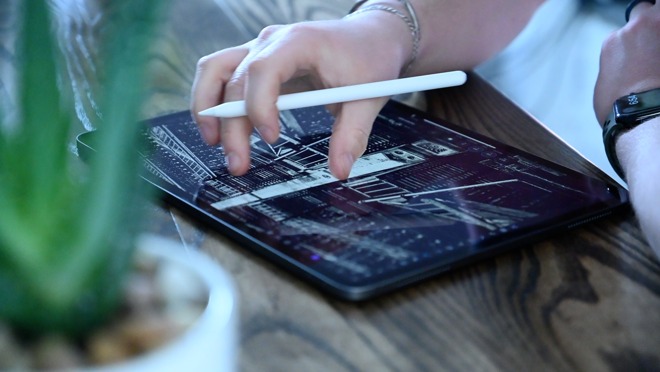 Using the second-generation Apple Pencil with 2020 iPad Pro
Then we have the second-generation Apple Pencil. Nothing changed here either and our
original review still stands
. It remains a greatly useful device for drawing, note-taking, coloring, dealing with documents, or editing photos.
Our biggest hangup is with the Smart Keyboard Folio. It was mildly updated to highlight the Apple logo horizontally while typing, but otherwise appears to be the same. Unfortunately, there were issues with the design that debuted with the 2018 version. We aren't talking about all our gripes we highlighted in
the original review
, we are talking about reliability issues that have sprung up over time.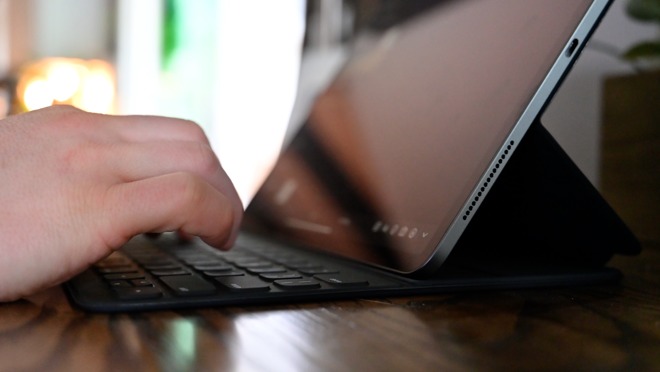 Typing on the Smart Keyboard Folio can be frustrating
We have had our Smart Keyboard Folio swapped out twice but it appears the issue is systematic and plagues all the units across the board. Because the keyboard of the folio is atop a thin piece of plastic, it has a tendency to warp as well as inadvertently "press" certain keys. It happened most frequently with the lower-left command key for us which cause all sorts of issues while trying to write.
To remedy, we have to briskly wipe our hand across the keyboard to unstick the key. Luckily the solution is that simple but it is annoying and an issue nonetheless.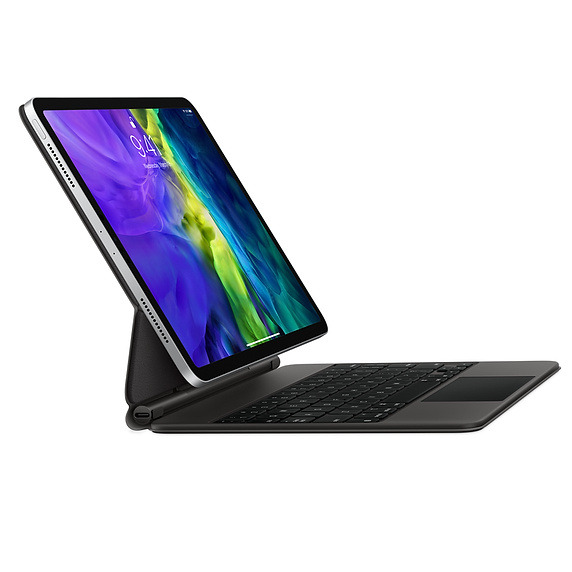 iPad Pro Magic Keyboard
These issues appear resolved in Apple's Magic Keyboard for the iPad Pro. Launching in May, the Magic Keyboard has physical keys with a mechanical scissor-switch mechanism, a backlight, a fully articulated holder for the iPad Pro, and an additional USB-C port.
The USB-C port will be perfect because it doesn't require any additional hub to both power the iPad Pro, as well as to connect external storage or a monitor.
That leaves us in limbo until the Magic Keyboard launches, but we are very excited to test it out. Even better, it will work on the 2018 iPad Pros giving existing users an upgrade of sorts.
A true pro device has emerged
After years of incremental updates, the iPad Pro has finally started to come into itself. The hardware overhaul in 2018 was major but the software updates iPadOS 13 and iPadOS 13.4 have cemented the iPad Pro as a true workhorse.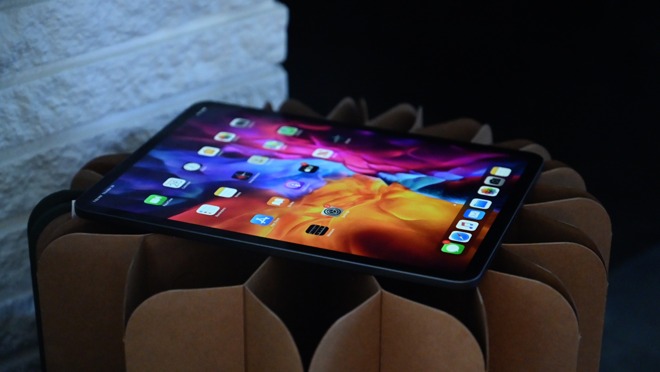 iPad Pro
Truly, the 2020 iPad Pro doesn't feel much different at all than the 2018 model. We have relied on the Measure app a few times as we are doing some renovations, but otherwise, it has been business as usual.
It is mildly faster for content exports and any extra headroom for large photo edits is appreciated. USB-C is still a favorite for us, allowing us to rely on external SSD storage, connect an external display to edit video, and connect other peripherals such as microphones.
Apple may have slowed down the pace of iPad Pro hardware refreshes. It appears that Apple does seem to have
some surprises
left in store for the next model, but even with that rumored refresh, software is going to be the focus going forward more than any other factor.
Should you buy the 2020 iPad Pro?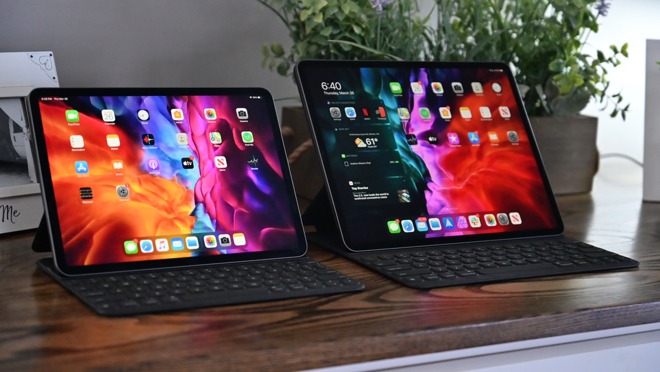 11-inch and 12.9-inch iPad Pros
As with any other "buy or not" debate, it all hinges on the work that you do, the tools you need, and what devices you are coming from.
If just looking at the device in a bubble on its own merits, the 2020 iPad Pro is a stellar device. Apple has made strides over the years, iterating on the small aspects to perfect the user experience of the device.
The 2020 iPad Pro is more powerful than ever, more full-featured than ever, and has a mass of potential waiting to be unleashed by iPadOS 14 and the updates that follow. You just probably don't need it if you jumped on the 2018 refresh.
Pros
Still a great-looking tablet


Better graphics, albeit not by much


Wi-Fi 6 support


Both the 2018 and 2020 will support Magic Keyboard


iPadOS 13.4 is a great update for iPads across the board


Revamped Measure app is much better


LiDAR is a game changer, but only if you use AR


Ultra-wide lens is great for those who need the camera
Cons
Increimental update


Smart Keyboard Folio still has problems


LiDAR has no user-facing app and relies on developers to use


No notable speed improvements
Rating: 4 out of 5
Lowest prices on Apple's 2020 iPad Pro
Instant discounts on Apple's 2020 iPad Pro are in effect, with the latest deals at your fingertips in the
AppleInsider
2020 11-inch iPad Pro Price Guide
and
2020 12.9-inch iPad Pro Price Guide
.