Everything known about Apple's AirTags
There has been a lot said about Apple's forthcoming AirTags in the last six months, including what we'll be able to do with them and how we'll do it once they're in our hands.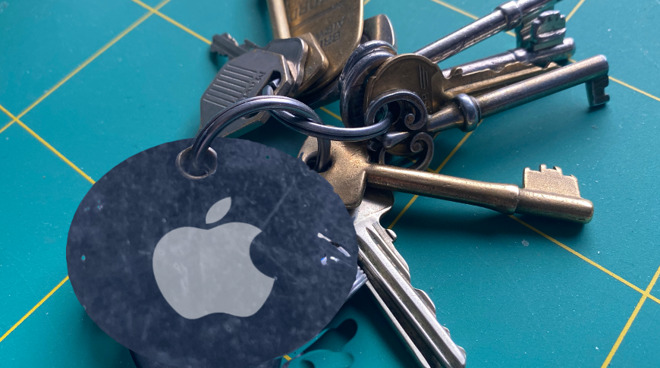 Mockup. Apple's AirTags will be shinier -- until they've been in our pocket for months, anyway.
Even before Apple's usually painstaking secrecy slipped up and
showed us
the name
AirTags
in a support video, it's been clear that
they are coming
-- what may be less obvious is what they will be best used for.
Apple's AirTags will:
Track devices for you


Provide "Find My"-style services for anything


Pinpoint items to within inches


Ultimately work with AR


Leverage Apple's U1 chip for directional finding


Potentially alert you when you leave an item behind
AirTags will be built into Apple's existing
Find My technology
, and they will improve on it in two extremely important ways. They're also very much like the existing devices sold by Tile, so even before a single AirTag has been seen in public, we have a startling good idea of what they will be able to do.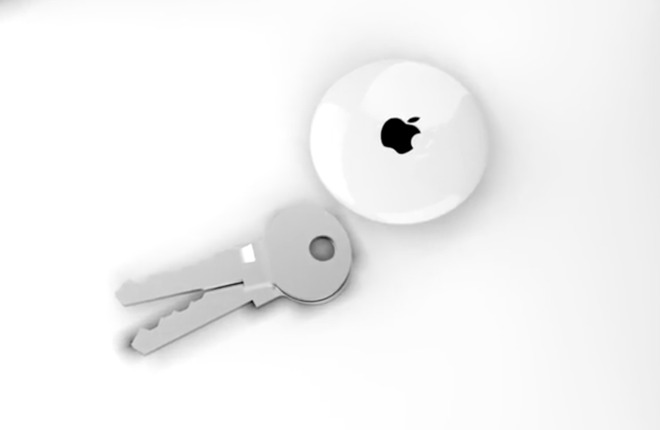 A mockup by YouTube channel ZoneOfTech
So far Find Me has only worked for locating Apple devices, such as your
lost AirPods or AirPods Pro
. The new system will extend that to any device you can affix an AirTag to, and it will also improve accuracy.
When a device is not nearby, Find My is able to show you on a map where they are, but sometimes it is only showing you were they were recently. It will show you where the device is right now if it's powered up and online, otherwise it will show you where it was the last time it was both of those things.
This isn't as accurate as you might hope.
AppleInsider
has seen AirPods Pro, for instance, reporting their location as around a quarter of a mile away from where they really are. In our testing so far, that appears to be tied to Wi-Fi and cellular signal strength. The AirPods Pro were being used at the place Find My reports, and that may be the latest spot where it had sufficient signal to report its location data.
Apple has already improved this by developing its U1 Ultra Wideband (UWB) processor, which makes it possible to a href="
https://appleinsider.com/articles/19/12/05/apples-use-of-location-services-data-tied-to-uwb-management-federal-guidelines
">precisely pinpoint the location of items.
UWB is a low-power, short-range radio system that's like Bluetooth in how it can communicate with nearby devices. Unlike Bluetooth, however, it sends pulses at high data rate. It transmits more data than Bluetooth, plus it has better range-finding and more precise location detection.
Apple's U1 implementation of UWB is included in the iPhone 11 Pro, and iPhone 11 Pro Max. So far Apple has only said that it is used to facilitate AirDrop. It's used so that if two such phones are pointed at each other, the recipient's phone goes to the top of the list on the sender's AirDrop.
AirTags are not just for Apple devices
AirTags go further because they're not about tracking a device, they are a device that you then track. An AirTag will be a separate, very small hardware device that can be kept with, or affixed, to anywhere.
Add one to your iPhone, keep one in your bag, or leave one in your car. Apple's system will track the AirTags rather than what you've put them on, so you can put them on anything. That said, a thief can just take them off anything, too, so it's not foolproof.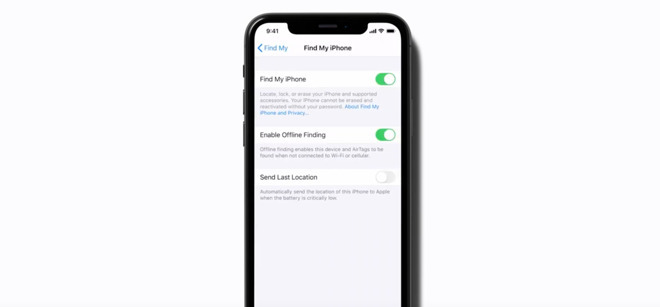 Screen grabbed before Apple noticed and took it away again. Here's the support video's reference to AirTags
When it's just that you've misplaced your item with the AirTags, you will be able to use an app to make the AirTags make a sound, just as Tile devices do already. You may also be able to have the app show when you are getting closer to the item.
Equally, you may be informed as you are going further away, as in when you have accidentally left something behind and are leaving. Tile provides the ability for their equivalent to the AirTags to send a notification to your phone, alerting you to how you've forgotten to bring something. Tile provides that as an extra, subscription service.
An appealing but more distant possibility at launch, though, is that the AirTags will be able to exploit
Augmented Reality features
. It may be that you could look around a room with your iPhone, and the AirTags nearby would show up on your screen.
Finding items far away with AirTags
What's particularly useful about AirTags is that you could use them to find your item wherever it is in the world. If you leave something behind at your hotel, you'll be able to find that out and then direct staff to exactly where it is.
AirTags will be able to do this by leveraging Apple's ecosystem. You may be a hundred miles away from where you dropped your bag, but you can bet someone else with an iPhone is near to it. It's similar to how Apple Maps can give you accurate, regularly updated reports on traffic conditions.
Apple is relying on the fact that so incredibly many people have iPhones and they are all capable of reporting their location data, plus how fast or slowly they're moving. A patent regarding the use of
crowdsourced location data
for a kind of tagging was filed by Apple as long ago as 2016.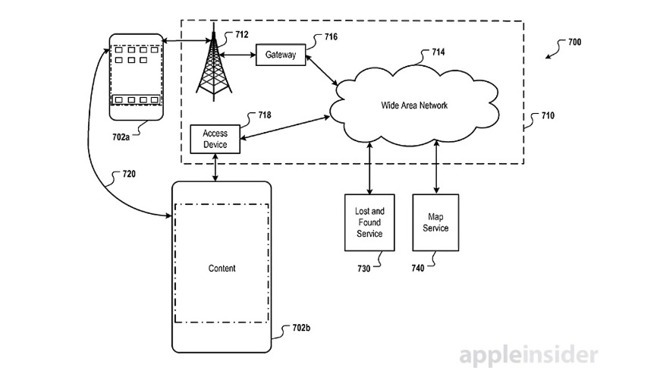 Detail from a patent regarding how a device such as AirTags could work remotely
With AirTags, this massive collection of Apple devices means that you can tap to search for your lost item, and the nearest iPhone will report back where it is. It does so without that iPhone owner ever knowing, just as you won't know if your iPhone has saved someone's day.
Security issues
All of this technology exists today with Tile, but once Apple has brought out AirTags, the world will notice. It won't be long before there's a TV detective show -- or more likely, something on Apple TV+ -- that has someone being tailed because an AirTag has been slipped into their coat.
That will introduce a whole new meaning to taking security precautions, but as far as technology security is concerned, Air Tags are going to be private. You can expect that Apple will specify that it can prevent other people detecting and using your AirTags, although we don't yet know how.
There's little else that we don't know about the AirTags, except perhaps for why they have taken so long to be launched. When they do arrive, though, these little devices are going to extraordinarily useful for the security conscious -- and the scatterbrains who are forever losing things. We know who we are.
Keep up with AppleInsider by downloading the AppleInsider app for iOS, and follow us on YouTube, Twitter @appleinsider and Facebook for live, late-breaking coverage. You can also check out our official Instagram account for exclusive photos.