Apparent iOS Family Sharing bug causes apps to crash
A newly reported iOS bug appears to be impacting a significant portion of Apple's user base on Friday, with the error seemingly stemming from the operating system's Family Sharing feature.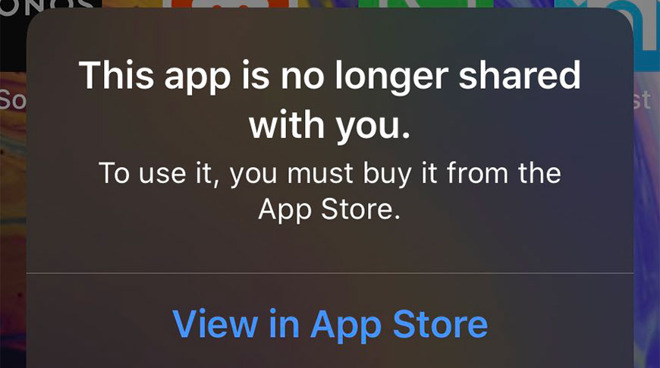 Source: Jordon Griffiths via Twitter
Apple device owners took to social media to note the apparent flaw, saying attempts to open popular apps like
Audible.com
,
Discord
,
Facebook
,
WhatsApp
,
YouTube
and others result in an error message that reads, "This app is no longer shared with you."
Accompanying text in the popup instructs users to buy or download the affected app from the App Store, a process that typically resolves the issue, according to reports.
The issue presents on current versions of iOS, including the latest iOS 13.5 update
released this week
.
The official Apple Support
account
on Twitter was inundated with tweets about the bug on Friday. While some users took to the social media platform to vent frustration about the unexpected behavior, others offered advice and theories as to why the popup appears.
A number of impacted users floated the idea that Family Sharing is to blame. The feature, which debuted with
iOS 8 in 2014
, allows family members to download and share purchased media, apps and other digital content.
As Apple works on a permanent fix, users can remedy the issue by uninstalling and re-downloading affected apps.