Testing Apple Watch sleep tracking on watchOS 7 & iOS 14
One of the most requested features for Apple Watch is sleep tracking, and with watchOS 7 and iOS 14, Apple is finally bringing it to the table. In true Apple style, it does much more than track when you start and stop sleeping.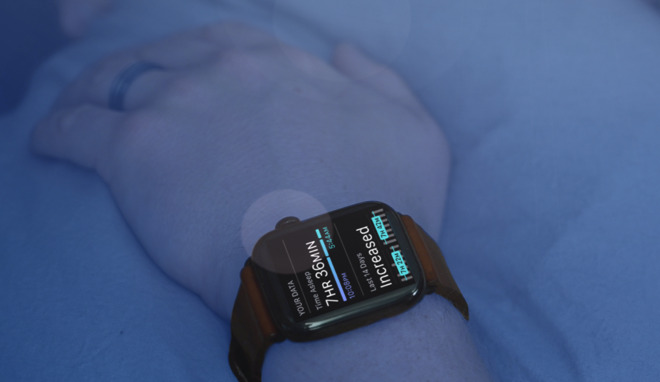 Sleeping with Apple Watch
It would be easy enough for Apple to create an app that detects the start and stop point of your sleep. Apple has a tendency to go the extra mile on features, however, thinking about the implementation as a whole, and not just what users anticipate.
For
watchOS 7
and
iOS 14
, Apple thought about the entire sleeping experience for users. That includes keeping a consistent routine, settling down before bed, gently waking up, and analyzing the data that is collected.
So that's what Apple did by introducing the Sleep app for
Apple Watch
, sleep mode for iPhone and Apple Watch, revamping the Bedtime feature found in iOS 13, and introducing Wind Down.
Starting sleep tracking with Apple Watch
To get started with sleep tracking for
watchOS
, users can jump into the new Sleep app on the wrist-worn computer or into the Health app of their iOS 14-equipped iPhone. We opted for the latter.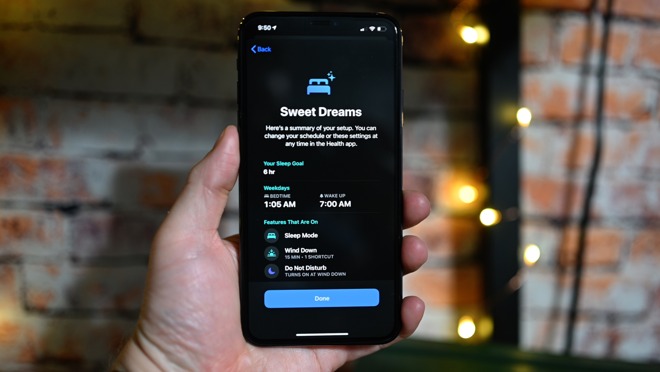 When you go to the sleep category of the Health app, there is a new option to set your bedtime schedule. First, you can enable sleep mode. Sleep mode simplifies your Lock Screen at your scheduled Bedtime and will turn on Do Not Disturb to reduce interruptions.
The app will then suggest you enable Wind Down. The idea is that your nighttime routine can begin prior to your bedtime, before you go to sleep. Sleep mode is when you're actually sleeping and Wind Down is everything leading up to that. You choose how much before your bedtime you want to start Wind Down. This can be between 15 minutes and three hours.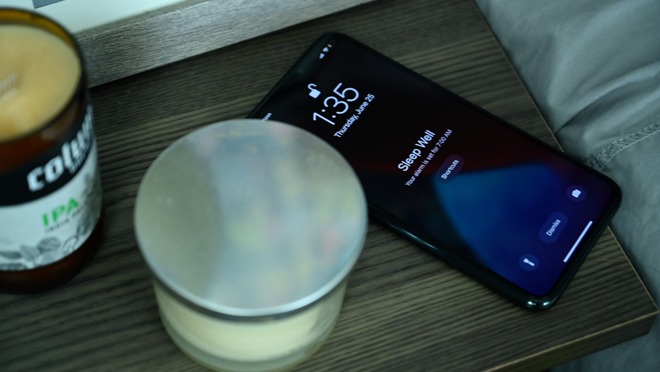 Wind Down on iOS 14
What Wind Down will do is help with those routines as you get ready for bed while reducing the screen time on your phone. It simplifies your Lock Screen, just showing the time, your alarm and any Shortcuts or apps you may use. Create a Shortcut to listen to a relaxing podcast, play your nighttime music playlist, or start your two-minute teeth brushing timer. Whatever you do before bed can be added here.
Finally, Health will ask if you want to track your sleep with Apple Watch. You then get your summary of everything you set up including your schedule and features enabled.
Apple Watch details
Once everything is set up, you can start tracking sleep. Almost everything happens in the background. Your phone will go into Wind Down mode before it Watch go into sleep mode.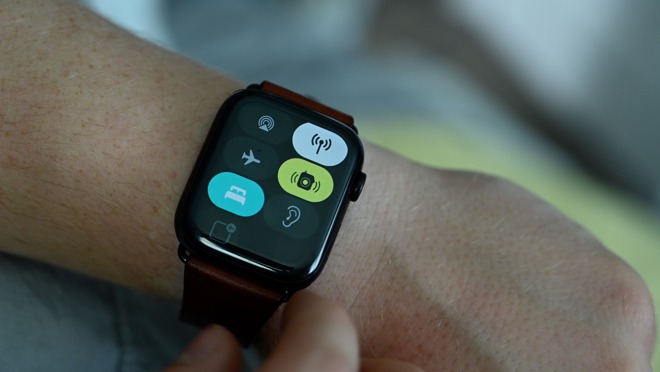 Manually enable sleep mode on iPhone or Apple Watch within Control Center
Sleep mode is able to be manually set, too, on both the watch and phone. Just go into Control Center on each device and toggle it on.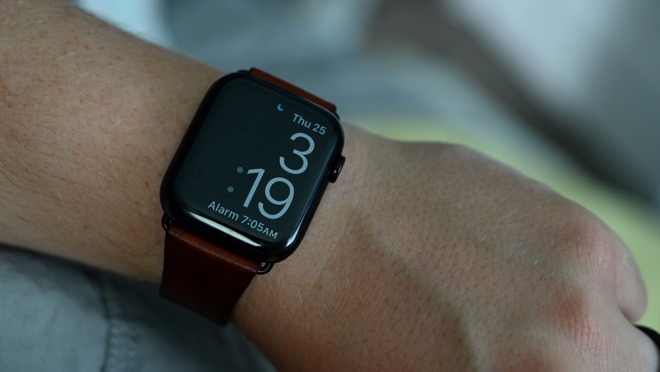 Apple Watch display when it is awoken in sleep mode
When the Apple Watch is in sleep mode, the display stays black as you move your wrist about, preventing it from inadvertently lighting up while you are trying to sleep. And tapping the screen causes is it to light up very dimly with the time and when your alarm is set.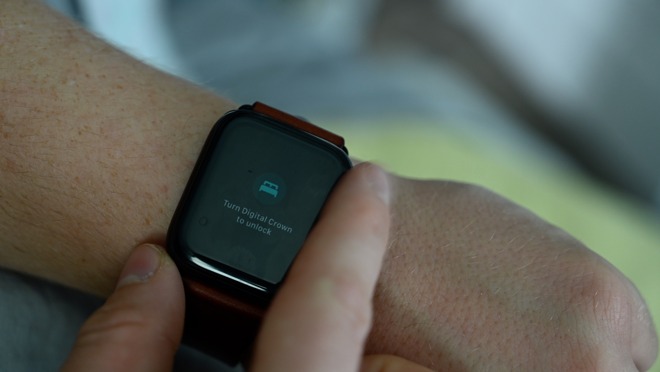 Rotate the Digital Crown to use Apple Watch in sleep mode
If you want to use your watch, it makes you rotate the Digital Crown, similar to expelling water after swimming. This too stops the watching from waking by accident.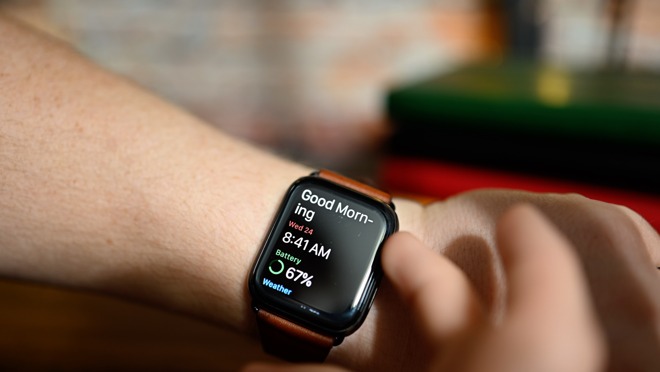 Good morning report on Apple Watch after sleeping
Once you wake up, your Apple Watch will greet you with a "good morning" summary that lets you know how long you slept, what the weather looks like for the rest of the day, and what your battery life is for your watch.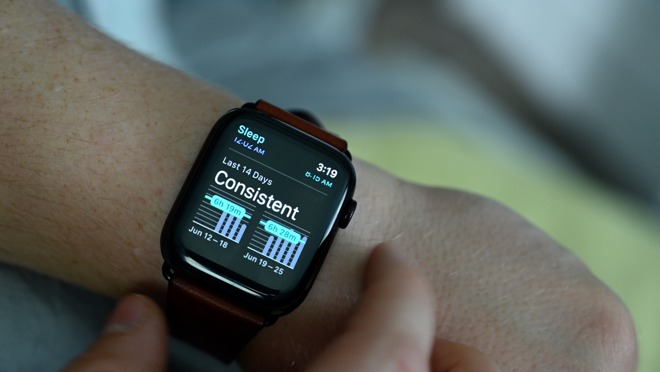 Sleep app in watchOS 7
You can revisit your sleep history by checking out the Sleep app your Apple Watch or by visiting the Health app on your iPhone. It will show you how long you slept, how many times you woke up, and how consistent you've been.
Keep up with your battery
Speaking of battery, this is likely one of user's biggest concerns. Apple doesn't have a way to magically extend your watch's battery life but it does try to help you manage it.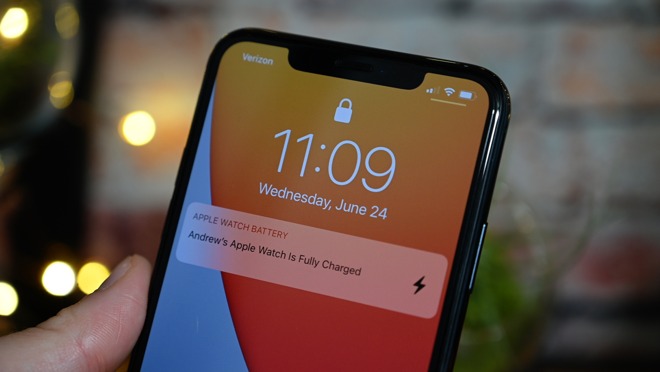 Apple Watch charging notification
When it is almost time for bed, if your battery life is less than 30 percent, your phone will notify you that you need to charge. And when your watch is charging, your phone will get an alert letting you know when it hits a full charge so you can go grab it.
Apple Watch does charge quick and in our time testing, we haven't had much issue keeping the watch juiced up -- even on a beta. We top it off while we are in the shower and maybe a few minutes in the morning before work and it makes it through the day and night.
Get some rest
Together, the new features cover the entire experience of sleeping and helps you better your sleep patterns. You slowly wind down your day by reducing distractions and getting into your bedtime routine. Your phone stays silent on Do Not Disturb mode while you sleep and your Apple Watch tracks you at the same time and doesn't turn on and blind you. When you wake up, your watch greets you, as does your iPhone, to start your day.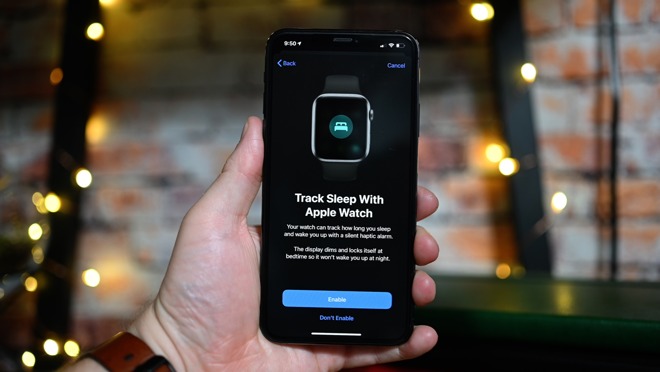 Track your sleep with Apple Watch
It has been a long time coming, but Apple's implementation is well thought out, unique, and a phenomenal example of Apple's ecosystem working together.
Apple Watch deals
If you want to take advantage of the upcoming sleep tracking feature, but don't have an Apple Watch, some of the
lowest Apple Watch prices
of the year are
going on right now
on Series 5 models.
Existing features