Review: Apple's final Intel 27-inch iMac is going out with a bang
Apple has updated the
27-inch iMac
, and while the exterior continues to look the same, this is upgrade is much more than a paltry processor bump - even if that processor remains an Intel one instead of moving to Apple Silicon just yet.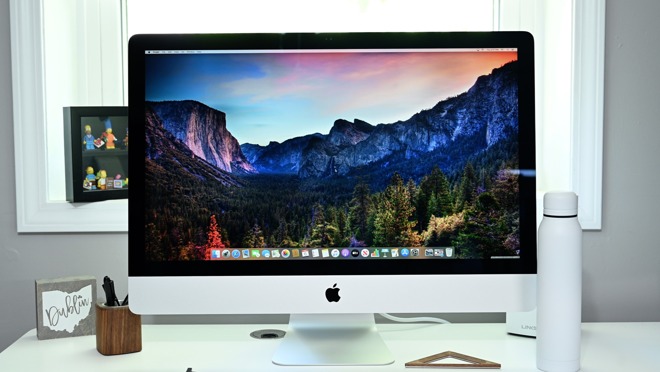 27-inch iMac
Another day, another Mac refresh. And without a redesign at that. It isn't all too surprising, with Apple already promising new Macs based around its own silicon, it would almost be a waste for Apple to redesign the machine now. It seems a much better opportunity to bundle a redesign alongside its custom CPUs in the next year or so.
Even with a promised upgrade, though, Apple is still delivering for this mid-cycle refresh. Apple has delivered not only a worthwhile spec boost but it has shored up many of the weak points of Apple's popular desktop.
Tried and true design that is looking a bit tired
The new 27-inch iMac, as it is now known, replaces the aging iMac 5K -- though they both don the requisite 5K panel as its previous moniker alluded to.
At the current, much of Apple's lineup is starting to look dated when it comes to the design. We say "starting to", because while many of these machines debuted their current aesthetic years and years ago, they still hold their own. But that doesn't stop the masses from looking for something new. And as it pertains to the new 27-inch iMac, its most aged features must be the impossibly large bezels.
Apple has continued to drastically shrink the bezels on its phones, tablets, and even laptops but the iMac is starting to show its age. Not to say the display isn't striking, the large black borders just distract from it.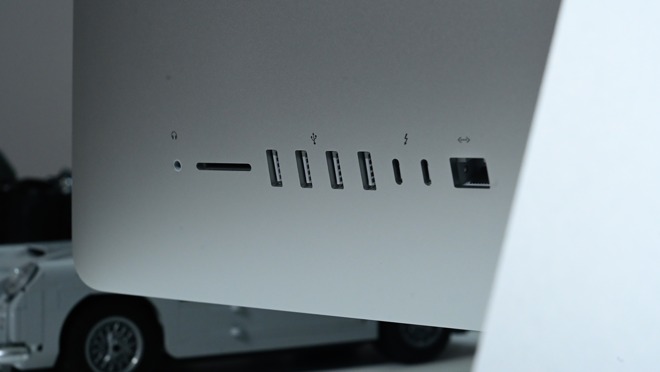 Ports on the rear of the 2020 27-inch iMac
But the recycled design isn't limited to its bezels the whole machine is identical to last years model, down to the ports on the back. A UHS-II SD card reader, a headphone jack, four USB-A ports, two Thunderbolt 3 and a Gigabit Ethernet port. The last port got a small improvement with an optional 10GB option up configuring your purchase.
Otherwise, it is still an iMac. Still its all-metal design with an "L" shaped stand, and a tapered design that make it appear almost impossibly thin.
New 10th-gen CPUs
The entire line of 27-inch iMacs now come with 10th-gen Intel CPUs. The base unit we tested comes with a 6-core 3.1GHz Intel Core i5-10500 processor that can Turbo Boost to 4.5GHz and features hyperthreading.
Users can also opt to upgrade to the 3.3GHz 6-core 10th-generation Intel Core i5, 3.8GHz 8-core 10th-generation Intel Core i7, or on the high end, the 3.6GHz 10-core 10th-generation Intel Core i9.
These chips are newer than the server-class Xeon CPUs found in the iMac Pro and they also draw less power. How much power they consume -- as well as how much heat they put out -- are crucial to the thermal performance of the new 27-inch iMac as they retain much of the same internal design.
Memory
Fortunately, the new 27-inch iMac remains one of the few machines in Apple's consumer lineup to feature user-upgradable storage. We explored this in our
in-depth RAM replacement guide
.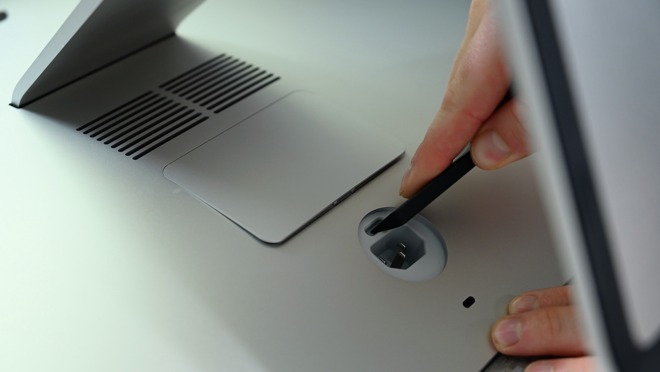 2020 27-inch iMac RAM cover
Upgrading the RAM is a simple affair and can save you upwards of $2000 instead of buying through Apple.
The base model comes outfitted with 8GB of 2666Mhz DDR4 RAM and is upgradable to 128GB. The previous gen used the same memory and was
unofficially
also able to be upgraded to 128GB even though Apple only advertised it as capable of supporting 64GB.
As was pointed out by one of our YouTube subscribers, 10th-gen Intel CPU's support up 2933Mhz RAM rather than the slower 2666Mhz RAM Apple uses. The limitation here isn't the CPU but the logic board Apple has used. This limits it -- even with 2933Mhz RAM inserted -- to only 2666Mhz speed. Only Apple knows why, and it isn't telling.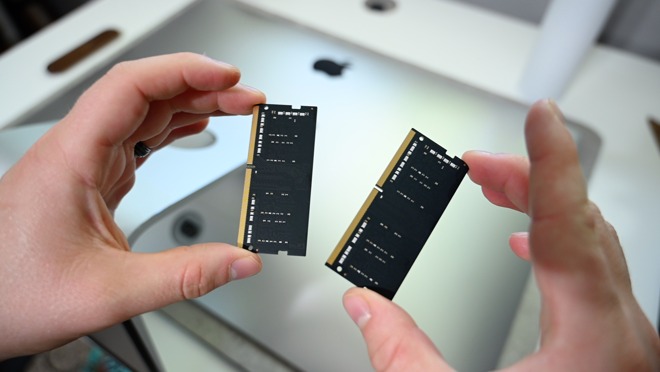 RAM modules for 27-inch iMac
In total, there are four SO-DIMM slots, two of which come occupied by default with 4GB modules. As long as new sticks are installed in pairs, it is easy to install additional RAM which can boost performance. Even in the Geekbench benchmarks we explore below, the default 8GB caused a bottleneck and resulted in depressed multi-core scores that would be higher with more RAM installed.
Storage
With prior generations of the 27-inch iMac, Apple stuck to antiquated mechanical drives for storage. The entry-level model used to ship with a slow Fusion drive which is a hybrid between a mechanical hard drive and solid state drive. They were an exciting option when they debuted, but in today's world were unacceptable.
Potential iMac buyers let out a unanimous cheer when it was revealed that the new 27-inch iMac (2020) employed SSDs across the board. Even the entry level model we have here is set up with a 256GB SSD.
These drives, similar to other Apple SSDs, are not user upgradable and are connected to a proprietary connector that is soldered to the logic board. This means when you pick up an iMac, think hard about how much storage you will need for the lifetime of the machine.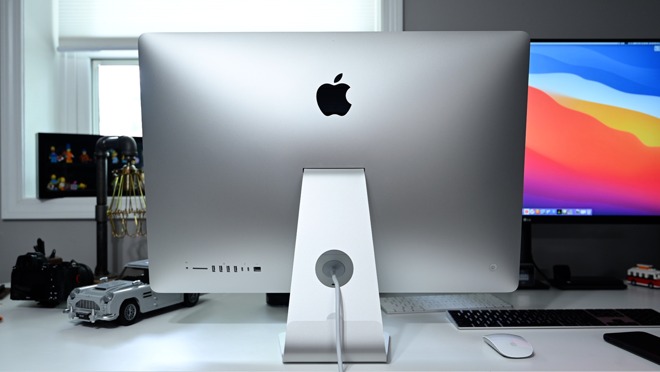 Rear of the 27-inch iMac
Contrary to MacBook Air and MacBook Pro, the iMac is intended to be stationary. This means that it is fairly simply to adopt an external storage solution to expand the storage capabilities of the machine without too much headache. On a portable machine, constantly connecting and disconnecting is a royal pain in the -- -- .
With the Thunderbolt 3 ports, given that they are in essence a PCI-e 3.0 x4 slot, that external storage can be blazing fast as we've seen with the Akitio Node Lite with an Intel Optane SSD inside. While it is frustrating you can't upgrade the storage yourself, in a desktop unit it is at least manageable.
Upgrading the storage through Apple is a bit confusing this time around. If you want more than the 256GB, you must choose Apple's mid-tier $1,999 config option. Here it comes with 512GB default and an option to choose up to 2TB. If you need more than 2TB internally, you have to choose Apple's high-end model which can be upgraded to 8TB.
Of course, upgrading to those higher units also come with the stepped up processors and graphics as well.
The 4TB and 8TB options are both firsts for the 27-inch iMac.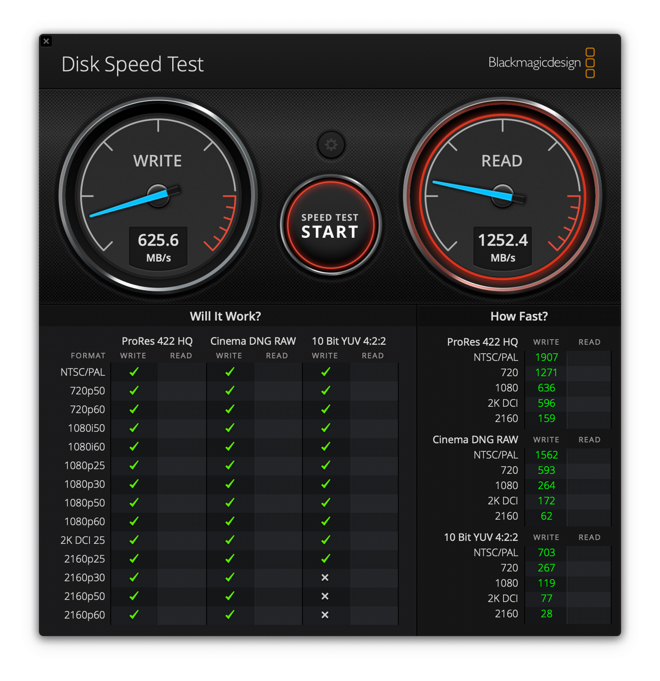 Blackmagic Disk Speed Test
With the Blackmagic Disk Speed Test, we saw average write speeds around 625MB/s and 1242MB/s for the read speeds which is far above a hybrid hard drive and similar to Apple's latest SSD speeds.
Graphics
The updates iMacs start with with Radeon Pro 5300 graphics with 4GB of GDDR6 memory. It can also be upgraded to a Radeon Pro 5500 XT with 8GB or 16GB of memory for much improved graphics. Our machine -- as a base model -- is equipped with the standard Radeon Pro 5300 and 8GB of memory.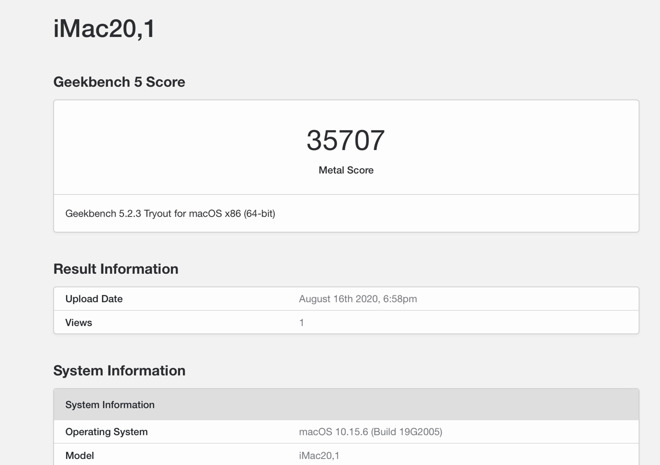 Geekbench Metal GPU benchmark
In the Geekbench Metal GPU benchmark, the new 2020 27-inch iMac Pro managed a 36330, well above the 29579 last gen pulled off.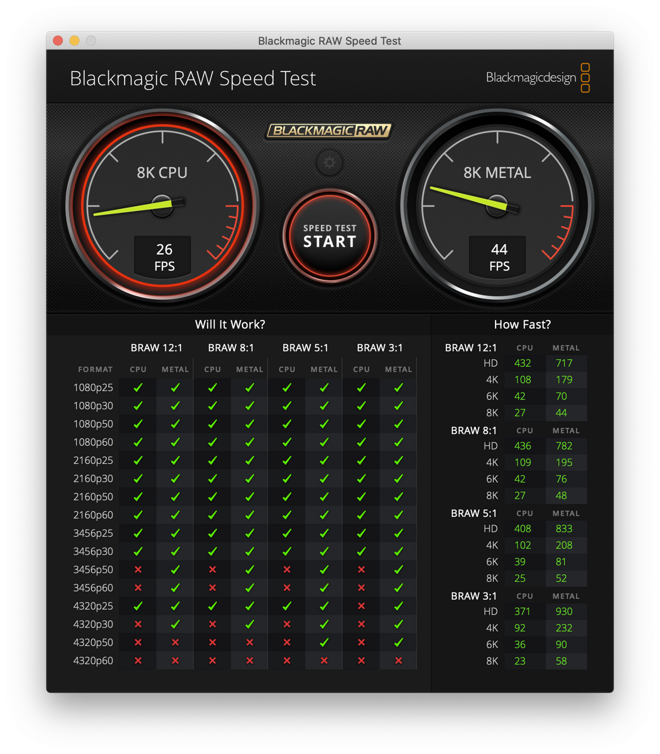 Blackmagic RAW speed test
We also tested using the new Blackmagic RAW speed test which test the GPU as well as the CPU. We will continue to test in new machines going forward as points of comparison, but for the new 27-inch iMac, it encoded 8K using Metal and the GPU at 44 frames per second and 8K using the CPU at 26 frames per second.
Aside from upping the graphics performance, it is also allow better external display support. Now, the 27-inch can power two 6K displays at once. Unfortunately, like iMacs from the last few years, it does not support Target Display Mode and as such can't be used as an external monitor on its own.
The new T2 chip
One of the hidden hero's of the new iMac is Apple's T2 coprocessor. This piece of silicon is key behind many of the new iMac's improvements. For example, it is what enables security features such as secure boot of the machine, quicker FireFault encryption, and storage of personal information on the Secure Enclave.
For creatives, it is what aids in HEVC video encoding. Not only does HEVC take up less space than standard h.264 videos, but is much more efficient to encode.
Besides these speed changes, there are improved user-facing features. Users can now summon Siri just by using their voice and the well-known key phrase "hey Siri." When using the new improved camera, the T2 helps with face detection. With the face detected, the T2 also improves tone mapping, proper exposure, and the white balance.
Speaker also sound much better thanks to on-the-fly variable EQ and improved bass response even though they are the same physical drivers from the last generation.
Performance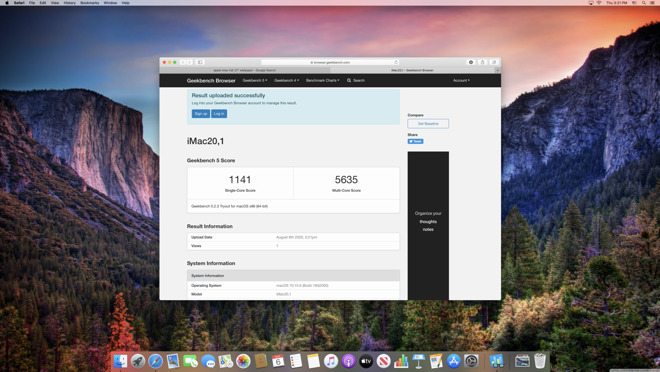 Geekbench results
Apple's new CPU options are slightly faster than the prior gen, as well as being new 10th-gen Intel chips. In a standard Geekbench test, we saw the single-core clime from 1040 to 1141 and the multi-core climb from 5440 to 5635. More than acceptable gains on the low end but we expect much more substantial gains on the new 10-core model.
Following Geekbench, we spun up Cinebench R20 side-by-side with Intel Power Gadget. Cinebench pushes the processor while we monitor the temperature, fans, and CPU frequency during the test. Our CPU is a 3.1GHz processor that can Turbo Boost up to 4.5GHz. For our test, we ran the benchmark back-to-back several times with no gap in between for the processor to cool down.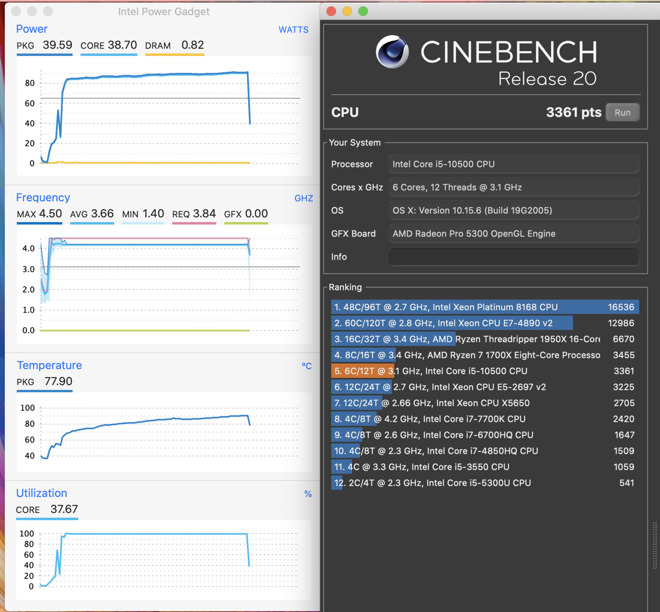 Cinebench R20 while monitoring performance with Intel Power Gadget
We saw the processor initially jump up to 4.5GHz before settling down at a constant frequency of 4.2GHz It hovered at 4.2GHz the entire time we ran the test. It was mildly disappointing that the CPU dropped from the Turbo Boost max of 4.5 to 4.2 quite quickly, but incredibly promising seeing it stay at 4.2GHz throughout.
The fans also did not kick in until the fourth time running Cinebench which is how long it took for the CPU to approach a hundred degrees. At that point, the fans kicked in and cooled the processor while it was still able to maintain its elevated clock speed of 4.2GHz.
The 2020 27-inch iMac scored a 3361 compared to the 2383 scored on the last generation machine.
This is a huge boost in performance for both its maintained clock speed and raw benchmarks numbers.
In an unusual move for Apple, the Mac-maker also upgraded the webcam in the new iMac.
iMac Pro?
At the same time Apple updated the 27-inch iMac, it also "updated" the iMac Pro. But the upgrade wasn't as much of an upgrade as a reduction in price. The 8-core model was eliminated and the 10-core machine was made available at its $5,000 price point. That lets users have a choice between an upgraded 27-inch iMac or an iMac Pro.
Some may consider going with the iMac Pro but for most people it will be an easy decision. Unless you want something above the 10-core CPU offered on the high-end 27-inch iMac, the iMac is always the way to go. The iMac Pro does have four Thunderbolt 3 ports and dual PCIe lanes for increased Thunderbolt throughput, as well as a better cooling system, only the upper tiers are worth it any longer.
We've
already talked about this at length
but the ten cores offered here will be enough for all but the extreme pros.
Should you buy the new 27-inch iMac (2020)?
Apple's planned transition to its own silicon makes buying a Mac in the current climate more debatable than ever. Some people are calling up possibility of the Osborne Effect where users decide to not buy a machine with the announcement of a new model down the line. Even if Apple didn't specify a new Apple silicon iMac is imminent, but simply that within the next two years it would transition all of its Mac lineup to new CPUs.
That means at worst, a new 27-inch iMac with Apple silicon inside will be two years away, but likely sooner.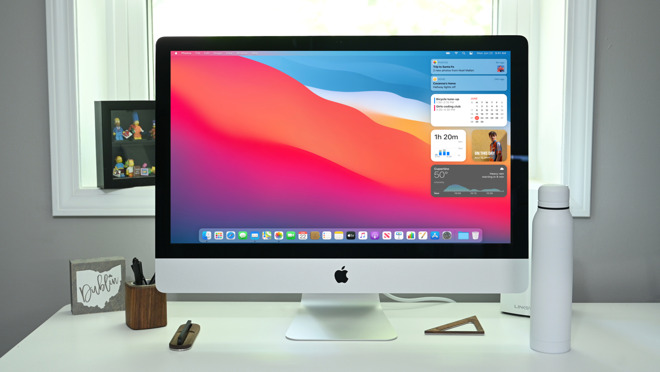 Updated 27-inch iMac
So why pick up an iMac now if Apple is already promising a new model? For starters, if you need a machine now, you need a machine now. There's no getting around that and no waiting for some future update.
Apple also threw everything they could at the new iMac, borrowing from all other machines in its lineup. Better camera, better sound, much faster graphics and CPUs, True Tune and a matte display, and the T2 chip have given shoppers a pile of reasons to consider this machine.
There are always going to be new Macs coming down the line and Intel support is going anywhere anytime soon. If this is the last Intel-based iMac -- as many rightly assume it to be -- Apple is going out with a bang.
Pros
Hugely improved webcam


T2 chip upgrades many aspects of machine


Solid upgrade in performance


Gorgeous 5K display with matte option


Is more powerful than similarly-priced Mac Pro


Available now rather than the future Apple silicon iMac
Cons
Design, specifically the bezels, are looking very dated


Not as customizable as other all-in-ones
Rating: 4 out of 5
Deals on Apple's new 27-inch iMac
Apple resellers are currently offering aggressive discounts on the new 27-inch iMac, with
triple-digit savings
already in effect.
For the latest prices and exclusive promo code savings, visit the
AppleInsider
27-inch iMac Price Guide
.