Apple rebuts House antitrust report, says developers 'primary beneficiaries' of App Store
Apple in a statement issued on Tuesday said it "vehemently disagrees" with a U.S. House Judiciary report that claims the tech giant enjoys a monopoly with the
App Store
.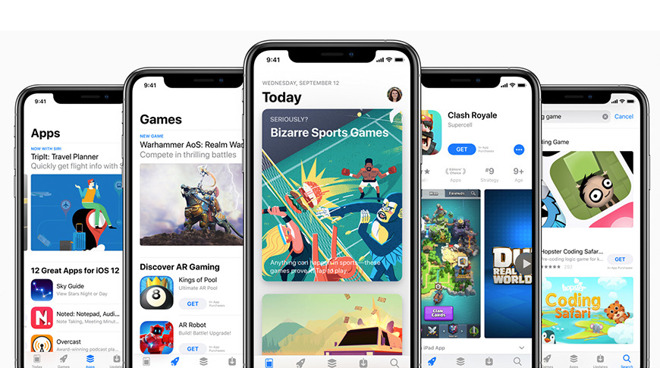 The response targets the congressional subcommittee's findings in relation to Apple's business practices. Specifically, the
report takes issue
with Apple's tight control over the App Store, the only app marketplace allowed on iOS devices.
According to lawmakers, Apple leverages its "monopoly power" of software distribution to "generate supra-normal profits from the App Store and its Services business." The App Store's 30% fee for purchases and in-app transactions are at the heart of the matter, with today's report claiming the company pushes developers into detrimental contracts. Other areas of scrutiny include mergers, first-party app priority, App Store search rankings, and services like
Apple Pay
and Siri.
Apple for its part disagrees with the panel's findings. The company
in the past stated
App Store rules and regulations are in place to create an equal playing field for all developers. Further, the guidelines help keep customer data safe and facilitate an unmatched user experience. For example, more than 150,000 App Store submissions were denied last year for violating rules regarding user privacy, Apple said.
Apple's statement in full:
"We have always said that scrutiny is reasonable and appropriate but we vehemently disagree with the conclusions reached in this staff report with respect to Apple. Our company does not have a dominant market share in any category where we do business. From its beginnings 12 years ago with just 500 apps, we've built the App Store to be a safe and trusted place for users to discover and download apps and a supportive way for developers to create and sell apps globally. Hosting close to two million apps today, the App Store has delivered on that promise and met the highest standards for privacy, security and quality. The App Store has enabled new markets, new services and new products that were unimaginable a dozen years ago, and developers have been primary beneficiaries of this ecosystem. Last year in the United States alone, the App Store facilitated $138 billion in commerce with over 85% of that amount accruing solely to third-party developers. Apple's commission rates are firmly in the mainstream of those charged by other app stores and gaming marketplaces. Competition drives innovation, and innovation has always defined us at Apple. We work tirelessly to deliver the best products to our customers, with safety and privacy at their core, and we will continue to do so."
The company said it will issue a more comprehensive statement that refutes aspects of the investigation's allegations.
The subcommittee's conclusory report wraps an examination of dominant big tech firms that dates back
more than a year
. Along with Apple, panel members scrutinized the businesses of Amazon, Facebook and Google in a wide-reaching effort to modernize anti-competition law.
While the report falls short of an explicit call to breakup companies like Apple, it endorses structural separations and other changes that could fundamentally alter the tech landscape.