Apple One services bundles are now available
You can now choose to pay one flat fee for a number of Apple services, such as Apple Music, Apple Arcade, and extra iCloud storage, with
Apple One
.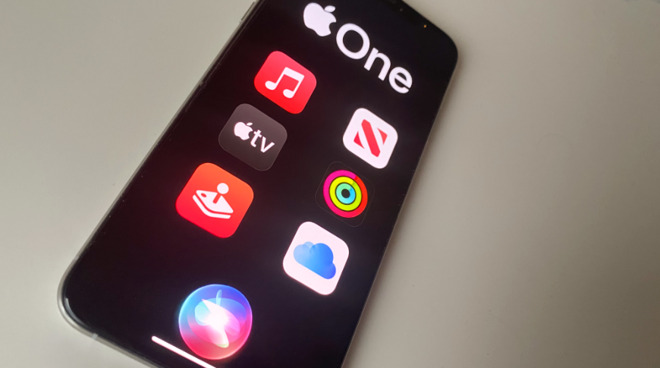 You can now pay one flat fee for some or all of Apple's services in the new Apple One bundle
As announced at Apple's "
Time Flies
" event in September -- and confirmed in Apple's
latest earnings call
-- the new Apple One bundle is now available to buy in one of three different tiers. Apple has said that it will recommend the best tier for existing users, based on what services they currently use.
However, you can elect to buy an of the three, or you can decide to continue paying for each service separately. Although each of the available tiers does offer savings, you may well want to continue as you are, because the options don't save money for everyone.
The lowest-cost Apple One tier is called an Individual Plan, and it costs $14.95 per month. For that you get
Apple Music
,
Apple TV+
,
Apple Arcade
, and a 50GB of
iCloud
storage.
Apart from the amount of iCloud storage you get, the next tier is identical except that it's a Family Sharing one. For $19.95 per month, you get all of the same services as the individual one, but they can be shared with the family -- and you get 200GB iCloud storage.
This is one example where you might prefer to pay separately for each services. If you don't happen to have a family to share with, the 200GB iCloud storage is attractive but it costs you $4.95 per month above the Individual Plan. And you could get that storage on its own for $2.99 per month.
The third tier is the Premier one, which costs $29.95 per month. It too is meant for family sharing, and it too increases the amount of iCloud storage you get. This time, you have 2TB of extra iCloud storage, which would otherwise cost you $9.99 per month.
However, alongside all of the services that are included in the Individual and Family Sharing plans, the Premier one adds two more services. Premier includes the full
Apple News+
, and also the new
Apple Fitness+
.
Those both cost $9.99 apiece, if bought separately. So if you are going to use them, Apple One's Premier plan could genuinely
save you money
each month.
All three plans have potential savings, so long as you are already using -- or will definitely make use of -- everything in the bundle. A user buying the Individual Plan is going to save $6.01 per month, for instance.
Family Plan users will save $8.01 per month. And Premiere Plan users will save $24.99 per month.
That does make the Premiere plan the most beneficial, but it's only a benefit if you're using all of the services. Apple doubtlessly hopes that you'll actually end up increasing how much you spend on its services, because you're temped into using more of them.
Of course, your needs change, and to help you explore what an Apple One bundle can give you, there are free trial options available. If you already have a service like, for instance, Apple News+, then you won't get a free trial of that, but you will for the other ones in your bundle.
Apple may also add to the bundles in the future -- for instance, the Apple Fitness+ service
has been announced
but it isn't available until later in 2020. So now that Apple One is available, it's worth examining what it can offer you -- and maybe checking back as your needs and usage change.
The Apple One subscription option is under a user's Apple ID, iCloud, Media & Purchases subscription tab. It is gradually rolling out now to all users.