Apple TV+, now one year old, looks poised for growth
Apple TV+ got off to a slow start, but Apple's position allows for that -- and it's had a great deal to celebrate of late.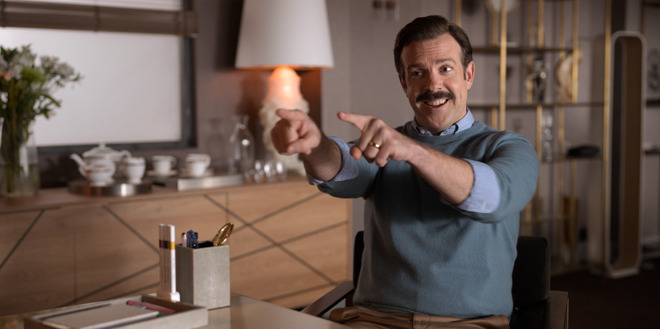 Jason Sudeikis as coach Ted Lasso on "Ted Lasso"
When
Apple TV
officially launched on November 1, 2019, Apple's long-awaited streaming TV service appeared underwhelming to many observers, a view that stuck well into 2020.
Of the shows that arrived at launch from Apple TV+, none were really cultural breakthroughs, nor were any of the series that followed in the months afterward. Sure, Apple TV+ could point to some creative successes in its first few months, but nothing that really made any real headway.
Nothing Apple put on Apple TV+ made as much of an impact as
The Mandalorian
, the
Star Wars
-associated show that Disney+ launched right out of the gate. Competition from new streaming services proliferated throughout the spring and summer of 2020, and when the
coronavirus
led to millions of households being stuck at home, it was Netflix's
Tiger King
that dominated the cultural conversation, not anything on Apple TV+.
However, Apple TV+ has benefited from an impressive hot streak of good news throughout the spring and summer of 2020. It had a couple of series break through, it acquired some impressive movies and shows, and it's gotten into business with some major talents. And after a pause due to the pandemic, production has resumed on several of the service's important shows.
Heading into year two, Apple TV+ suddenly looks to be on the upswing.
Jacob and Ted
They may not be
Mandalorian
-sized hits, but Apple appears to have broken through in 2020 with a pair of shows.
Defending Jacob
, the mystery and legal procedural starring Captain America actor Chris Evans, was seen as the
most popular show
for Apple TV+ in the early going.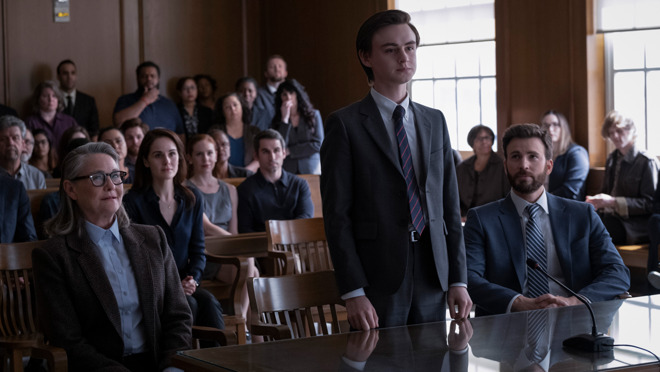 Chris Evans and Jaeden Martell on "Defending Jacob"
Defending Jacob
, unfortunately for Apple, was a limited series, one that ended in such a way that future seasons are practically impossible. However, that's far from the case with Apple's other success,
Ted Lasso
.
Apple TV+, in its first year, got into business with A-list stars, Oscar winners, and creators of great accomplishment. But the show that
connected like no other
is a half-hour comedy starring a former
Saturday Night Live
performer and occasional movie actor, about an American football coach leading a soccer club in England.
Ted Lasso
, which is based on a series of TV commercials from when NBC started broadcasting the English Premier League in 2013, is undeniably connecting with audiences, due in part to its ethos of unrelenting optimism. Tim Cook said as much, on
Apple's quarterly earnings call
on October 29.
"Apple TV+ continues to impress, from fan favorites like
Ted Lasso
, which has won a worldwide audience with its hopeful tone during challenging times, to critical and award praise, including a Primetime Emmy for Billy Crudup in
The Morning Show
," Cook said on the call, which otherwise was light on new information about Apple TV+.
Ted Lasso
not only received a second season, but it's also been
renewed for a third
, becoming the second Apple TV+ series, after
Dickinson
, to get a second renewal.
Ratings? What ratings?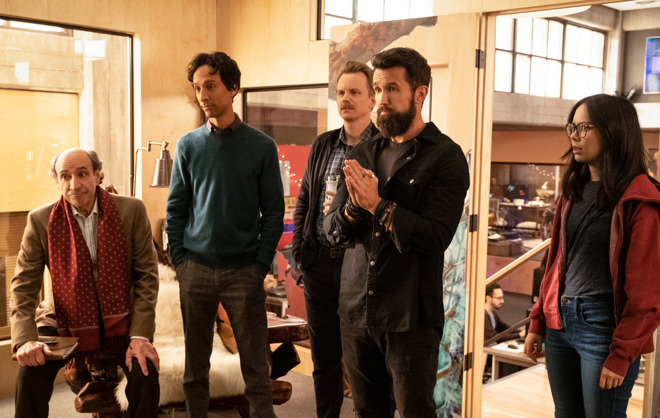 The cast of "Mythic Quest: Raven's Banquet"
As is often the case with measures of streaming TV audiences, there are no "official" figures in terms of viewership for Apple TV+ shows. Apple has never released them -- nor has it released any subscriber numbers. There are no neutral arbiters with universally accepted authoritative numbers about the size of such audiences.
Nielsen recently began releasing
weekly ratings figures
for streaming TV shows, although Apple TV+ has not yet been included in those ratings. There are, however, various third party research firms and other websites that put out such data.
The "streaming TV guide"
Realgood
, in early October,
released a ranking
of the most-watched Apple TV+ shows in the third quarter, which listed
Ted Lasso
as the most watched series on the platform, with 18.4 percent of the total share of streams.
The Morning Show
was second, with 15.8 percent, and
Defending Jacob
third with 10.4 percent. They were followed by
See, Mythic Quest, Home Before Dark, Servant, For All Mankind, Central Park,
and
Little America.
Apple rival Disney+ may have had a big hit with
The Mandalorian
, which returned at the end of October with its second season, but aside from the one-shot movie
Hamilton
, Disney's service hasn't had another original hit since.
Analyst Rich Greenfield of Lightshed Management, who covers the streaming media world extensively,
said on Twitter
in early October that "Apple TV+ has meaningfully outperformed Disney+ in year one in terms of original programming, [especially] programming for anyone over the age of 10. [Eddy Cue] and the Apple TV Plus team do not get enough credit, [especially] with no catalog or history in content production."
In addition, Apple has now formally launched the
Apple One bundle
, of which Apple TV+ is a part, and
has also extended its one-year free trial
to February 2021.
What's in the Apple TV+ pipeline?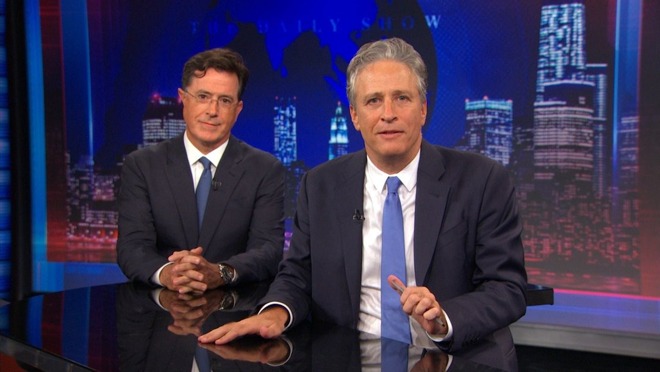 Jon Stewart and Stephen Colbert
This fall, in addition to its original shows, Apple has released the A24 collaboration
On the Rocks
, an acclaimed
Bill Murray movie
from director Sofia Coppola that's garnered Oscar buzz, and also
Bruce Springsteen's Letter to You
, an exceptionally well-mounted making-of documentary about The Boss' new album. The latter, which had a tie-in with the new Apple Music TV, shows the potential of what Apple TV+ can do with
music-oriented programming.
The good news for Apple TV+ has also come from announcements about future projects and talent deals. Throughout the summer and fall, seemingly not a week has gone by without Apple announcing a major deal of some kind.
Apple has acquired some movies that had been slated for theatrical releases pre-pandemic, most notably Tom Hanks'
Greyhound
, while it also landed
Emancipation
, a historical thriller with Will Smith that's set to
arrive in 2021.
Apple landed
Killers of the Flower Moon
, Martin Scorsese's next film, back in May, and announced a separate
first-look deal
with Scorsese's production company in August.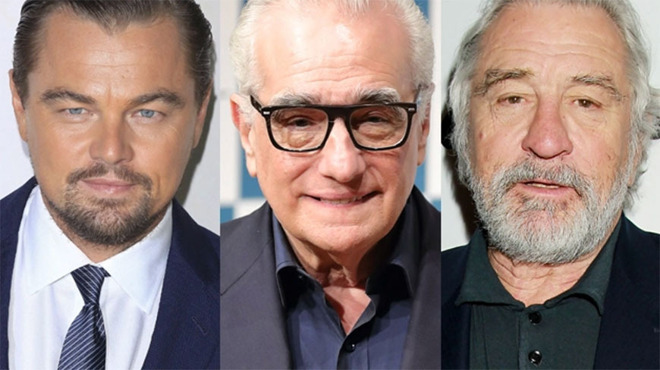 Leonardo DiCaprio, Martin Scorsese and Robert De Niro, of "Killers of the Flower Moon"
The many-time Emmy winner
Julia Louis-Dreyfus
, A-list movie star
Leonardo DiCaprio
, and the acclaimed actor
Idris Elba
are among other huge names who have signed productions deals with Apple this year. Apple also recently signed up movie stars Seth Rogen and Rose Byrne to star in a
comedy series
called
Platonic
.
Then, at the end of October, Apple announced that it will host Jon Stewart's TV comeback,
signing a deal
to produce a current events series hosted by the former
Daily Show
host, as well as other shows Stewart will produce. If Stewart, with his new show, can capture the zeitgeist at anywhere near the level he did back in his Comedy Central days, that's big news for Apple.
Apple's penchant for talent-friendliness can have its pitfalls. Its documentary series
Dear
was essentially about famous people being told by fans
how awesome they are
, in a way that wasn't the slightest bit entertaining or illuminating. Some shows, like
Amazing Stories
with Steven Spielberg and
Little Voice
with J.J. Abrams, invoked a particular big name in their marketing, while those people ended up having little to do with the series creatively.
But clearly, Apple has money to wave at creators. There's no reason to think these big-name talent deals won't continue, and it also appears those creators have gotten some freedom.
There were
fears
around the time of Apple TV+'s launch that it would avoid controversial or adult content, or amount to an "
expensive NBC
," as was reportedly joked about internally.
The shows, so far, have included some amounts of violence and sexuality, and with projects on the way from the likes of Martin Scorsese and Seth Rogen, there's likely more of that on the way. While a least a couple of shows have seen showrunners replaced, including
The Morning Show
, there have been no stories reported from behind the scenes suggesting Apple was heavy-handed with its influence in the executive suite when it comes to content.
Filling things out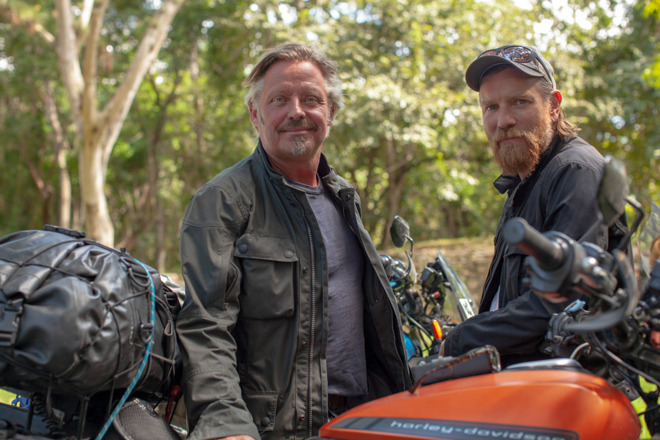 Apple TV+'s "Long Way Up"
A major knock on Apple TV+ when it launched was that it offered subscribers so much less than its rivals did. While Disney+ had the back catalogs of Disney animation, Pixar, Star Wars, Marvel, and more available at launch, Apple TV+ had only its handful of originals. The newer services, especially HBO Max, have also arrived with massive back catalogs of classic movies.
A year on, that's started to change. There is, of course, more original content from Apple that's been added over time. There were also
reports in May
that Apple had begun talks to add older back catalog content to the service.
There's been no major move in that regard yet, although when Apple debuted the Ewan McGregor docuseries
Long Way Up
, it also obtained the rights to the two previous seasons of the series, which had been produced elsewhere. This also happened with Apple's recent deal for the rights to the
Peanuts
holiday specials.
The potential for additional catalog content is something to watch for Apple TV+ as it enters Year 2.
Apple doesn't have to depend on Apple TV+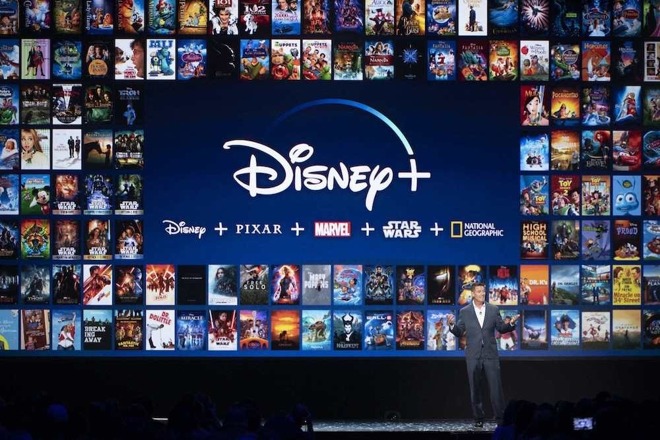 Disney+
Despite the catalog deficit, there is one big advantage Apple has over several of its streaming counterparts, such as Disney+, HBO Max and Peacock, one that's become especially clear of late. Apple's future, as a company, doesn't depend in any way on its streaming service's success.
Whether caused by the pandemic or longer-term troubles, many of Apple TV+'s rivals have their core businesses collapsing around them and need to lean on streaming to promise themselves a future.
Disney recently announced
a reorganization
meant to reorient their entire company around its streaming strategy. AT&T is clearly depending heavily on the success of HBO Max. Comcast, owner of Peacock, is losing cable subscribers at a
significant rate.
Apple, on the other hand, has core businesses that are doing much better. It doesn't own theme parks, a movie studio, a cable or satellite business, or other such declining assets. Therefore, Apple isn't in a position where it has to use Apple TV+ to paper over failures in other areas of its business.
In addition, as evidenced by that yearlong spree of production deals, Apple doesn't appear to be holding back on spending when it comes to Apple TV+.
Apple TV+: Year 2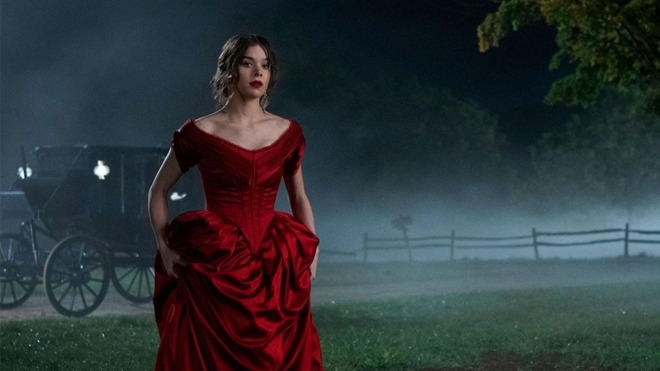 Hailee Steinfeld as Emily Dickinson on Apple TV+'s "Dickinson"
While production was delayed for several months on most Apple TV+ shows, many of them are back before the cameras.
Dickinson
will debut its second season in January, with
The Morning Show
and other launch shows likely to return at some point in 2021.
Most of the first batch of shows were renewed by Apple, with other big series, such the high-budget adaption of Isaac Asimov's
Foundation
and the Tom Hanks/Steven Spielberg-produced
Masters of the Air
, are also on the way in year 2, with the latter getting production underway in the spring.
Apple TV+ hasn't yet matched, say, Netflix when it comes to audience size or cultural ubiquity. But there's no doubt, after one year, that the service is ahead of where Netflix was a year after it launched its streaming service.
From popular shows to talent deals to a robust pipeline, every indication is that its future is bright. And, even if the near-term is dim, Apple has the patience and wherewithal to wait out the slings and arrows of outrageous fortune.