Wristcam is a $299 Apple Watch band with a camera
The $299 Wristcam is an
Apple Watch
band that allows for photography and video calls to be made directly from the watch, without relying on an iPhone's imaging capabilities.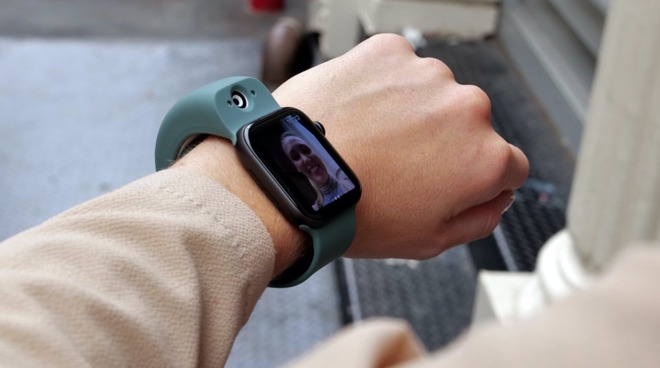 Wristcam on an Apple Watch
Launching after five years in development, the
Wristcam
bills itself as the first camera made for the Apple Watch and is the first smart band to be granted Apple's "Made for Apple Watch" designation. Rather than using the Apple Watch to remotely trigger cameras on an iPhone, the Wristcam gives the Apple Watch the ability to take images for itself.
The band was initially introduced in 2016 and was open to preorders at that time. Rather than releasing the product, the company instead worked closely with Apple to make it work better with the Apple Watch and get the "Made for Apple Watch" label.
Consisting of an 8-megapixel camera to capture the world and a 2-megapixel camera for portrait shots, the camera can take both photographs and videos, all from the Apple Watch. Using a single button below the camera, a tap will snap a picture while a long press records video, while a double-tap switches which camera is in use.
Connecting to the Apple Watch via Bluetooth 5.0 and Wi-Fi, the Wristcam can be used independently of an iPhone. However, the company does provide Wristcam Apple Watch and iPhone apps, which serve as a viewfinder and a gallery and offer other controls. The apps enable videos and photos captured by the camera to be shared via any Apple-connected app or service, including most social networks.
Wristcam also enabled the ability to do video calling with the accessory, using it to record and share video messages with other users and video chat in real-time.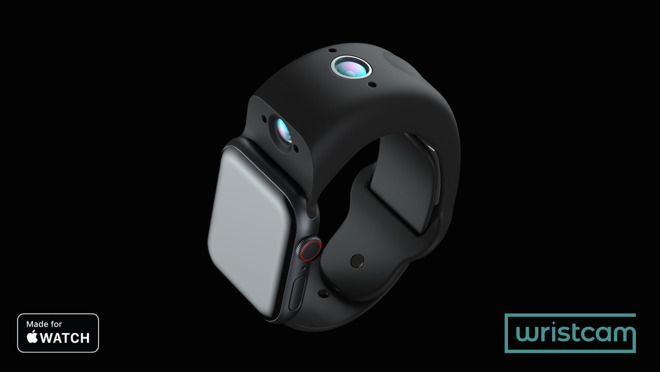 The Wristcam has two cameras, as well as a button for triggering photos and video.
The device has what Wristcam claims is an all-day battery, while its built-in 8GB of memory enables it to store over an hour of 1080p video or thousands of images instead of offloading everything to the Apple Watch's storage. It can automatically synchronize new photos and video with an iPhone while charging, providing users with a form of backup and quicker access to captured media.
The camera is housed in an interchangeable band, with initial colors of Noir, Blanc, Gray, Rose, and Sage offered, while its lightweight construction at 23 grams means it won't be a massive increase in weight on the user's wrist. It is also water-resistant to a depth of one meter for up to 30 minutes and is supplied with a magnetic charging cable.
Optimized to work with thee
Apple Watch Series 4
and later, but compatible with the Series 1 onwards, the Wristcam is priced at $299 and is available now. Those who preordered the CMRA are now receiving their orders, with the company aiming to fulfill all of them before the holidays.