Compared: 2021 New 16-inch MacBook Pro vs. 2019 16-inch MacBook Pro
Apple has continued its Apple Silicon march with the introduction of the new 16-inch
MacBook Pro
running the M1 Pro and M1 Max processors. Here's how it compares to the Intel-based model it replaces.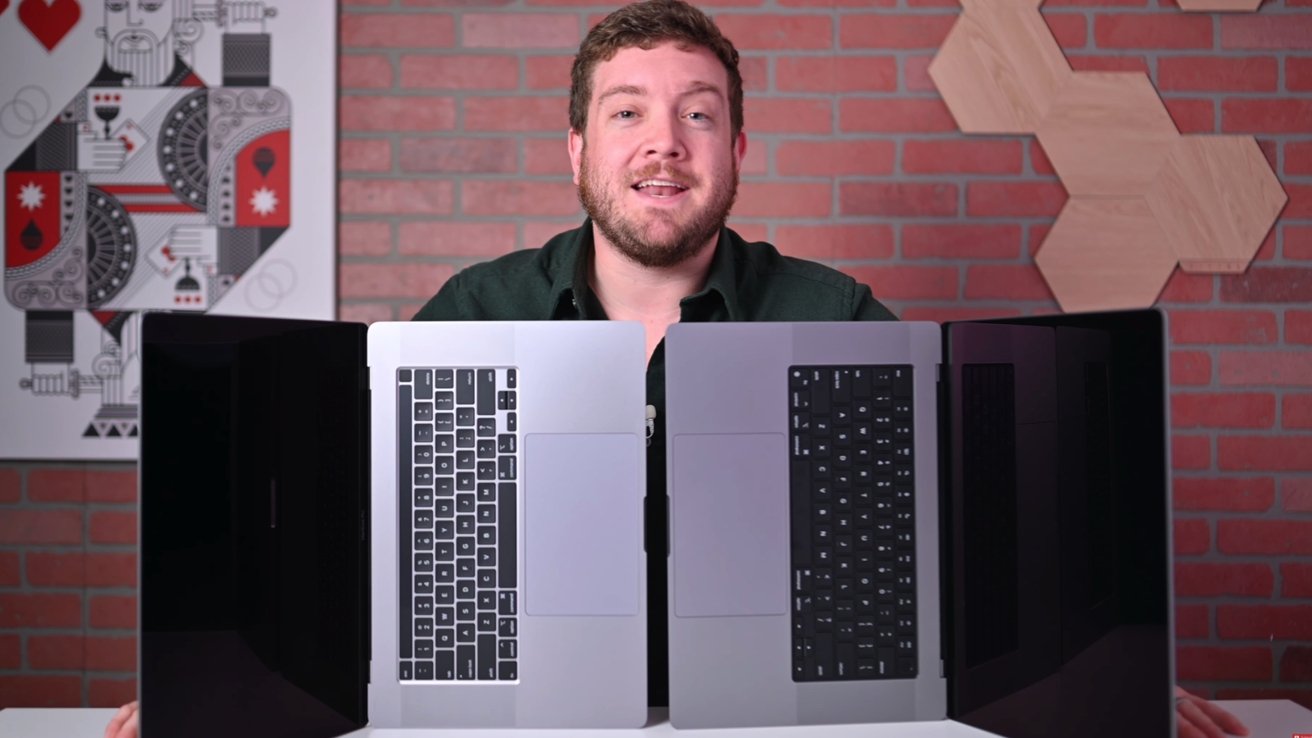 During Apple's "Unleashed" event on October 18, the company added another
Apple Silicon
model to its roster, continuing from the
13-inch MacBook Pro
to the
MacBook Air
,
Mac mini
, and
24-inch iMac
. The new
16-inch MacBook Pro
furthers Apple's aim to shift away from Intel in favor of its own chip design as part of its two-year transition schedule, effectively finishing off the MacBook lineup's switch-over.
Much like how the
M1
chip improved the 13-inch MacBook Pro, the update to the 16-inch model should provide similar performance enhancements over the previous generation, especially with the new M1 Pro and M1 Max chips. However, the larger Intel model's use of discrete graphics and eGPU support may still make the older variant an attractive option for some, among other elements.
Here's how the two versions fare against each other.
New 16-inch MacBook Pro versus 2019 16-inch MacBook Pro - Specifications
16-inch MacBook Pro (Fall 2019)
16-inch MacBook Pro (Fall 2021)
Display Size (inches)
16
16.2
Max Resolution
3,072 x 1,920
3,456 x 2,234
Pixel Density
226
254
Brightness
500 nits
1,000 nits sustained,
1,600 nits peak
Display Backlighting
LED
Mini LED
Display Technology
Wide Color (P3),
True Tone
Wide Color (P3),
True Tone
ProMotion
Processors
2.6Ghz 6-core i7,
2.3Ghz 8-core i9,
2.4Ghz 8-core i9
10-core M1 Pro,
10-core M1 Max
Memory
16GB 2,666MHz DDR, up to 64GB
16GB Unified Memory, up to 64GB
Graphics (integrated)
Intel UHD Graphics 630
M1 Pro 16-core,
M1 Max 24-core
M1 Max 32-core
Graphics (discrete)
Radeon Pro 5300M 4GB,
Radeon Pro 5500M 4GB,
Radeon Pro 5500M 8GB,
Radeon Pro 5600M 8GB
None
External Video
2 6,016x3,384 displays at 60Hz,
4 4,096x2,304 displays at 60Hz
2 6K displays at 60Hz (M1 Pro),
3 6K and 1 4K at 60Hz (M1 Max)
Storage
512GB, 1TB, 2TB, 4TB, 8TB
512GB, 1TB, 2TB, 4TB, 8TB
Touch Bar
Yes
No
Biometrics
Touch ID
Touch ID
Trackpad
Force Touch
Force Touch
Keyboard
Backlit with ambient light sensor
Backlit with ambient light sensor
Dimensions (inches)
14.09 x 9.68 x 0.64
14.01x 9.77 x 0.66
Weight (pounds)
4.3
4.7 (M1 Pro),
4.8 (M1 Max)
Battery Life
11 Hours
21 Hours
Ports
4 Thunderbolt 3 ports,
Headphone jack
3 Thunderbolt 4 ports,
HDMI,
SDXC card slot,
MagSafe 3,
Headphone jack
Webcam
720p FaceTime HD
1080p FaceTime HD
Speakers
Six speakers with force-cancelling woofers, Dolby Atmos
Six speakers with force-cancelling woofers, Dolby Atmos
Microphones
3 with directional beamforming
3 with directional beamforming
Wi-Fi
802.11ac
Wi-Fi 6
Bluetooth
5.0
5.0
Charger
96W USB-C
140W USB-C
Color Options
Silver, Space Gray
Silver, Space Gray
Price
from $2,399
from $2,499
Intel 16-inch MacBook Pro vs Apple Silicon MacBook Pro - Physical Dimensions
The Intel model was a fairly large notebook, which makes sense given its 16-inch display, with a width of 14.09 inches and a depth of 9.68 inches. That's along with a thickness of 0.64 inches, making it reasonably thin compared to many other notebooks on the market.
For the Apple Silicon version, Apple's opted for a marginally different physical size, at 14.01 inches long, 9.77 inches deep, and 0.66 inches thick. Yes, all of the differences are less than a tenth of an inch in each dimension, so they exist but don't matter that much here.
The Intel MacBook Pro was also a pretty dense system, weighing 4.3 pounds, more than a pound heavier than either the Intel or M1-based 13-inch MacBook Pro. Naturally, this could be put down to the overall size of the device simply being bigger.
For Apple Silicon, Apple has piled on mass, with the M1 Pro-equipped model at 4.7 pounds and the M1 Max version at 4.8 pounds.
This is the same as what was seen in the 13-inch MacBook Pro, as the M1 version weighed 3.1 pounds to the Intel version's 3 pounds.
Intel 16-inch MacBook Pro vs Apple Silicon MacBook Pro - Display
Apple's introduction of the 16-inch display to the Intel MacBook Pro lineup from the previous 15-inch size was accomplished with minimal impact to the enclosure, with very thin bezels on all edges of the display.
The extra screen size brought some benefits, including an improved resolution to 3,072 to by 1,920, giving it a better pixel density of 226 pixels per inch.
In the new 16-inch model, Apple has made some serious upgrades to the display. It's bigger, at 16.2 inches diagonally, resulting in the bezels being a mere 3.5 millimeters thick on the top and sides.
That also translates into a higher resolution at 3,456 by 2,234 pixels, bringing the pixel density up from 226ppi to 254ppi.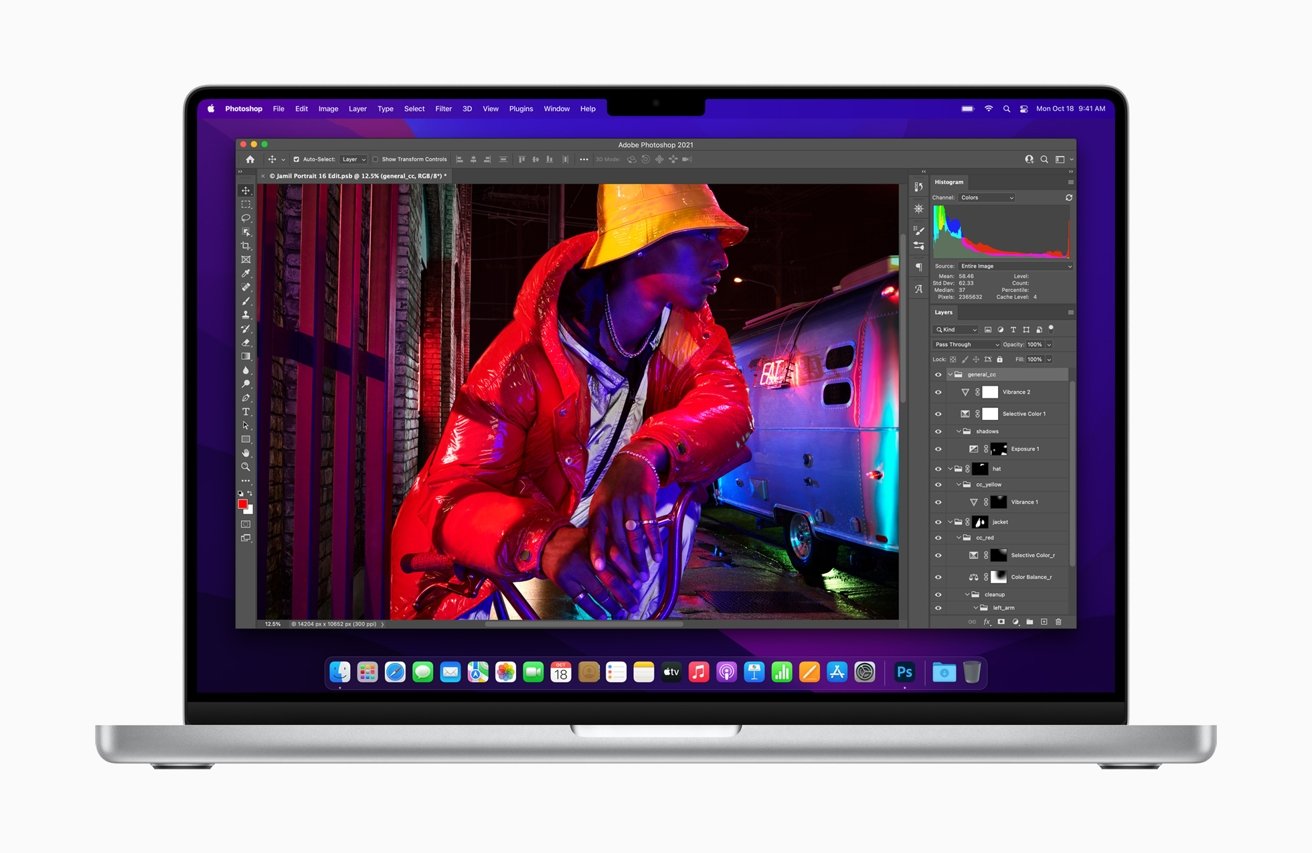 There's a thinner bezel and mini LED backlighting in the new 16-inch MacBook Pro, as well as a notch.
This time around, Apple's tweaking the screen in a big way. Rather than using an LED-backlit IPS display, Apple is moving over to mini LED. First surfacing in the
12.9-inch iPad Pro
, the display technology exchanges the small number of LEDs for a massive amount of smaller mini LEDs.
By using thousands of light sources, the backlighting provides considerable amounts of benefits that puts the LCD technology closer to OLED in terms of performance. This includes creating a much brighter display at 1,000 nits of brightness, 1,600 nits at peak, versus the old screen's 500 nits at peak, as well as high contrast ratios reaching 1,000,000:1.
You're also going to get a more vivid and accurate picture on the mini LED display over the previous generation.
Apple has even made the Apple Silicon version a ProMotion display, enabling it to automatically adapt its refresh rate up to 120Hz, or to lower levels when necessary to conserve power. The previous model maxed out its refresh rate at 60Hz.
Of course, there's also the notch to talk about, but we'll get to that later.
Intel 16-inch MacBook Pro vs Apple Silicon MacBook Pro - CPU Performance
In the Intel 16-inch MacBook Pro, Apple offered a lot of choice in terms of processor and graphical performance. For the Apple Silicon version, there's still a bit of a choice to take into account.
A trio of Intel processors could be equipped, including the 2.6GHz 6-core Core i7, a 2.3GHz 8-core Core i9, and a 2.4Ghz 8-core Core i9.
You could also pair the processors with the base level of 16GB of 2666MHz DDR4 memory, with options for 32GB or 64GB.
At low memory levels, capacity is important, but less so at higher levels, as it is more an indicator for how many concurrent applications you can have held in memory. It's more useful for multitasking rather than for single applications, as it were.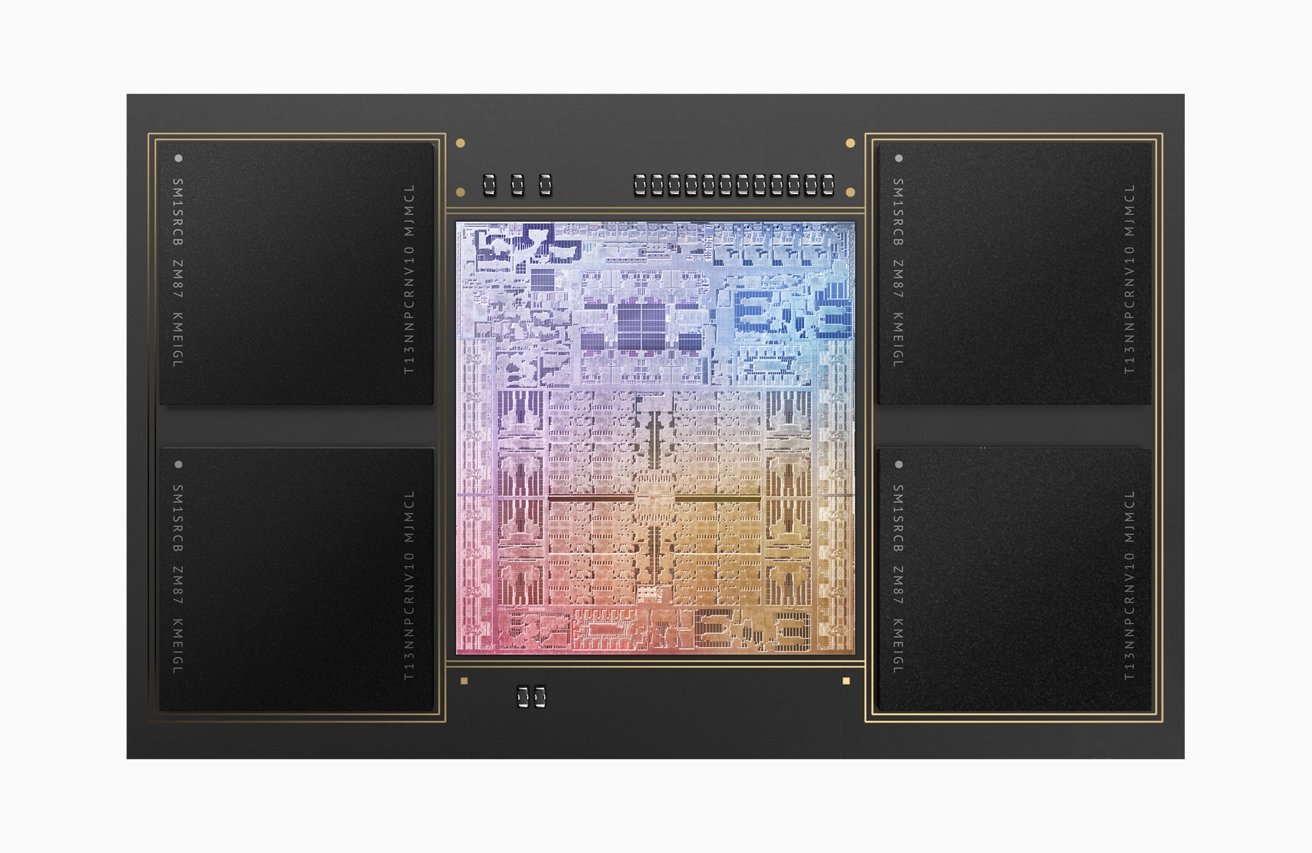 The M1 Max offers 400GB/s of memory bandwidth as well as ten CPU cores and the Neural Engine.
For the Apple Silicon version, Apple uses two different M1 chips, known as the M1 Pro and the M1 Max.
The M1 Pro and Max have a 10-core CPU using eight high-performance cores and two energy-efficient cores, using over 33.7 billion transistors. The difference stems from how the two use memory.
The M1 Pro offers up to 200GB/s of memory bandwidth, whereas the M1 Max manages up to 400GB/s. The Pro also works with up to 32GB of Unified Memory, while the Max can go up to 64GB. There's also the Neural Engine's inclusion to account with the M1 chip family, providing machine learning assistance for some processing tasks.
In effect, Apple's new chips provide up to 70% faster performance than the CPU of the M1.
In terms of performance, the Intel chips are relatively similar for single-core testing under Geekbench, managing 1,011 in the six-core version, 1,062 in the 2.3GHz Core i9, and 1,088 in the 2.4GHz Core i9.
On multitasking, there's more variance, with the Core i7 managing 5,295, the lower Core i9 at 6,518, and the upper at 6,825.
While we wait for benchmarks to roll in for the new 16-inch MacBook Pro, we must go by what Apple says, and borrow the M1's score. For reference, the 13-inch MacBook Pro's M1 scores 1,705 points in the single-core test and 7,382 in the multi-core version.
In its real-world comparisons with the "previous generation," Apple claims the CPU is capable of 2.1x faster project builds in Xcode and a 3x faster computational fluid dynamics performance in NASA TetrUSS.
If what Apple says is true, the M1 Pro and M1 Max will score quite highly in comparison.
Intel 16-inch MacBook Pro vs Apple Silicon MacBook Pro - Graphics Performance
While the 13-inch Intel MacBook Pro relied just on integrated graphics to get by, the 16-inch counterpart went one step further in using both integrated and discrete graphics. Rather than just using the Intel UHD Graphics 630 included as part of the processor, Apple includes a separate Radeon Pro GPU.
The idea is that the integrated graphics are used for everyday tasks to save power, while the discrete version provides more performance when needed.
For the 16-inch MacBook Pro, the GPU range starts with the Radeon Pro 5300M with 4GB of GDDR6 memory, rising to a Radeon Pro 5500M with 4GB of GDDR6, then a Radeon Pro 5500M with 8GB of GDDR6, or at the top, a Radeon Pro 5600M with 8GB of HBM2 memory.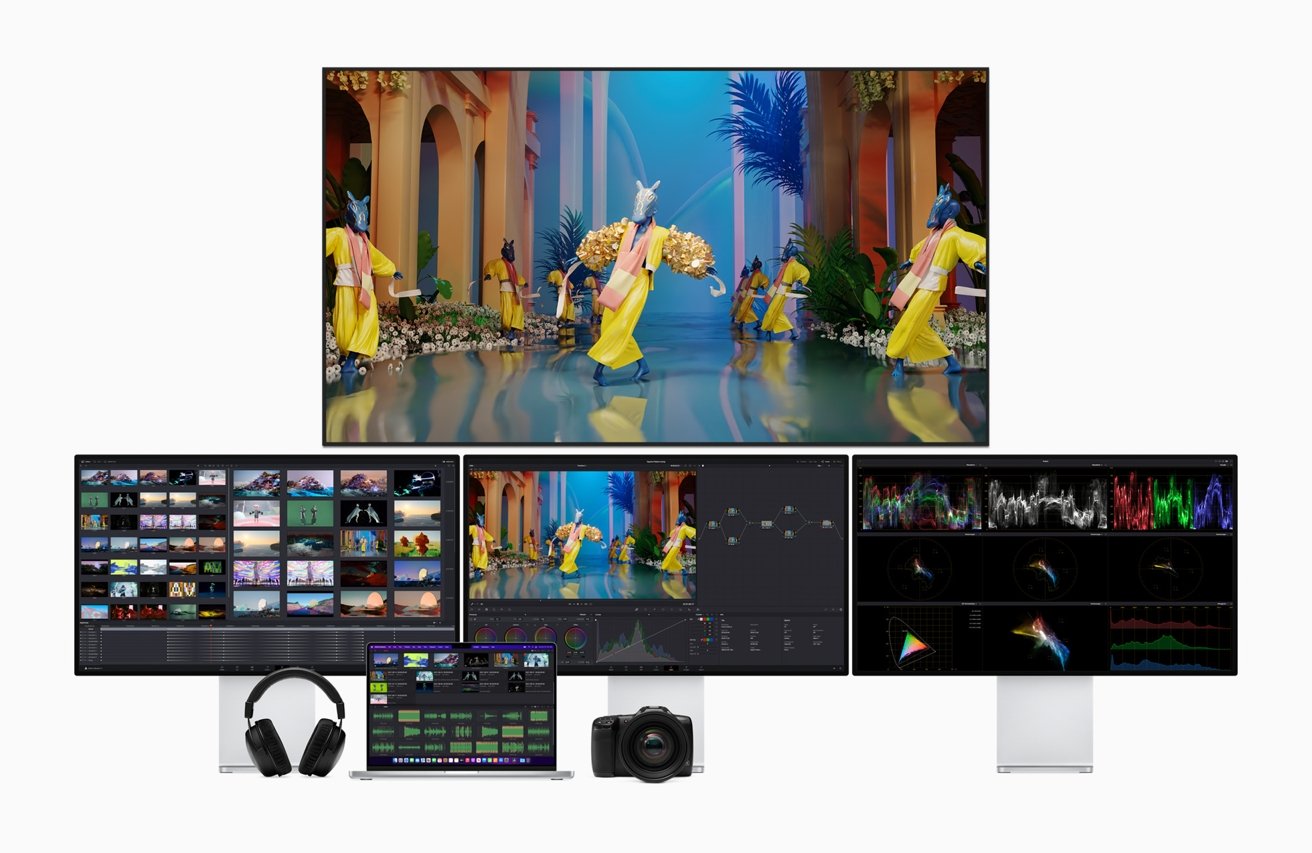 You can drive three 6K external displays and a 4K one as well using the M1 Max.
According to Geekbench, Intel UHD Graphics 630 scores 4,501 in its Metal benchmark, which is to be expected for integrated graphics. The Radeon Pro 5300M scores 24,461, with the 5500M managing 29,886, and the Radeon Pro 5600M takes the lead at 42,510 in the test.
For the Apple Silicon Mac, Apple doesn't rely on any discrete GPU at all. Instead, it uses the Apple-designed GPU built into the chip. Again, there are multiple versions to consider.
The M1 Pro is offered with a 16-core GPU, which Apple claims offers twice as much GPU speed as the version in the M1 chip.
The M1 Max has two versions available, with a 24-core GPU or a 32-core GPU. Similar performance boasts are made, including claims that the 32-core GPU can perform seven times faster than PC integrated graphics at the same power, and can perform similarly to discrete graphics cards, but with a 70% less power draw.
For reference, the M1 in the 13-inch MacBook Pro manages 20,581 in Geekbench 5's Metal benchmark.
In terms of video output, the Intel can manage two 6,016 by 3,384-resolution external displays, or four 4,096 by 2,304 displays at 60Hz.
The M1 Pro is capable of outputting to two external 6K monitors at up to 60Hz. The M1 Max goes much further in driving three 6K displays and an extra 4K screen at 60Hz.
The discussion of graphics does include one important wrinkle to consider: eGPU support. While Apple does not currently allow its Apple Silicon chips to
support eGPU enclosures
, that support is still available for Intel-based Macs.
This means an Intel MacBook Pro could take advantage of an eGPU enclosure and a supported Radeon graphics card, instead of relying on its own integrated or discrete GPUs. It practically means that the Intel models are capable of upgrading their graphical capabilities via eGPU, so long as Apple continues to provide support.
Intel 16-inch MacBook Pro vs Apple Silicon MacBook Pro - Camera and the Notch
The MacBook Pro lineup has used a 720p FaceTime HD camera for quite some time, providing users will a fairly basic imaging device for use in video calls. Given the impact of COVID-19 affecting the way people work and learn, this has forced Apple into making a change to the now-important component.
If not as impressive as the shift to a 12-megapixel camera with Center Stage in the ninth-generation iPad, Apple has corrected course slightly with the new 16-inch MacBook Pro. Out goes the 720p imaging device in favor of a 1080p version.
Furthermore, it's a camera that is improved with better low-light performance and is computationally assisted. Using the M1 image signal processor and the Neural Engine, the MacBook Pro can boost the sharpness and overall video quality even more.
While a seemingly minor alteration, improving the camera quality is an essential change in a world that revolves around Zoom calls to friends and family.
It's a long time coming, but a change that's extremely welcomed.
The problem is that Apple has done so by introducing one of the more controversial elements of its iPhone design into the MacBook Pro, namely the infamous notch. While the iPhone required the element for its large TrueDepth camera array due to the edge-to-edge display design, it seemed far-fetched that it would also appear in a MacBook Pro.
And yet, here we are.
It could easily be argued that Apple's decision to put in the notch was due to enlarging the screen and simultaneously shrinking the bezels, leaving little realistic space to hide the camera. More unusually, the camera doesn't offer features like Face ID, as it's just a standard webcam.
The sheer size of the notch may cause some complaints, but it shouldn't be a horrific one. Realistically, the visual feature may eat a little into the menu bar of an app you're using, but given the overall resolution and positioning, most people will simply accept its presence and work around it.
Intel 16-inch MacBook Pro vs Apple Silicon MacBook Pro - Storage, Connectivity, and Power
When Apple shifted from the 15-inch MacBook Pro to the 16-inch size, it took the opportunity to upgrade the storage options. While the range was previously 256GB to 4TB, Apple increased the capacities to start from 512GB at the low end to 8TB at the high.
This remains the same for the Apple Silicon version, with an identical 512GB to 8TB range.
On the connectivity side, Apple has seemingly answered all of the connectivity complaints on the Internet regarding port selections.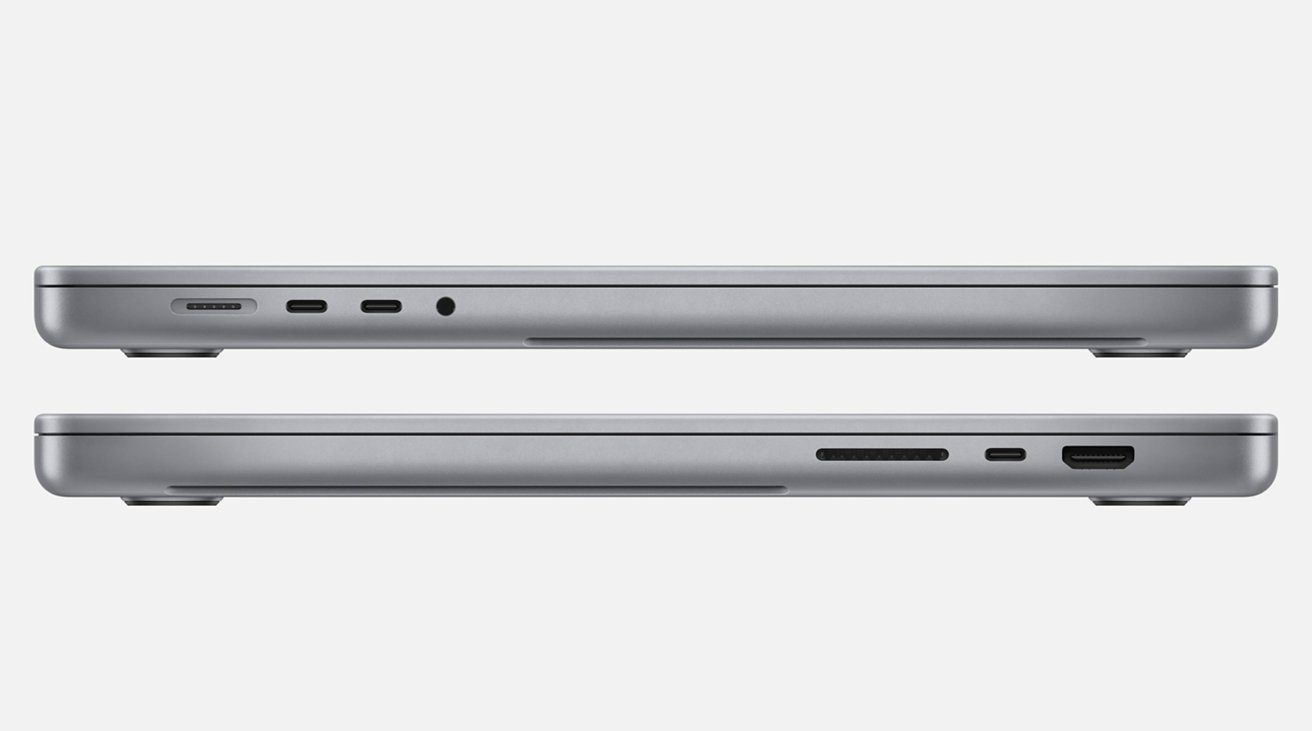 Apple brought back many highly-used ports in the new MacBook Pro, including HDMI, an SD card reader, and MagSafe.
The Intel version offered a quartet of Thunderbolt 3 ports that had backward compatibility with USB 3.1 Gen 2 Type-C connections, which were also used for recharging and as a display output. The only other port you had available was the typical 3.5mm headphone jack on the right-hand side.
Apple starts off with three Thunderbolt 4 ports for the new MacBook Pro, but then adds in an HDMI port, an SDXC memory card reader, and the headphone jack. On top of this, it also brought back MagSafe, with MagSafe 3.
MagSafe 3 is a magnetically affixed charger that can quickly disconnect from the MacBook Pro, preventing it from going flying if someone tripped over the cable. This safety-minded connector is one of two ways you can provide power to the MacBook Pro, as it can still recharge via the Thunderbolt 4 ports if required, enabling it to continue working with power delivery-based docks.
To wireless connectivity, Apple has taken the step to upgrade the connection from 802.11ac to Wi-Fi 6, which you may know as 802.11ax. There are benefits, such as native support for dual-band connectivity and power savings as well as more speed, but this will rely on you having compatible network hardware to take advantage of it.
Apple continues to use Bluetooth 5.0 in its MacBook Pro lineup, which is a reliable and well-worn standard, but also a missed opportunity. Apple could have included Bluetooth 5.1 support in the new model.
In terms of battery life, Apple claims the Intel-based version has up to 11 hours of usability from a single charge through the use of the 100-watt-hour lithium-polymer battery. It's recharged with a 96-watt USB-C power adapter.
For the new M1 Pro and Max versions, Apple instead manages to squeeze up to 14 hours of wireless web access or 21 hours of Apple TV app movie playback from the same 100-watt battery. The charger is also improved to a 140W USB-C power adapter.
Intel 16-inch MacBook Pro vs Apple Silicon MacBook Pro - Other Details
Both models use a Force Touch trackpad, as well as a backlit keyboard. However, while the Intel model has the Touch Bar with integrated Touch ID, the Apple Silicon version loses the Touch Bar in favor of full-size function keys and a dedicated Touch ID button in the top-right corner.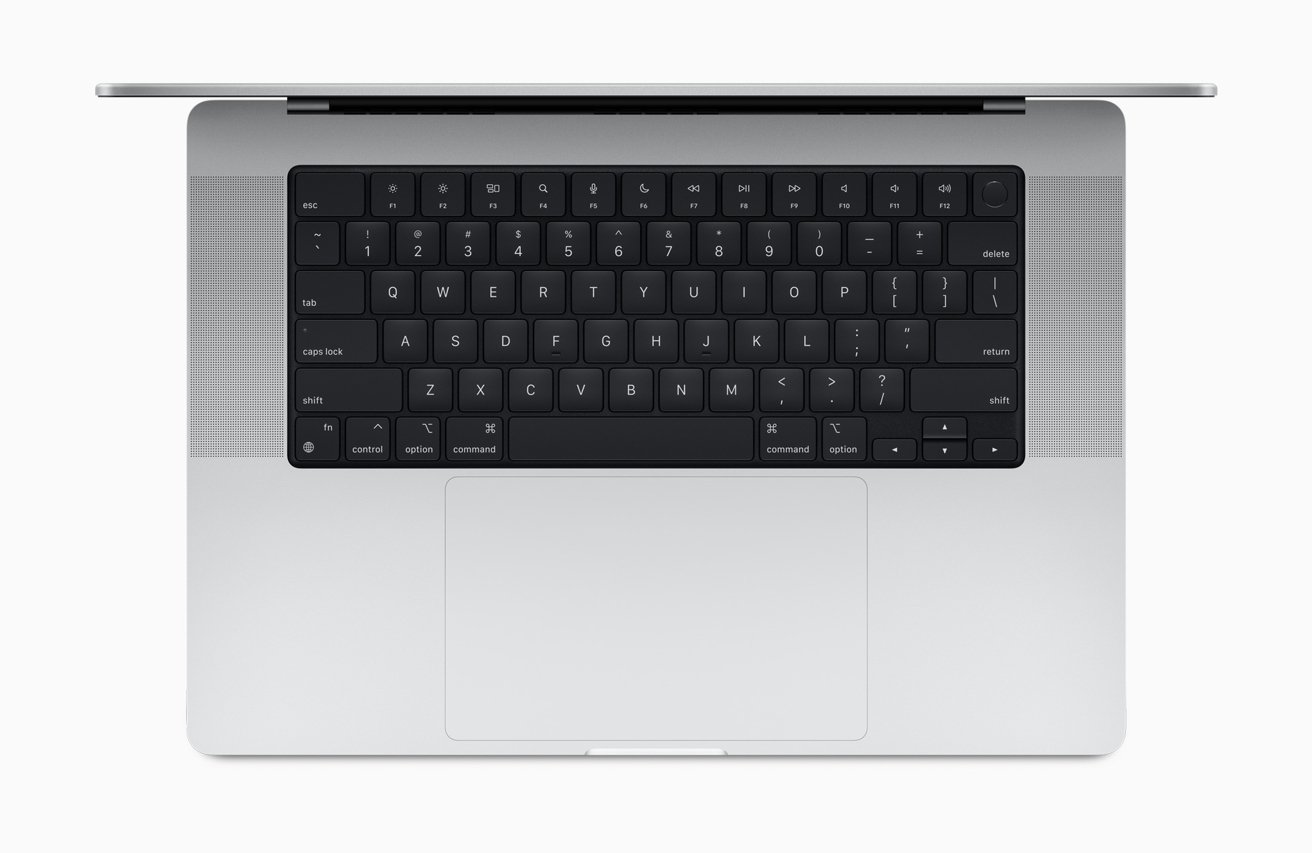 The Touch Bar is gone, but you still have Touch ID.
The Intel version uses six speakers for audio, complete with force-canceling woofers, a "wide stereo sound," and support for Dolby Atmos. Apple claims the six-speaker audio system using two tweeters and four force-canceling woofers provides a "next-level audio experience," partly due to its support for spatial audio in the speakers themselves.
The two generations use a trio of "studio-quality" mics in an array with a high signal-to-noise ratio and directional beamforming.
Intel 16-inch MacBook Pro vs Apple Silicon MacBook Pro - Configuration Pricing
The Intel 16-inch MacBook Pro is offered in two starting configurations.
The
lower-tier option
, priced at $2,399, starts with the 6-core processor, 16GB of memory, 512GB of storage, and the Radeon Pro 5300M. If you pay $400 more at $2,799, you instead
start with the 2.3GHz 8-core processor
, the Radeon Pro 5500M 4GB, and 1TB of storage.
If you wanted to upgrade to the 2.4GHz 8-core chip, it would cost you an extra $300 from the low-end starting point, $200 from the high-end. RAM upgrades cost $400 to move from 16GB to 32GB for both tiers, or $800 will get you to 64GB.
To improve the graphics on the lower-tier model to be the same as the upper-tier version, the price difference is $100. The price increases to better GPUs are the same from that point, with the move from the 5500M 4GB to the 8GB version an extra $100, then it's an additional $600 on top to move to the 5600M.
Bringing the low-tier starting point to 1TB costs $200, with subsequent upgrades costing the same for both models. Moving from 1TB to 2TB is $400 more, from 2TB to 4TB is $600, and from 4TB to 8TB is $1,200.
The most expensive model you can configure of the Intel variety consists of the 2.4GHz 8-core Core i9, 64GB of memory, the Radeon Pro 5600M with 8GB HBM2, and 8TB of storage for $6,699.
The
cheapest M1 Pro model
with a 16-core GPU costs $2,499, which gets you 16GB of memory and a 512GB SSD. It costs an extra $400 to have 32GB of unified memory.
If you want to increase the storage from 512GB to 1TB, that's an extra $200, with the move to 2TB being $400 more, a further $600 on top of that to get to 4TB, and a further $1,200 to go from 4TB to 8TB. It works out to be a price difference of $2,400 between the 512GB and 8TB capacities.
The
cheapest M1 Max model
is $3,099, with the 24-core GPU, 32GB of memory, and the 512GB SSD. Storage upgrade prices are the same, but you also have a 64GB memory option available at an extra $400.
If you want the
M1 Max with the 32-core GPU
, it starts from $3,299 with 32GB of memory and 512GB of storage. The memory and storage upgrades are identical to the 24-core version.
The most expensive Apple Silicon model you can configure is the
M1 Max with 32-core GPU, 64GB of memory, and 8TB of storage
, costing $6,099.
A considerable and welcome upgrade
When Apple introduced the M1 version of the 13-inch MacBook Pro, it demonstrated a willingness to improve upon Intel's chip designs with what it learned from mobile chip design. The initial launch proved itself to be a very capable chip, and one that set the notebook market alight with high performance.
In the 16-inch MacBook Pro upgrade, Apple has not only brought that high performance to the premium notebook level but improved upon it.
Apple's boasts also pitch the MacBook Pro as now no longer requiring the discrete GPU, with it having enough graphical performance to beat many discrete offerings while also conserving power. That's a one-two punch that the rest of the GPU industry will have to work hard to counter.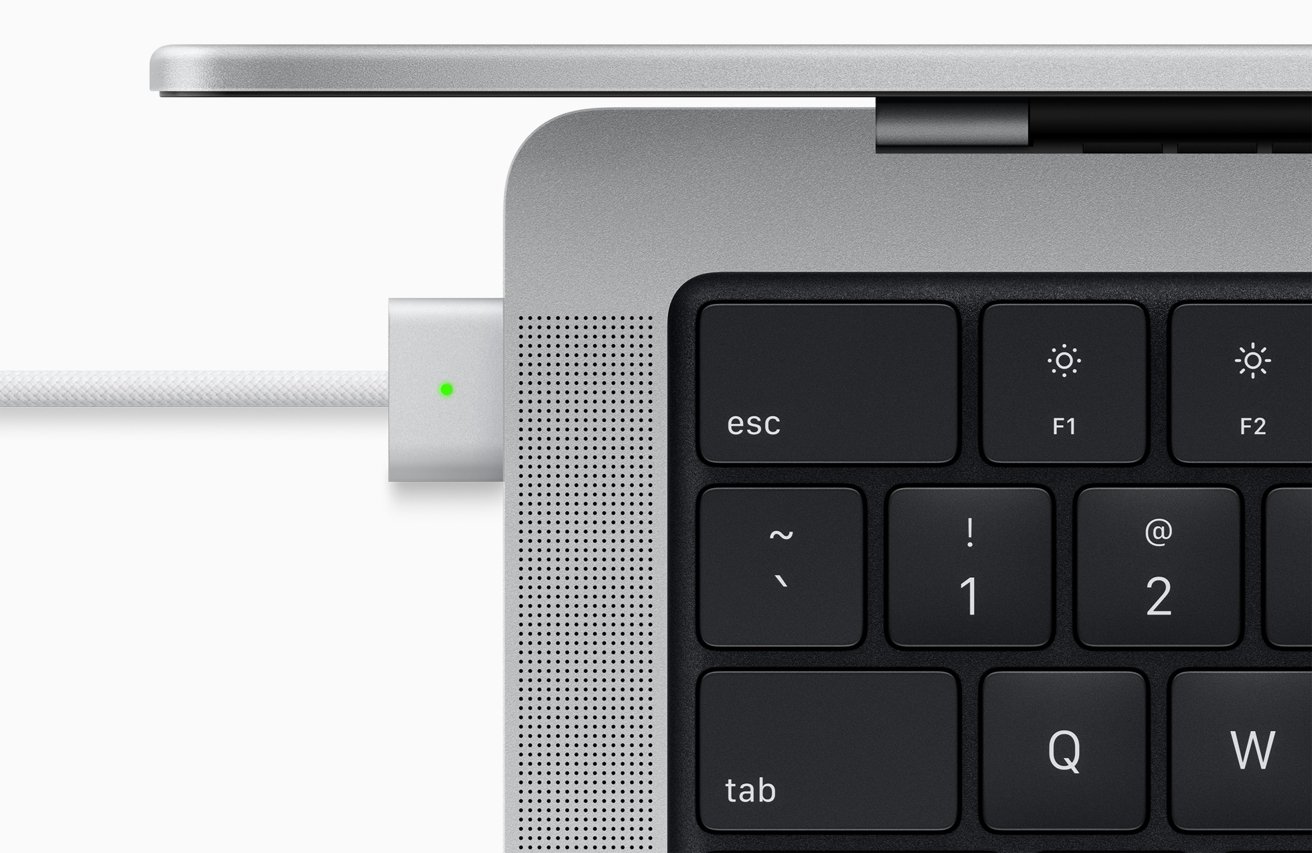 MagSafe charging is back on the MacBook Pro, but you can still recharge using Thunderbolt too.
Unlike the 13-inch Apple Silicon introduction, the 16-inch upgrade is more than just performance changes. There are heaps of design alterations to consider, including the mini LED display and the heaps of extra battery life Apple has engineered into the notebook.
There's also the reversal of Apple's tendency to minimize the number of ports on a device, with the reintroduction of HDMI, a memory card reader, and even a new version of MagSafe. It may not necessarily end the "dongle life" overnight, but it's undoubtedly recognition from Apple that ports are still a thing people want.
Just looking at the list of changes, the vast majority of them will make the new Apple Silicon 16-inch MacBook Pro a strong upgrade candidate for many existing Intel MacBook users.
There's extremely little in the way of problems with the new model that could prevent someone from upgrading.
The only real downside is the inclusion of the dreaded notch, and that's not really an issue, as iPhone users have grown to live with the design choice on the tiny screen. On the much bigger display of the MacBook Pro, the notch is certainly visible, but it doesn't really make much of an impact when you're using apps.
If you can look past the notch as an eyesore in an otherwise ideal notebook for power users, you end up with an extremely capable and desirable upgrade opportunity.
Where to buy
Apple's 2021 16-inch MacBook Pro is already discounted, with exclusive coupon savings at your fingertips in the
AppleInsider
2021 16-inch MacBook Pro Price Guide
. Closeout models are also heavily discounted in our
2019 16-inch MacBook Pro Price Guide
.
At press time, the
best MacBook Pro deals
offer triple-digit savings on both retail and configure-to-order (CTO) models at Apple Authorized Reseller Adorama with promo code
APINSIDER
and
this activation link
. Step-by-step instructions detailing how to redeem the coupon can be found
here
.
Read on AppleInsider