Compared: 14-inch MacBook Pro vs MSI GP66 Leopard gaming notebook
Apple's comparisons between the new
MacBook Pro
models and other high-performance notebooks used the MSI GP66 Leopard for some of its comparisons. Here's how MSI's notebook and the 14-inch MacBook Pro compare across a broader selection of features.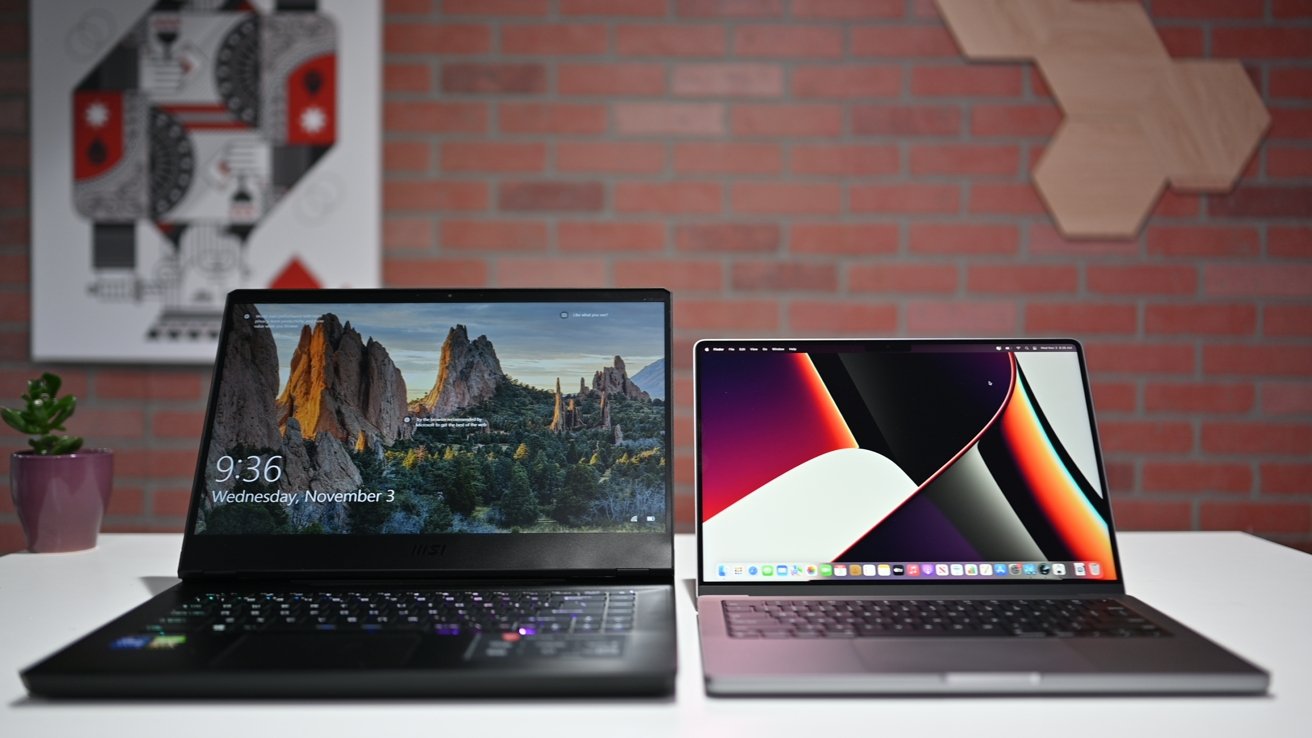 Apple's 14-inch MacBook Pro (right), MSI's GP66 Leopard (left)
When Apple announced its M1 Pro and M1 Max system-on-chips, it did so by putting its new notebooks against powerful equivalents already available on the market. Apple was careful not to promote other manufacturers -- but in a rarity, it did reveal specifically what its comparisons were actually against.
The press release accompanying the chip launches mentions that pre-production versions of the 16-inch MacBook Pro with the chips were put against the MSI GP66 Leopard, model 11UG-018, for "select industry-standard benchmarks." These were largely to put the processing and graphical capabilities of the new M1 chips to be compared directly against what people could opt to buy on the high-end notebook market.

Small print included in Apple's M1 Pro and M1 Max press release.
However, the comparisons were only on processing performance, in a variety of ways. It doesn't take into account any other elements that consumers could be interested in, such as the display, or the size, or anything else about the MSI GP66 Leopard.
Specifications
14-inch MacBook Pro
MSI GP66 Leopard 11UG-018
Display Size (inches)
14.2
15.6
Max Resolution
3024 x 1964
1920 x 1080
Pixel Density
254ppi
141ppi
Brightness
1000 nits
Around 200 nits
Display Backlighting
Mini LED
LED
Display Technology
Wide Color (P3),
True Tone,
ProMotion
240Hz,
Anti-glare wide view angle
Processors
M1 Pro with 8-core CPU
M1 Pro with 10-core CPU
M1 Max with 10-core CPU
Intel 8-core Core i7-11800H
Memory
16GB Unified Memory
32GB Unified Memory (M1 Pro, M1 Max)
64GB Unified Memory (M1 Max)
16GB DDR4 3,200MHz,
64GB supported
Graphics (Integrated)
14-core GPU (M1 Pro)
16-core GPU (M1 Pro)
24-core GPU (M1 Max)
32-core GPU (M1 Max)
Intel UHD Graphics
Graphics (Discrete)
None
Nvidia GeForce RTX 3070
External Video
2 6K displays at 60Hz (M1 Pro)
3 6K displays and 1 4K at 60Hz (M1 Max)
2 4K displays
Storage
512GB, 1TB, 2TB, 4TB, 8TB
1TB NVMe SSD
Biometrics
Touch ID
None
Trackpad
Force Touch
Yes
Keyboard
Backlit with ambient light sensor
Steel Series RGB with Anti-Ghost Key
Dimensions (inches)
0.61 x 12.31 x 8.71
0.92 x 14.09 x 10.51
Weight (pounds)
3.5
5.25
Battery
70Whr
65Whr
Ports
SDXC card slot,
HDMI,
MagSafe 3,
3 USB-4/Thunderbolt ports,
Headphone jack
HDMI,
mini DisplayPort 1.4,
3 USB 3.2 Gen 1,
Headphone Jack
Webcam
1080p FaceTime HD
720p
Speakers
High fidelity six-speaker sound with wide stereo, spatial audio
Stereo 2-Watt
Microphones
3 with directional beamforming
1
Networking
Wi-Fi 6
Wi-Fi 6E
2.5Gb Ethernet
Bluetooth
5.0
5.2
Charger
67W USB-C (M1 Pro with 8-core CPU)
96W USB-C (M1 Pro with 10-core CPU, or M1 Max)
280W Power Adapter
Color Options
Silver, Space Gray
Black
14-inch MacBook Pro vs MSI GP66 Leopard - Physical Dimensions
Encased in aluminum, Apple's notebook lineup is the epitome of thin, light, and powerful computing. That has been the case for quite a few years, and the 14-inch MacBook Pro certainly continues the tradition.
In terms of size, the MacBook Pro is 12.31 inches long and 8.71 inches deep. It's also extremely thin, at 0.61 inches.
The MSI GP66 Leopard uses a metal chassis that MSI claims has been overhauled from previous models to improve its rigidity, though it is in a plain generic black color rather than appearing metallic. There are vents down the side that allow it to cool down, along with ports on the sides and back.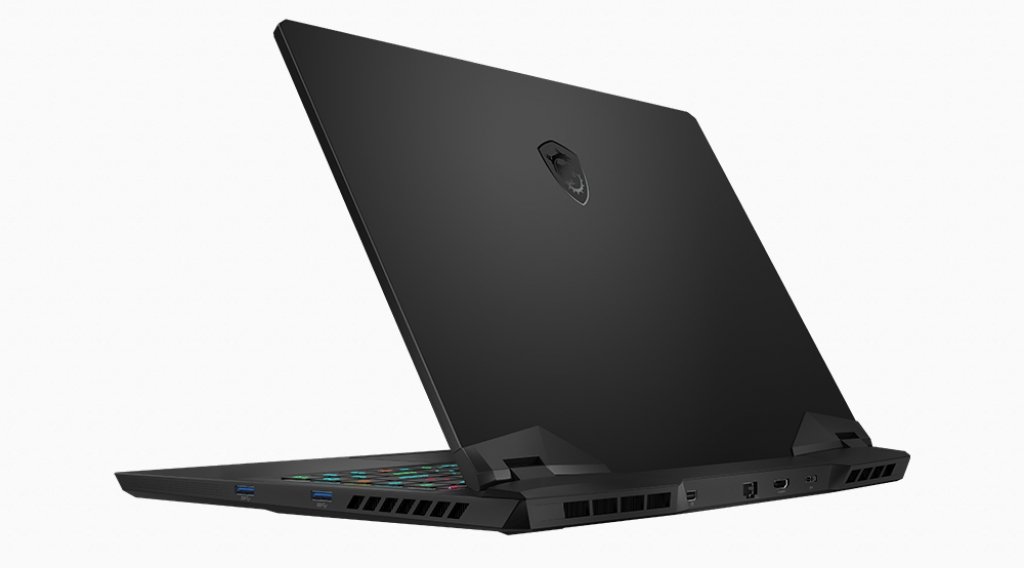 Those vents are for cooling the MSI notebook down as much as possible
As a notebook, it's much bigger than the MacBook, with a footprint of 14.09 inches by 10.51 inches, making it over an inch and a half longer deeper. It's fairly easy to put that down to the difference in screen size, as Apple opts for a 14.2-inch display while MSI uses a 15.6-inch version.
Those vents do certainly affect the thickness, as it measures 0.92 inches. While under an inch, it's still substantially thicker than the MacBook.
14-inch MacBook Pro vs MSI GP66 Leopard - Display
As previously mentioned, there is a difference in screen size at play here, with the 14-inch having a 14.2-inch screen against 15.6 for the MSI. After that metric, there's quite a lot that's different between the two screens, with most of it landing as positives for Apple.
The 14-inch MacBook Pro has a resolution of 3,024 by 1,964, meanwhile, the MSI uses a 1920 by 1080 display. Naturally, when you take into account the screen sizes, the MacBook Pro storms ahead with a pixel density of 254ppi versus 141 for the MSI.
You're also getting a much brighter display with the MacBook, through Apple's use of mini LED backlighting. It's capable of up to 1,000 nits of sustained full-screen brightness, with a peak brightness of 1,600 nits.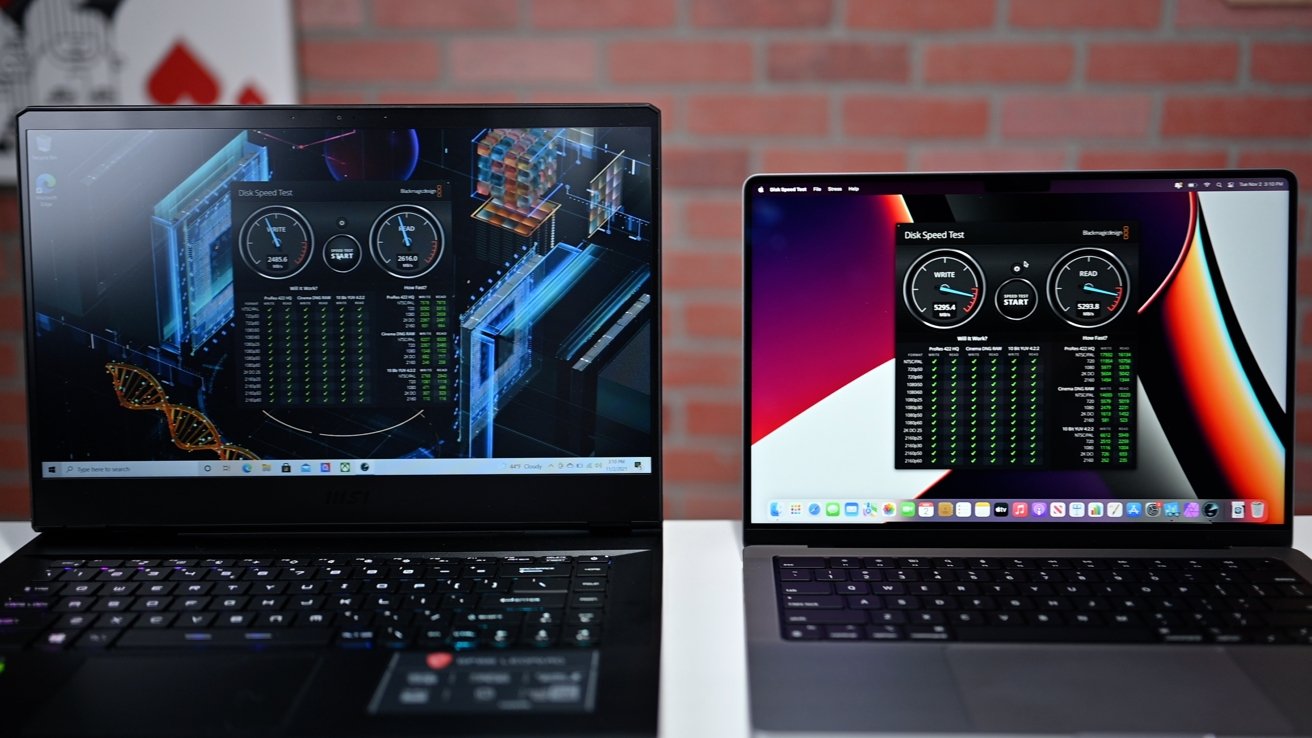 The GP66 Leopard sticks to the incumbent LED, so you're not going to get the same contrast and color representation as the MacBook Pro. While MSI doesn't say how bright the Leopard gets, searches suggest it offers just over 200 nits of brightness, which is nowhere near Apple's offering.
The screens also differ in refresh rate, as MSI's panel can manage up to 240Hz. While this is double the 120Hz maximum of the MacBook Pro, Windows notebooks don't offer features similar to ProMotion, so you don't get the adaptive refresh rate benefits.
Apple's display offers Wide Color P3 support and True Tone. Meanwhile, the Leopard is anti-glare with a wide viewing angle.
While the camera details will be gotten to later on, it would be remiss to point out that Apple has included the notch in the display of the MacBook Pro. Eating into the top of the display is a cut-out for the camera, something MSI avoids by using thicker bezels.
This can be an issue for some who are easily offended by radical design choices in displays, but it shouldn't be much of an issue for most Mac users. At worst, it will eat a little into an app's title bar, and most people will probably learn to live with it anyway.
14-inch MacBook Pro vs MSI GP66 Leopard - CPU Performance
The Leopard used in Apple's comparison has an 11th-generation
Core i7-11800H
processor, a Tiger Lake mobile chip that launched in Q3 2021 that is equipped with 8 cores, 16 total threads. It's maximum clock speed is 4.6Ghz under Turbo Boost, with a base clock speed of 2.3GHz.
While MSI could have configured the chip to a lower thermal design point (TDP) at 1.9Ghz, it elected to go for the upper limit. To counter the extra heat, it uses a "Cooler Boost 5" thermal system using two fans and six heat pipes, funneling hot air from the CPU and GPU out through the side and rear vents.
There are effectively three CPU versions in the 14-inch MacBook Pro's configurable range. It starts with the sole 8-core M1 Pro, rising to the 10-core M1 Pro, then the 10-core M1 Max.
There are numerous differences between the M1 Pro and M1 Max, but they can be summed up as the Max having a higher 400GB/s of memory bandwidth to the Pro's 200GB/s, as well as higher core count GPU options. With the exception of the 8-core M1 Pro having two fewer cores, Apple says there's no real difference between the 10-core M1 Pro and M1 Max.
While MSI uses 16GB of DDR 4 memory with support for 64GB and Apple uses 16GB of Unified Memory with an upper limit of 32GB in the Pro, 64GB in the Max, it's rare to find applications that rely on such high amounts of memory to function properly. For most users running one application at a time with minimal multitasking, such amounts are overkill.
Apple's chips also benefit from the Neural Engine, a 16-core element that can assist with tasks best suited to machine learning.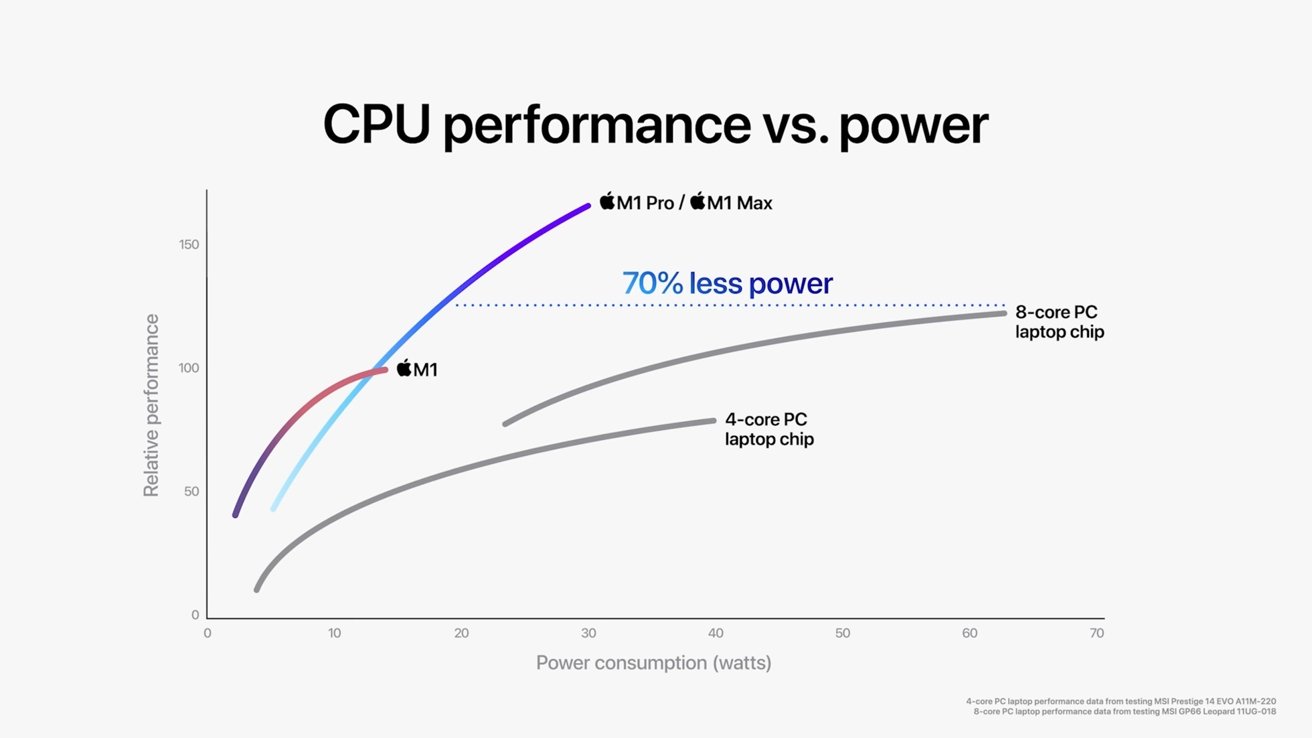 Apple's CPU performance graph that compares against MSI's notebook.
Apple's own claims are that the M1 Pro and Max is 1.7x faster than the "latest 8-core PC laptop chip at the same power level," as well as achieving peak performance at "up to 70 percent less power." Apple specifically references the MSI notebook model as the one it is using in the comparison.
In our tests, we used the 10-core M1 Pro version of the 14-inch MacBook Pro.
The GP66 Leopard has four power management settings ranging from best power management at the cost of performance as well as a high performance mode with suffering battery life. As we ran our benchmarks, we ran them both while connected to power and while running on battery
and
in the recommended performance mode and in best performance mode.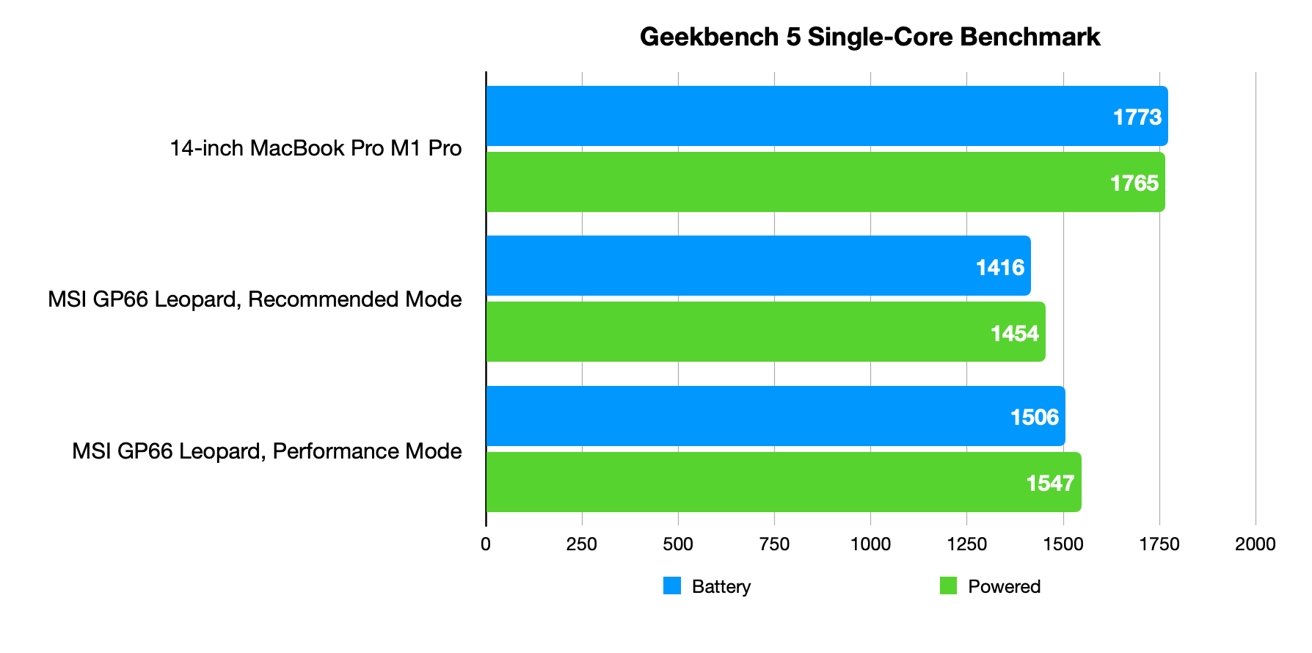 Single-core benchmarks
With Geekbench 5, we saw the MSI GP66 achieve a 1480 and a 4480 single-core and multi-core scores while on battery in the recommended power savings mode. When connected to power, those scores go up to 1454 and 7101, showing the impact a power supply can have. When we moved to high-performance mode we earned a 1506 and 6046 on the GP66 Leopard on battery and an even-higher 1547 and 9328 when connected to power.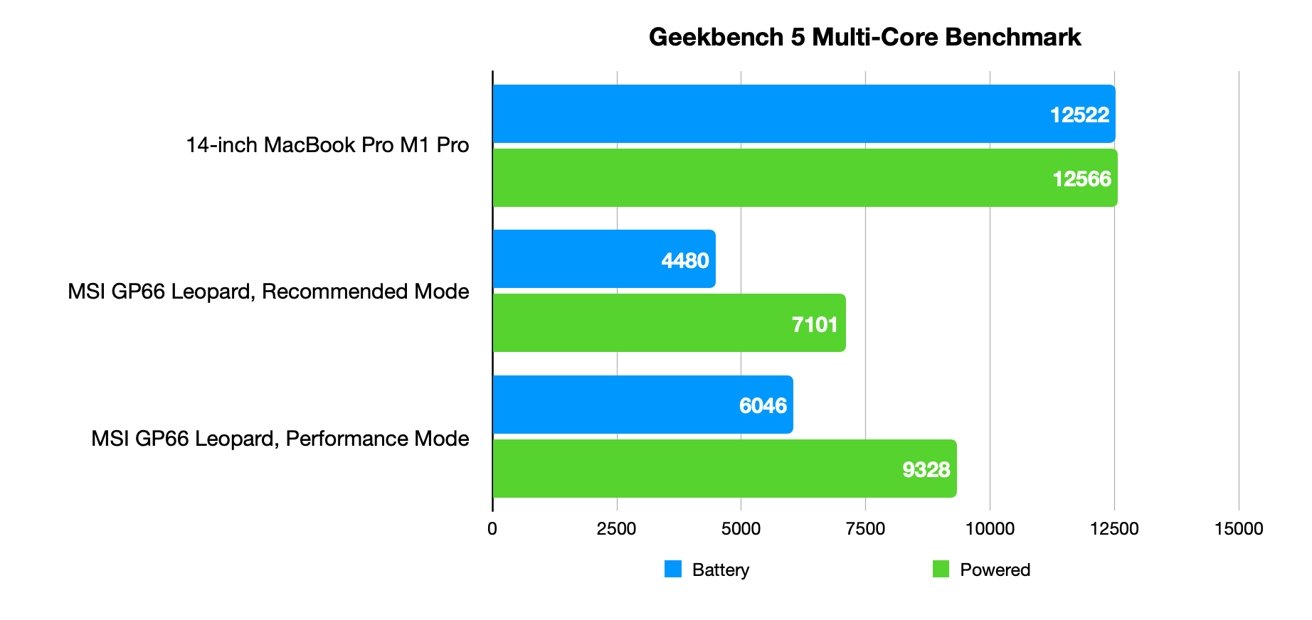 Multi-core benchmarks
Our 14-inch MacBook Pro got impressive 1773 single-core and a 12522 multi-core scores on battery and a nearly-identical 1765 and 12566 when connected to power. Apple's machine was able to keep almost all of its performance when on battery taking almost no hit. The 10-core M1 Max would score similarly here as its benefits are primarily around the GPU.
14-inch MacBook Pro vs MSI GP66 Leopard - Graphics Performance
The MSI GP66 Leopard Apple does have integrated graphics, namely Intel UHD Graphics, but more importantly, it also has a discrete GPU. The one used here is the Nvidia GeForce RTX 3070 with 8GB of memory.
Apple's integrated GPU varies depending on the SoC in use, as the core counts wildly differ. On the low end, you have 14-core and 16-core GPU options in the M1 Pro, while the M1 Max has 24-core and 32-core GPUs.
Against the MSI notebook specifically, Apple says the M1 Pro's 16-core GPU is "up to 7x faster than the integrated graphics," while also providing more performance than a "powerful discrete GPU" while using up to 70% less power.
In our GPU tests we tested using both the discrete GPU as well as the integrated GPU on the GP66 Leopard. What we noticed though was that as we ran the Geekbench Compute GPU benchmark on battery with the recommended performance mode, despite choosing the discrete GPU, our scores were very low. It seems that the machine, whether because of a bug or for battery savings, was still using the integrated Intel UHD Graphics.
As soon as we switched the performance mode or connected to power, the scores were more in line with expectations.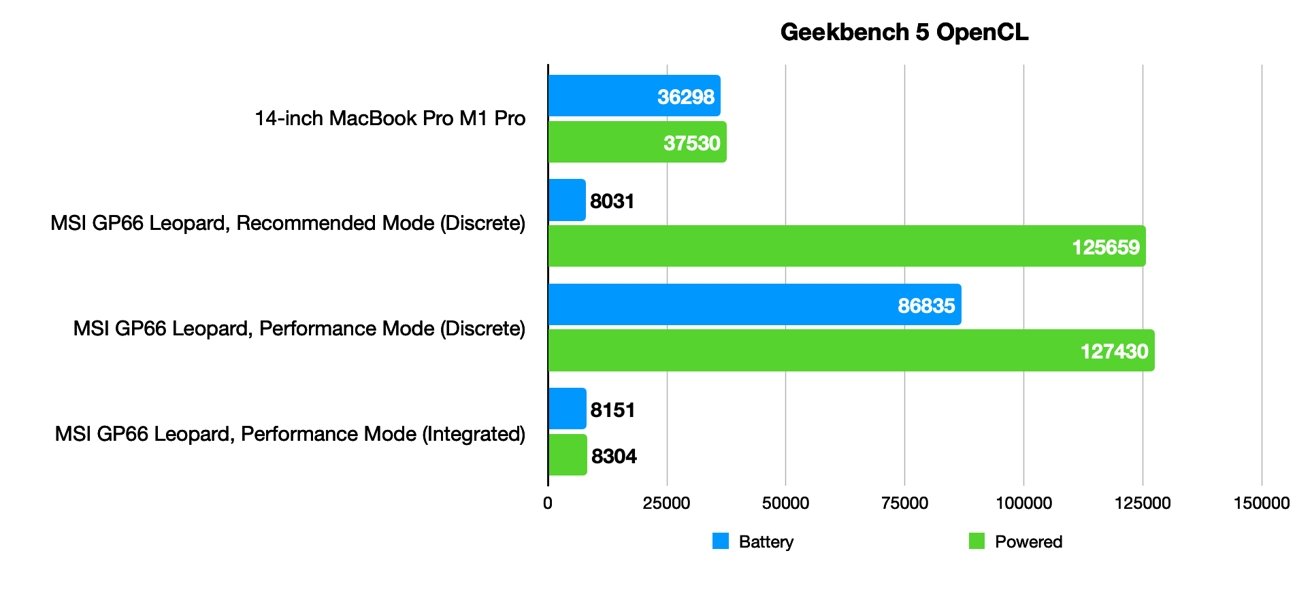 Apple's MacBook Pro earned a 36298 while on battery and a 37530 while connected to power. The discrete GeForce GPU on the MSI earned a 86835 while in performance mode on battery. When we connected to power, it earned a 125659 in recommended mode and 127430 on high-performance mode.
The integrated Intel UHD Graphics pulled a 8151 on battery and 8304 when connected to power. Apple dwarfs the MSI's integrated graphics and Apple's M1 Max with aa 32 core GPU would perform even better.
As for external monitors, the MSI can handle a 4K display on both its HDMI and Mini DisplayPort connections. Meanwhile, Apple included the ability to play video to two external 6K displays using the M1 Pro, or three 6K displays on the M1 Max, all through the Thunderbolt ports. For the M1 Max, the total external monitor count is actually four, as you can even get a 4K monitor running on its HDMI port as well as through Thunderbolt or docks.
14-inch MacBook Pro vs MSI GP66 Leopard - Storage, Connectivity, Power
Apple offers the 14-inch MacBook Pro with a starting capacity of 512GB, with options for 1TB, 2TB, 4TB, or 8TB of SSD storage. In the 11UG-018 model, MSI includes a 1TB NVMe SSD, but unlike the MacBook, it could feasibly be switched out for another M.2 storage device.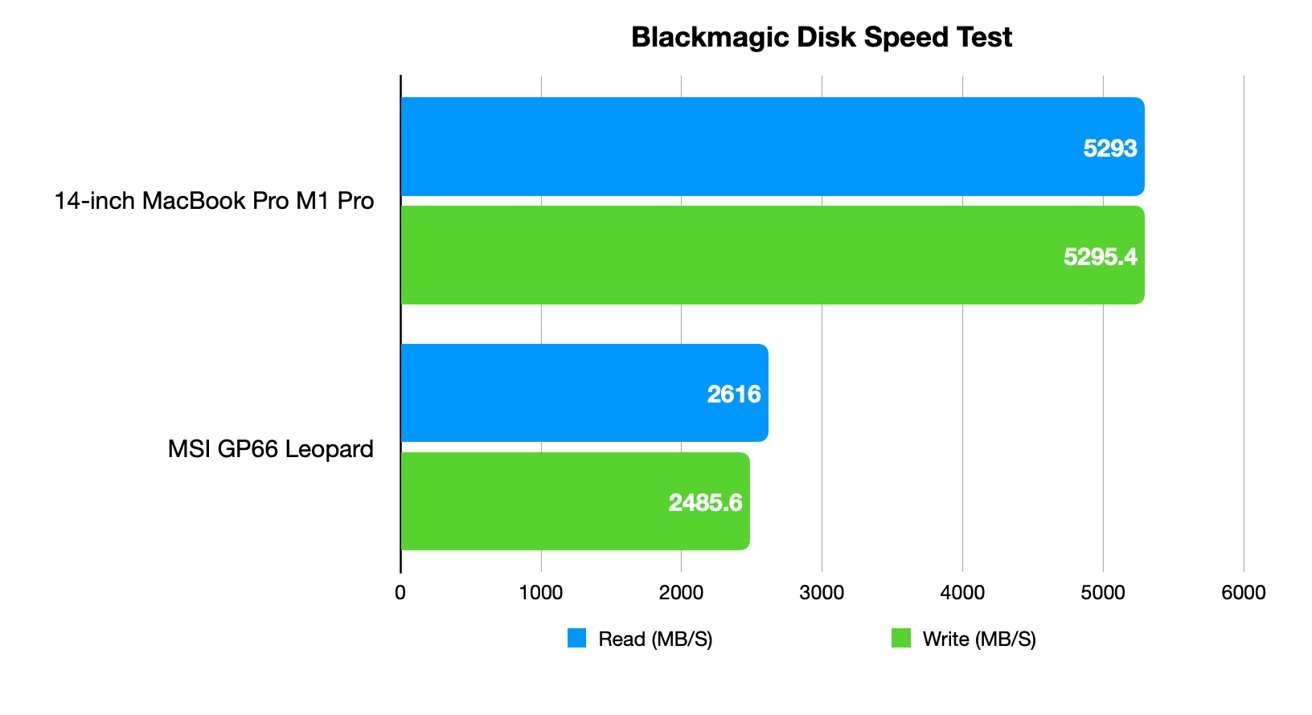 Blackmagic Disk Speed Test results
When we benchmarked the MSI SSD, we got a 2485.4 MB/s write speed and a 2616 MB/s read speed.
Our 1TB Mac delivered 5295.4 MB/s write and a 5293 MB/s read speeds, both more than double the MSI scores. While Apple's SSD modules aren't swappable, they have much higher performance -- assuming you have a high enough capacity. Apple's 512GB models are slower to write, with about a 4 gigabyte per second write speed -- which is still faster than the MSI.
On physical connectivity, the MacBook Pro has a trio of Thunderbolt 4 ports, which can be used for charging, DisplayPort, or as USB 4 connections. There's also MagSafe 3 for recharging, an SDXC memory card slot, an HDMI port, and a headphone jack.
The GP66 Leopard similarly has HDMI and a headphone jack, but then breaks away with a trio of USB 3.2 Gen 1 ports, a 2.5 Gigabit Ethernet port, and a mini DisplayPort on the rear. Charging is handled by a separate connector.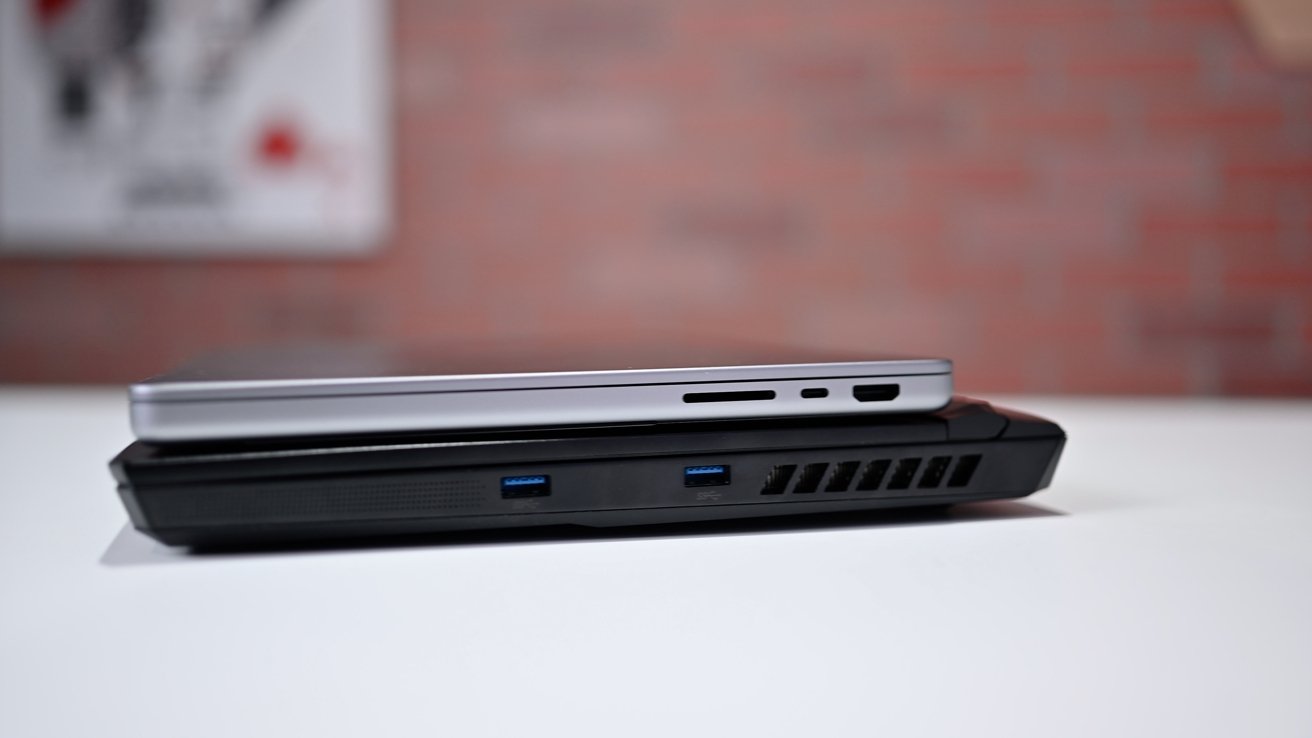 Port variety returns with the 14-inch MacBook Pro
For wireless connectivity, Apple includes Wi-Fi 6 support, which MSI beats with Killer-branded Wi-Fi 6E. This potentially allows the Leopard to run at a faster speed over Wi-Fi, but that would require sufficiently supportive infrastructure, something that is only just really starting to roll out to consumer network devices.
MSI does edge out Apple on Bluetooth, by using 5.2 versus 5.0.
Apple includes a bigger battery in the MacBook Pro at 70 watt-hours to 65 watt-hours in the MSI. Apple claims its battery can last for up to 17 hours of movie playback or 11 hours of wireless web access. MSI doesn't offer such data, but searches for existing testing put it at around 5 hours of typical usage.
To recharge the Leopard, MSI includes a 280-watt power adapter, though doesn't say how long it takes to recharge the battery. Even so, it's unlikely that MSI's intended audience of gamers will want to run it very long on battery, and will opt to keep it hooked up to power.
Apple includes a 67-watt USB-C charger with the 8-core M1 Pro, 96W in the 10-core and Max models. You could use it with the MagSafe connection when using the relevant cable, but you can always use the Thunderbolt 4 ports for charging, such as when the MacBook Pro is connected to a dock with sufficient power delivery features.
14-inch MacBook Pro vs MSI GP66 Leopard - Audio, Camera, and Other Details
It's fair to say that Apple has MSI licked when it comes to audio, as the MacBook Pro uses a high-fidelity six-speaker system with wide stereo and Spatial Audio support. Meanwhile, the GP66 has a pair of 2-watt speakers.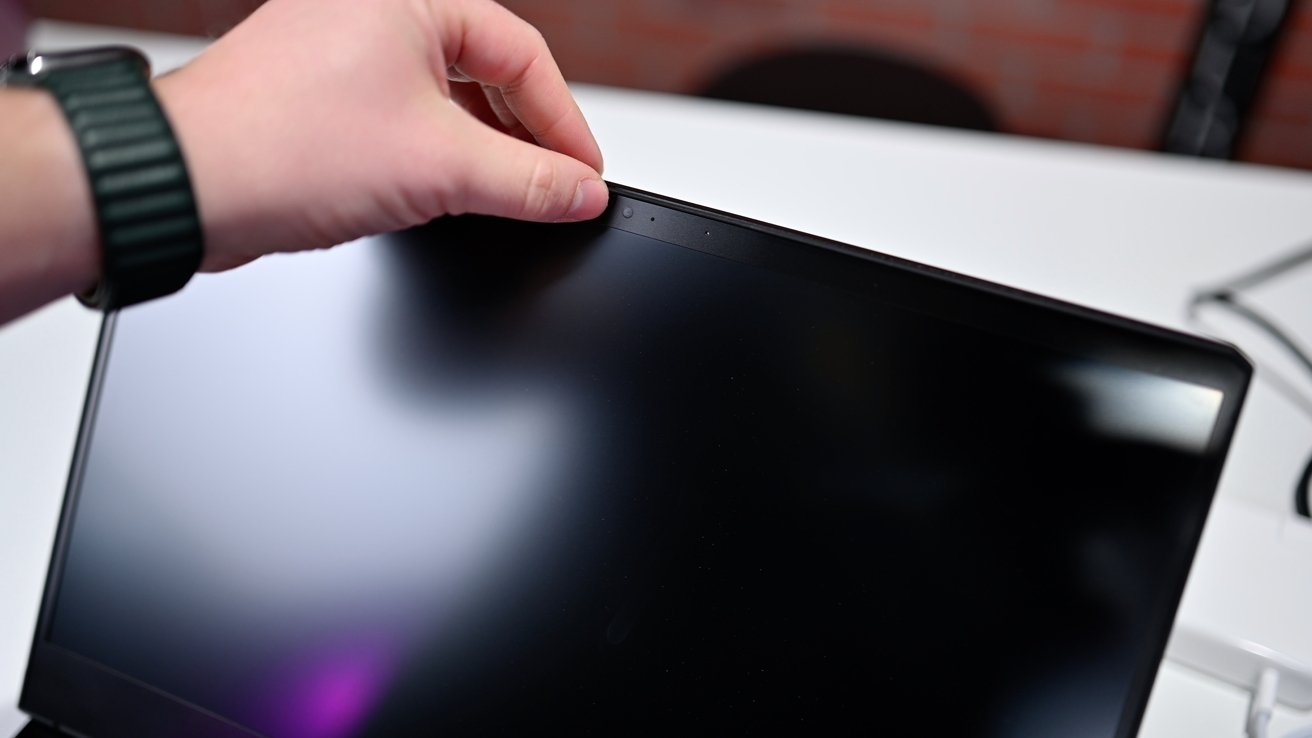 Mic and camera on the MSI GP66
On the microphone side, the Leopard has a minimal single microphone, enabling it to be used for video calls. The 14-inch MacBook Pro instead uses a trio of mics with directional beamforming.
The pendulum stays with Apple for the camera, as while MSI uses a 720p webcam, the MacBook Pro has a 1080p FaceTime HD camera that also takes advantage of the image signal processor for computational video improvements.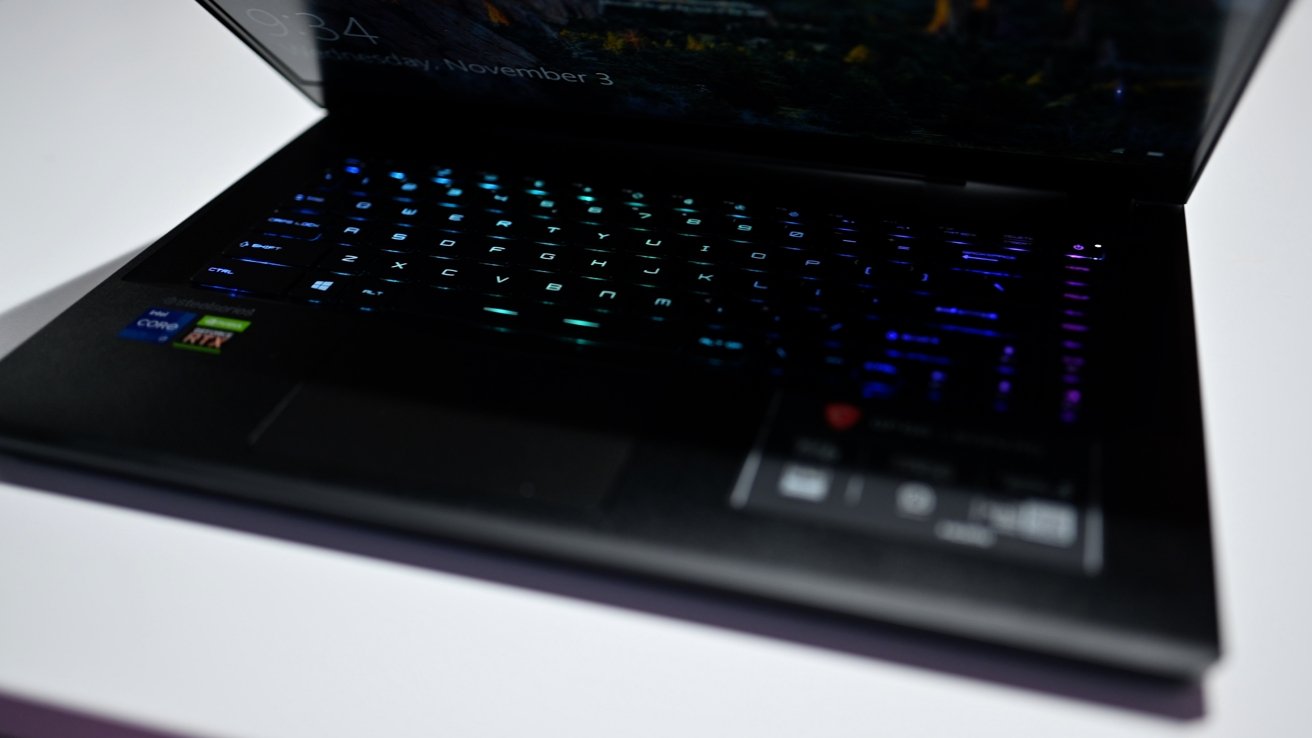 You get per-key RGB backlighting on MSI's notebook.
While both have backlit keyboards, Apple uses a 78-key version with an ambient light sensor and 12 full-height function keys instead of the Touch Bar. MSI's keyboard is a 102-key version with per-key RGB backlighting.
As a gamer-centric SteelSeries keyboard, it offers many visual enhancements using that RGB, such as customizing it to illuminate only specific keys, going through various animations, or even provide real-time status updates for games.
Of the two, the MacBook Pro is the only one with biometrics. It includes Touch ID in the top-right corner of the keyboard.
14-inch MacBook Pro vs MSI GP66 Leopard - Upgradability
One key win for MSI is that the GP66 Leopard provides a level of upgradability. The memory is held in a pair of SO-DIMM slots, accessible by the user using a screwdriver via a base panel, with the user able to switch out the existing memory for up to 64GB of DDR4 3,200MHz memory.
It's a similar story for the main storage, as it has a pair of M.2 slots that are, again, accessible through the base. While MSI's manual suggests contacting an authorized dealer or service center to switch out the drives, it's entirely plausible for a confident and knowledgeable end-user to do the work themselves.
This means both the memory and the storage of the MSI GP66 Leopard can be upgraded long after purchase. It also means users have the opportunity to expand the utility of their notebook down the road if required, something that cannot be accomplished with the MacBook Pro.
For the MacBook Pro, the only upgrade you could reasonably perform is to attach external NVMe storage to one of the high-bandwidth Thunderbolt ports, which will be sufficiently fast for most applications. This isn't ideal, but at least there's a storage upgrade pathway at all.
If you find yourself frequently short of memory with the MacBook Pro, you're basically stuck with what you've got until you switch the entire unit for a new model or one with better specifications.
14-inch MacBook Pro vs MSI GP66 Leopard - Configuration Pricing
Specifically, MSI's GP66 Leopard model number 11UG-018 is sold in one configuration, with that Core i7-11800H with 16GB of memory and a 1TB NVMe SSD. Pricing MSI's notebook is tricky, as it was launched in May 2021, but it's seemingly been discontinued by MSI.
That makes pricing it a little difficult, but not impossible, as MSI sold multiple variants of the same GP66. The nearest equivalent we can find is the 11UH-032, in that the only difference is that it uses a GeForce RTX 3080 GPU instead of a 3070.
That model has a list price of $2,299 and is being sold at $2,199
on Newegg
. It is reasonable to expect that the 11UH-018 with the lower-specification graphics card is a bit cheaper.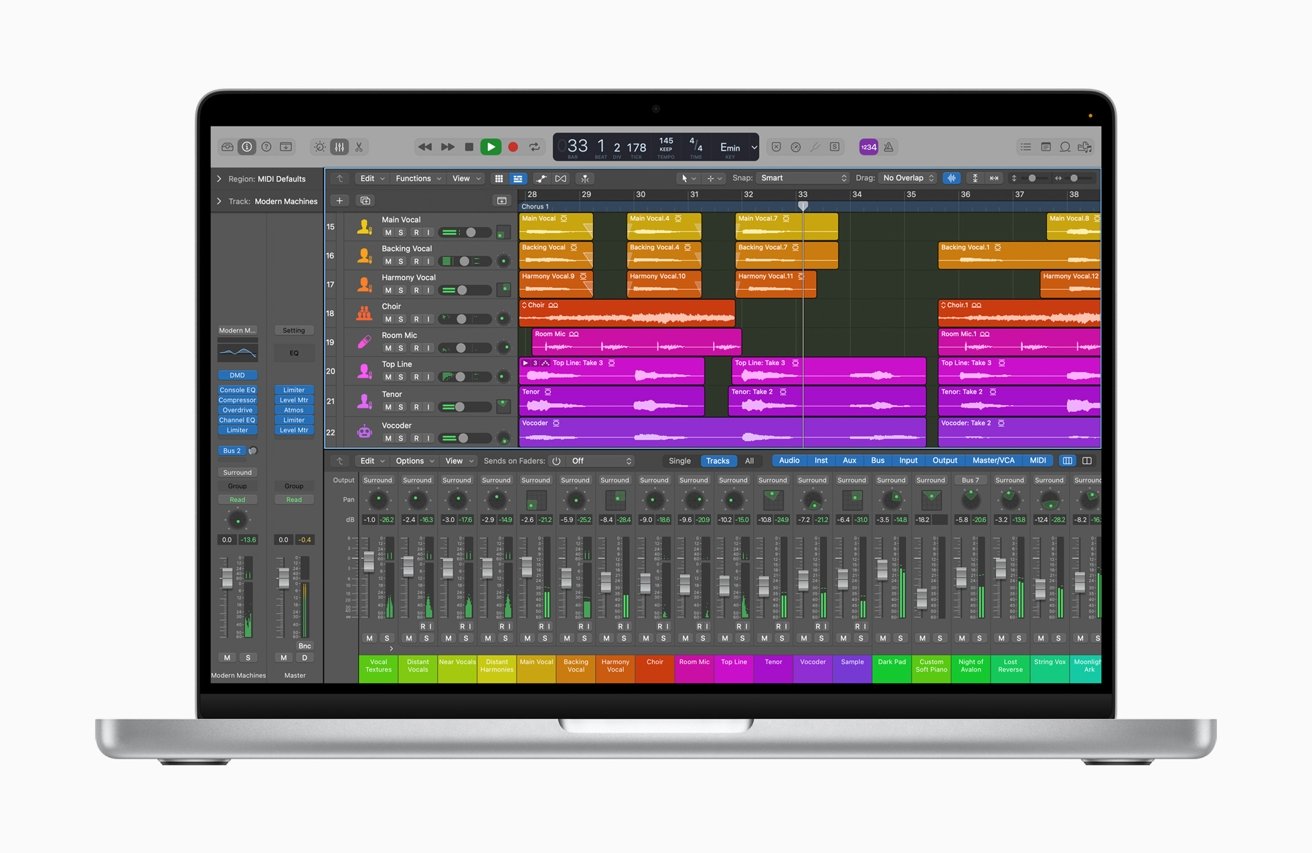 Apple's new M1 Pro and M1 Max are certainly powerful enough for music creation.
The base-model 14-inch MacBook Pro with the 8-core M1 Pro CPU and 14-core GPU, 16GB of memory, and 512GB of storage costs $1,999.
Upgrading to the 10-core and 14-core GPU M1 Pro costs an extra $200, while the 16-core GPU version is an extra $300. Going from the 8-core M1 Pro to the M1 Max with a 24-core GPU is $500 on top of the base price, and the top-end M1 Max with 32-core GPU is $700 more than the base.
Upgrading from 16GB to 32GB of memory is $400. For the Max models, which start with 32GB, it's an extra $400 on top again.
Storage upgrades from 512GB cost $200 to 1TB, $600 for 2TB, $1,200 for 4TB, and $2,400 for 8TB.
An apt comparison
Apple's selection of the MSI GP66 Leopard was a good one for a number of reasons. It used a recently-released and high-performance Intel processor, combined with a very high-end mobile GPU.
For comparing the performance capabilities, it couldn't have chosen any better, especially since the MSI consumes copious amounts of power, helping improve Apple's power-performance statistics.
But looking toward the features of each notebook, Apple could've easily gone down the same route itself. The 14-inch MacBook Pro excels in so many areas where the MSI doesn't, including ports, video capabilities, and other features.
Where MSI wins is in the margins, namely the over-the-top RGB keyboard, the built-in Ethernet, and Wi-Fi 6E support. The ability to upgrade the RAM and the storage is also a massive win for it, but it's just not enough.
Not only does Apple have the more powerful notebook out of the two, but also the lightest, the smallest, the better-looking, and the most useful.
Where to buy
Apple's 14-inch MacBook Pro is eligible for exclusive discounts at Apple Authorized Reseller Adorama using
this cost-saving link
with coupon code
APINSIDER
. Activation instructions can be found
here
. And to compare prices across popular Apple resellers, visit the
AI
14-inch MacBook Pro Price Guide
.
The MSI GP66 Leopard 11UG-018 is currently out of stock
at Newegg
, but the 512GB variantion is available
at Adorama for $1,899
.
Read on AppleInsider