New 16-inch MacBook Pro review: More power & more convenience for more money
Apple's new
16-inch MacBook Pro
is an interesting blend of very new and some older technologies, packaged up with the most power Apple can bear in a portable Mac.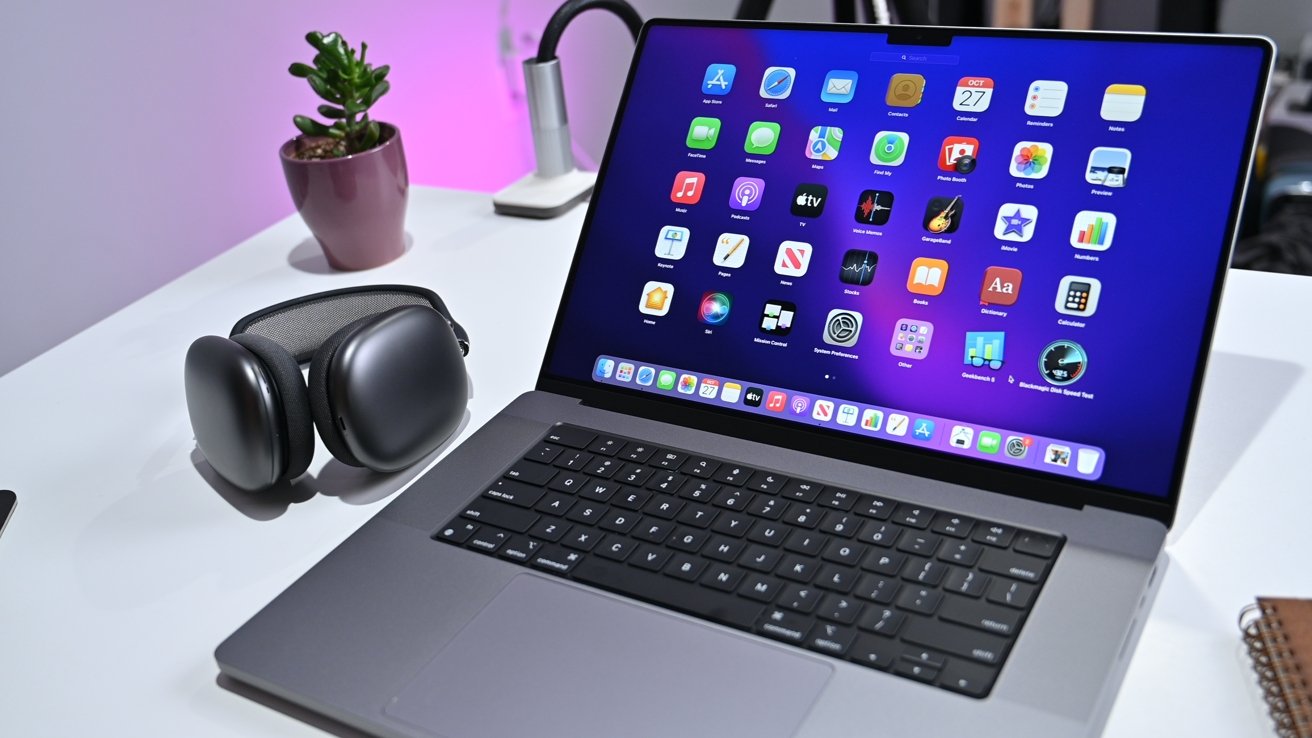 The new 16-inch MacBook Pro
When Apple introduced the
M1
-equipped
13-inch MacBook Pro
, it was effectively just a processor swap. This is a play out of the shift from PowerPC to Intel, where they did the same thing with effectively the entire line before doing chassis modifications more suitable to the new-to-Apple technology.
But, as it did with the
24-inch iMac
, Apple used the
Apple Silicon
opportunity to make some radical adjustments to the structure of the 16-inch MacBook Pro rather than keeping the design static. This is as much for practical reasons as it is for marketing ones.
After all, it's good for Apple when the new model is visually distinguishable from the old.
2021 16-inch MacBook Pro specifications
Display Size (inches)
16.2
Max Resolution
3,456 x 2,234
Pixel Density
254
Brightness
1,000 nits sustained,
1,600 nits peak
Display Backlighting
Mini LED
Display Technology
Wide Color (P3),
True Tone
ProMotion
Processors
10-core M1 Pro,
10-core M1 Max
Memory
16GB Unified Memory, up to 64GB
Graphics
M1 Pro 16-core,
M1 Max 24-core
M1 Max 32-core
External Video
2 6K displays at 60Hz (M1 Pro),
3 6K and 1 4K at 60Hz (M1 Max)
Storage
512GB, 1TB, 2TB, 4TB, 8TB
Touch Bar
No
Biometrics
Touch ID
Trackpad
Force Touch
Keyboard
Backlit with ambient light sensor
Dimensions (inches)
14.01x 9.77 x 0.66
Weight (pounds)
4.7 (M1 Pro),
4.8 (M1 Max)
Battery Life
21 Hours
Ports
3 Thunderbolt 4 ports,
HDMI,
SDXC card slot,
MagSafe 3,
Headphone jack
Webcam
1080p FaceTime HD
Speakers
Six speakers with force-cancelling woofers, Dolby Atmos
Microphones
3 with directional beamforming
Wi-Fi
Wi-Fi 6
Bluetooth
5.0
Charger
140W USB-C
Color Options
Silver, Space Gray
Price
from $2,499
Our main test model is the 16-inch MacBook Pro with 1TB of storage, 32GB of RAM, and the M1 Max processor with 32 GPU cores (regularly $3,499,
on sale for $3,299
with coupon code
APINSIDER
and
these activation instructions
).
External improvements and a port revival
First of all, we're going to get this out of the way. As users of the Titanium G4 when it first shipped the new 16-inch MacBook Pro's chassis shape is very reminiscent of that, and not the Intel 16-inch MacBook Pro.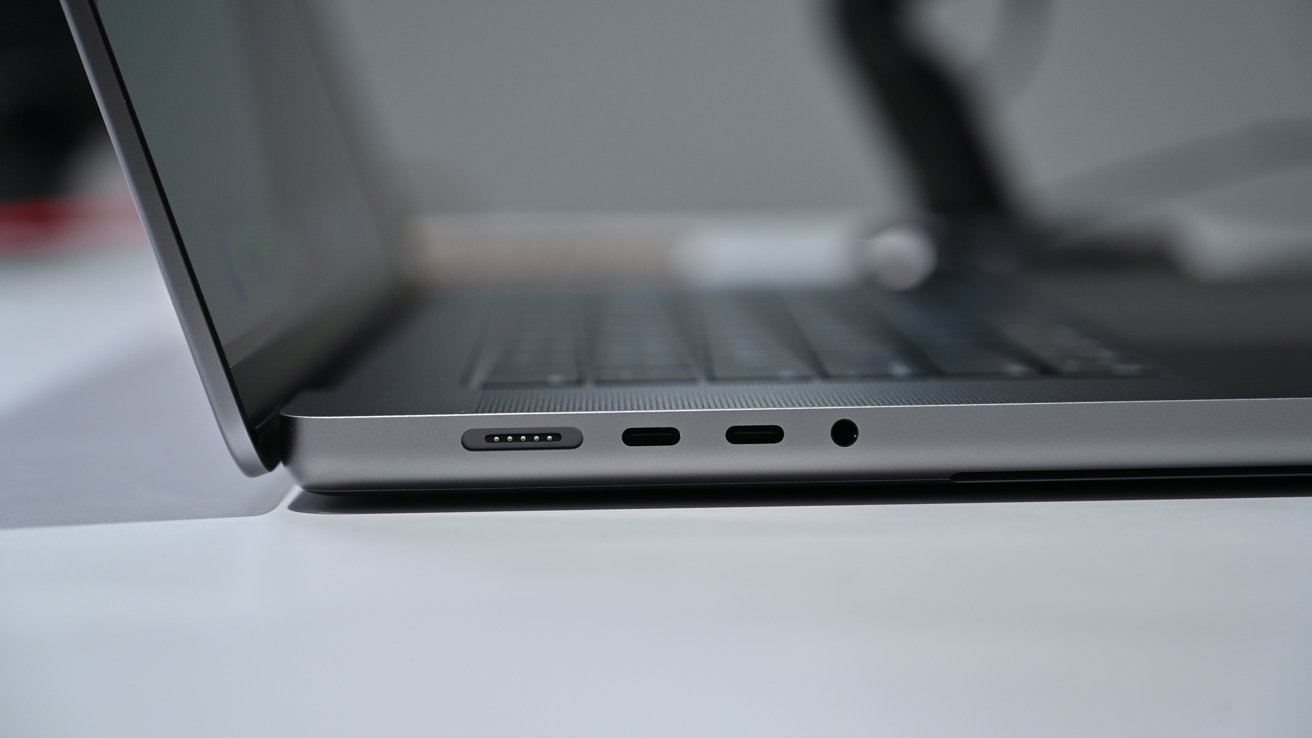 The left-side ports on the 16-inch MacBook Pro
The enclosure is just barely narrower and taller than that Intel 16-inch MacBook Pro at 14.01 inches by 9.77 inches. It's also marginally thicker at 0.66 inches, though these dimension changes are not very noticeable, even side-by-side.
Looking at the pair, the 2016 MacBook Pro redesign, and to a lesser extent, the 2012 retina had gradually sloped sides, with a narrow taper at the edges. The new model does not, so at a casual glance, it looks like the last model was much thinner. That's true -- but only at the edges.
The weight may be a bit more of a factor, as it now stands at 4.7 pounds for the M1 Pro model and 4.8 pounds for the M1 Max. This is a lot in 2021, but only because the market has been marching toward thinner and lighter.
The clean sides are also more populated than before. Gone are the days of living with four compact Thunderbolt 3 ports, a headphone jack, and being forced to live the dock or dongle life.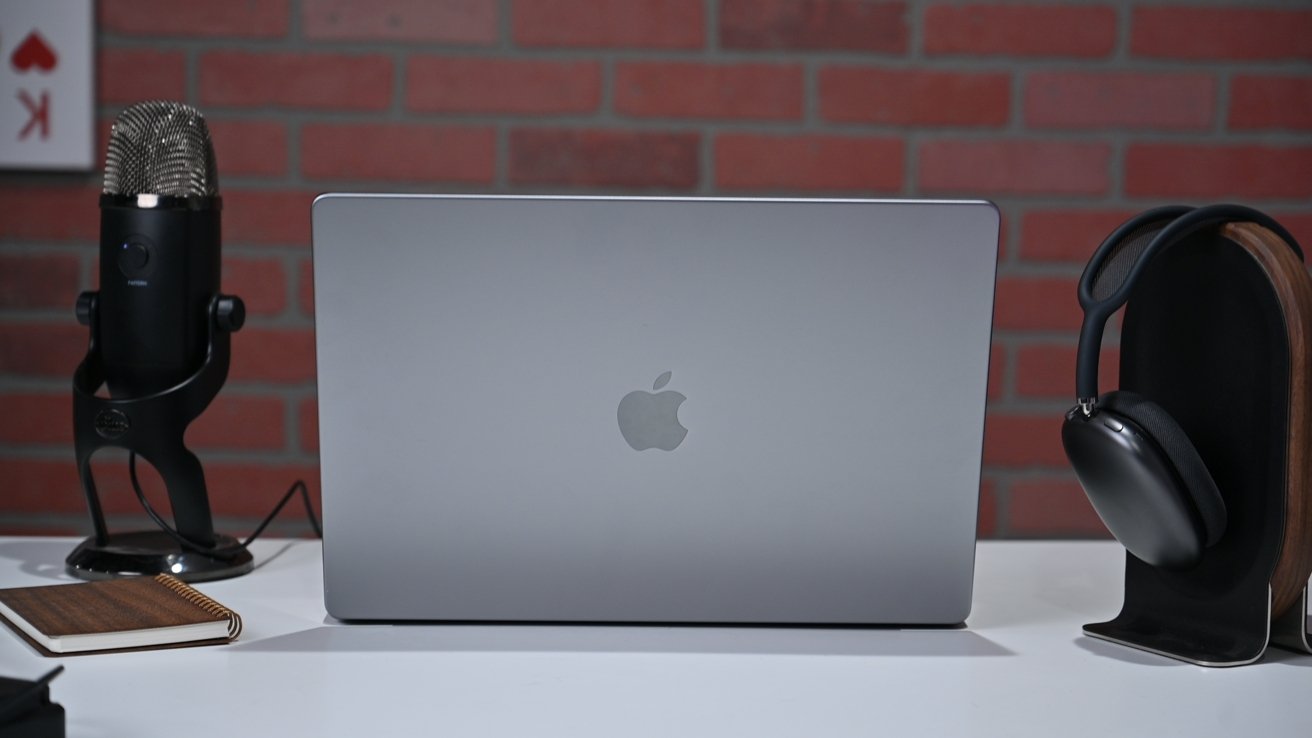 Working on our 16-inch MacBook Pro
Beyond ports, the year-over-year design differences are apparent. This includes
MagSafe
3, and the edges, which are now curved and smooth rather than angular with sharper corners.
The changes become even more apparent when you open up the MacBook Pro, starting with the backlit keyboard. You no longer see it topped with the
Touch Bar
, but instead, it is crowned with a collection of full-size function keys with a
Touch ID
"key" being kept -- but more on that in a bit.
The most significant visible change is the display, and the changes go far beyond how it looks.
The screen's the thing
Apple had to know that adding a notch to a
MacBook Pro
16.2-inch Liquid Retina XDR display was a decision that would draw mountains of criticism, and post-launch, it's certainly received its share complaints and jokes. But, like its use in the iPhone lineup, the notch makes sense in a display with a 3.5 mm bezel.
Apple added the notch to put the camera in its usual space while minimizing the impact on the rest of the display and bezel.
That thinking included changing the usual screen dimensions to make it a little taller. In effect, that 0.2-inch diagonal addition to the screen results in a taller display, which Apple uses to its advantage.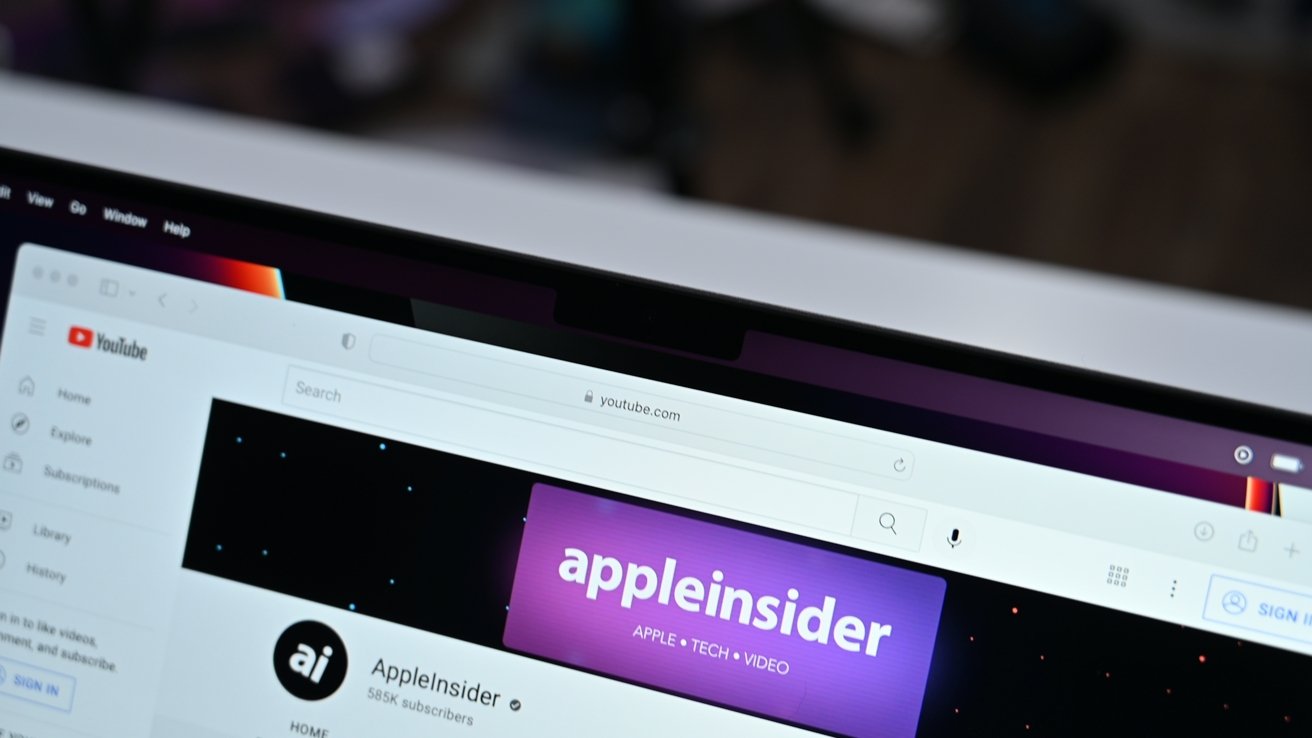 The notch blends in to many darker backgrounds
When you're using the notch, it effectively resides entirely within the Menu Bar, not in the actual workspace. Also, when you're using an app in full-screen mode, the top couple rows of pixels go dark, effectively hiding the notch from view.
The new notch on the MacBook Pro
And like we said, there's been a lot of Internet drama about it. We're still not sure why, as users lose nothing as it pertains to workspace screen area on the unit itself, and it isn't forced to manifest on external displays.
Since Apple added height to the display, you still have that 16-inch diagonal active area to work with. You still have a 16-by-10 desktop to play with, external to the notch.
So, all this considered, file us in the "who cares" category as it pertains to the notch. We lived with an Aqua Apple there during the Mac OS X betas, and it didn't bother us then, either.
The display is also a higher resolution, at 3,456 by 2,232. There is an increase in pixel density to 254 pixels per inch versus 226 PPI on the 2019 16-inch MacBook Pro.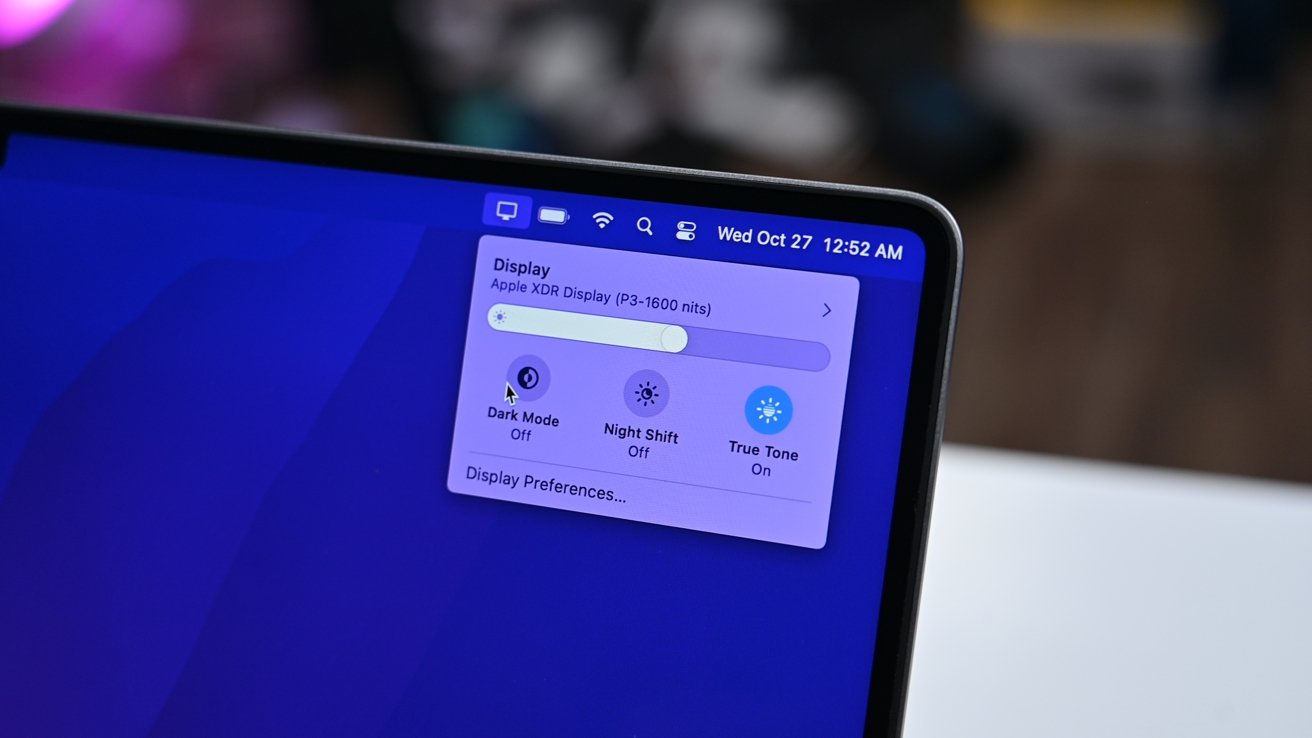 Our display in the menu bar
It's also a brighter screen, with the mini LED backlighting helping it get to 1,000 nits of sustained full-screen brightness, 1,600 nits of peak brightness. You also have the usual Wide Color (P3) support and True Tone, but it's boosted by the mini LED's ability to locally dim areas of the screen for a million-to-one contrast ratio.
The notch is not the only carry-over from the
iPhone
world. ProMotion joins the party, enabling the display to adapt its refresh rate to as high as 120Hz.
We aren't going to delve too much into what it does here. In short, ProMotion is capable of adaptive refresh rates and response times, in that the screen can dynamically change its refresh rate to accommodate whatever is being displayed.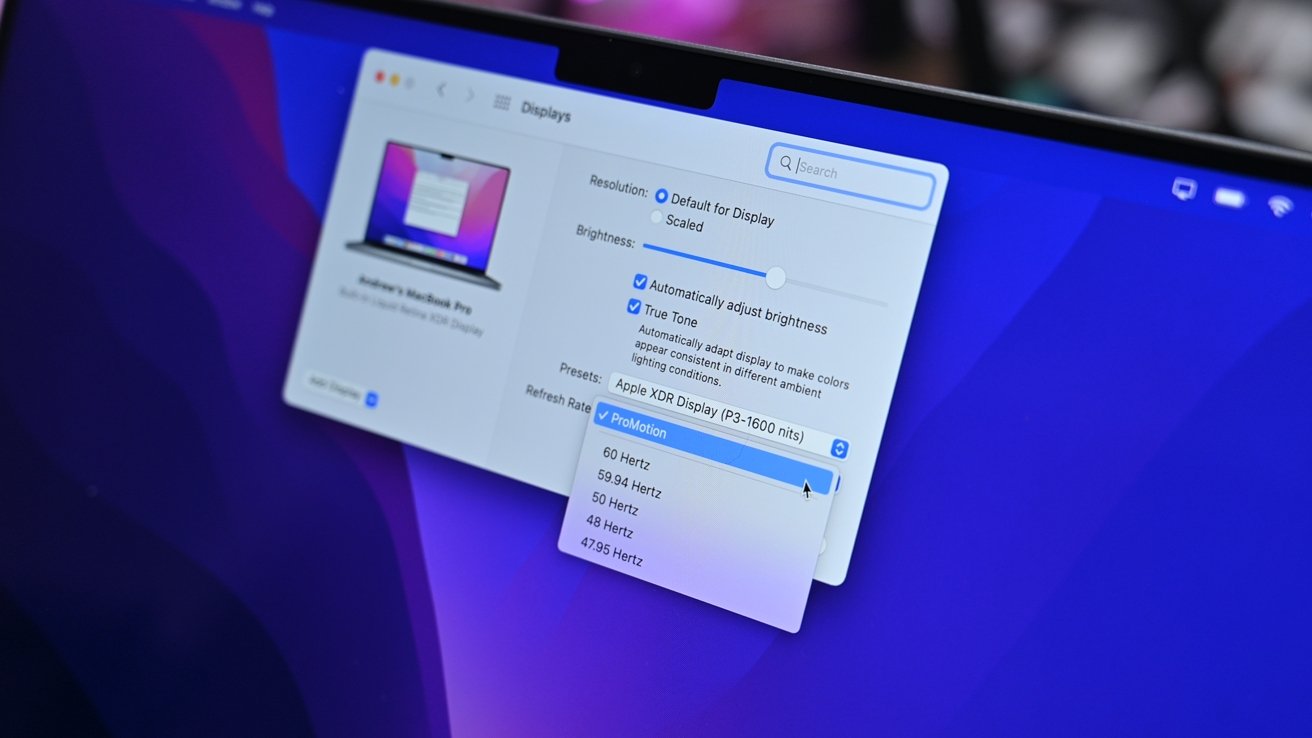 Choose ProMotion or another refresh rate
While the ProMotion upgrade in the iPhone 13 Pro boasts 12 rates, between 10Hz and 120Hz, the Mac and the iPad Pro adjusts between five refresh rates, spanning 24Hz to 120Hz with it spending most of its time at 60Hz -- but this can be fixed in the Monitor settings by the user.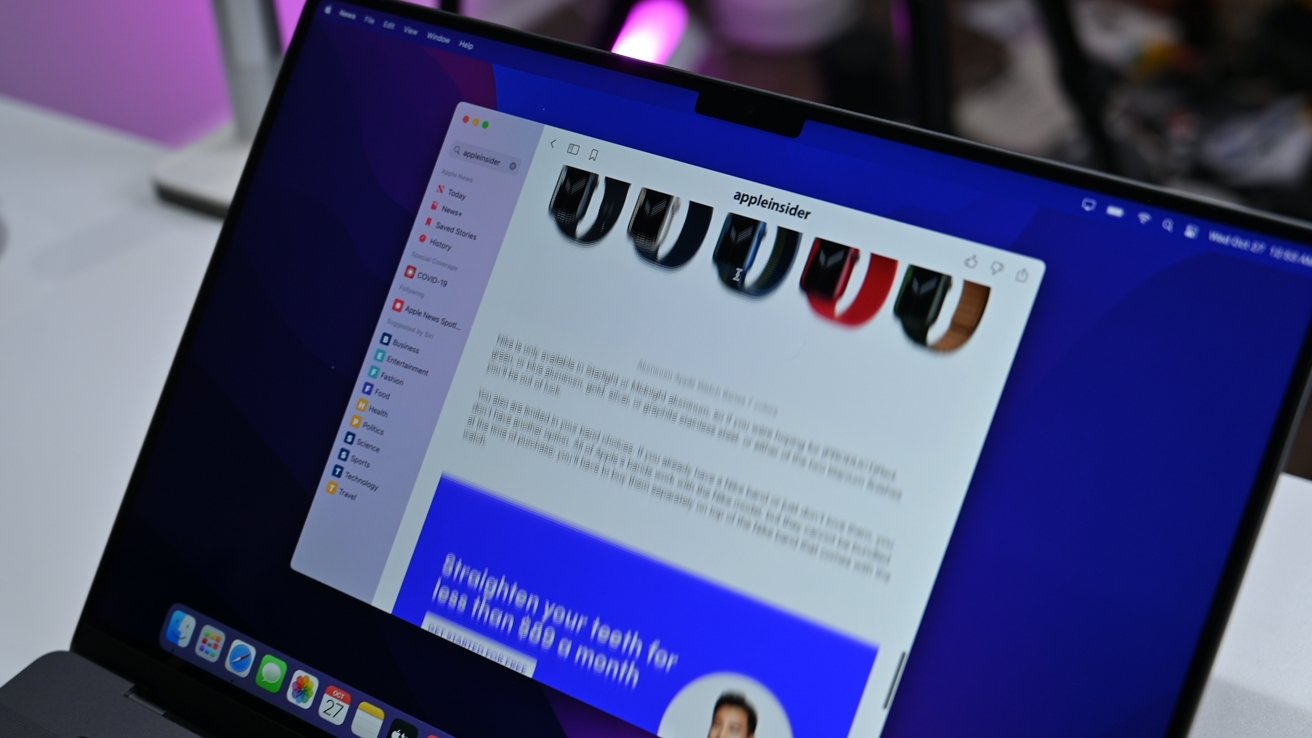 A freeze-frame of the ProMotion display
This is most visible when looking at a 60Hz MacBook Pro and the new model side-by-side. When you stare at the new 120Hz ProMotion display then go back to a standard display, you'll likely notice how choppy text and animations look, but that's about all it amounts to for most users.
How much this really matters depends very much on your workflow and your eyes. It won't matter at all if you primarily use an external display.
M1 Pro, M1 Max, and sheer performance
The big draw for most users will be the processing performance available to you in the 16-inch MacBook Pro. These new chips boast a 10-core CPU with a 16-core Neural Engine, with memory bandwidth increased to 200GB/s on the Pro, 400GB/s on the Max.
Each also incorporates a new Media Engine as part of the SoC design, which enables hardware-accelerated H.264, HEVC, ProRes, and ProRes RAW decoding and encoding. On the M1 Max, the Media Engine's improved further to include two video encode engines, and two ProRes encode and decode engines, making it even better for video production.
This is all before you take into account the built-in GPU. The M1 Pro is available with the 16-core GPU option only, but the M1 Max starts with a 24-core GPU and rises to a 32-core option.
While previously you would have to worry about which discrete GPU to use in the MacBook Pro, that option is entirely off the table, as there are none. Integrated graphics have come a long way, and with Apple's use of high-core GPUs along with the massive benefits of Unified Memory and the sky-high memory bandwidth available, it's probably for the best that there isn't a discrete GPU on hand.
The new chips also bring in extra memory options that go beyond what the
M1
supports. Instead of capping at 16GB, the M1 Pro starts at that level of Unified Memory, with an option for 32GB.
On the M1 Max, your starting point is that same 32GB cap, but you can go up to 64GB if you want. The GPU also uses the Unified RAM, so it makes sense to go all-out on memory when configuring it at purchase.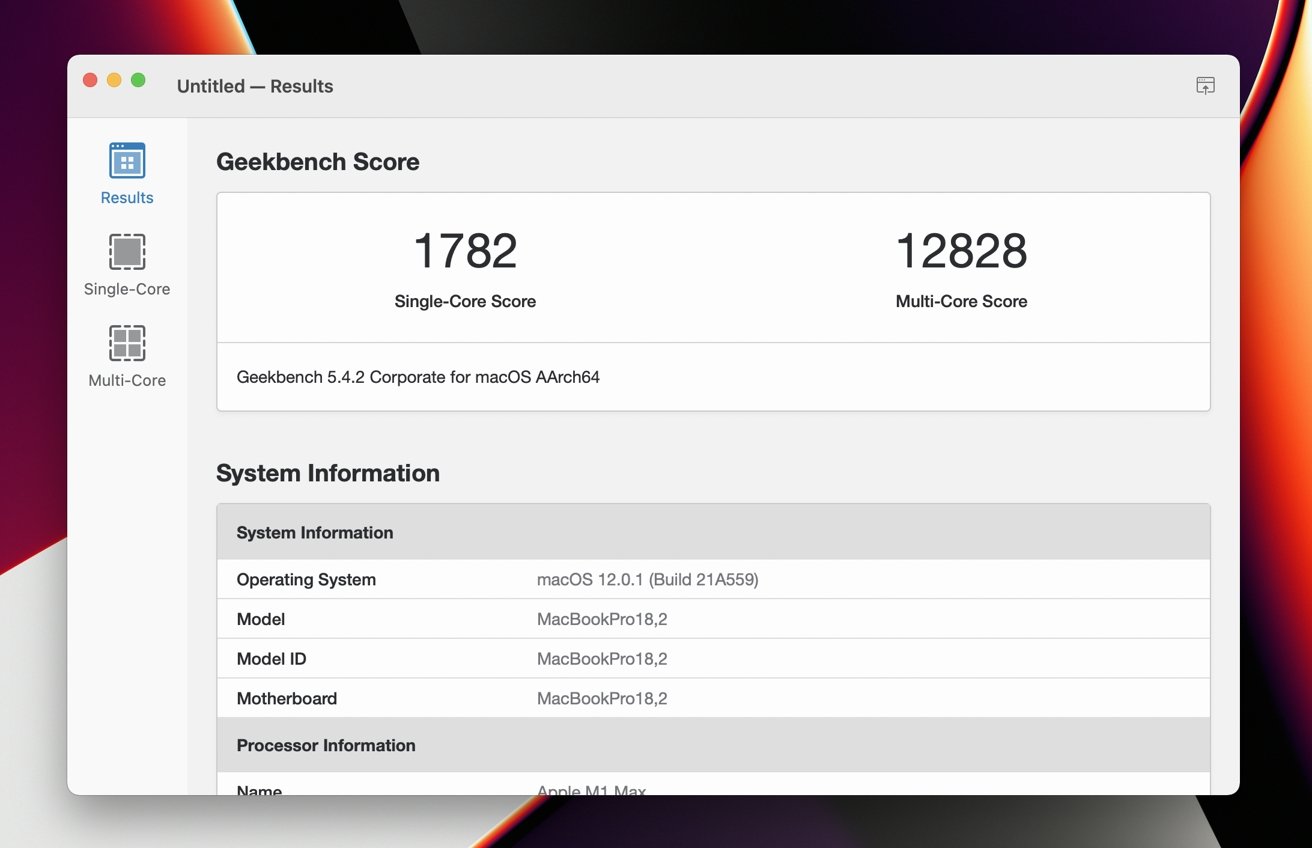 Geekbench CPU results
In our testing, we saw Geekbench 5 single and multi-core results of 1782 and 12828. These are exceptional gains over
what we recorded
for the 2019 16-inch Intel MacBook Pro. Our 2.4GHz Intel i9 only scored a 1128 in the single-core test and a 5641 in the multi-core test.
In the Geekbench Compute graphics benchmark, the new machine improved to a 68379 from a 21757 on the old Radeon Pro 5500M GPU. Apple's new integrated GPU certainly performs.
Further testing the graphics, we ran the Unigine Heaven benchmark. The new model scored 2689 in total with an average frame rate of 106.8 and a maximum of 209.6. That last-get model only pulled a 2182, an average frame rate of 86.6, and a maximum frame rate of 162.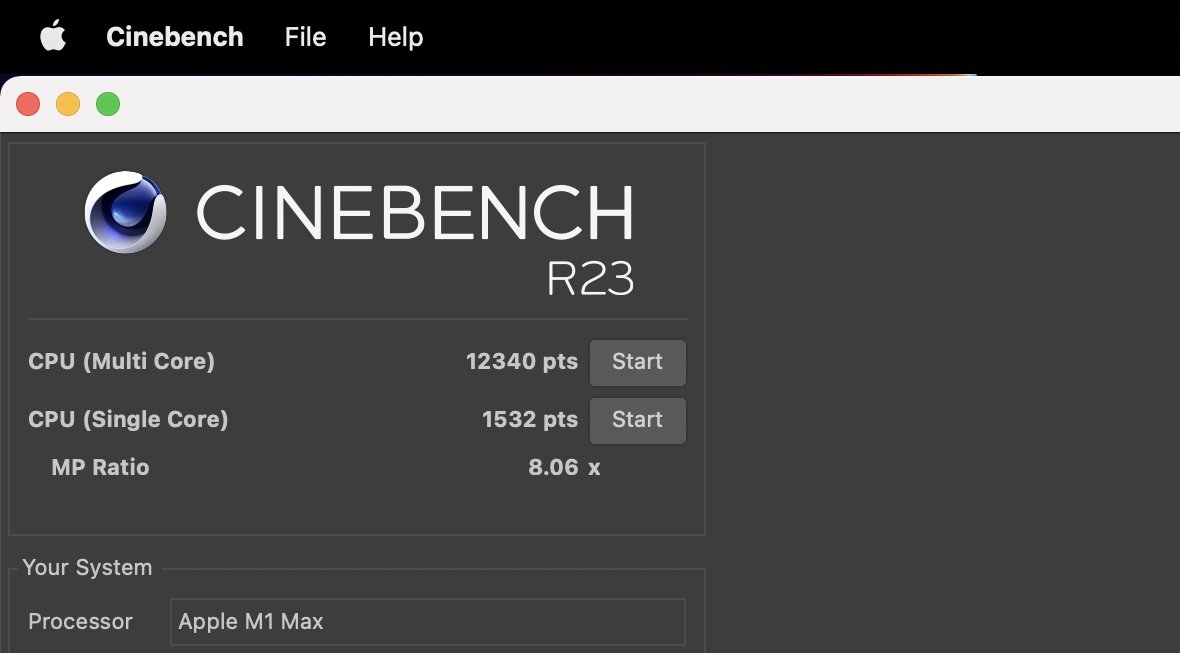 Cinebench R23 results
In Cinebench R23, our multi-core CPU score was 12340 and our single-core score was 1532.
And, these are just benchmarks. None of them yet fully incorporate the on-die hardware processors for media, that it calls the Media Engine.
In short, if you are using a workflow that benefits from the Media Engine, like Final Cut Pro, and the like, you will get an additional boost, similar in concept, but much greater than, what's provided by the T2 on Intel Macs.
This review is more of a generalist look at the hardware, for the "average" prosumer. We'll be looking much closer at that when we pitch the MacBook Pro against the Intel Mac Pro very soon.
Apple's GPU and GPU speed gains are not the whole story. The 1TB flash drive we tested here is blisteringly fast as well. Using BlackMagic's disk speed tester, we saw 6.4 gigabytes per second write speed and 5.3 gigabytes per second read. We do admit to being a little puzzled by the slower read than write speed and will continue to look into that over time as macOS Monterey evolves.
You won't quite get these speeds on the 512GB model, though. In our testing, we saw the same read speed at about 5.3 gigabytes per second, but a drop in write speeds to about 4 gigabytes per second. This is entirely due to less parallelization with the smaller storage capacity.
Some
AppleInsider
staffers used eGPU technology to keep GPU heat off of the MacBook Pro. Even if it worked on Apple Silicon, we're not sure we'd keep doing this when using a new MacBook Pro, given the power of multiple GPU cores on Apple Silicon.
Fully loaded with 32 GPU cores, it's roughly equivalent from a raw calculation perspective to a desktop Radeon 5700. The 14-core baseline on the M1 Pro is comparable to the Radeon 5500M chipset that was an upgrade option on the Intel 16-inch MacBook Pro.
MagSafe, resurrected and battery life
While the new model uses the same 100-watt-hour battery as its 2019 predecessor, its usage is quite different in that it sips power instead of gulping it.
The earlier Intel model managed up to 11 hours of usage. Now, Apple says that the battery lives for up to 21 hours when watching video or 14 hours of web surfing over Wi-Fi.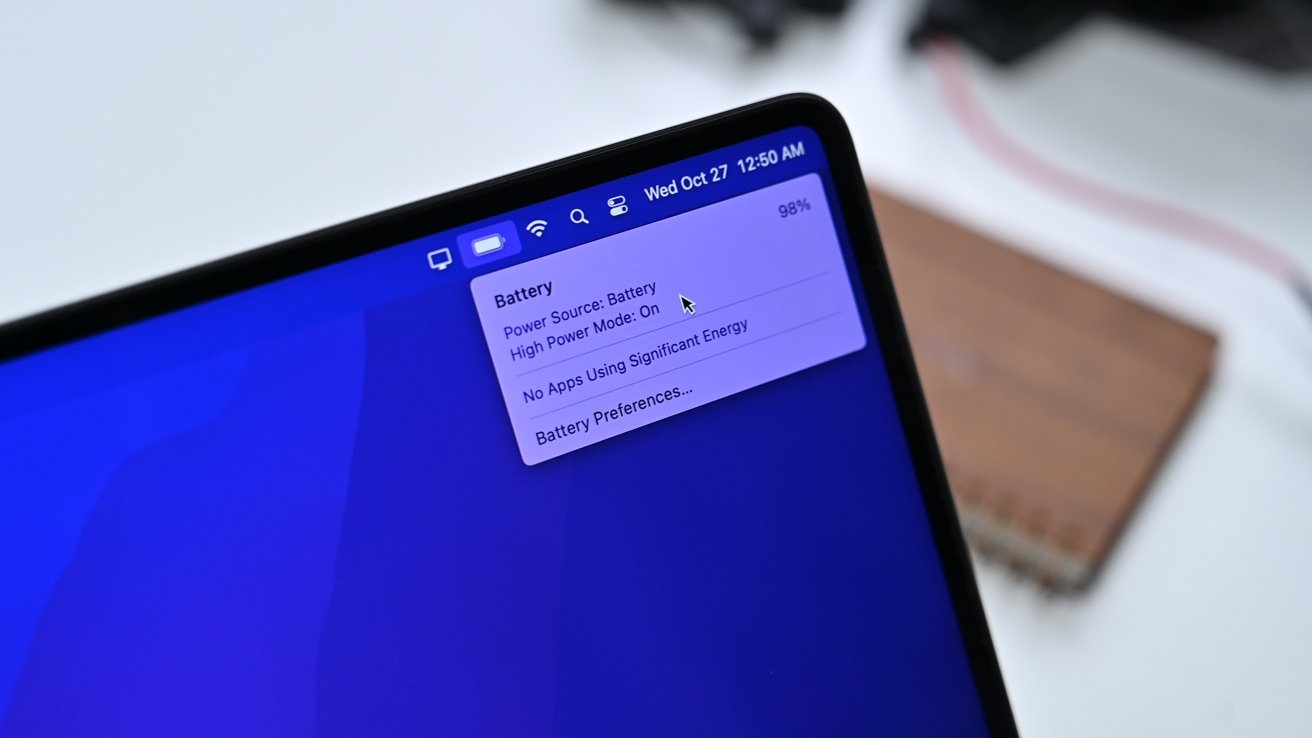 Battery status in the menu bar
We see about 16 hours of work time in our testing so far, with periodic photo editing. Video editing cuts that down to about 12 hours -- but we'll be talking about this more as we spend more time with the machine in the coming months.
After a six-year absence on the Mac, MagSafe -- now in its third incarnation -- is back. It is an addition and not a subtraction to functionality on the machine and is the only port that can be used to quick-charge the 16-inch MacBook Pro.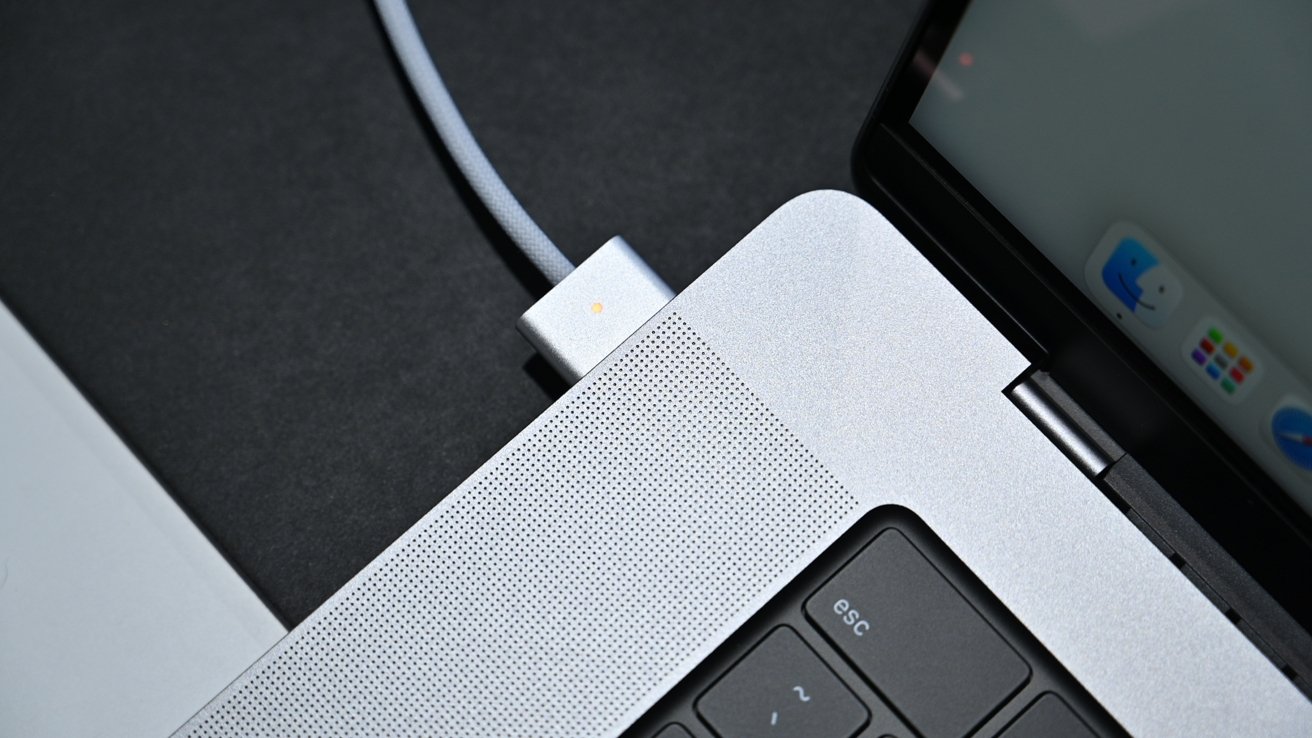 Fast Charge with MagSafe 3
From Apple, it comes with USB-C on one end of the cable and the MagSafe 3 connector on the other. It doesn't carry data, which is fine and has the same breakaway characteristics as the older incarnations.
Thunderbolt dock don't lose out, as the new machines can be charged over any of the Thunderbolt ports as well. We've found that the 87W Thunderbolt docks that came out with the 15-inch MacBook Pro still keep the battery charged even under heavy use, but the 60W ones will see a slight drain when the machine is pressed, to the tune of about 2% per hour.
Apple also took the opportunity to boost the power adapter. This time, you get a 140W USB-C Power Adapter in the box, one that even enables fast charging in the MacBook Pro itself, a feature usually reserved for smartphones.
Apple said it takes about 30 minutes to get a 50% charge with the 140W adapter and MagSafe. We found that it took 24 minutes -- and the external case hotspot again over the middle of the number key row hit about 124F and was uncomfortable to touch.
Given how batteries age and are impacted by heat, we're not sure we'd rely on this often. There doesn't appear to be a way to turn it off if you're plugged into MagSafe.
Camera and audio
Gone is the 720p camera in favor of a 1080p FaceTime HD camera. As it did in the improved Apple Silicon iMac, it also benefits from the advanced image signal processor in the M1 Pro and Max chips, so it will offer a better image through computational photography improvements.
We think that the inclusion of the notch is user training for the seemingly inevitable inclusion of a TrueDepth camera array and the inclusion of Face ID. But, not this year.
In that notch is the new 1080p FaceTime camera. There has been an enormous jump in detail and low-light performance over everything portable we've tested. In fact, and in practical use, it is effectively the same as the FaceTime camera on the 24-inch iMac.
Accompanying the better camera is a high-fidelity six-speaker sound system with force-canceling woofers, including support for spatial audio and Dolby Atmos. This is an excellent addition for people who want to enjoy spatial audio without spending money on AirPods, for example.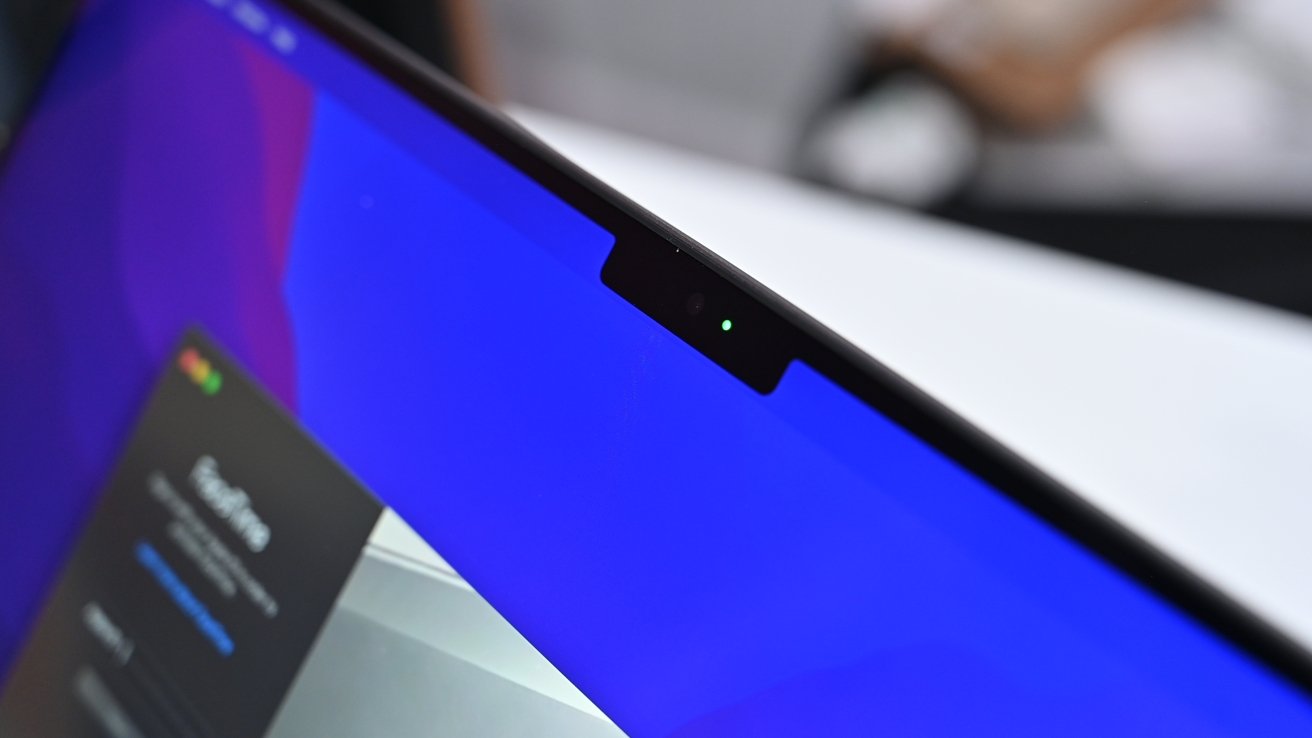 The updated 1080P FaceTime camera
Speaking of personal audio, that headphone jack includes advanced support for high-impedance headphones that usually rely on an amplifier. This is a nice addition for audiophiles, but will mean little to most. Again, additive, not subtractive.
For audio input, you're looking at a three-mic array of "Studio-quality" mics, which possess a high signal-to-noise ratio and offer directional beamforming.
While the new ports don't include native Ethernet, you do still have fast Wi-Fi 6 and not yet Wi-Fi 6e. Maybe next refresh for Wi-Fi 6e. Reception is fine, and no better or worse than the Intel model it replaced.
Bluetooth is at 5.0, which is usable, but Apple again isn't bothering to go for Bluetooth 5.1 or 5.2 in this upgrade.
The Touch Bar is gone, for better and for worse
As a general rule, we liked what the Touch Bar ultimately delivered after an initially lukewarm impression in 2016. It clearly wasn't for everybody, but customization utilities like Better Touch Tool allowed it to do what Apple didn't deliver -- but probably should have.
It's gone now, replaced by conventional, full-sized, function keys.
The replacement is something we're going to have to adjust back to, and it will take less time to revert our behaviors than it did to adopt the Touch Bar. That said, physical function keys were missed by a vocal part of the market, so it's an overall positive for the user base as a whole.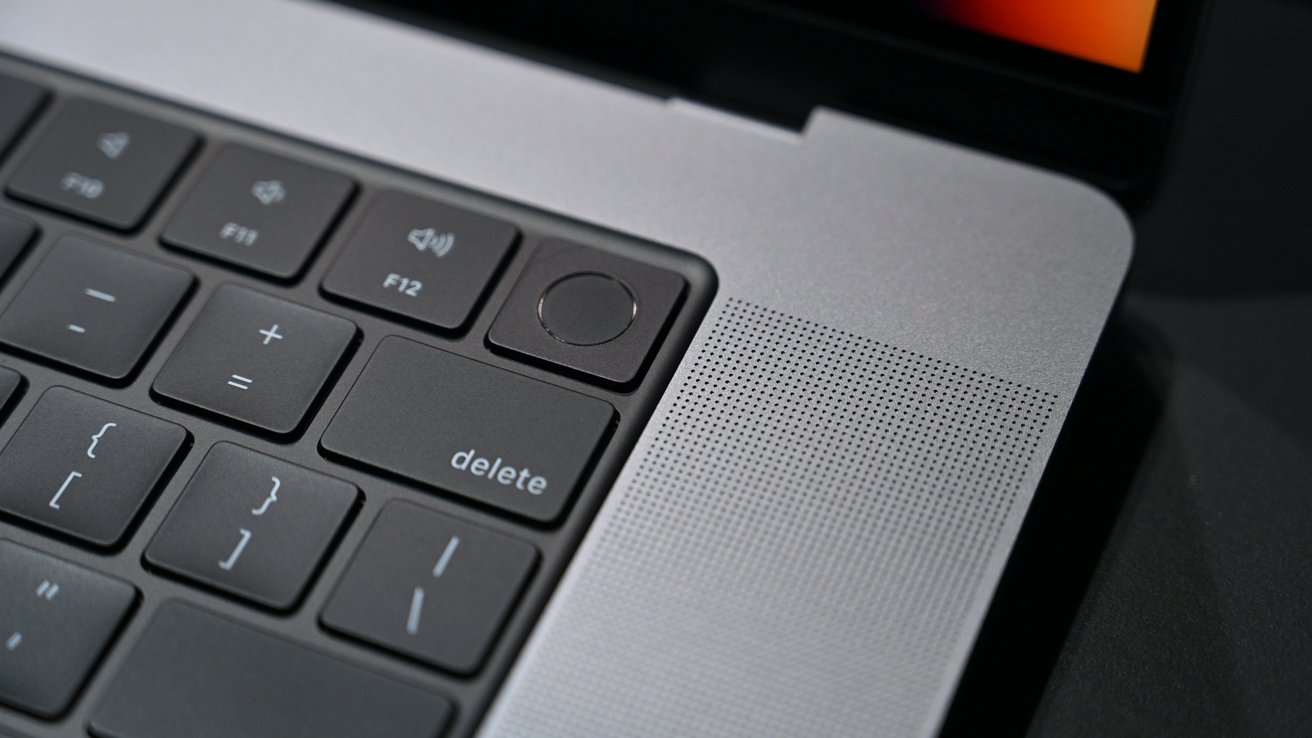 Touch ID next to the function keys instead of the Touch Bar
We've said before that we'd prefer it had Apple offered the option of physical keys to those who wanted them, and the Touch Bar for the folks that didn't. We'd still like that option here, but it's also clear we aren't going to get it.
This all said, it's going to take a bit of time to adjust to whacking the volume button multiple times instead of just dialing in what we want for volume with a slider. We'll just keep using the ElGato Stream Deck for custom keystroke features.
16-inch MacBook Pro Keyboard
Keyboards are highly subjective. So highly personal, in fact, that even if you like a mechanical keyboard, there are dozens of different iterations, with various key feels because assorted manufacturers correctly assume that there is that much granularity in demand.
So, a little context is important. For starters, we're not giant fans of typing on glass, like the iPad. We didn't have a problem with the butterfly keyboard introduced with the 2016 MacBook Pro -- but it wasn't a favorite of ours. We very much liked the redesigned keyboard that rolled out in 2019 with the 16-inch model.
Thousands of words have been written about the differences between the Butterfly keyboard and Apple's return to a scissor switch. The new MacBook Pro has retained that same mechanism, giving it key travel of about 0.9 mm. This is compared to between 0.6 and 0.7 millimeters on the 2016-style keyboard, between 1.2 and 1.5 millimeters on the 2012 through 2015 style, and 1.0 mm on the Intel-based 16-inch MacBook Pro.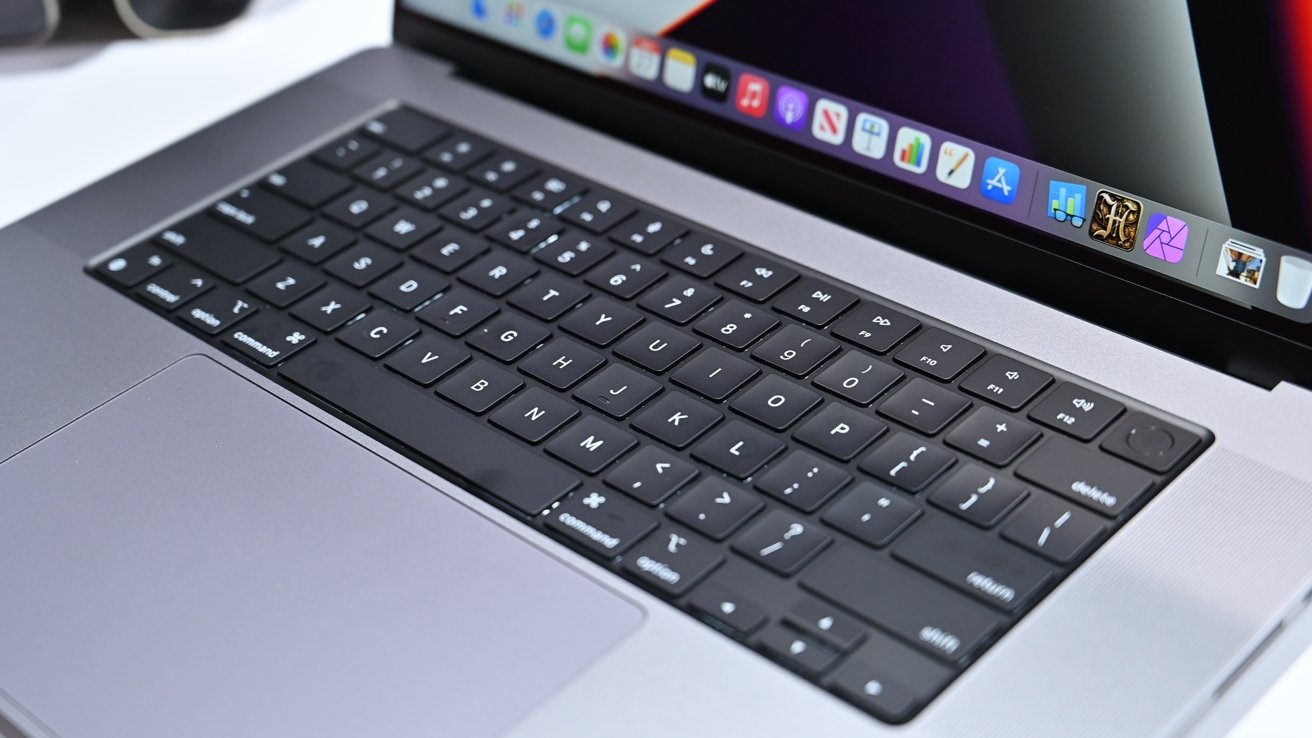 The new keyboard doesn't have a Touch Bar
As it pertains to the noise of the keyboard, we had a baseline of 36 dBa of ambient noise measured with a Kanomax model 4431 audiometer, with the test gear at head height and distance. Hammering away on the 2016 MacBook Pro keyboard with no other CPU load brought that up to about 43 dBa and 41 dBa on the Intel-based 16-inch MacBook Pro.
The M1 Max 16-inch MacBook Pro hit 39 dBa with fans off and 40 dBa with fans running under load.
16-inch 2021 MacBook Pro thermals and fan noise
The 2018 15-inch i9 MacBook Pro was a very hot machine. And somehow, the 2019 16-inch was even hotter -- but with better methods of extracting that heat. Fortunately, this has improved in the 2021 refresh of the high-end MacBook Pro.
In our use, when the 2018 i9 MacBook Pro was under load, the keyboard's metal surface routinely hits 107 degrees Fahrenheit around the G, H, and J keys. That's still usable, but it is very, very warm. On the 2019 16-inch MacBook Pro, that area is still the hotspot, but it hit a maximum of 89F while running under load.
That same spot on the 2021 16-inch model is about 80F when under load for sustained periods.
Strictly from a noise standpoint, in the same 36 dBa room, the 2018 MacBook Pro under heavy load is about 45 dBa at the same range from the user that we performed the keyboard testing. The 16-inch Intel-based MacBook Pro hit a maximum of 44 dBa, with equivalent fan speeds to the 2016 model.
The new MacBook Pro sits at the same 40 dBa that we discussed in the keyboard section while under load.
HDMI and a SD card reader are back
After years away, Apple has reintroduced HDMI as a video port to the MacBook Pro, alongside an SDXC card slot. While you have one fewer Thunderbolt port, it's now upgraded to Thunderbolt 4, and even the headphone jack has some extra finessing to make it more usable for audiophiles.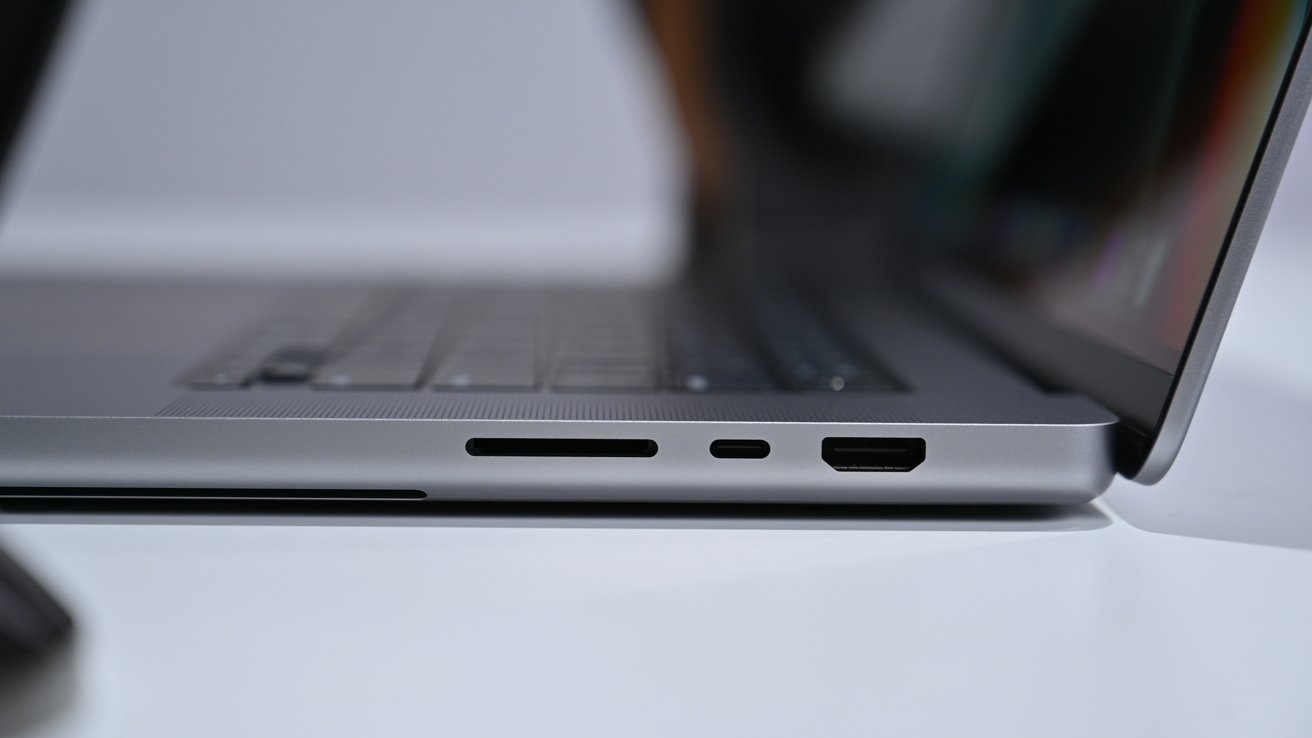 The right-side ports on the 16-inch MacBook Pro
That HDMI is 2.0 and not the newer 2.1 spec. That SDXC reader is a UHS-II reader technically, and not even at peak UHS-II speeds, and not a Class III. Neither of these additions make any sense to us beyond convenience, and it would cost Apple maybe a dollar more to include the newer specs on a laptop, which begins at $2500.
The target market who wants this machine can use the faster speeds on both. Adding HDMI 2.0 instead of 2.1 and the class II reader capped at 250 megabytes per second instead of the much faster 600 megabytes per second Class III now would make sense for a consumer-grade machine like the MacBook Air. It makes much less sense on the Pro-oriented machine -- but there may be an engineering reason for it.
We'd have preferred if Apple stuck with four Thunderbolt ports if it was going to just add an older HDMI and SD reader spec to the model, but we're not sure if this was an option. The new MacBook Pro has three Thunderbolt controllers versus two and two timers on the Intel-based 16-inch MacBook Pro. We're not sure what the PCI-E channel limitations are on the M1 Pro or M1 Max, as both the HDMI 2.0 port and the SD card reader capped at 256MB per second take up fewer channels in aggregate than a single Thunderbolt port does.
Adding an HDMI 2.1 port or a UHS-III reader to the equation pushes the number of PCI-E channels over what one Thunderbolt port demands.
Regardless, there is still a significant amount of complaint about no USB-A. We maintain, as we have been doing so for years, that USB-C is best embraced rather than fought.
If you don't like cable adapters, then don't use them. A USB-C to HDMI 2.1 cable is about $10, and USB-C to USB-B peripheral cable is about $5. Both take as much space in your laptop bag as the HDMI to HDMI cable or USB-A to USB-B cables do.
And as a minor point, the SD card depth when inserted in the new reader isn't quite the same as the 2015 model, so those microSD card adapters that sat flush with the case to provide more internal storage with no card sticking out of the side of the computer don't fit quite right. We're certain somebody will develop one that fits appropriately, very soon.
Plus, for what it's worth, FireWire devices still mount with the right adapters or dock through Thundebolt. Still not gone, yet.
Best MacBook Pro yet - but that's not enough by itself
The new 16-inch MacBook Pro is the best MacBook Pro that's ever been released. That's a true statement, and you'll see it a lot as it pertains to reviews of these machines -- but it's easy and lazy to say that without context.
Specifically, the MacBook Pro has taken complaints about the line to heart -- mostly -- with the restoration of not-fully-modern HDMI ports and the Class II SD Card reader at perhaps the cost of a Thunderbolt port -- but if this is actually the case, is unclear. It has also removed a feature in the Touch Bar that was mostly unused, and replaced it with a simpler technology that is also mostly unused in the physical function keys.
For most users, this is all a net positive, not even including the larger and brighter screen, the incredible power, and all that power with efficient use of energy, a super-long lasting battery, and so much more.
Consumer interest is deeply focused on how the M1 Pro and M1 Max machines compare to Windows gaming PCs. Even Apple made the comparisons at the release event.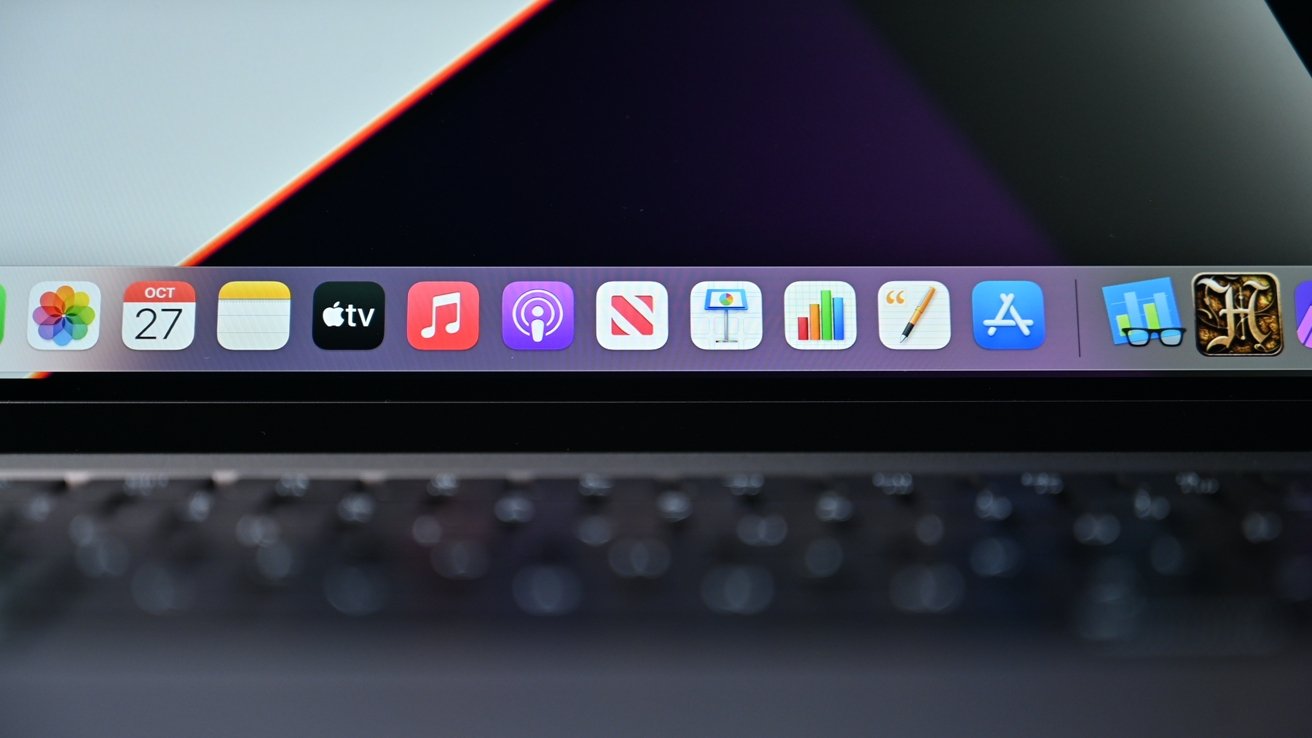 The dock on macOS Monterey
What the new 16-inch MacBook Pro isn't, and won't be, is a Windows or gaming powerhouse. Microsoft has already said that Windows 11 is completely unsupported on Apple Silicon, and there's no easy Boot Camp configurator to wedge it on. You can always use virtualization solutions if you must run Windows software, with all that entails.
How much of a deal-breaker this is, is up to any given user to decide. There are games for Mac and some Apple Silicon native ones, but there certainly aren't as many, unless you count the assorted video streaming options for them like Stadia, GeForce Now, and the like.
For the operating system agnostic, Microsoft Office is still obviously here, and so is Photoshop, and access to whatever Google service you use. We're not expecting the MacBook Pro to be as much of a follow-on purchase to the iPhone as the
MacBook Air
or
Mac mini
are, though.
Gaming and cloud usage aside, we'd be remiss if we didn't repeat that "Pro" doesn't mean a single thing other than "higher-end" to Apple. Initial complaints about M1 machines centered around the lack of "Pro" focus, when in reality, all of those machines were incredibly suitable for getting work done, fast.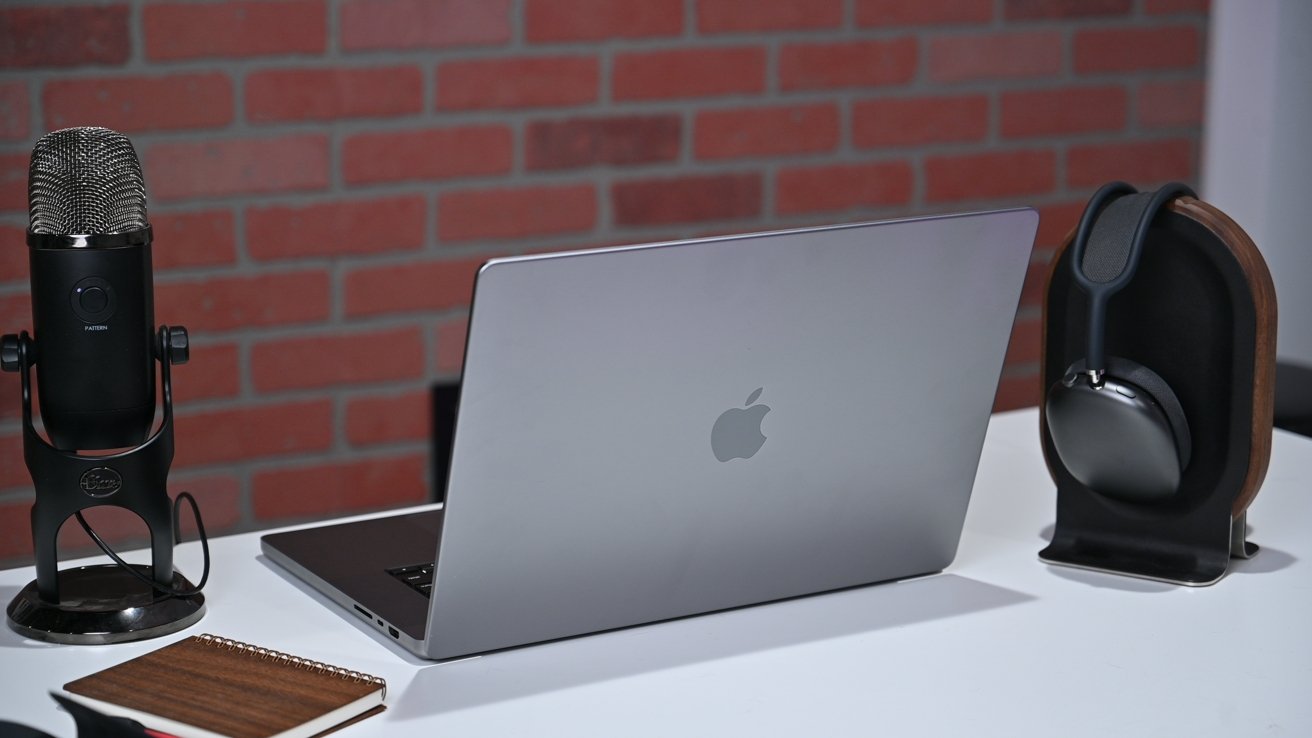 The new 16-inch MacBook Pro
Apple's target market for this machine is that "Pro" creative that complained about the first model because of some perceived lack of speed. It's here now, most of your software that's actively being maintained is now Apple Silicon native, so it's time to move, if the budget can handle the slightly higher price premium the new machines have to their counterparts from two years ago.
In many ways, the new MacBook Pro is a herald of the next five years of Apple Silicon and how Apple will differentiate between the "Pro" gear and non. We're excited about where this first higher-end volley has landed, and what it tells us about the future.
And, it's lighting a fire under Intel and AMD, which then, in turn, benefits the entire industry. They both work better and harder with close competition -- and so does Apple.
We had the incredible privilege of being allowed to test this machine in conjunction with some members of the Department of Defense for the last seven days prior to
AppleInsider's
purchases arriving early on Tuesday. The best credit I can give to this machine is after testing for a week in a laboratory environment, I decided yesterday to buy my own.
Score: 4.5 out of 5
Deals on the 2021 16-inch MacBook Pro
Apple's 2021 16-inch MacBook Pro is already discounted, with exclusive coupon savings at your fingertips in the
AppleInsider
16-inch MacBook Pro Price Guide
.
At press time, the
best MacBook Pro deals
offer triple-digit savings on both retail and configure-to-order (CTO) models at Apple Authorized Reseller Adorama with promo code
APINSIDER
and
this activation link
. Step-by-step instructions detailing how to redeem the coupon can be found
here
.
Read on AppleInsider