Apple Studio Display review: How badly do you want an all-Apple experience?
Apple products are polarizing, but it's been some time since a product from the company has generated as much of a split opinion inside the community as the new
Studio Display
has.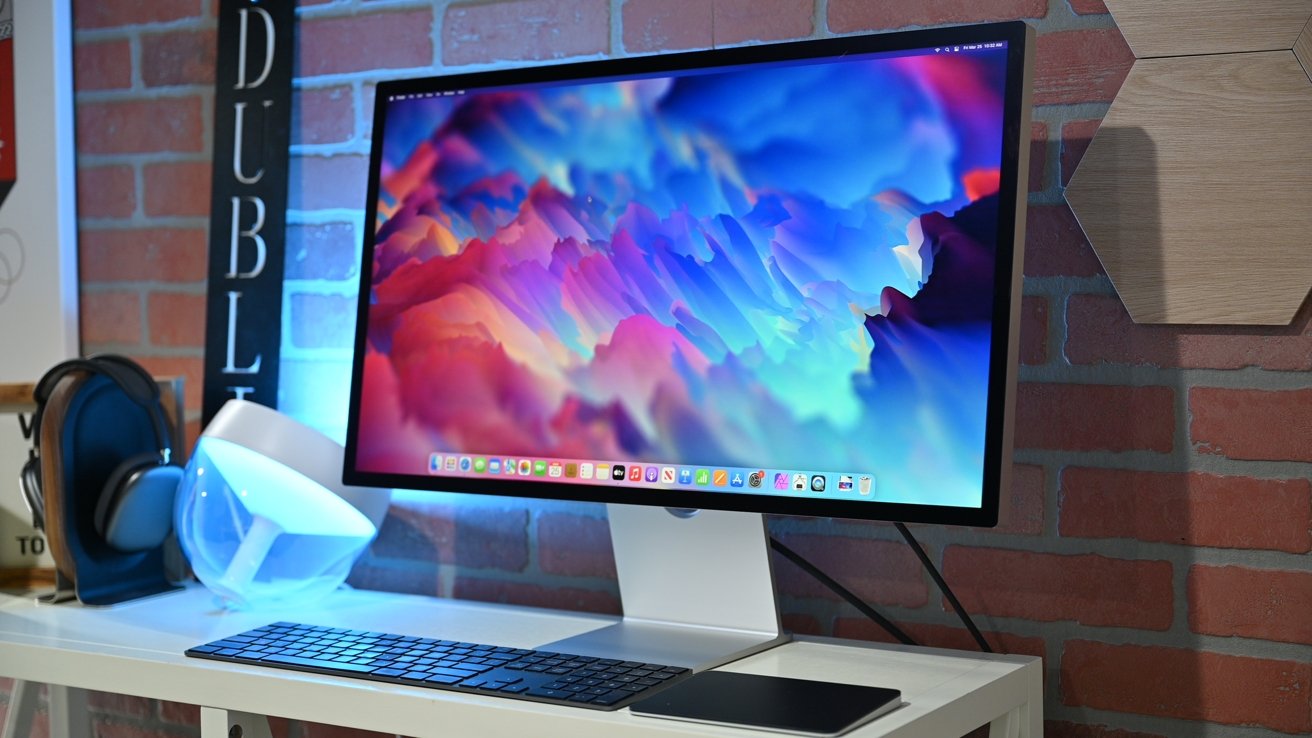 Apple's new Studio Display
For about six years,
Mac
users who wanted to connect their computer to an Apple display, be it a secondary screen to a built-in one like on a
MacBook Pro
or as a primary monitor for a
Mac mini
, had very few options.
For Apple-specific screens, you had the choice of either getting hold of an aging Apple Cinema Display in that time or pay $4,999 or more on a
Pro Display XDR
towards the end of the period. If you wanted something current but didn't want such a high expense for the professional-grade monitor, you were stuck with buying a monitor from another company.
That's not to say that third-party displays aren't good. There are many different styles, resolutions, features, and price points on the market in a very healthy ecosystem.
It was only a problem if you wanted to keep to an Apple-only workspace. For example, if you wanted to connect a second screen to the
24-inch iMac
, you may want a display that matches the aesthetic and works fully with Apple's product ecosystem.
Users have suggested that Apple sell an
iMac
without the Mac element as a free-standing display. In the Studio Display, Apple effectively provides just that.
Unfortunately, it does it for about what that
27-inch iMac
used to cost.
Not quite an iMac nor a Pro Display XDR
The Studio Display is a 27-inch display in a body that echoes the design of the 24-inch iMac. The Studio Display shares many of the physical design cues of the iMac, including an edge-to-edge display, a squared-off aluminum casing, and even the identical positioning of ports on the back.
There are some tell-tale signs that this is just a display, such as the screen being a fair bit thicker than that of the iMac, the lack of a headphone jack, and the presence of a chin on the 24-inch iMac.
You can certainly see that the Studio Display is cut from the same cloth as the iMac. But it also goes its own way with its design cues, which even differ from its stablemate, the Pro Display XDR.
Tilting stand of the Studio Display
Instead of going for the large
Mac Pro
-style perforations on the back, the Studio Display opts for a cleaner and flat rear. Instead, it reuses the perforations from the back of the
Mac Studio
on the top and bottom sides.
Rather than providing the screen without a stand, as with the Pro Display XDR, Apple does provide users with an initial Tilt-adjustable stand that looks like the 24-inch iMac's version. It can be exchanged for a VESA mount adapter at no extra charge, though for $400 more, you can also have the Tilt and Height-adjustable stand.
The tilt-adjustable version provides between -5 and +25 degrees of tilt. Going for the tilt- and height-adjustable version adds the ability to shift the height up and down, with a 105mm (4.1 inches) range.
You can also pay extra to get a Nano-texture glass coating to minimize reflections, just like the Pro Display XDR.
Studio Display review: The 27-inch iMac revisited
By having a 27-inch display, comparisons with the version in the 27-inch iMac are certainly going to be made. It's for a good reason too, as many of the specifications read as if they come from the now-eliminated iMac option.
Its 27-inch monitor is obviously smaller than the Pro Display XDR, as is its resolution. At 5,120 by 2,880 pixels with a pixel density of 218ppi, it has the exact 5K resolution as the departed iMac, along with its size.
Its brightness is also closer to the 27-inch iMac at 600 than the Pro Display XDR at 1,600-nit. That's partly from the use of LED backlighting rather than mini-LED.
Both displays peak at a 60Hz refresh rate.
You still get Apple's traditional Wide Color (P3) support for 1 billion colors and True Tone, which brings it in line with many other Apple-produced monitors in its products.
It's easy to imagine how the Studio Display could've resembled an updated 27-inch iMac. To a point, it does, except it lacks the Mac bit.
Though not as bright or as high-resolution as the Pro Display XDR, it does aim to offer features aimed at content creators. Many reference modes are available, including Apple Display, HDTV Video, NTSC, PAL, SECAM, Digital Cinema, Design and Print, Photography, and Internet and Web sRGB.
Studio Display review: Sound and Vision
Though it doesn't have the headphone jack of the 24-inch iMac, Apple did include a high-fidelity six-speaker system, complete with force-canceling woofers and Wide stereo sound support. The speakers are also compatible with Spatial Audio and Dolby Atmos, making it an attractive option instead of moving to separate speaker units.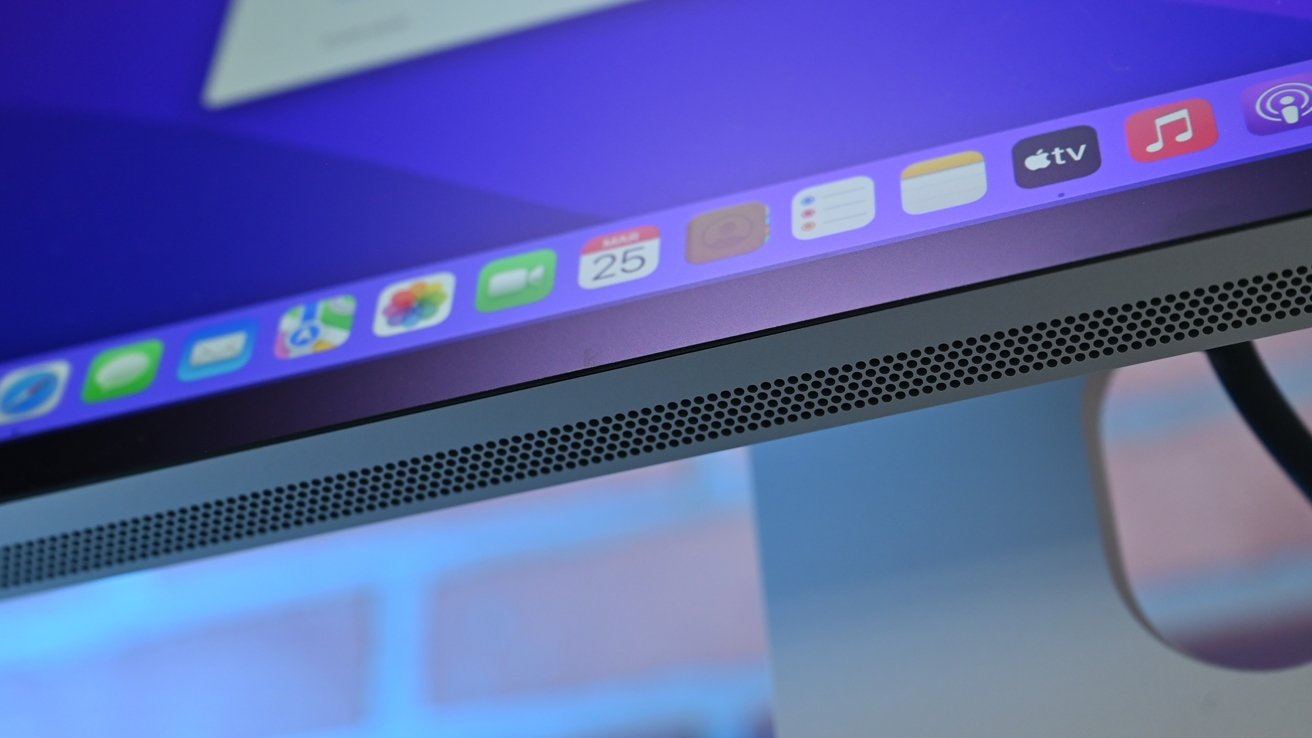 Six-speaker system on Studio Display
The Studio Display can also pick up audio, using a trio of "studio-quality" microphones with a high signal-to-noise ratio and directional beamforming. The screen has support for "Hey Siri" when connected to a Mac, which the directionality of the mic array should assist with.
Like other Apple displays, the company has squeezed a camera into the top of the screen. In this instance, it's a 12-megapixel Ultra-Wide camera with a 122-degree field of view and an f/2.4 aperture.
The camera includes Center Stage support, Apple's feature for video conferencing where it reframes the camera depending on the number of subjects it sees, and where they are in the camera's field of view.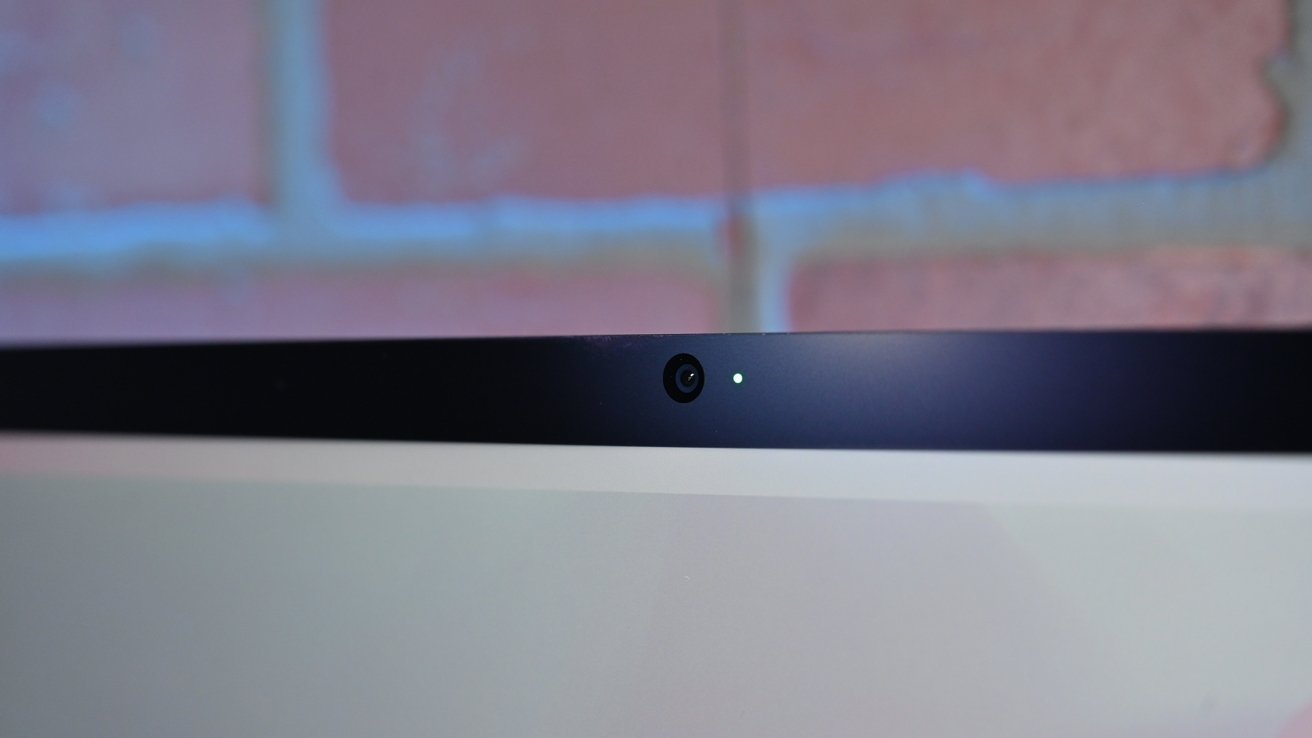 FaceTime HD camera on the Studio Display
Initial reports indicate the camera isn't up to par, but since the Studio Display runs on
iOS 15.4
, it stands a chance of gaining a software update to improve the picture quality.
Don't be deceived into thinking it's a glorified
iPad
using iOS paired with an A13 Bionic chip, as it's just to keep it running smoothly. The Studio Display is not a touchscreen, and it certainly can't run apps on its own.
Studio Display review: Connectivity, in both senses
Around the back are a series of ports, just as you would find on an iMac. The quartet of connections includes three
USB-C ports and a Thunderbolt 3 port
, with the latter intended to connect to the host device.
All three downstream USB-C ports can connect at up to 10Gb/s, while the Thunderbolt 3 handles video, data, and up to 96W of power delivery.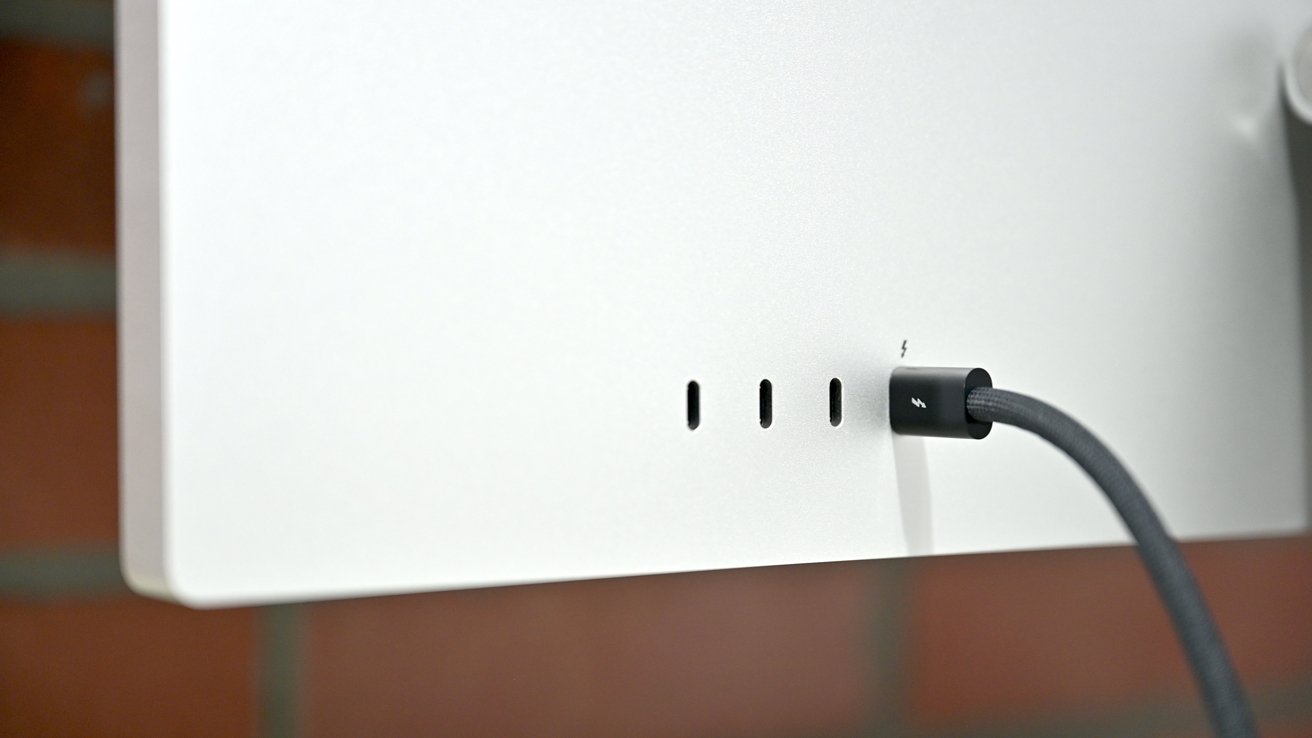 The Thunderbolt and USB-C ports of Studio Display
Apple didn't use Thunderbolt 4, because it didn't have to. Both Thunderbolt 3 and Thunderbolt 4, despite supporting different DisplayPort specs, still are enough to drive a 5K display at 60Hz.
Still, this is more than enough to please MacBook Pro users, who can use one cable to connect to the display and use the screen as a peripherals hub.
As for the devices you will want to connect the Studio Display to, Apple says it can connect to these Macs running
macOS Monterey
12.3 or later:
Mac Studio (2022)
16-inch MacBook Pro (2019 or later)
14-inch MacBook Pro (2021)
13-inch MacBook Pro (2016 or later)
15-inch MacBook Pro (2016 or later)
MacBook Air (2018 or later)
Mac mini (2018 or later)
Mac Pro (2019 or later)
24-inch iMac (2021)
27-inch iMac (2017 or later)
21.5-inch iMac (2017 or later)
iMac Pro (2017)
It can also act as a monitor for some iPad models running iPadOS 15.4 or later. At launch, this means the third-generation
12.9-inch iPad Pro
or later, the
11-inch iPad Pro
, and the
fifth-generation iPad Air
.
You can use the Studio Display with Windows PCs, with Apple assuring it will work like a standard display when connected. However, features like Spatial Audio, "Hey
Siri
," and Center Stage won't be available.
Of course, you can also connect it up to an Intel Mac running Windows via Boot Camp, which Apple has ensured will work with an update shortly after launch.
Those are the facts. Opinions vary, and are polarizing.
Andrew O'Hara - AppleInsider Videographer
I'm happy with this display. It isn't perfect, and I have a few minor quibbles with Apple's choices, but overall this is one of the best monitors I've used.
In a home office, 600 nits of brightness is excellent. It lacks HDR, and Apple could do better in this regard, but this is much better than plenty of other "HDR" monitors out there.
We tested a BenQ PD 3220U monitor boasting full HDR support with 300 nits of brightness, and Wes here at
AppleInsider
used an LG UltraGear with "HDR" that was 400 nits. Both had dreadful HDR support.
These monitors support what is known as HDR10, a specific version of HDR. The spec is loose and leads to TVs and monitors claiming HDR support while looking lackluster. Apple has been supporting Dolby Vision HDR on some of its displays with much higher requirements.
I do wish that Dolby Vision HDR was supported. For a daily-use monitor, Apple's display is more than vivid enough.
For audio, Apple did an impressive job. I set my
16-inch MacBook Pro
with
M1 Max
side-by-side with the Studio Display and ran through some music, movies, and audio tests. I listened to a Dolby Atmos 3D audio test track several times on both machines.
The Spatial Audio effect was more pronounced on the Studio Display than the laptop. It isn't perfect, and a set of
AirPods Pro
was better. But the effect was clear and made a difference as the sound moved up and down, left and right.
In another test of "Bass... Can You Hear Me?" by
Beat Dominator
, the Studio Display had a decent bass I could feel at higher volumes, and I didn't feel that the MacBook Pro could compare.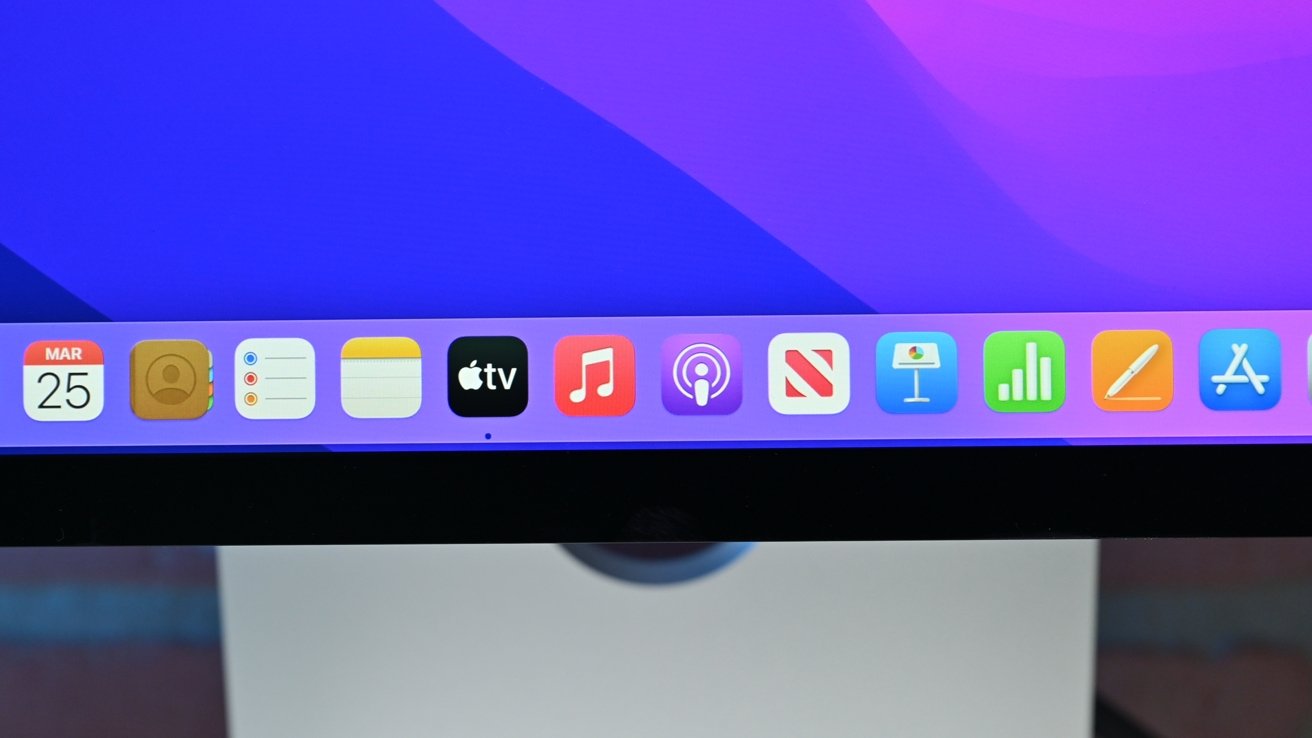 Studio Display looks great with macOS
Combined with the louder max volume, the Studio Display sounds like it has a larger overall soundstage. I'd still listen to headphones, but I'd rather ditch some basic desktop speakers for what's in this display for typical use.
The microphones sounded solid, and I liked the ability to isolate sound directly from Control Center.
I will say the camera has been a disappointment. Apple says the subpar quality is fixable via a firmware update. Until then, it's best to use something else. Center Stage does work well, though.
Those USB-C ports on the back are a nice upgrade from the LG UltraFine 5K. The LG ports could only muster 5Gb/s, while the Studio Display can double that at 10Gb/s. For most applications, this won't matter.
In my case, this is a big difference. I connected my CalDigit Tuff Nano Plus to the Studio Display and copied a 26GB folder to the drive. It took 29.81 seconds to copy. I then connected the same drive to a USB 3.1 hub capable of 5Gb/s, and it took more than double, clocking in at one minute and three seconds.
For me, double the data speed of the LG is important. If you're still using hard drives or slower SSDs, this may be a non-factor.
Accessory makers are likely already working on USB-C hubs to mount to the Studio Display. Whether a future display-specific hub or a USB-C hub that's out today, those speed increases will be even more critical if you have multiple drives or cards passing data through the hub.
As LG offers the only real 5K display alternative to the Studio Display, it comes up most in comparison.
I feel that no Mac user should choose the LG over the Studio Display between the two. Without upgrading the stand, the Studio Display costs $300 more than the LG. For that difference in cost, you get a better display, a brighter and wider field of view, a premium all-aluminum body, better-sounding speakers, twice as fast ports, better microphones, and slightly faster upstream charging.
If Apple gets its act together and upgrades the camera, you can count that as a benefit.
Andrew's score: 4 out of 5
but 4.5 when the camera is fixed.
Mike Wuerthele - AppleInsider Managing Editor
All of the above specs and details feel nice. They sound nice.
The problem is, the Studio Display falls far short of the lofty promises.
It's a good monitor, the image quality is nice, and it certainly isn't "unusable" like some of the early-seeded reviewers claimed. It's bright and is color-accurate. The off-angle viewing is better than on the LG Ultrafine 5K, but that's not necessarily a benefit.
The widely expected ProMotion didn't arrive in the Studio Display. So, the refresh rate is the same as the Ultrafine 5K display.
This isn't terribly unexpected, though. Depending on the age of your machine, and if you have Titan Ridge or better for Thunderbolt controllers, you either have DisplayPort version 1.2 or 1.4. Neither DisplayPort spec supports 5K at 120Hz, and it would take some MST-based shenanigans to get there.
Or, Apple could have designed around the available LCD panel itself, instead of considering Thunderbolt limitations. We're not sure if a 5K 120Hz 28-inch LCD panel even exists at the moment.
Moving on to audio, while better than the ones in the Ultrafine 5K, the Studio Display's speakers are worse than those in the 2021 MacBook Pro redesign and, bafflingly, worse than the ones in the 24-inch iMac. They lack bass, and highs -- but at least the mids are well-represented.
Spatial audio, which Apple says is present, is effectively non-existent. Sure, there are stereo effects, with the soundscape moving. But, you get that effect all the way down to $10 USB speakers.
I hoped that I was just in a bad acoustic environment, so I tested three others, in other locations. Still, the same effect -- and the owners of those displays, one a sound engineer for the US government, agreed with my assessment as well.
Neither the Ultrafine 5K's speakers nor the Studio Display's audio are an acceptable substitute for even mid-range external speakers.
It's fine and good that the Studio Display's USB-C ports are USB 3.2, but that's not that helpful. Very few peripherals can leverage the difference in speed between the 5gbit and 10gbit speeds of USB 3.1 to USB 3.2.
Fast SSDs need full 40gbit/s Thunderbolt speeds. SSDs based on SATA are very close to max speed with USB 3.1, losing maybe 5% of the best speed. Keyboards, mice, and headphones use USB 2 speed -- and aren't even close to demanding anything more.
I'm sure bespoke Apple Studio Display hubs are coming too. However, it's generally a bad idea to daisy-chain hubs after hubs. Historically, it has led to some problems with chipsets not communicating well with each other the further you go downstream from the original host device. Ultimately, we'll see how the market develops in this regard.
Instead, why would you not want to chain a hub off of your computer using Thunderbolt? After all, the Studio Display can't be any more than six feet away from the host computer -- unless you add a $150 three-meter Thunderbolt cable which isn't available yet.
And, the webcam isn't great. It would be acceptable five or six years ago, but it was still not great then.
Apple says that the webcam issues are fixable in software. A week after the first reviews pointed this out, it still hasn't been dealt with. This will likely change, but as the monitor stands on March 23, 2022, a $50 Logitech USB webcam outperforms it.
The LG offering comes with a height-adjustable stand, with angle adjustments. That's an upcharge on Apple's display, worsening the value proposition. Making the comparison harder on Apple's display, LG's display is easily VESA-mounted out of the box, instead of deciding at purchase if you want a stand or a VESA mount.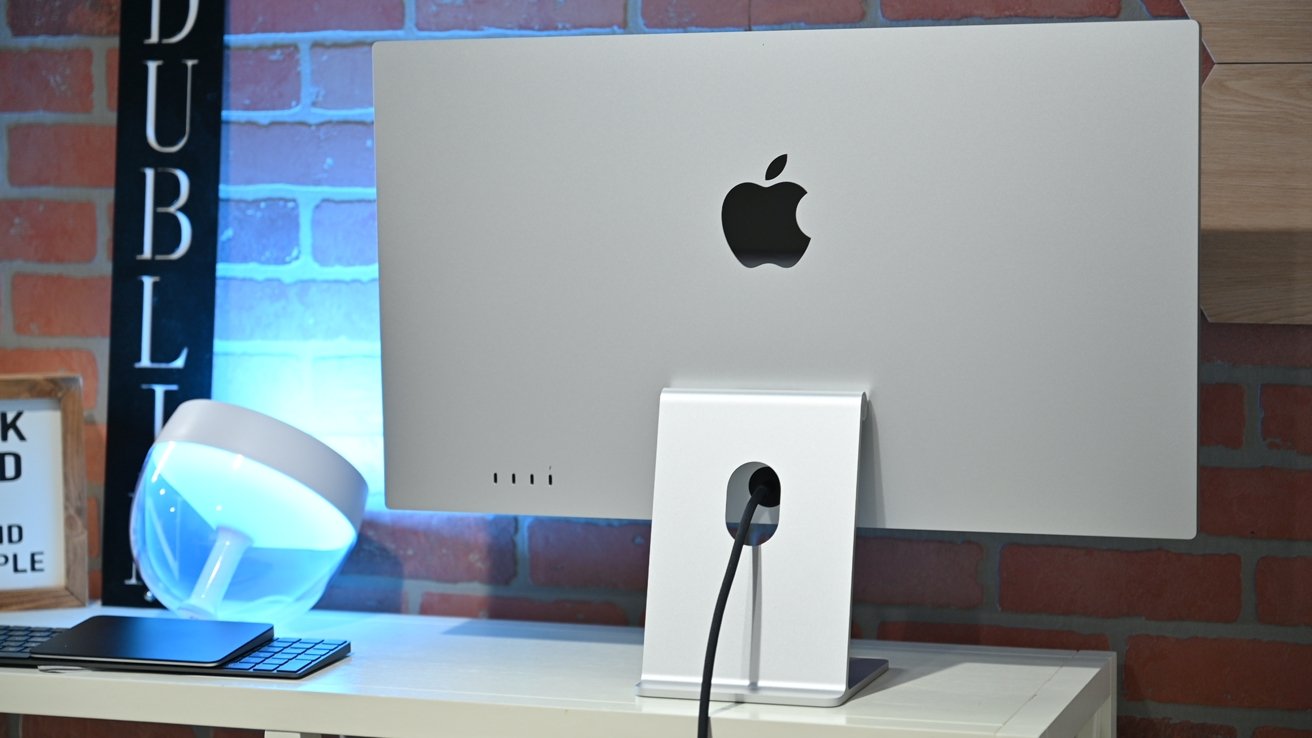 Back of the Studio Display
Apple has said that you can swap this out through service channels, at a charge. LG seems to have figured out how to do this on its over-$1000 monitor without another charge.
Both the LG offering and Apple's suffer greatly from a lack of other inputs from other sources. This probably makes no difference to an enterprise user, but a home office practically demands multiple inputs for both work and fun. And, god forbid you have a second computer, apparently.
There are very few 5K displays on the market. Apple's entry effectively doubles what's readily available today. We're still below the peak of five different 5K monitors that we hit about two years ago.
A few other 5K displays popped up after the original UltraFine 5K display emerged. Most are gone now, slain by low demand and supply chain issues.
Even with those market conditions, the only group of consumers or professionals I can recommend this particular display to, is the "everything Apple" crowd. Add in the slightest outside-Apple need, and it's immediately time to look elsewhere.
None of this is about 4K displays in the same size being cheaper, or similarly-priced 144Hz 1440p displays. After all, a 5K display has about 75% more pixels, so it would be more like two 4K displays. Those are entirely different things, for entirely different markets. This is all about 5K.
From this chair, Apple's 5K Studio Display is a nice monitor. It just delivers a beyond terrible price to delivered value ratio. For you, it depends on how much you value that Apple look, because the "quality of life" promises don't deliver in the real world.
And today, the only valid comparison is the LG Ultrafine 5K -- which had a rough start. The original version had some RF shielding issues, which it took a few months to fix. The rest of the complaints about the technical aspects of the display were resolved about two years ago with an update to the internals of the product, and they took a bit of time to address squeakiness and the wobble that it had prior to that.
LG says that it is in the process of refilling the supply chain, with the monitor that Apple helped it build in 2016.
So, very soon, assuming you pay full retail for the LG, you can get the usability of the same 28-inch 5K 60Hz panel in the LG Ultrafine 5K, and add a M1 Mac mini or a third of a Mac Studio for what the Studio Display with height-adjustable stand costs.
It's too bad that Target Display Mode over Thunderbolt died in hardware about a decade ago. Looking at our emails and social media, there are a lot of folks looking at that 27-inch Intel iMac and hoping they could use it as a display, given the performance of the Mac Studio.
Mike's score: 2.5 out of 5
until the webcam is fixed to the expected level, which the April 26 patch has not done so far. Even if the image quality improves markedly, which seems unlikely at this point, it's only a 3 out of 5.
Where to buy (and save on) Apple's Studio Display
Apple Studio Display prices
start at $1,599 for the standard glass model, topping out at $2,299 for the nano-texture glass with a tilt- and height-adjustable stand. Apple Authorized Reseller Adorama is knocking
$50 off AppleCare
for the new display with
this activation link
and promo code
APINSIDER
. Need help redeeming the coupon? Here are step-by-step
activation instructions
.
You can also order the Studio Display at these retailers:
Read on AppleInsider