Compared: AirPods Max vs Master & Dynamic MW75
Master & Dynamic's MW75 are high-quality headphones offering ANC features, directly competing against Apple's AirPods Max. Here's how the premium personal audio accessories compare.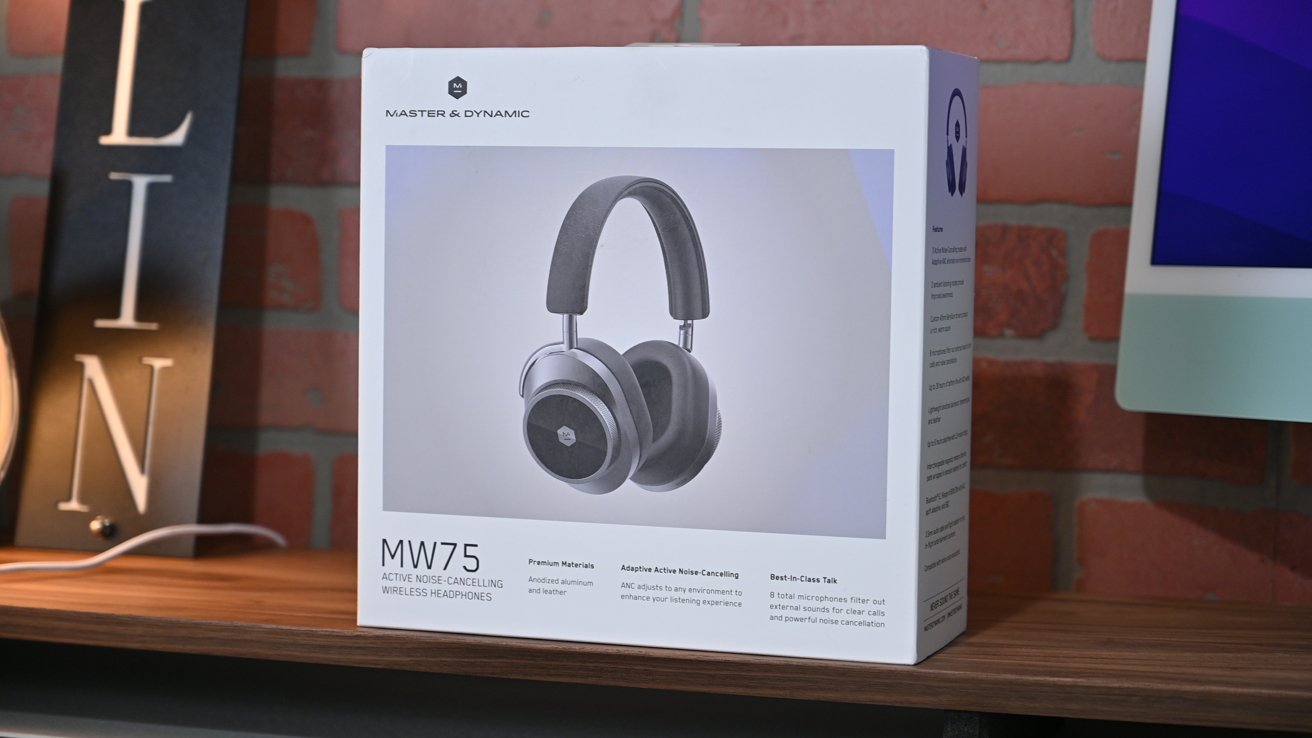 Master & Dynamic MW75 wireless headphones
Apple's AirPods range has always been considered the premium option in the wireless earphone marketplace. The introduction of the AirPods Max further cemented the range's position, with it becoming the most expensive personal audio accessory Apple sells.
Apple is up against many competitors in the premium headphone market, and one has just launched a new offering. Master & Dynamic, which offers high-class headphones using premium materials and boasts of superb audio quality, has added the MW75 to its range.
The MW75 Active Noise-Cancelling Wireless Headphones offer many of the same features that the AirPods Max provide, complete with an elegant design. All for a price that's not that far off what Apple charges for its hardware.
Here's the tale of the tape.
AirPods Max vs Master & Dynamic MW75: Specifications
Specifications
AirPods Max
Master & Dynamic MW75
Price
$549
$599
Weight (ounces)
13.6
11.9
Foldable
No
No
Primary Materials
Aluminum
Aluminum,
Tempered glass,
Lambskin leather
Noise Cancellation
Yes
Yes
Transparency Mode
Yes
Ambient Listening Modes
Charging port
Lightning
USB-C
Connectivity
Bluetooth 5.0
Bluetooth 5.1
Microphones
9 Total
8 total
(4 voice, 4 for ANC)
Battery Life
20 hours with ANC
32 hours with ANC
Fast Charging
1.5 hours from 5 minutes
50% in 40 minutes,
100% in 100 minutes
Controls
Digital Crown, Button
Buttons
Other Sensing
Optical sensor,
Position sensor,
Case-detect sensor,
Accelerometer,
Gyroscope
On-head detection
AirPods Max vs Master & Dynamic MW75: Design
The AirPods Max are produced from aluminum and stainless steel, with a minimalist aesthetic. While the ear pads are cloth, using a magnetic attachment system means they can be easily removed for cleaning or replaced by other pads.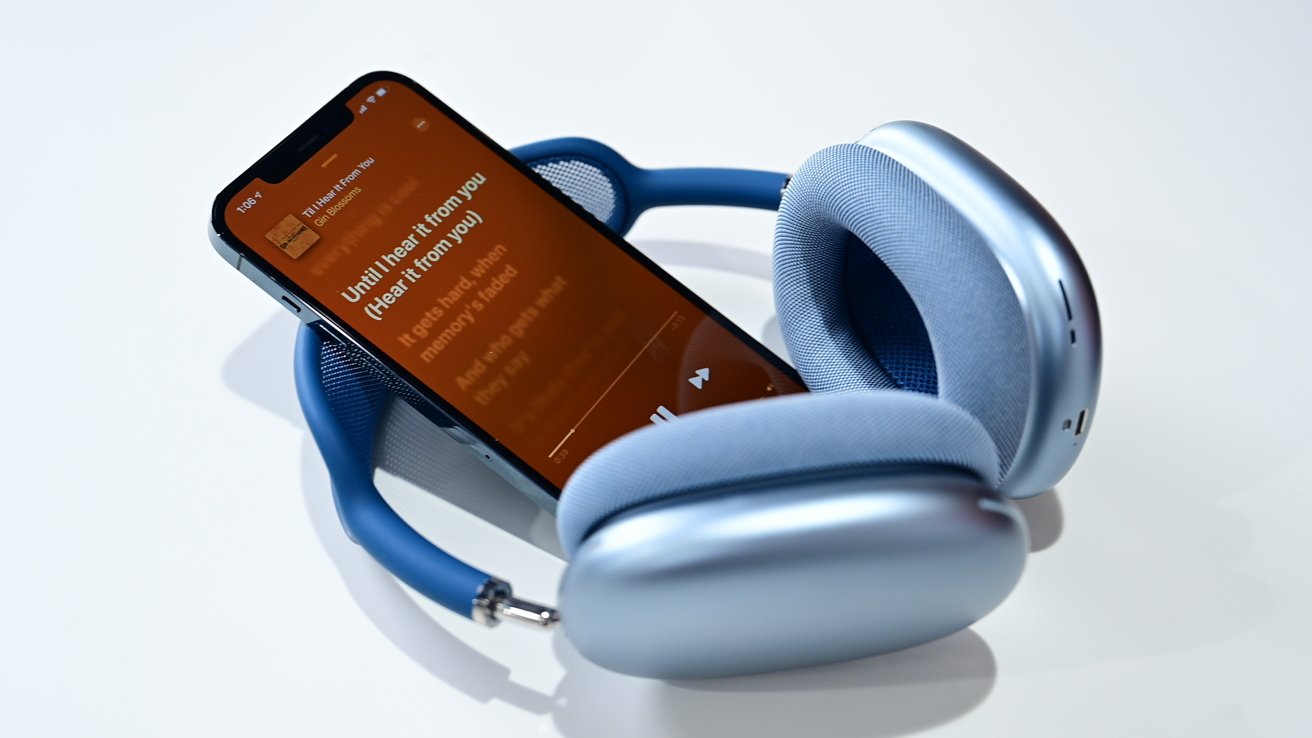 Listening to Apple Music on AirPods Max
There's also the use of a stainless steel headband with a rubber surround and a canopy on the top to help keep it in place and maintain the overall sturdiness of the AirPods Max.
The MW75 exudes class with its construction, with earcups consisting of a main anodized aluminum section and a tempered glass disc. The headband is a single bar wrapped in lambskin leather, making it both premium in appearance and comfortable.
Like the AirPods Max, the earcups used in the MW75 are replaceable, consisting of memory foam pads wrapped with lambskin leather.
Master & Dynamic has placed a custom 40mm Beryllium-coated driver inside the earcup, which is used for the company's expansive signature sound. It is described as providing "warmer lows and richer highs."
The AirPods Max use a dual-neodymium ring magnet motor to minimize the total harmonic distortion of the sound it plays. That magnet is in an Apple-designed dynamic driver with a wide frequency range.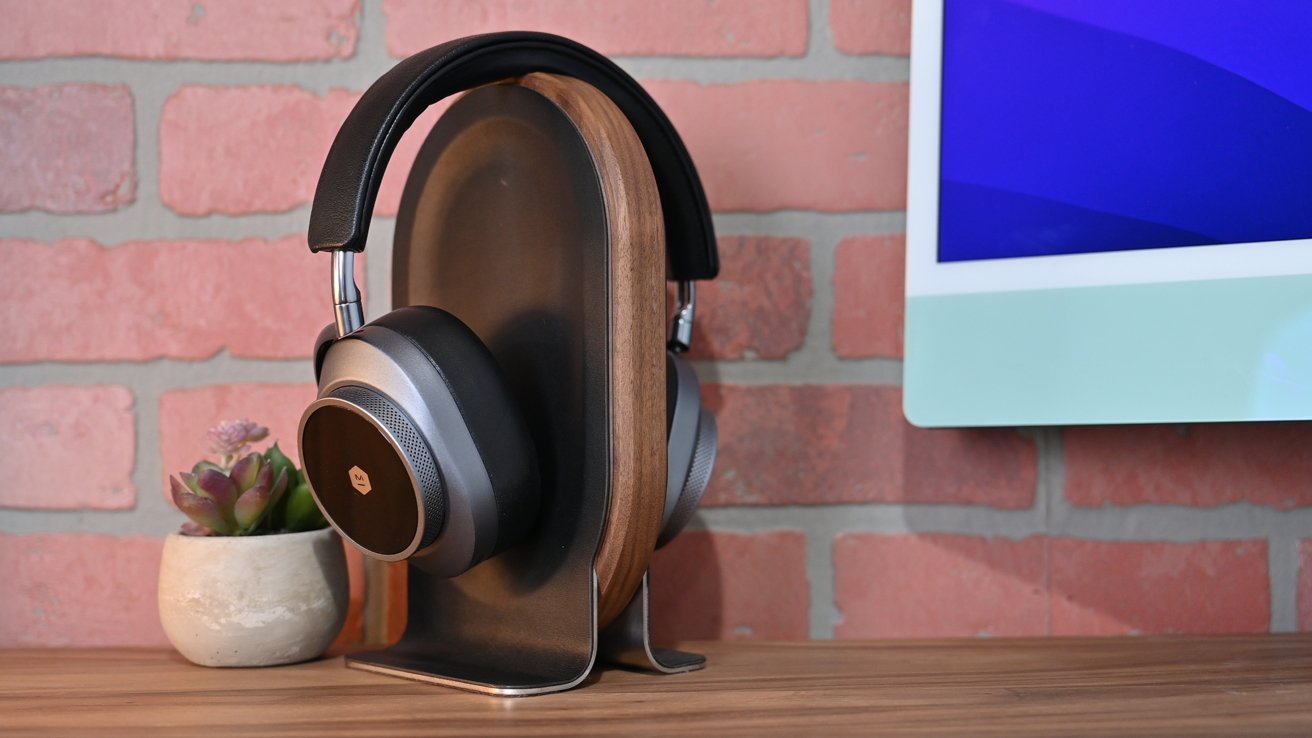 MW75 on our Grovemade stand
Both headphones have a plethora of microphones at their disposal, with Apple using a total of nine against eight for the MW75.
The AirPods Max use eight of the nine for ANC, with two of those mics performing double-duty alongside the remaining one for voice pickup.
The MW75 evenly splits the mics so four are for ANC, with the other four supporting beamforming for voice.
AirPods Max vs Master & Dynamic MW75: ANC and Processing
Each headphone offers some form of active noise cancellation, a mode that helps block out external environment noise so the listener can enjoy their music.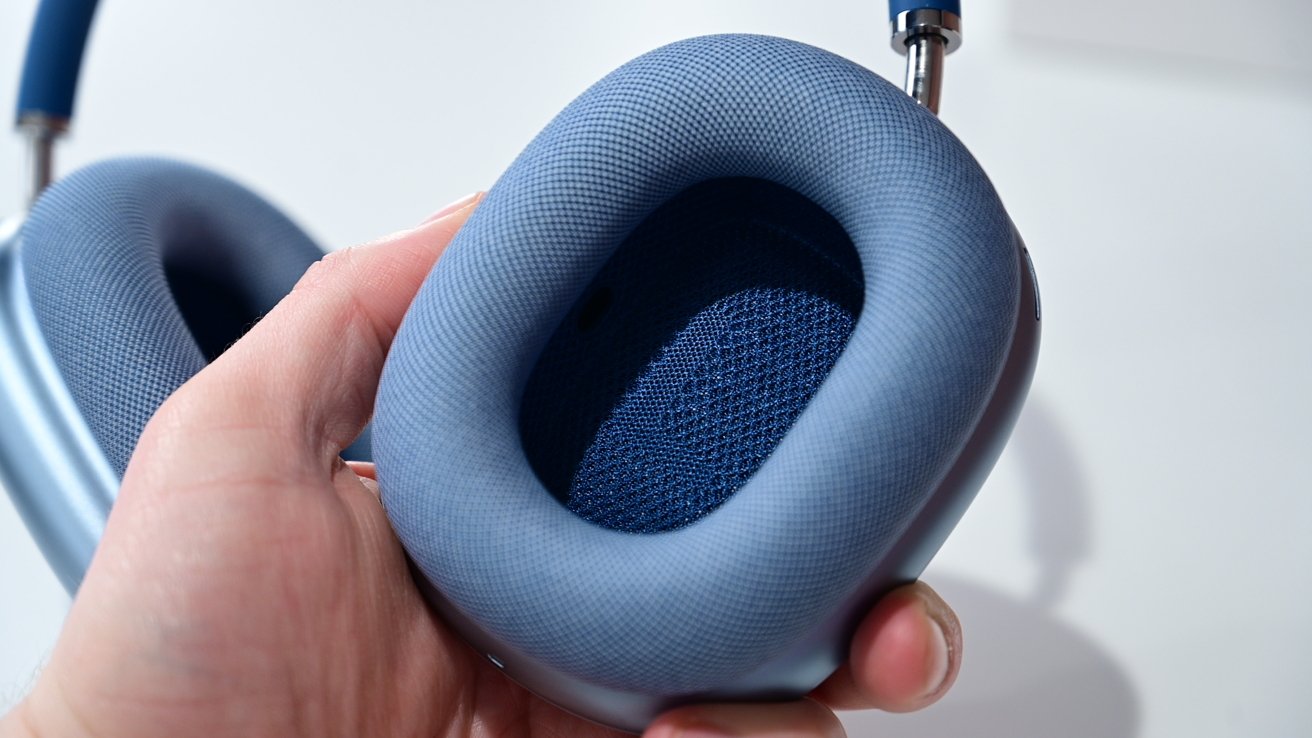 AirPods Max ear cushions
Using the H1 headphone chip, the AirPods Max offer ANC with its Transparency mode, which filters external audio so some of it becomes clear to hear. Apple also includes an Adaptive EQ system and spatial audio support with dynamic head tracking.
The H1 also powers Siri for queries and control of music playback.
The MW75 has an Adaptive ANC, described as a system that "automatically adjusts the level of noise cancellation to match your surroundings." There are also two other ANC modes: All Day use and "Max."
Along with an adaptive version of ANC, there are also two Ambient Listening Modes, so users can hear ambient sounds in the environment and limit audio to just voices.
A mobile app is available to handle EQ presets and adjust controls.
The MW75's Bluetooth supports a variety of codecs, including AAC, SBC, and Qualcomm aptX. The AirPods Max supports AAC, but while there's also support for lossless audio over a physical connection, albeit Apple admits it isn't "completely lossless."
AirPods Max vs Master & Dynamic MW75: Connectivity
Primarily working through wireless, both headphones connect to host devices using Bluetooth. Apple opts for Bluetooth 5.0, and Master & Dynamic goes for Bluetooth 5.1, but either is more than sufficient enough for audio.
For AirPods Max, wireless connectivity is enhanced by deep integration with Apple's operating systems. You get features like a one-tap setup, seamless switching between devices, and the utility of Siri.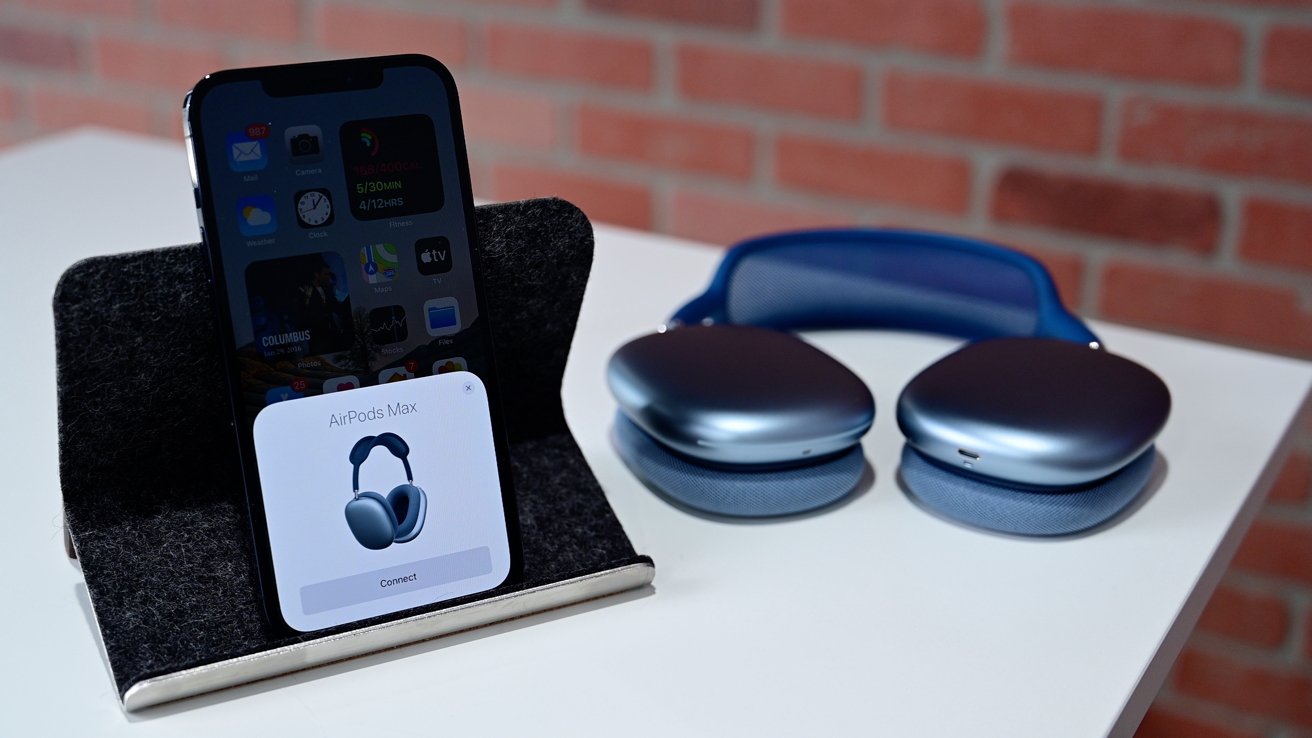 AirPods Max auto setup
You don't get this with the MW75. Instead, you have to deal with the typical Bluetooth headphone style of setup and control with your iPhone or iPad.
The MW75 have app support, which can enable firmware updates, allow for EQ presets to be selected, and customize the various settigs.
On the physical connection side, both have ports for a cable to be connected: Lightning for the AirPods Max, and USB-C for the MW75. The connection is used to recharge the headphones and provide a wired connection to an audio source.
For the AirPods Max, you'll need the
$35 Aux-to-Lightning cable
to make that connection, but you do get a Lightning to USB-C cable in the box, which can also do the job if the port's available. Master & Dynamic include a USB-C to USB-C charging cable and a USB-C to USB-A adapter, which can deal with wired audio.
There's also the option of using a similar USB-C to 3.5mm adapter for older analog connections, with the MW75 including a 3.5mm to quarter-inch adapter and a two-prong airline adapter.
AirPods Max vs Master & Dynamic MW75: Battery and charging
The AirPods Max offer users up to 20 hours of listening time on a single charge with either ANC or Transparency Mode enabled. This 20-hours figure is also raised for movie playback with spatial audio enabled and for talk time.
According to M&D, the MW75 can last for up to 28 hours with ANC enabled, though this can be extended to 32 hours with ANC turned off.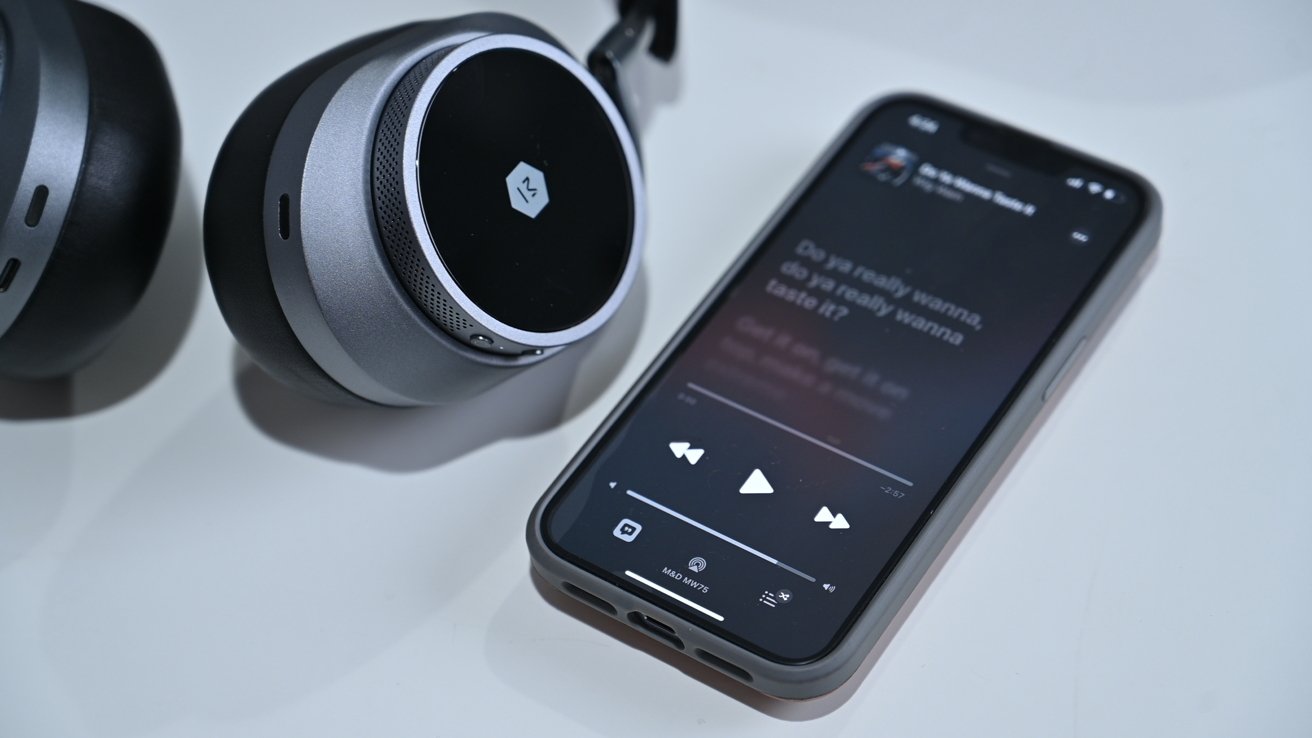 MW75 playing music on iPhone
For getting power back into the headphones, the MW75 recharges using USB-C, and can regain 50% of its charge in 40 minutes. It can also reach 100% charge in 100 minutes.
Apple says the AirPods Max can manage up to 1.5 hours of listening time from just five minutes of charging.
In theory, five minutes of charging the MW75 should let it regain approximately 1.75 hours of playback time.
While the MW75's charging rate is a little higher than the AirPods Max, it's still indicating that you can get a fair amount of listening time from either set of headphones after being connected to the power for a brief period.
AirPods Max vs Master & Dynamic MW75: Other Features
The AirPods Max have a wealth of sensors that power many of its smart functionality. The list includes gyroscopes and an accelerometer for things like Spatial Audio, but there are a few others.
Optical sensors can detect if the earcup is positioned on the user's ear, while a position sensor can tell how the headphones are worn. This can enable features like the automatic pausing of music when the AirPods Max are removed.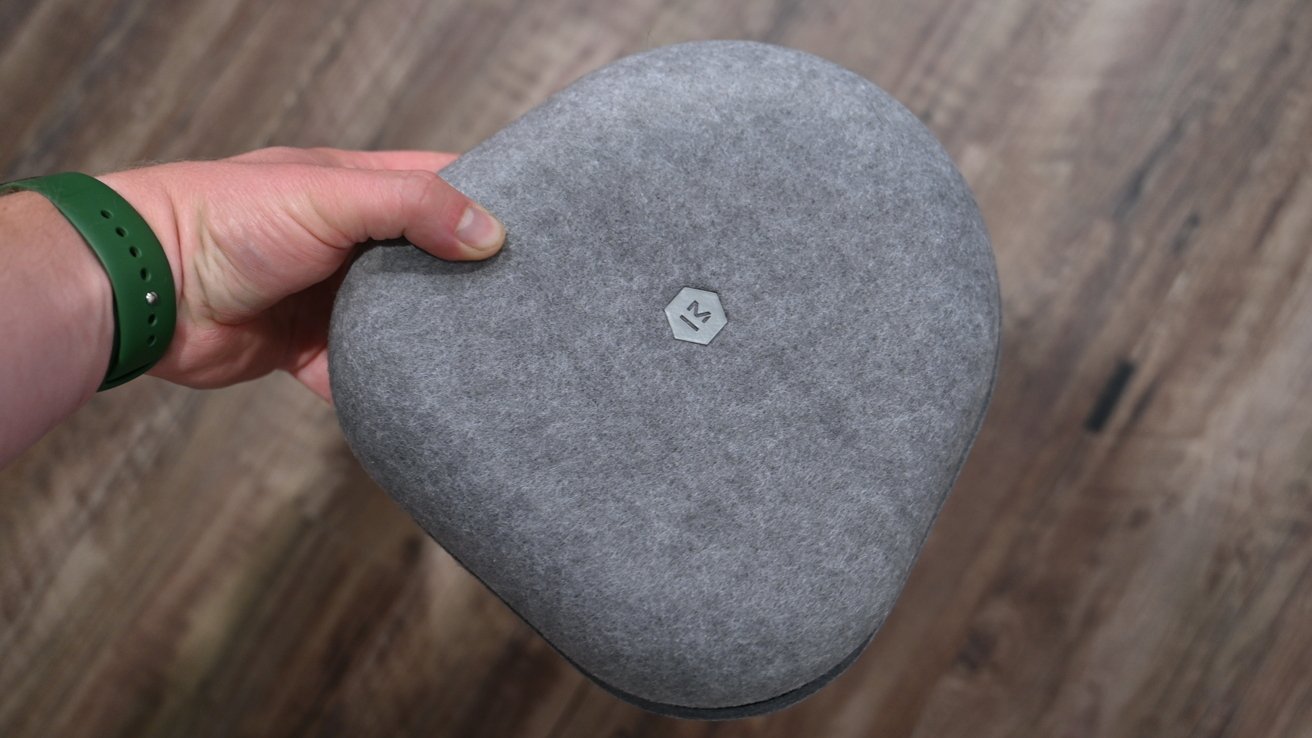 MW75 felt case
AirPods Max also has a case-detect sensor that, as the name suggests, detects whether they are placed inside the accompanying Smart Case. When stored in the Smart Case, the AirPods Max can enter an ultra-low power state to conserve energy.
While Master & Dynamic didn't include as many sensors as Apple did, its MW75 do have the ability to work out if they are being worn.
Two pairs of capable headphones
We are certainly in premium territory at $549 for the AirPods Max (
check discounted prices
) and $599 for the Master & Dynamic MW75. That is a position where you expect high-quality audio and supreme build quality simply because of the price tag.
Both headsets certainly offer great features and construction but do so in quite different ways. While Apple goes for something fitting its general aesthetic, the MW75 goes down the more traditionally premium route of leather and glass and a unique appearance.
Master & Dynamic wins on battery life by a very healthy margin, and it matches Apple with its various ANC features. Apple continues to lead when it comes to interacting with its own ecosystem.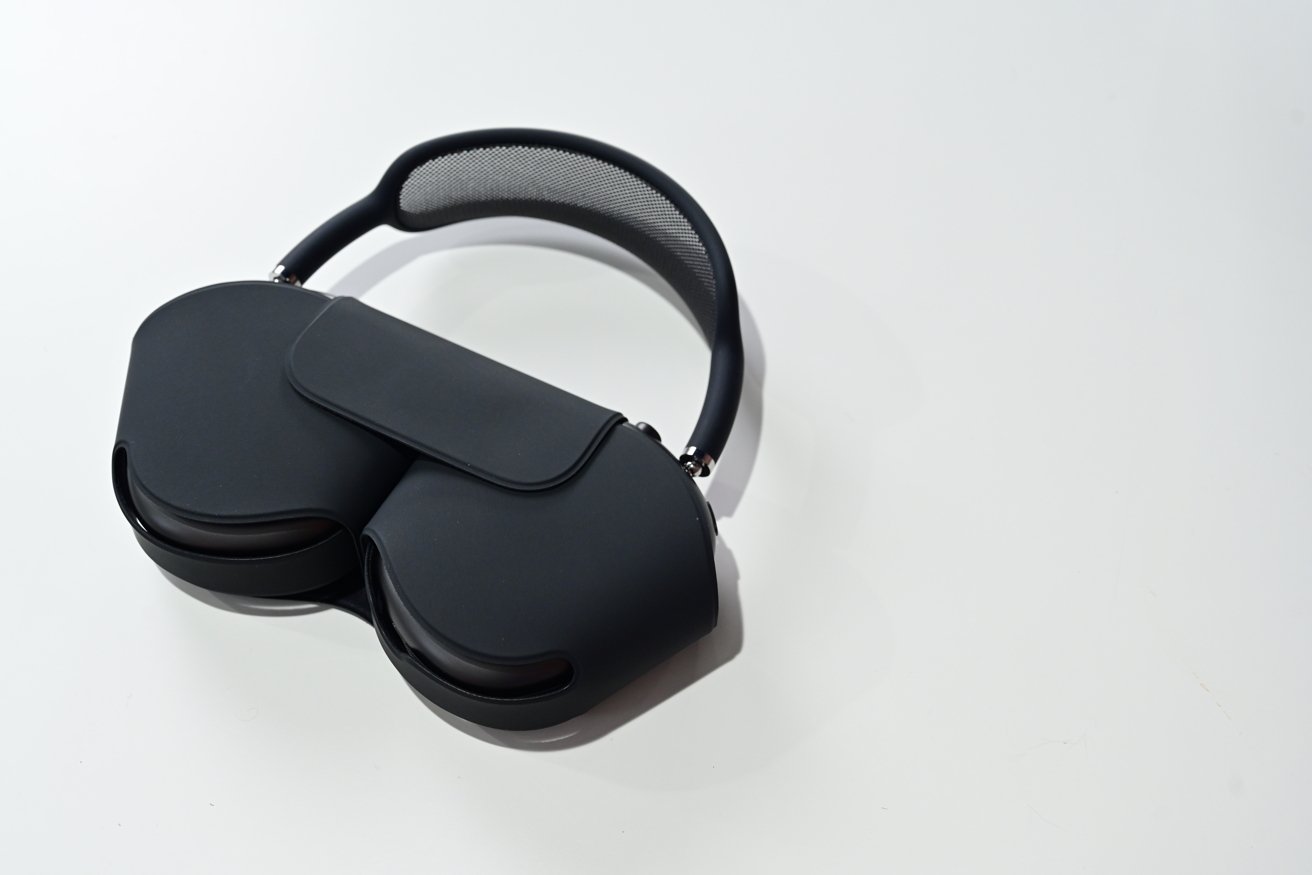 AirPods Max in its case
While a $50 cost difference isn't that much to consider at this price bracket, it's still something that may sway users to Apple's side.
The Master & Dynamic MW75 are great headphones that can stand toe-to-toe with the AirPods Max. For anyone wanting to have premium headphones but something less Apple-clinical in appearance, the MW75 are a decent alternative.
Where to buy
The Master & Dynamic MW75 will be available to order on June 28
direct from MasterDynamic.com
.
AirPods Max, meanwhile, are eligible for exclusive coupon savings at Apple Authorized Reseller Adorama when you shop through
this activation link
and enter promo code
APINSIDER
during checkout. Need help with the code? Check out these
step-by-step activation instructions
.
You can also compare
deals on AirPods Max
across other leading resellers in our
AirPods Price Guide
.
Read on AppleInsider