AirPods Pro 2022 review: Already excellent earbuds, improved
Apple's
second-generation AirPods Pro
are better than the original in almost every way thanks to the more powerful H2 processor in a familiar form-factor.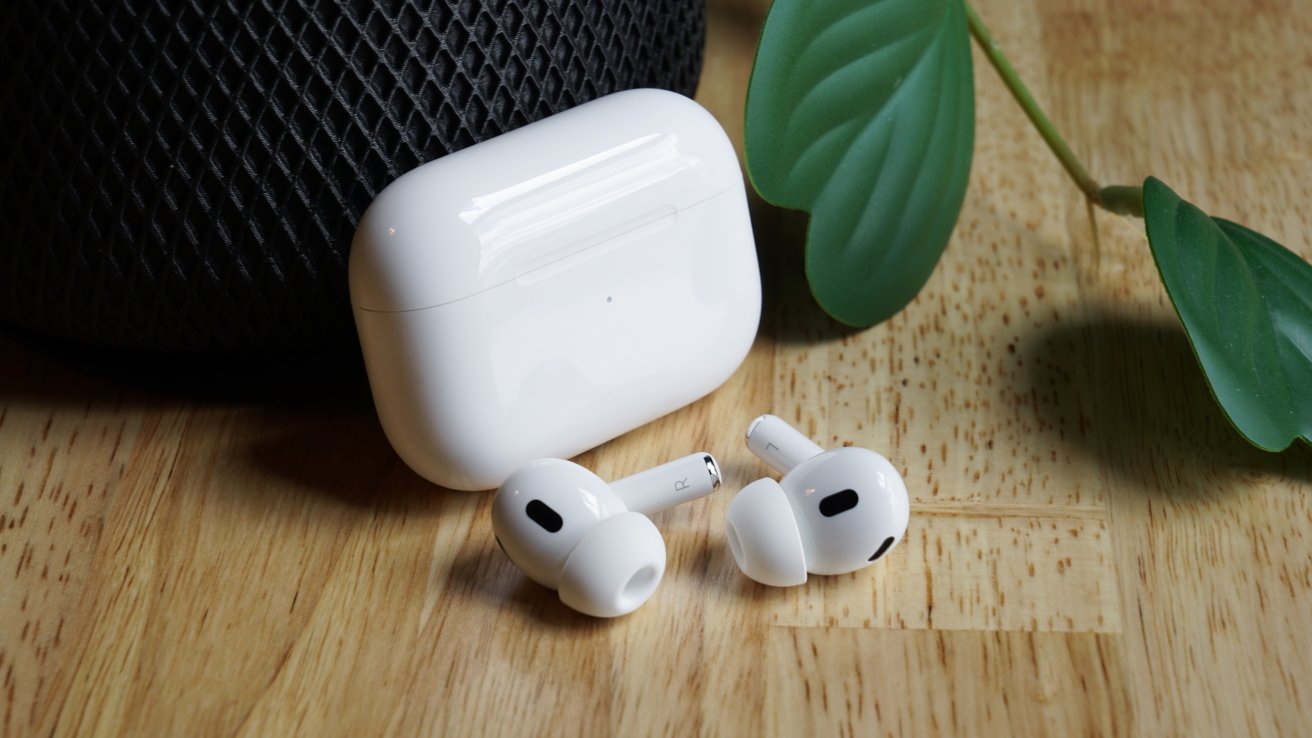 AirPods Pro 2 improve on almost every feature, except for design
When the original
AirPods
debuted, they were a magical product that changed how we interacted with audio every day. The
AirPods Pro
enhanced that further with a better fit, new design, and noise cancellation modes.
After a nearly three-year wait, AirPods Pro have evolved into a second iteration with updates to each of their key features. Audio quality has improved, Active Noise Cancellation works twice as well, and transparency mode gets way better.
However, the AirPods Pro themselves don't look very new. Most people would have trouble picking out which pair is which when looking at the earbuds alone.
The long road to AirPods Pro 2
Apple's AirPods are on a long upgrade cycle, with new products released every two to three years. This creates some artificial demand as early purchasers race to get a product with a new battery.
We were day-one adopters of AirPods Pro, and we've used them every day since their release in October 2019. It has been a slow and painful death for these aging earbuds.
Finally, we got AirPods Pro 2, and they are exactly what we hoped for. The updated set improves nearly every aspect of the original minus a recycled design.
Audio quality and the H2
AirPods Pro 2 have a new low-distortion audio driver and a custom amplifier. These, combined with advanced audio processing performed by the H2 processor, translate to a better audio experience.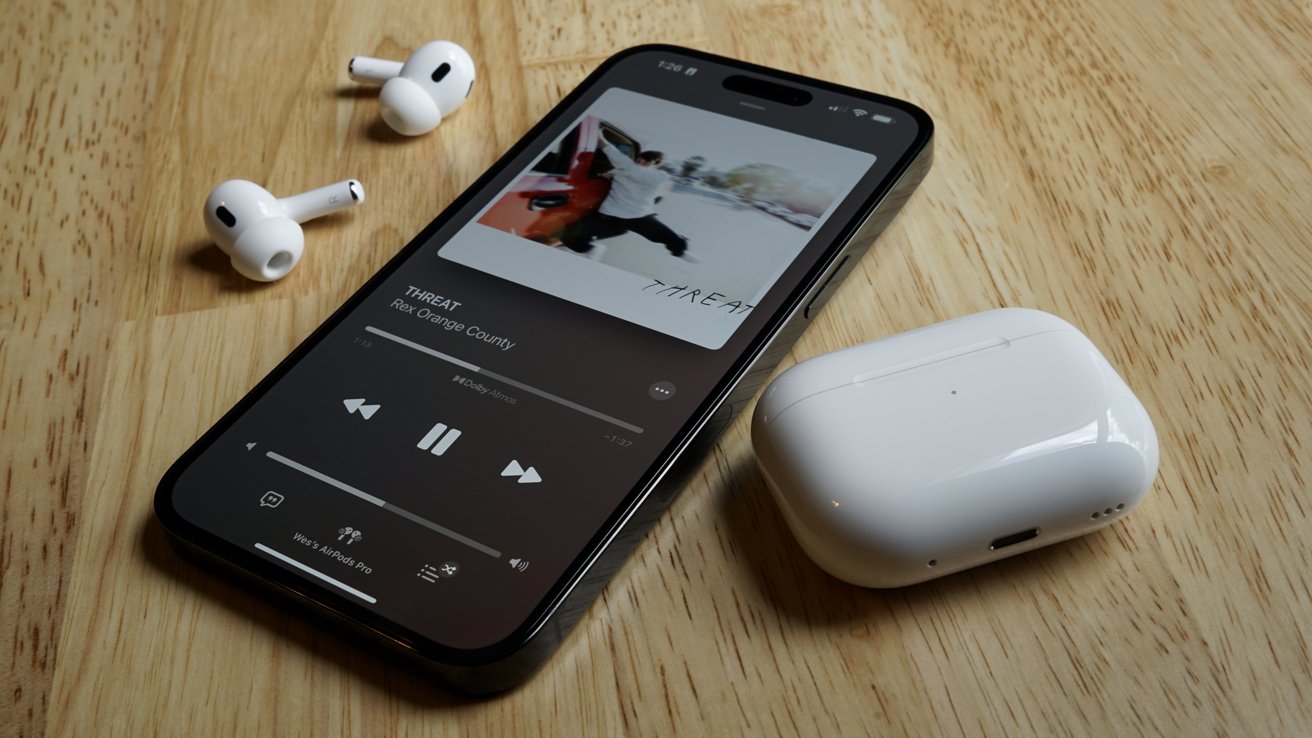 AirPods Pro 2 audio quality has notably improved
The audio quality updates are immediately noticeable. Low-frequency bass punches much more, and the audio sounds crisp and clear.
The H2 is responsible for everything from battery management to Spatial Audio. The increased Active Noise Cancellation and new Adaptive Transparency benefit from the higher processing power.
Adaptive EQ uses information from the internal microphone to control audio as it is played, so it sounds natural in your ear. A better processor improves this algorithmic process.
Personalized Spatial Audio improves sound further by taking the user's ear shape into account. The iPhone's TrueDepth camera lets users scan their ears and sync this information across devices. This feature is used for any AirPods that support Spatial Audio, not just AirPods Pro 2.
Active Noise Cancellation
AirPods Pro create a seal on the user's ear canal when using the right-sized ear tip. By using an array of microphones, the earbuds can play anti-noise that is equal to and opposite external noise to cancel it out.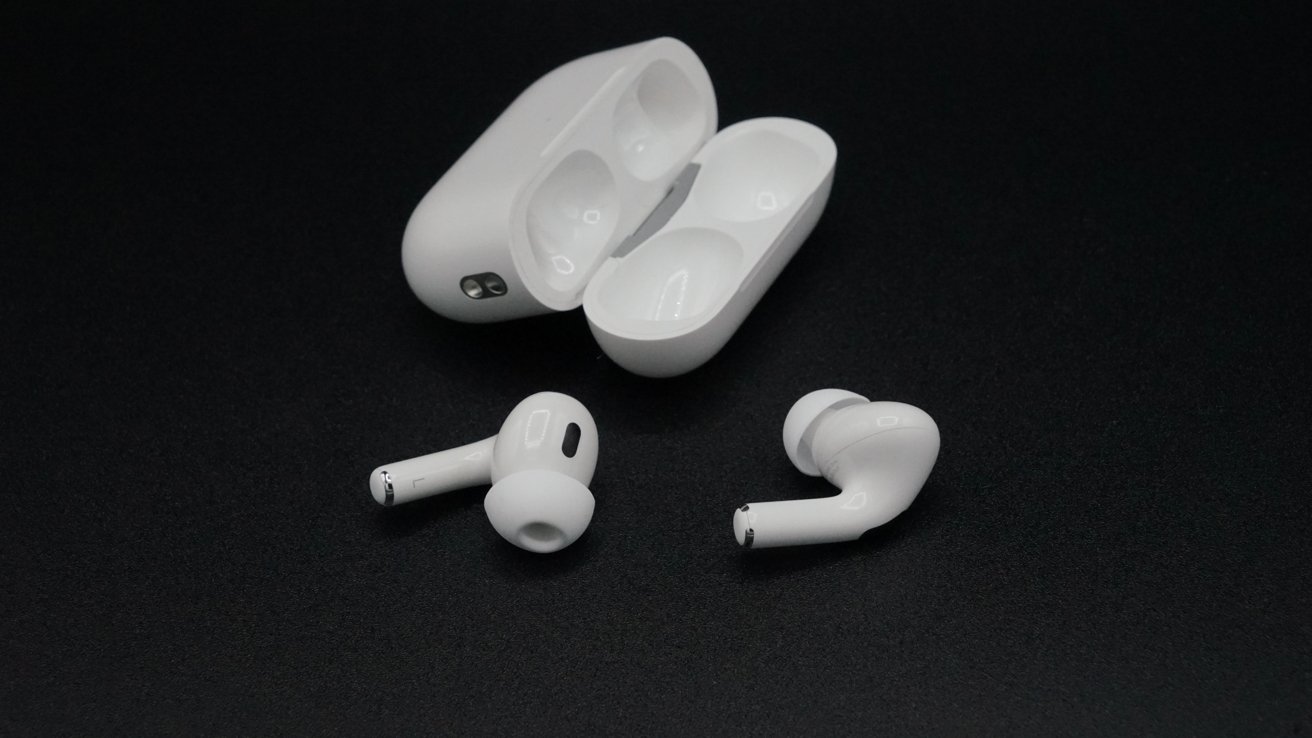 AirPods Pro 2 are in-ear earbuds with exchangeable silicone ear tips
This effect is called Active Noise Cancellation, which has been improved by twice as much, according to Apple. ANC is meant to block noise out, especially loud and droning noises like a bus or plane.
We've tested the new ANC mode around various loud machinery and vehicles. Lawnmowers, motorcycles, air conditioners, and even nearby barking dogs disappear into nearly inaudible sounds.
Like the original AirPods Pro, ANC is not meant to block out all sound indefinitely. Any audio below certain frequencies will be basically inaudible like a bus engine, but other noises like people's voices, televisions, and animal sounds will break through the anti-noise barrier.
These sounds vary with a wide frequency range and are harder for the AirPods software to predict. However, the sound will be muffled to an extent and isn't overly distracting. If music is playing at any appreciable volume, ANC is good enough that almost all external noise disappears, so only the music is present.
Apple's claims of ANC being twice as good isn't easy to test. We can certainly tell that it is better at blocking noise and faster at catching quickly changing audio. How much better isn't measurable.
Ear tips
To ensure the best experience with ANC, users need to perform an ear tip fit test within the
iPhone
software. Apple has included a smaller ear tip for people who might need them, but we'll stick with the large set.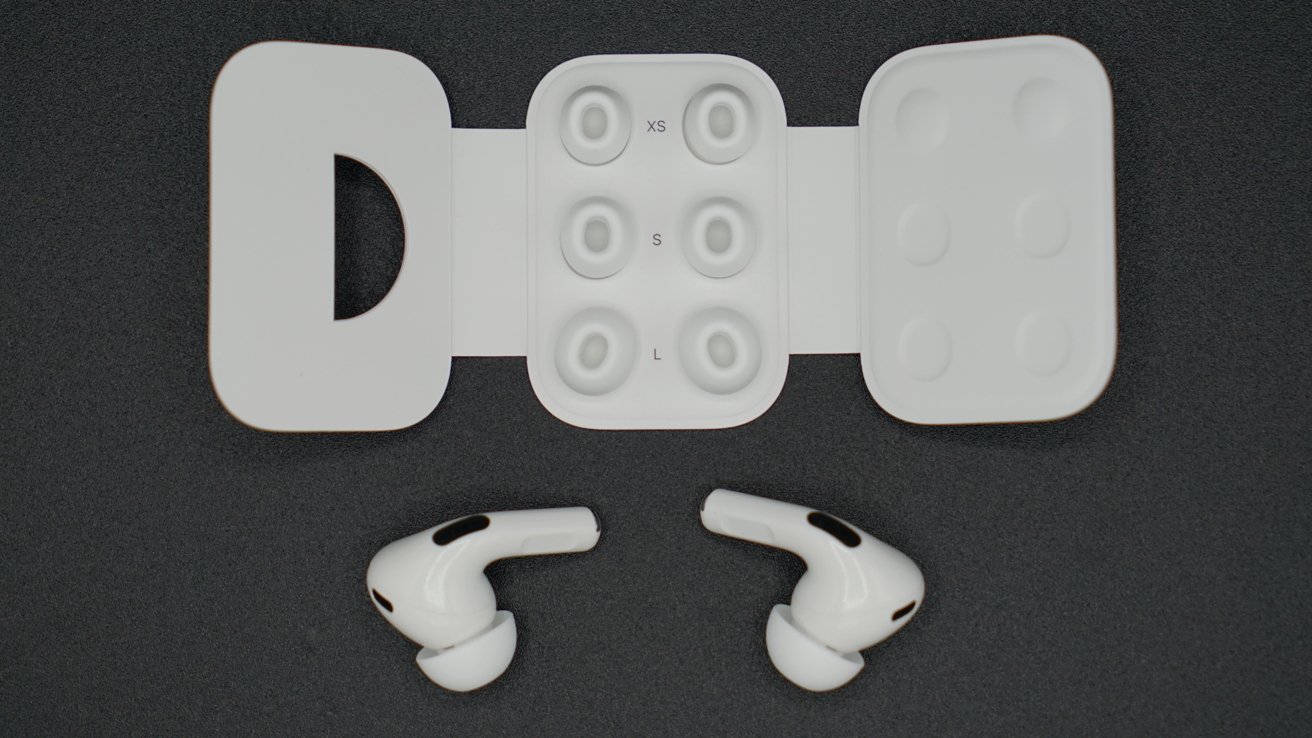 Four sizes of ear tips provide a variety of fits
To perform an ear tip fit test, open Settings with AirPods Pro connected. Tap on the AirPods Pro menu showing near the top of the list. Scroll down and select "Ear Tip Fit Test."
While the old ear tips fit the new AirPods Pro, Apple says they are incompatible. The newer ear tips have thinner mesh than the original, which is addressed in the algorithm. For the best audio experience, Apple says to use the ear tips made for their respective model.
Adaptive Transparency
The original Transparency Mode is essentially the opposite of ANC. It lets external noise in using outward-facing microphones. This effect is helpful since the AirPods Pro seal off the ear canal, and can create an underwater effect when ANC is off.
The effect of Transparency Mode can be described as augmented hearing. Some sounds are amplified louder than they sound in real life since the AirPods speaker is directing noise into the ear canal. This effect can be jarring to new users, but it is easy to adapt.
Apple takes this feature a step further with Adaptive Transparency. Rather than letting everything in, it is now more selective based on environmental noise levels and frequency.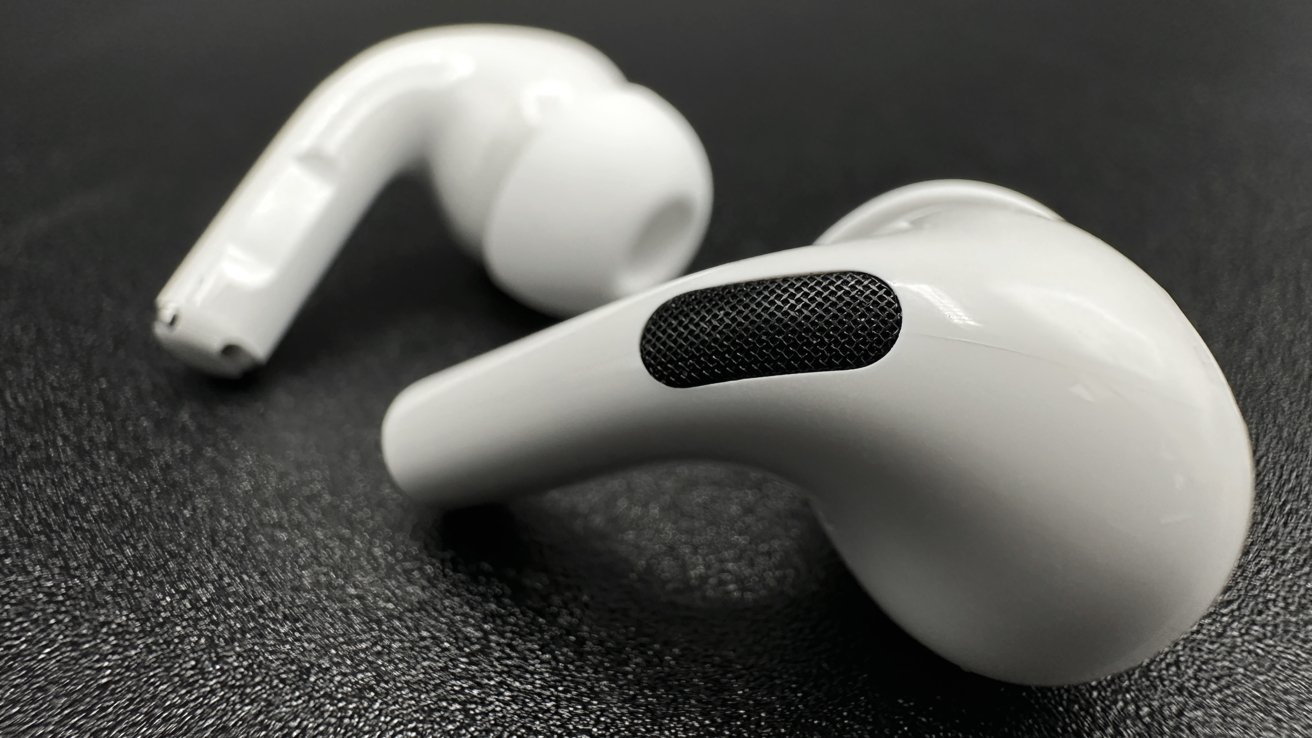 External microphones listen for environmental noise
Birds chirping, people talking, and a car driving by will still get through. However, a loud bus idling on the street corner will be reduced. Most audio still gets in for safety reasons, but at much lower volumes that won't damage the user's hearing or interrupt their music.
Adaptive Transparency is accomplished by analyzing environmental audio 48,000 times per second. The instant a loud noise begins, AirPods Pro can intercept and reduce it.
This feature requires a specific set of circumstances to trigger. Unless the user is looking for it, they shouldn't notice it happening.
We enabled Adaptive Transparency, walked by various loud objects, and found the feature very selective. Droning noises blocked by ANC mode are muffled by Adaptive Transparency, while voices come through clear.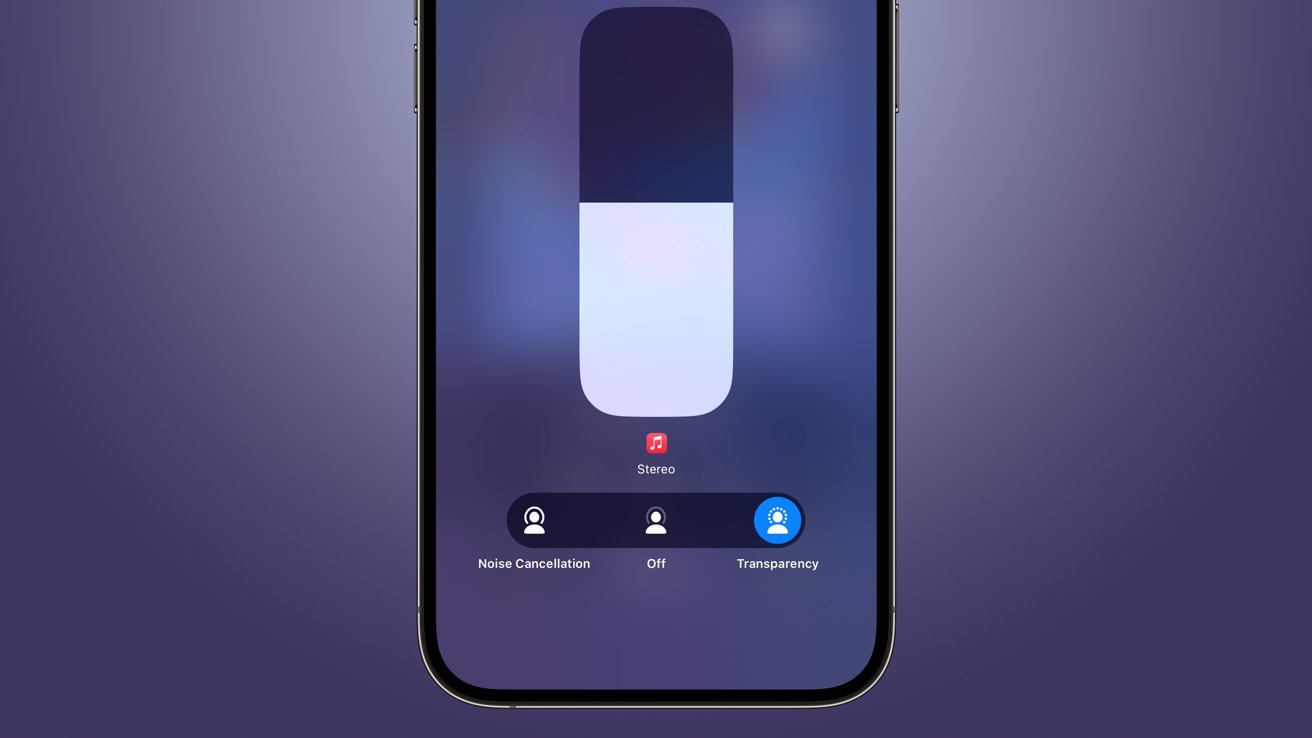 Switch between ANC and Adaptive Transparency via Control Center
Apple says Adaptive Transparency will reduce loud sounds like sirens and power tools so users can more comfortably hear the world around them. The feature doesn't stop noise from getting in -- it just reduces it.
This seems to be leaning into what we described before as augmented hearing, where without AirPods Pro in your ears, you'd be hearing things differently. The H2 processor takes in external noise and remixes it when it is played back into your ears so "good sounds" get in loud and clear, and "bad sounds" get through but in a muffled state.
This impressive feature worked wonders when we went out on a bike ride with Adaptive Transparency turned on. Music was front and center, but people's voices came through to warn me that they were passing. I could still hear when a car approached from behind too.
Physical on-device controls
Perhaps the most significant benefit of keeping the original design is the introduction of a new touch gesture. The stems can now be swiped for precise volume control.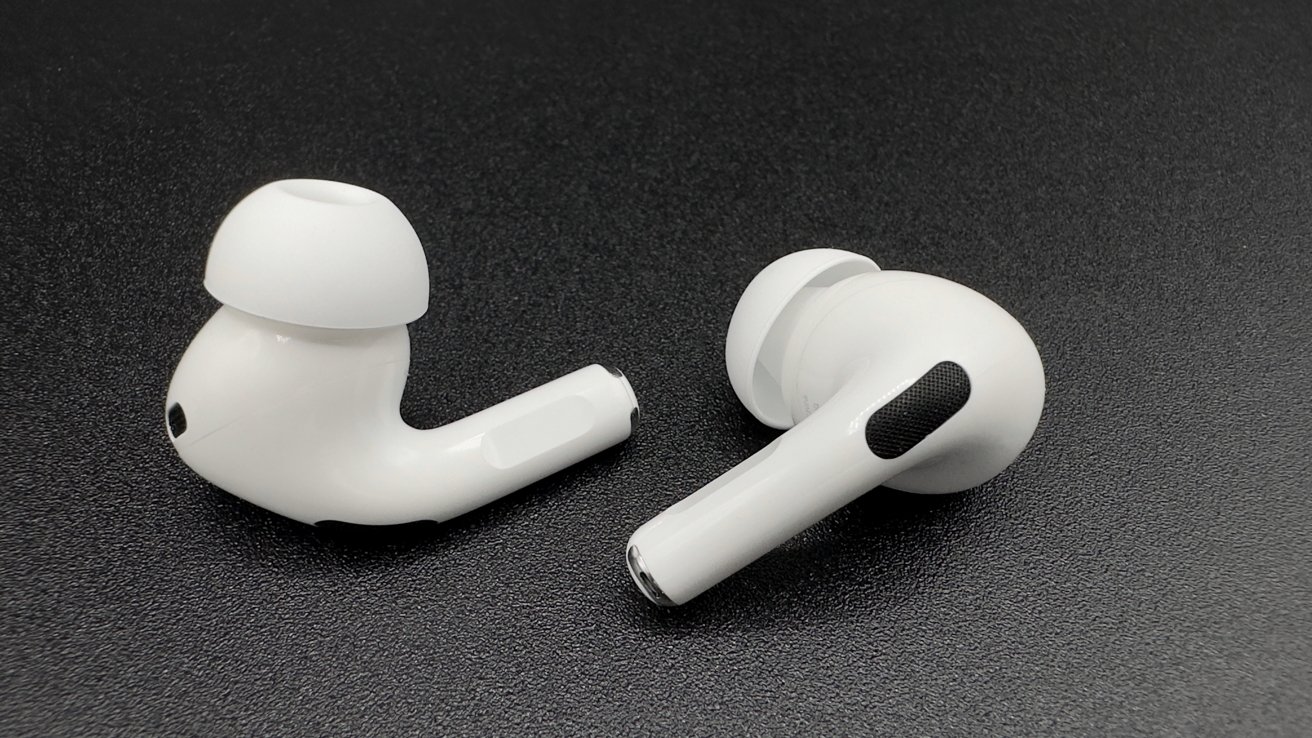 Slide your finger up or down the stem to control volume
This new feature takes some getting used to. For example, it isn't as precise as turning the Digital Crown on an Apple Watch.
It works best when using the thumb to steady the earbud, then sliding the pointer finger up or down. An audible tick noise can be heard in the earbud the gesture is performed on.
The original gestures still work too. Squeeze the stem to play or pause music, squeeze then hold to switch noise modes. Alternatively,
Siri
commands always work fine for volume and playback control.
Bluetooth 5.3 and the potential for Lossless
Apple included a new Bluetooth codec in the
iPhone 14
lineup,
Apple Watch Series 8
,
Apple Watch Ultra
, and AirPods Pro 2. Bluetooth 5.3 is an update focused on connection reliability and energy efficiency.
The official Bluetooth 5.3 release notes don't mention anything about bandwidth changes or anything that would affect audio quality outright. However, chip maker Qualcomm got a custom lossless codec to work over Bluetooth 5.3.
Apple did not announce support for lossless over AirPods Pro 2, but don't count it out yet. It could be possible if Apple develops a new lossless audio codec for the H2 processor and Bluetooth 5.3.
We've found AirPods Pro audio quality to be rather outstanding without lossless and find it hard to imagine how it would change with a new codec. While "better" audio is welcome, it isn't clear if the higher bandwidth, higher memory, and more battery exhaustion are worth the tradeoff for marginally improved sound quality.
A not so new design
Set AirPods Pro and AirPods Pro 2 side by side, and it is incredibly easy to mix them up. Apple didn't change any noticeable aspect of the design for this upgrade cycle.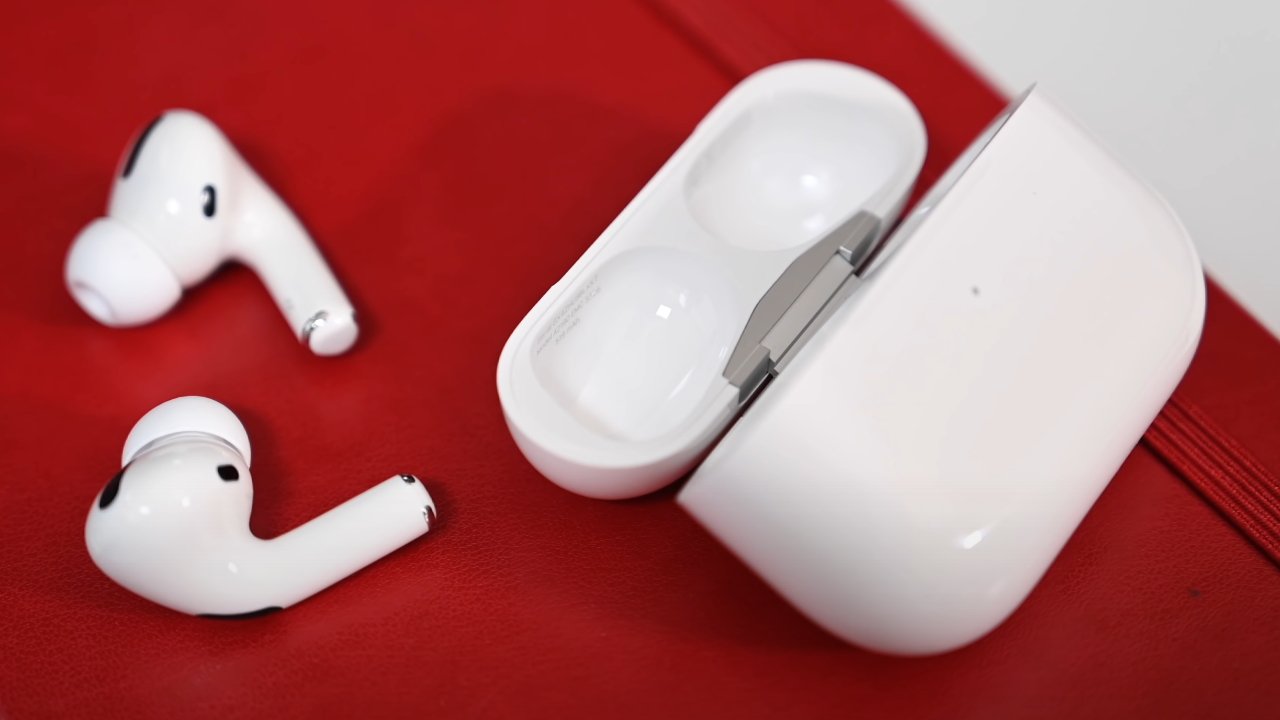 Besides the case, you'd struggle to say if these were new or old AirPods Pro
Some rumors had pointed to AirPods Pro losing the stem and taking on a bean shape similar to Galaxy Buds or a hearing aid. While this shape may still be possible in future models, it also means giving up a ton of space.
It makes sense why Apple chose to keep the design consistent. Apple CEO
Tim Cook
says AirPods Pro are the most popular
Apple headphones
they sell. Changing the design might change the status quo.
AirPods are now instantly recognizable and highly popular. Apple will want to ride that wave for as long as possible. Too bad the company couldn't at least introduce some colors or, at the minimum, a black option.
Even if the design isn't exciting, it is highly practical. Most of that stem is extra battery, and it houses the beam-forming microphone. It also enables the new volume gesture.
This design is also more accessible overall. A clear place to grip the AirPods give users an obvious method of inserting and removing them. Making them rounded, smooth plastic beans would introduce complexity.
Consistent design means a more accessible design. And that matters to a lot of customers.
The upgraded Charging Case
While the earbuds themselves look the same, there's no mistaking the MagSafe Charging Case for what it replaces. It retains the same overall shape but now has a speaker grill and lanyard hole.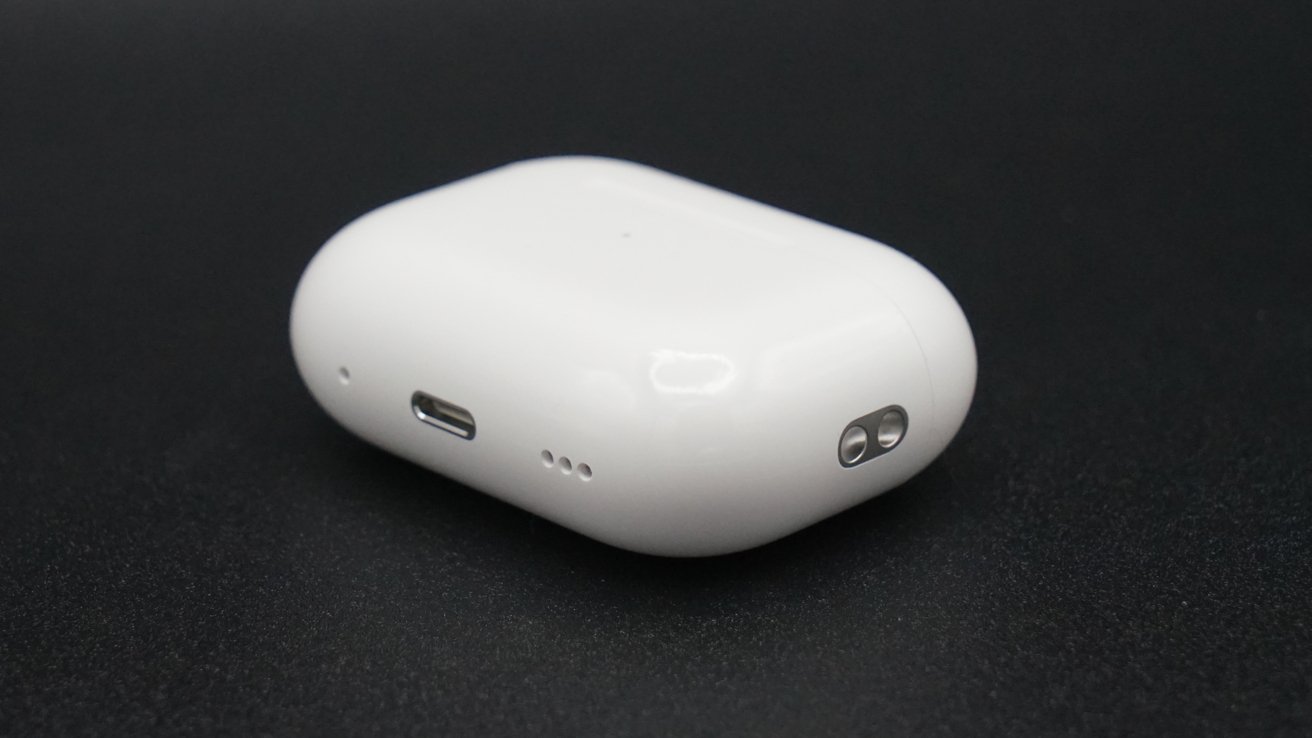 The upgraded MagSafe Charging Case has speakers and a lanyard hole
The lanyard hole is an interesting addition since many users opt to buy a case for their AirPods. The case's white plastic is easily dented and scuffed over time, so we're likely going to continue to use our favorite AirSnap Pro case by Twelve South.
A lanyard is a good alternative for those who don't want a case or want a cheaper option. Most people will likely have some kind of strap that will fit, and buying one new can cost less than $10.
The MagSafe Charging Case can be charged over Lightning, via
MagSafe
, and now the
Apple Watch
charging puck. This variety of options, plus Qi charging, means you'll likely always have a way to charge your AirPods Pro.
The speaker grill serves a few purposes. It plays a loud beeping sound when locating the case via Find My. It also plays a charging sound when connected to power.
Ask Siri to find your AirPods Pro, and the case will begin to chirp if it is within range. This command also works over a HomePod.
Find My
Apple has enhanced the MagSafe Charging Case with new
Find My
capabilities. The speaker grill and U1 chip work to ensure it is dead simple to find your missing AirPods Pro.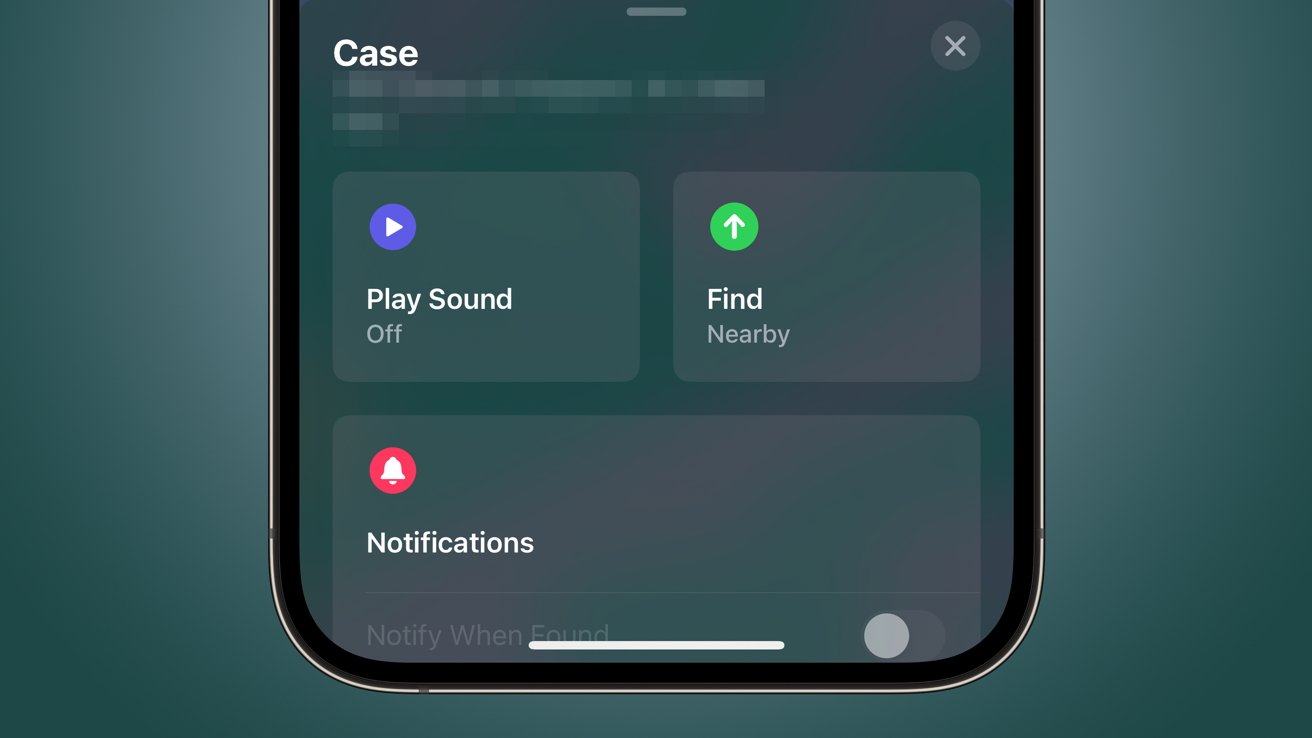 Play a sound or use the U1 for precise finding
The U1 is the same chip used in
AirTag
that enables recent iPhones to find them within a few feet. When in finding mode, an arrow will guide the user to the item while displaying how far away it is.
Those last few feet can still be tricky if the AirPods Pro case is buried in a couch or vehicle. So, the case has a speaker that can emit a loud chiming noise to help locate it.
These capabilities are both welcome and necessary. Before this, case manufacturers were selling AirPods Pro cases with an AirTag slot to recreate this experience.
Battery life
Apple promises up to six hours of listening on the earbuds and thirty hours total with the Charging Case. This figure was derived with pre-production hardware, volume set to 50%, and ANC turned on.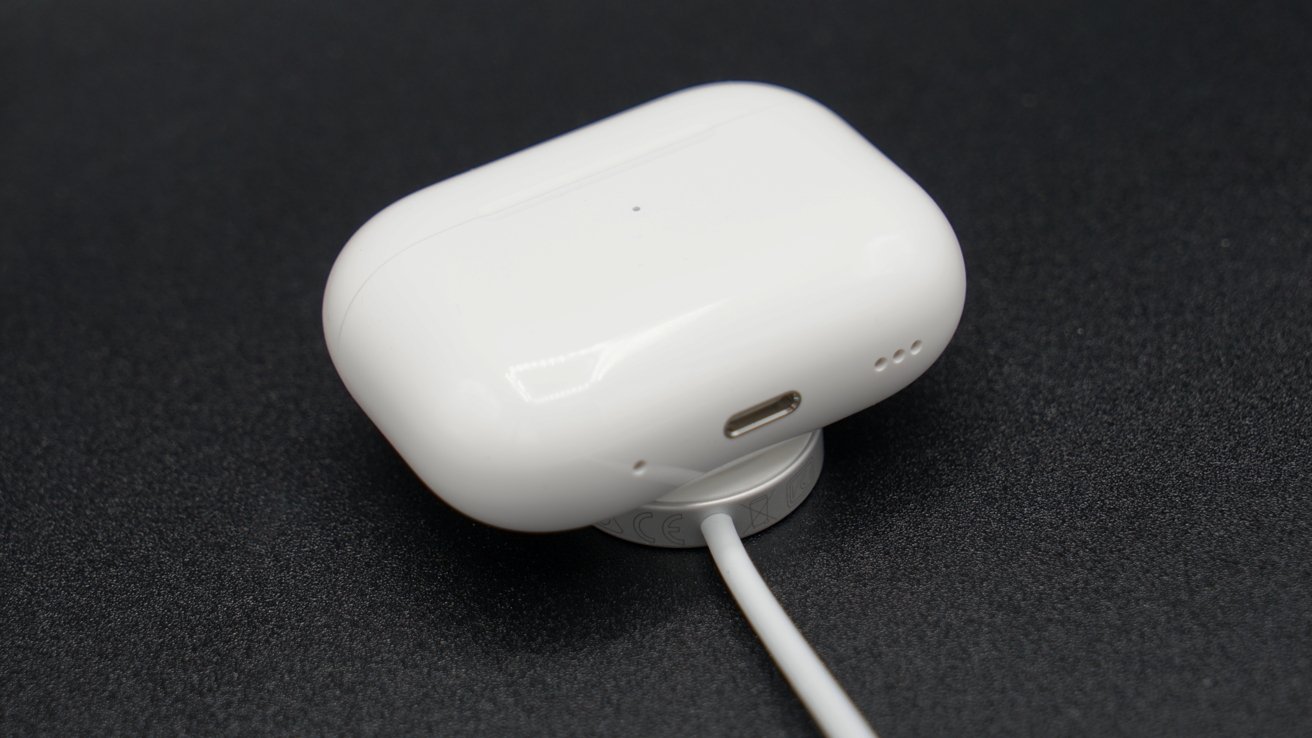 Charge via MagSafe, Lightning, or now via an Apple Watch charger
Spatial Audio with Head Tracking reduces battery life slightly. Apple says the AirPods Pro get 5.5 hours with this setting on.
We tend to listen to many podcasts, so much of our time using AirPods Pro is using only one earbud at a time. Six hours is a long time to have audio playing, so we have yet to encounter the sad low-power beep of a dying battery.
As long as you follow the most basic rule of using AirPods, you'll rarely encounter a dead battery. That is, if the earbud isn't in your ear, it is in the Charging Case. Then, top off the Charging Case each night.
Missed opportunities
We explained why a redesign wasn't necessary or warranted at this point. Although, Apple did miss a chance to excite customers with new color options.
Apple's other headphone line, Beats by Dre, offers many playful colors. Even
AirPods Max
come in multiple colors.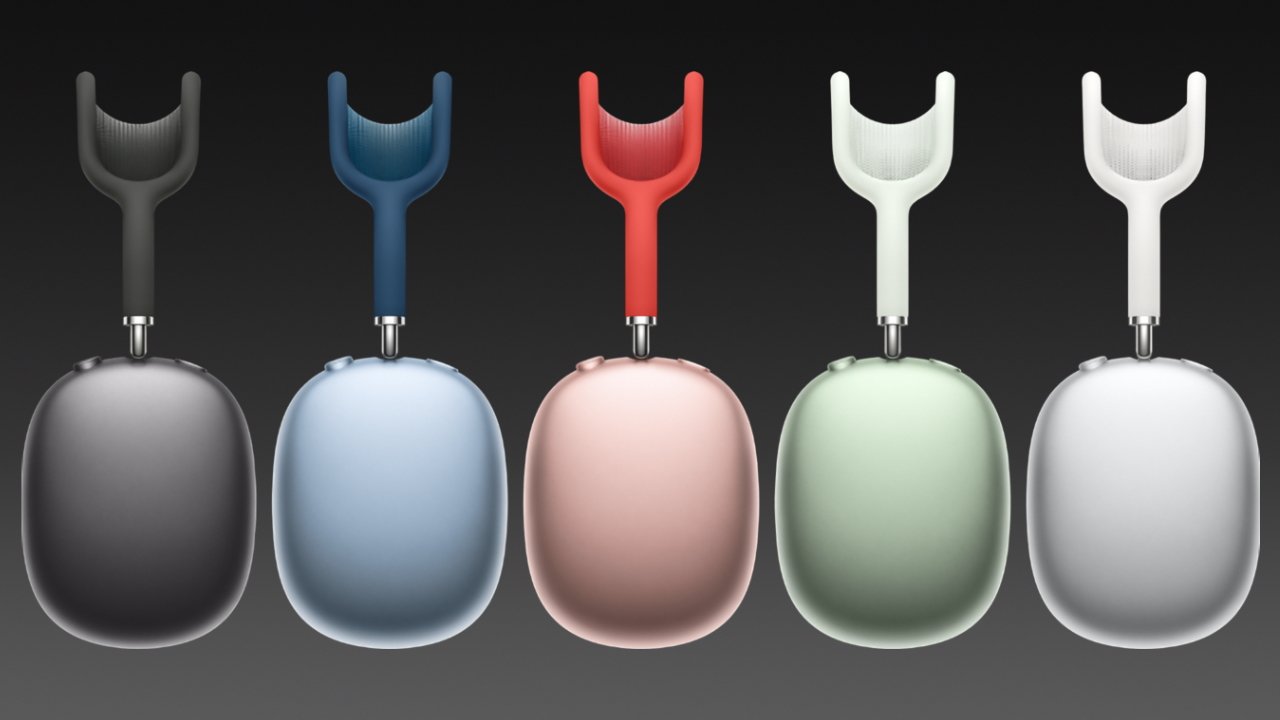 Apple offers AirPods Max in five colors
Perhaps the AirPods are too iconic as white earbuds, living on from the legacy Earpods. It isn't clear why Apple wouldn't include at least a black option.
However, the biggest miss is the Lightning port. Many products in Apple's lineup have shifted to USB-C in recent years, and rumors suggest that the
iPhone 15
in 2023 will finally make the jump.
Apple doesn't upgrade AirPods very often, so there is a good chance we'll have AirPods Pro with Lightning for a year or two after iPhone moves away from it. There's always the chance Apple could do a mid-cycle upgrade to USB-C for the Charging Case, but that's just an unnecessary $100 expense for customers.
The Lightning problem isn't as bad as it seems, though. We've rarely used the Lightning port in the AirPods Pro, which will continue with the AirPods Pro 2. Thankfully there are three different wireless charging standards in the case.
If Apple is going to push for lossless audio in a future update, it would at least be nice to know. Apple doesn't usually reveal future plans but sometimes lets users know if an obvious feature is in the pipeline.
The lack of an announcement is ominous on its own. Do not buy AirPods Pro 2 solely because rumors suggest lossless could happen. We hope that Apple pre-announces the feature soon, similar to how it pre-announced Spatial Audio.
Should you buy the AirPods Pro 2?
Unlike other Apple products, the answer to whether or not you should buy AirPods Pro 2 is simple. Yes, you should buy them if you're in the market for new earbuds.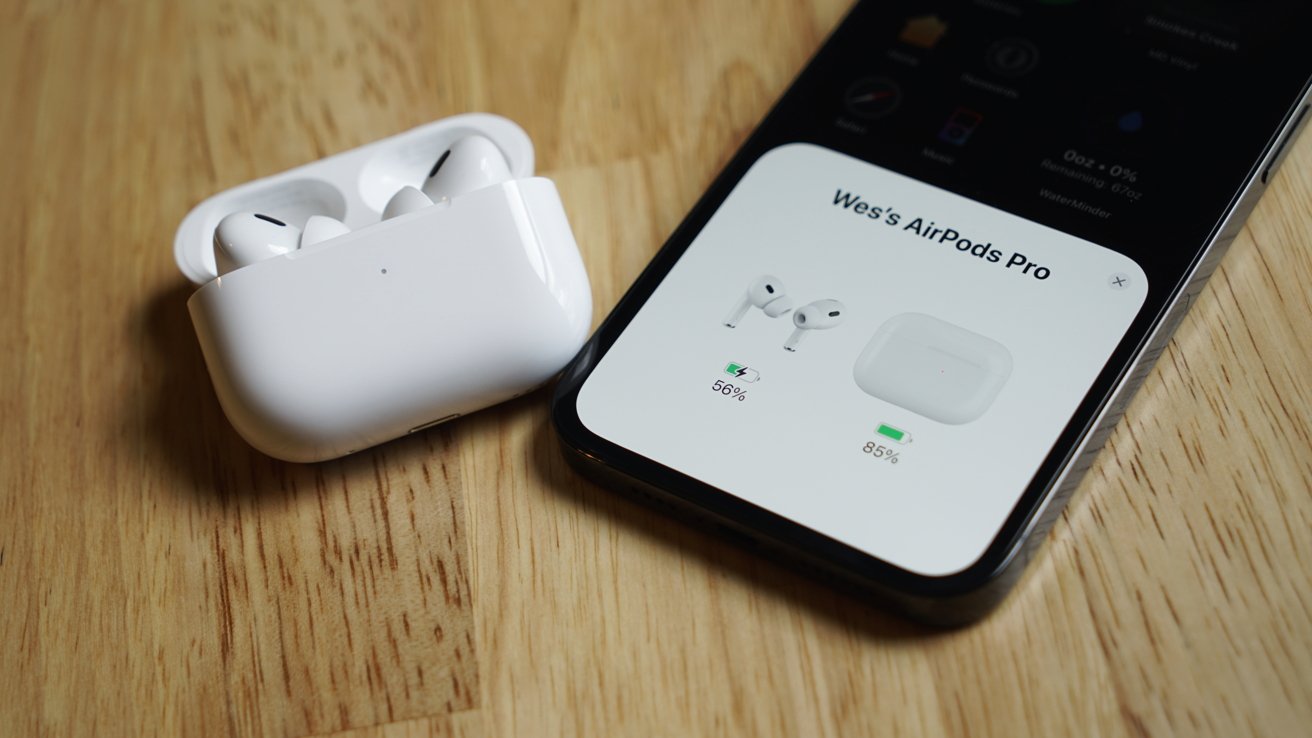 Upgrading to AirPods Pro 2 is an easy decision
These are a must-buy for anyone who owns Apple products, especially an iPhone. Ignore the myths behind the AirPods falling out of your ears too easily and get a pair.
For those who don't like in-ear earbuds, there's always the
AirPods 3
, which are a close second. Otherwise, you'll probably be shopping for a cheap set of over-ear Beats or third-party headphones.
AirPods Pro aren't perfect and have plenty of room for improvement. A USB-C charging case is the most obvious low-hanging fruit while improving audio and ANC will always be a goal in future models.
For now, AirPods Pro 2 are likely the best earbuds an Apple user can buy. Given Apple's track record here, it'll be another two to three years before another pair is released, so don't wait for "the next model."
If you bought a set of AirPods Pro within the last six months, maybe wait a while before upgrading. Or, at the least, they'll make a great hand-me-down gift when you buy the new ones.
AirPods Pro 2022 - Pros


Better audio


Long 6-hour battery life


Improved ANC and Adaptive Transparency are game changers


U1 and external speaker are both obvious and necessary upgrades


Volume gesture is welcome


Keeps the tried and true design, but...


AirPods Pro 2022 - Cons


... for some, that same design is getting stale


Happy 10th anniversary to the Lightning port


Trapped in Jony Ive's white room -- needs at least one color option


Lanyard loop isn't worth much; use a case, or your AirPods will fly out every drop


Rating: 4 out of 5
We love the AirPods Pro 2, but they aren't perfect. That cost alone, in a crowded marketplace filled with different choices and features at sometimes a significantly lower price, is a handicap.
The identical design, lack of color options, and Lightning port in the charging case also leave a lot of obvious future upgrades on the table. And, given the wholesale manufacturing cost of lanyards is well less than a penny each, Apple could have at least included a starter lanyard in the packaging.
Where to buy AirPods Pro 2
Second-generation AirPods Pro are discounted now, with exclusive promo code savings and instant rebate offers at your fingertips in our
AirPods Pro 2 Price Comparison Guide
.
AppleInsider
has also compiled the
best AirPods deals
across the entire product range, with sale prices regularly delivering up to $120 in savings on over-ear and in-ear models.
Read on AppleInsider