Inside Apple's Singapore Marina Bay Sands retail store
The Marina Bay Sands Apple Store in Singapore is the first of its kind, appearing to float on water in Singapore's Marina Bay -- and we recently visited it.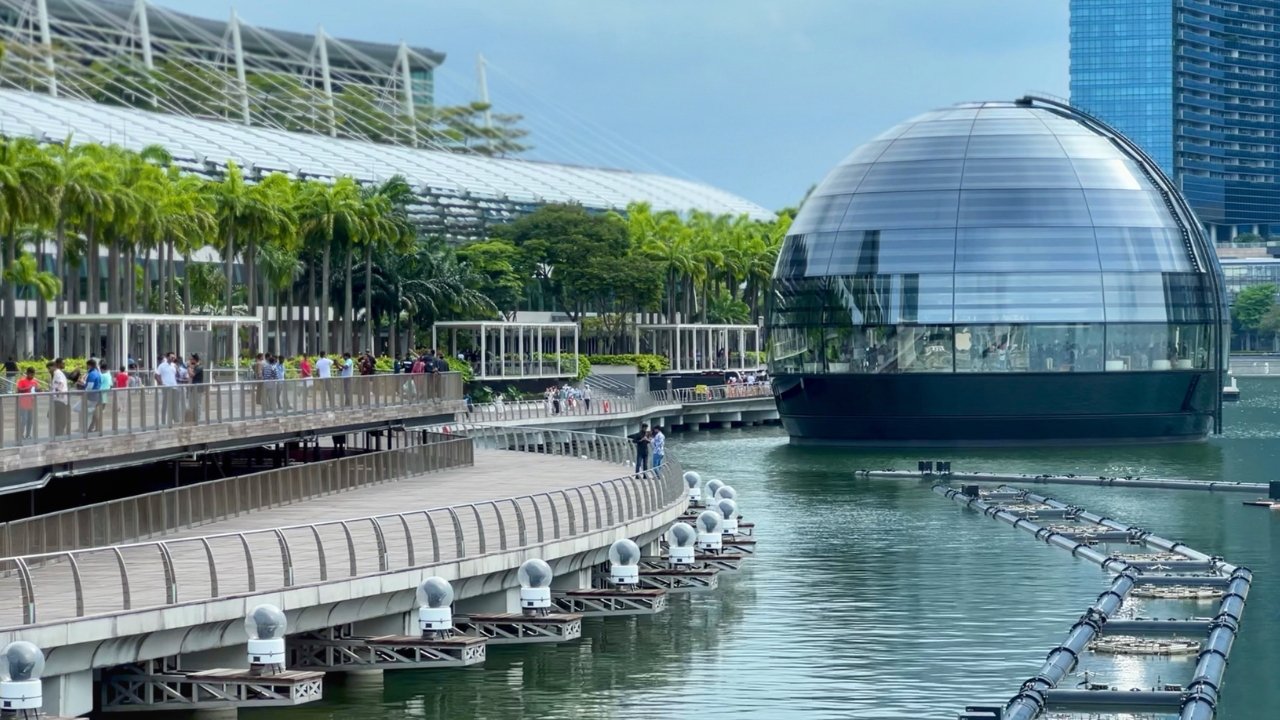 Apple Marina Bay Sands in Singapore
Said by Apple to be inspired by the Roman Pantheon, the Apple Marina Bay Sands opened during the pandemic on September 7, 2020, and makes its mark as the only floating dome Apple Store on the planet.
Singapore's first Apple Store opened
May 27, 2017
on Orchard Road, an upscale shopping area. A second opened on July 13, 2019, and can be found inside Singapore Changi Airport.
On our recent visit to Singapore, we visited the third Apple store to open in the country, Apple Marina Bay Sands. It beckons Apple fans by day with its curious spherical design, and bedazzles the marina waterfront with its warm glow at night.
Designed by architects Foster + Partners who took inspiration from the Pantheon in Rome, it offers a truly delightful shopping experience for Apple fans.
History of Apple Marina Bay Sands
In 2011, Safdie Architects completed two Crystal Pavilions designed as transparent, geometric islands jutting along Singapore's Marina Bay waterfront. The northern pavilion is home to Louis Vuitton and remains to this day with its sharp, irregularly angled facades.
The southern pavilion housed two luxury night clubs Avalon and Pangaea, but both nightclubs have since closed, and this pavilion has been replaced by Apple Marina Bay Sands. In striking contrast to its former jagged asymmetric design, Apple Marina Bay Sands was unveiled as a futuristic sphere.
Outstanding design
This is the only Apple store in the world that sits directly on the water and is joined to the land by a small bridge.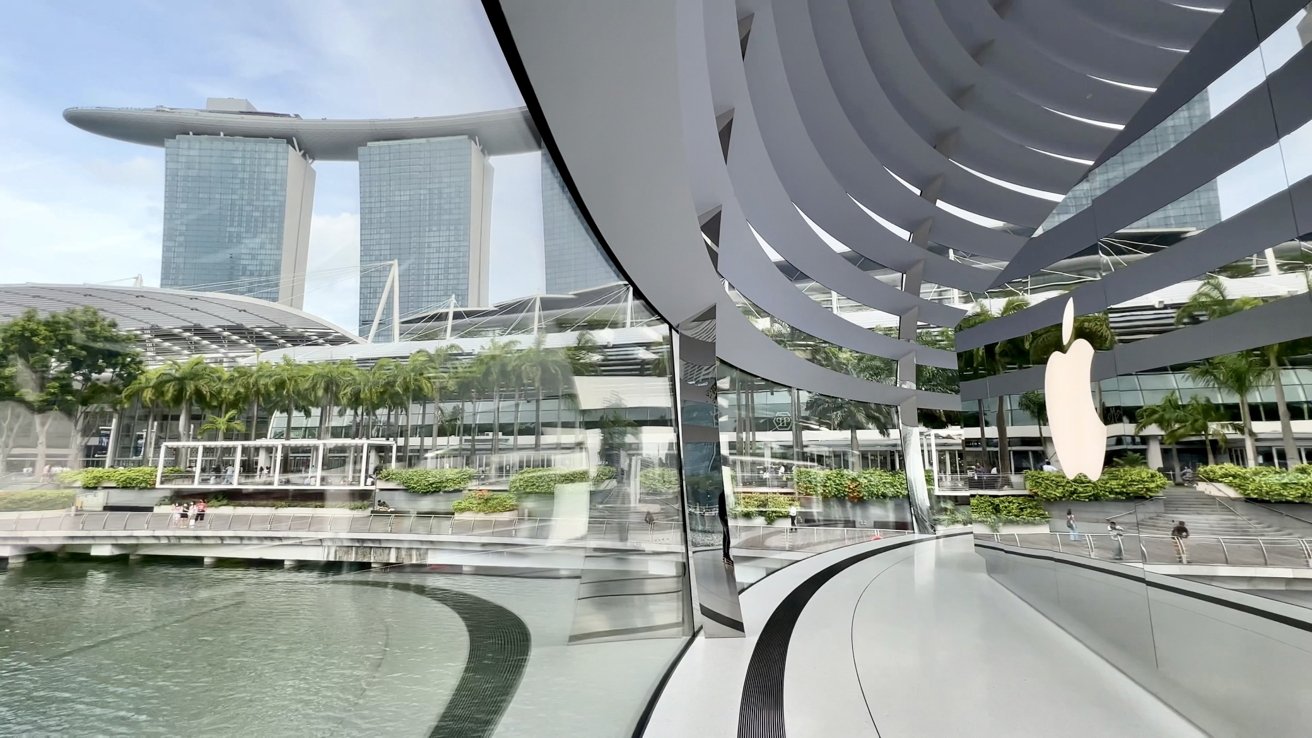 Apple Marina Bay Sands offers excellent views of the waterfront
At first glance, this geodesic dome appears to float on water against the captivating backdrop of the Singapore skyline. This all-glass dome is made with 112 pieces of fully-glazed glass, with 10 narrow vertical bars for structural connection.
The glass dome is designed for seamless transparency between indoors and out, accentuated by tall potted trees meticulously placed throughout the store.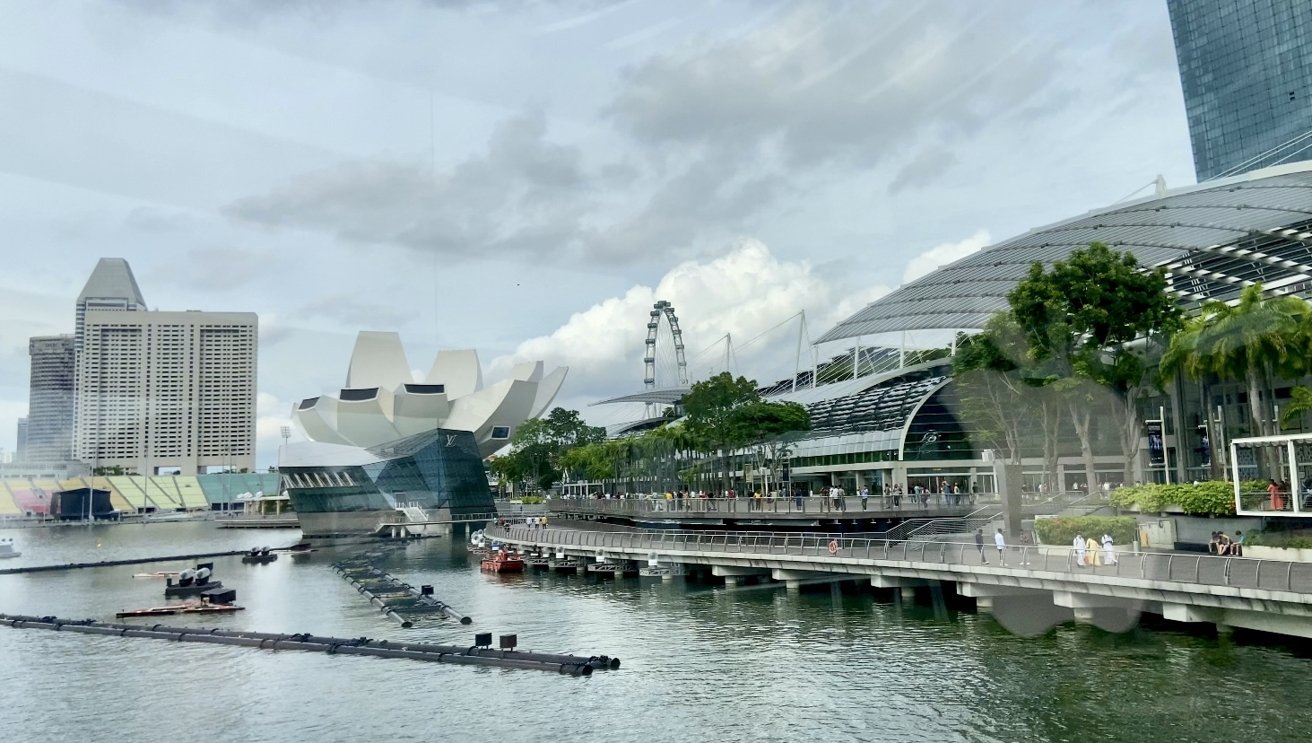 View from inside Apple Marina Bay Sands Singapore
At almost 100 feet in diameter, it delivers a 360-degree panoramic view of Singapore's famous Marina Bay. It does this quite comfortably as it's shielded with circular sun shades from the intense Singaporean sun.
Getting there
There are two entrances to this eye-catching Apple store, with one via a small bridge connected to the boardwalk in front of the Shoppes at Marina Bay Sands. The bridge is sometimes closed, but there is another entrance.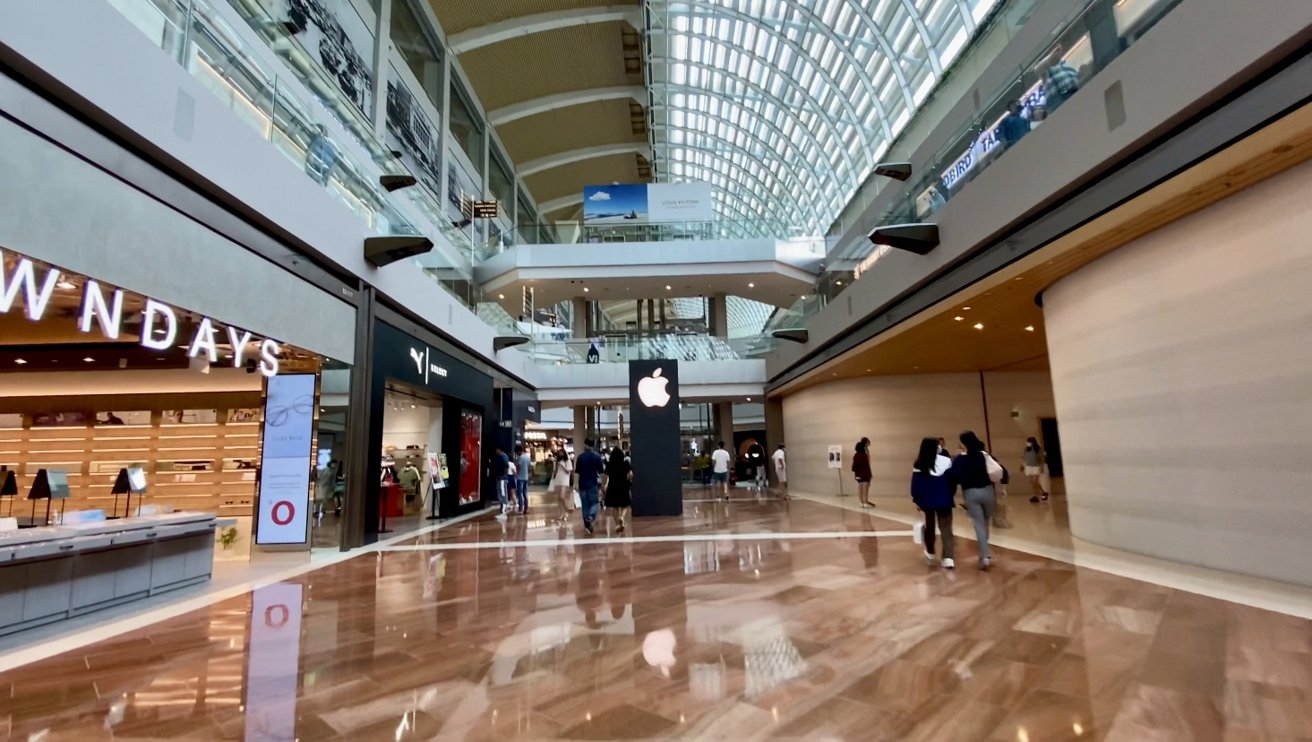 Look for this sign when entering from within the Shoppes at Marina Bay Sands
Within the Shoppes at Marina Bay Sands, there is an elevator or escalator that goes up into the dome. Enter the Apple store from Basement 2 of the Shoppes at Marina Bay Sands.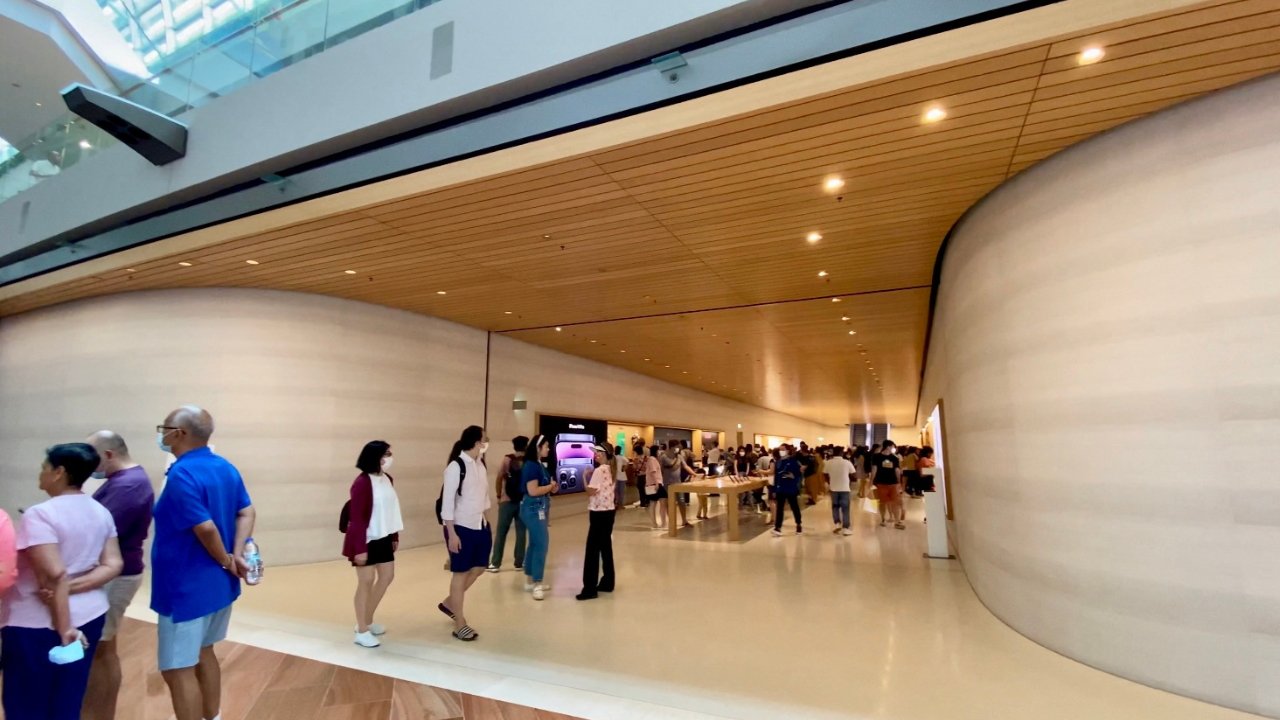 Entering Apple Marina Bay Sands from inside the Shoppes at Marina Bay Sands
Don't be fooled by this ordinary section of the Apple store. Walk all the way to the back of the store, and get on the escalator.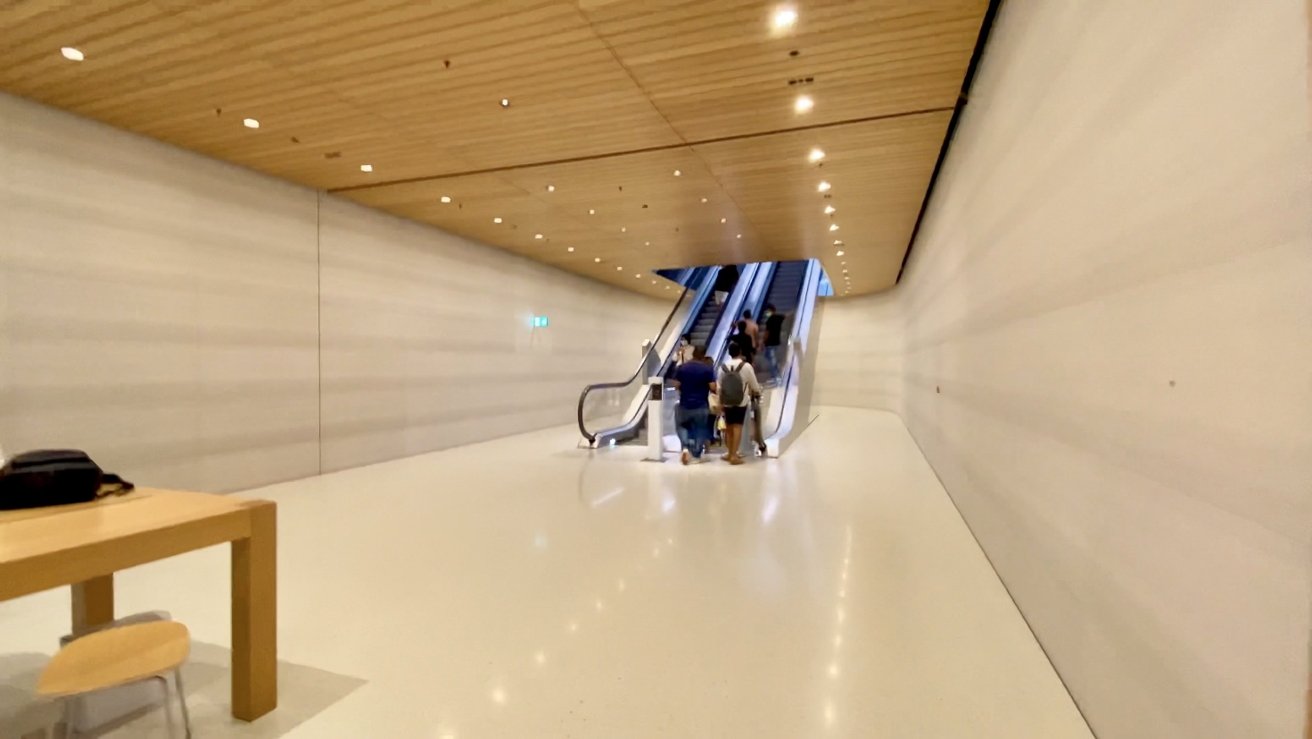 Walk to the very back of the Apple Store on Basement 2 of the Shoppes
We stepped on the escalator and looked up, and were greeted by a semi-opaque oculus from which a glorious ray of light floods the entire dome.
We couldn't help but feel a sense of giddy wonderment upon entering this bright and cheerful space filled with our favorite Apple products.
The Forum
A notable feature of this Apple store is its Forum in collaboration with the Singapore Tourism Board.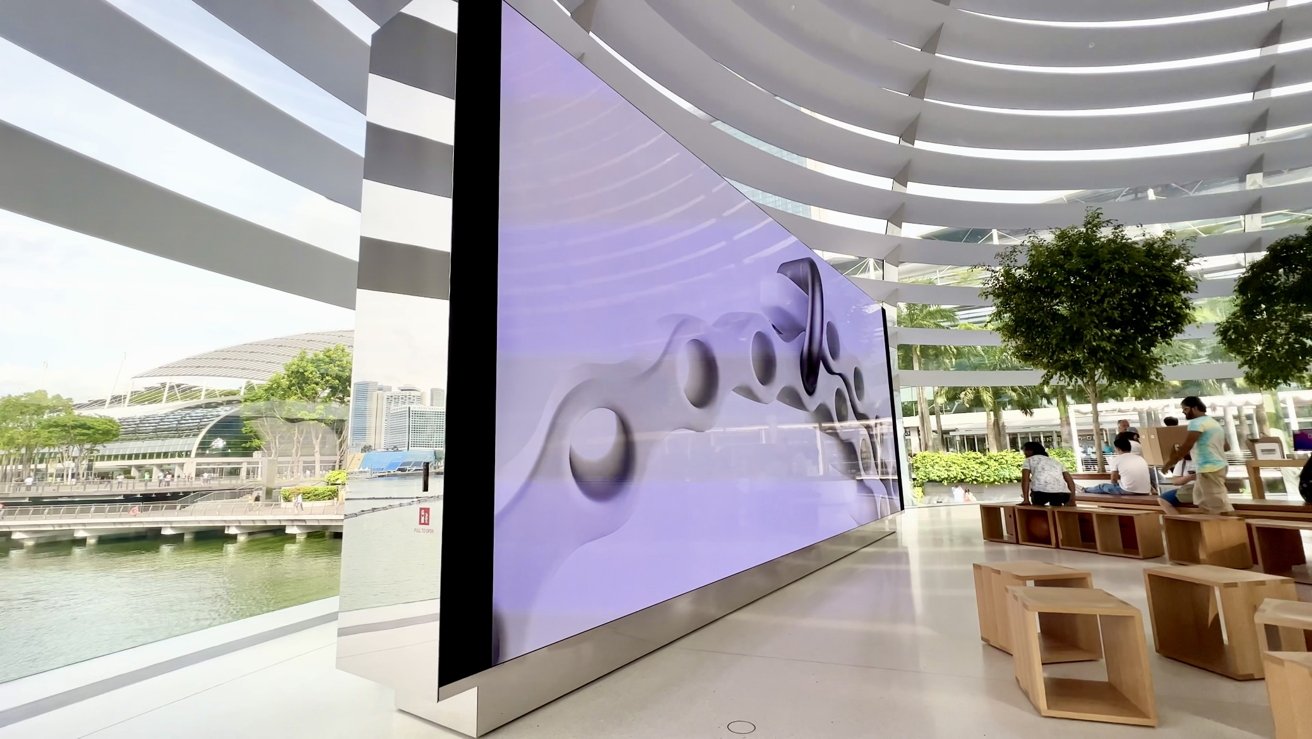 Apple Store's Forum in collaboration with the Singapore Tourism Board
Here, Apple's Singapore creatives host regular free events showing how to use Apple products specifically when visiting Singapore.
For example, current events include learning low light photography using Night Mode around Singapore Marina Bay, and basic photography capturing landmarks such as Jewel Changi Airport and Emerald Hill. You can check out the
event calendar
for the store from Apple's website.
Add this to your Singapore itinerary
Apple Marina Bay Sands opened in September 2020 during the grim pandemic days. Even so, it garnered so many visitors upon opening that advanced appointments were required to enter the store.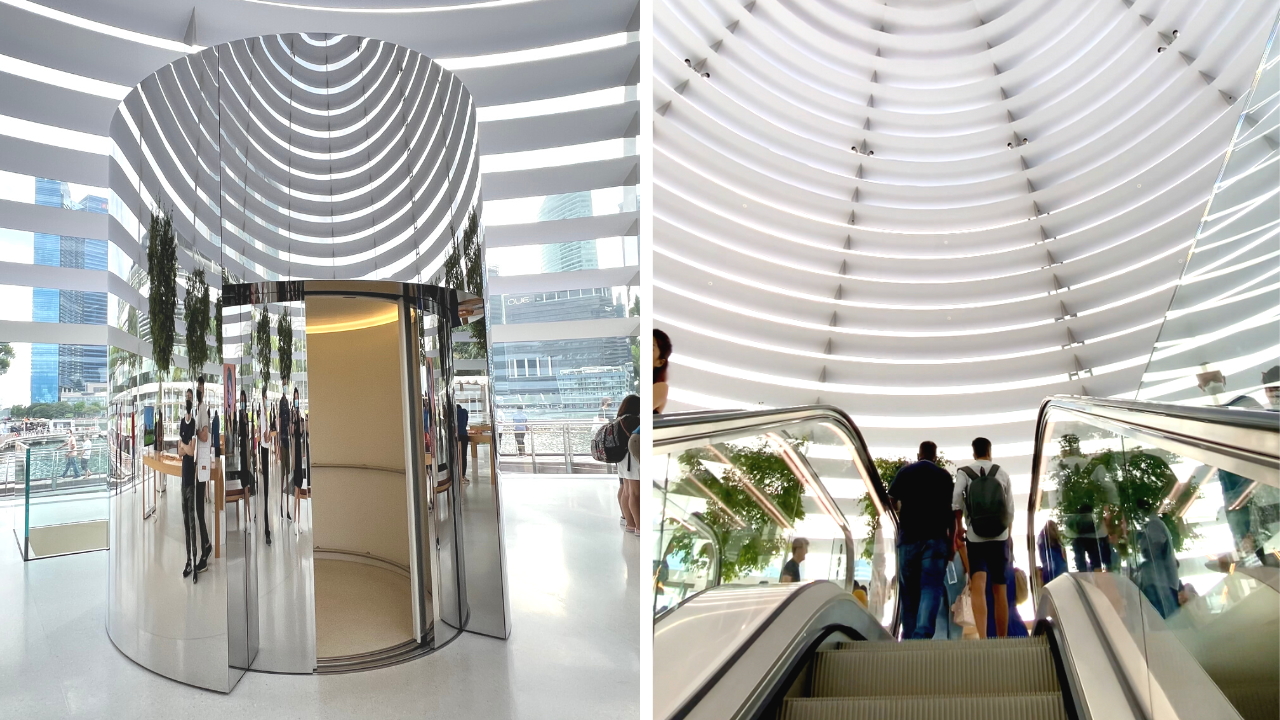 Entering Apple Marina Bay Sands from either the elevator or escalator from Level B2
As Singapore emerges from strict travel restrictions, appointments are no longer needed to visit this iconic Apple store. Its staff of 148, who collectively speak over 23 languages, is ready to welcome visitors from around the world.
Starting from Apple's first corporate office in Singapore's Ang Mo Kio over 40 years ago, it's involvement in the area culminates with this whimsically futuristic Apple Store. Perhaps this is yet another way Apple is inspiring us to think different.
Apple Marina Bay Sands address
The Apple Marina Bay Sands is hard to miss, but here's the address to add this to your Singapore itinerary: 2 Bayfront Ave, B2 - 06, Singapore 018972.
Read on AppleInsider