Mac mini with M2 review: More power for less money
The second Apple Silicon
Mac mini
has arrived two years after the line first migrated, and with the M2 processor, it remains the best computer for switchers, and for the computer as appliance crowd.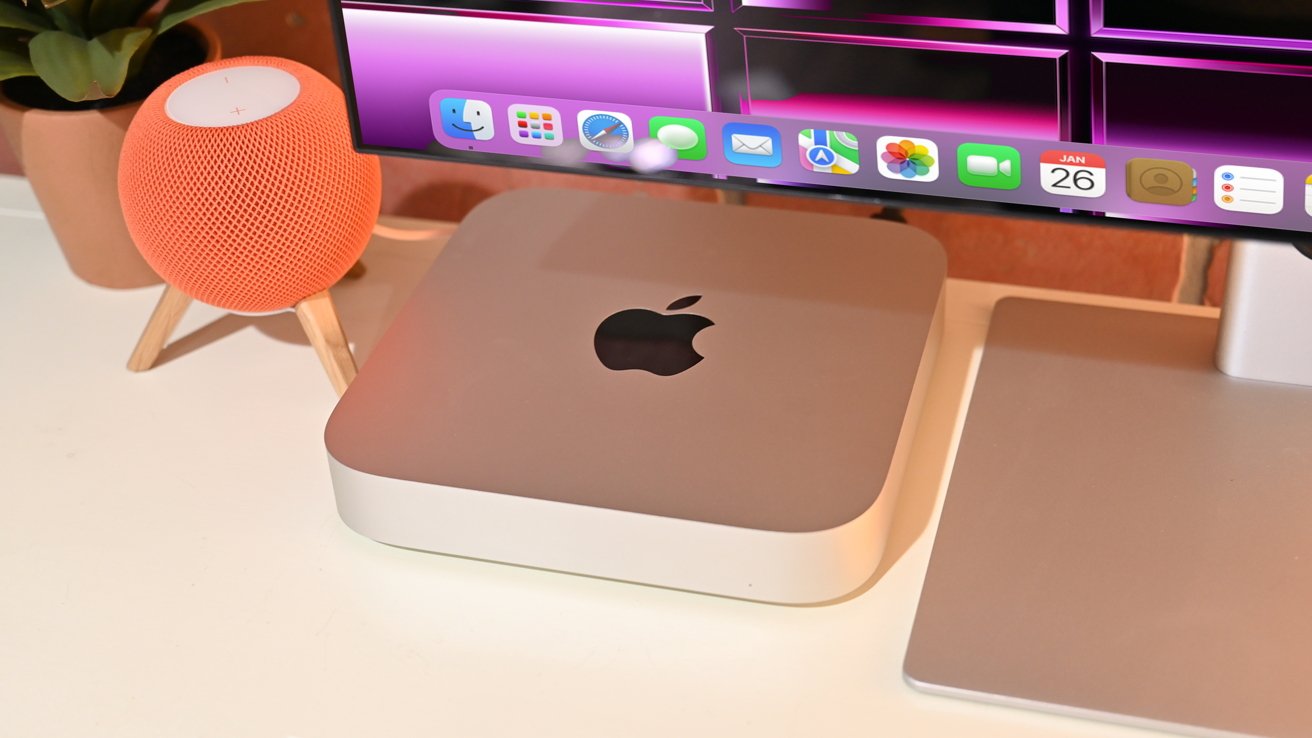 The 2023 Mac mini M2
Updated February 15 with Geekbench 6 scores
The usual refrain for the Mac mini is that it's a simple and good value way to get people into the Mac ecosystem, and this is no different. In an unobtrusive block of aluminum, Apple packs in more than enough computing power to keep people productive, in an overall inexpensive package.
These qualities makes the Mac mini a fantastic tool for switchers, coders who need Windows and Mac hardware, and those looking for a quick computing upgrade for their desktop.
In 2023, Apple has gone with an entry-level M2 and a higher-end model with the M2 Pro. This is a similar strategy that it had with the Intel Mac mini, and been rumored for some time.
The two tiers serve very different markets. In this review, we'll be examining the $599 configuration with 8GB RAM, 256GB storage, and the M2 processor. We'll be looking at the M2 Pro in a future review.
Mac mini is very much a known quantity in the Apple catalog, and it has steadfastly remained the same externally between generations. You know deep down that the new one's more powerful than the last, and it will do what you want it to do.
M2 Mac mini - Design
The appearance of the Mac mini is, as usual, bold and impressive while also clearly communicating Apple's decade-long Mac design language from afar. It's a square-ish flat aluminum enclosure with an Apple logo on the top, rounded corners, and a sleek appearance that keeps all of the ports and other needed bits to the rear.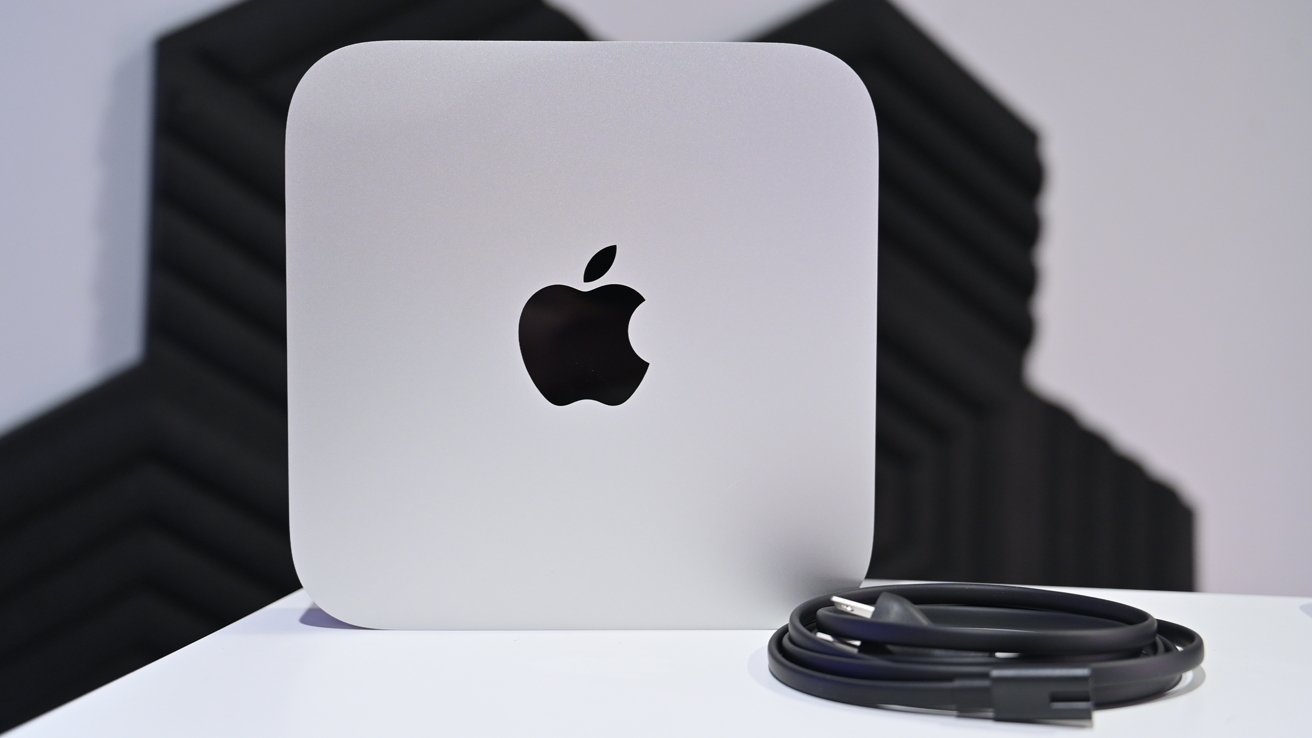 Mac mini and its power cable
Practically everything after this point will be things brought up in earlier Mac mini
discussions
, because they've not changed. For a start, the measurements of the Mac mini are officially 7.75 inches long and wide, and 1.41 inches tall.
These numbers are different from the previous generation, but only because Apple's rounding to two decimal places, not one. This is evident in the metric measurements of 19.7cm or 19.70cm wide and long, and the height of 3.6cm for the
M1
replaced by 3.58cm for the
M2
.
We've already tried it in mounts, docks, and so forth that rely on the form-factor, and it still fits fine in everything.
The weight is also identical to last time at 2.6 pounds, though in metric, the 1.2kg of the M1 is now 1.18kg in the M2 model.
To a point, and pardon the pun, Apple has boxed itself into a corner with the design. It's more than ideal for what the system offers, and Apple has few reasons to actually change how it looks.
Many rumors pointed to the Mac mini having a major design overhaul, including a plexiglass-like cover and a generally thinner appearance. We obviously didn't get that.
Apple could have used the opportunity to introduce a big change to its appearance, like it did for the
24-inch iMac
and the
MacBook Air
. Instead, it offered the same well-worn design with no changes.
This isn't a bad thing. Accessories remain the same, and it's easy to market.
M2 Mac mini - From M1 to M2
The main draw of the new Mac mini is the M2 chip used inside of it. While the previous generation was part of the first wave of
Apple Silicon
devices using M1, the Mac mini had to wait a bit before it gained the M2.
M2 Mac mini and M2 Pro Mac mini vs M1 Mac mini -- Specifications
Specifications
M1 Mac mini (2020)
M2 Mac mini (2023)
M2 Pro Mac mini (2023)
Starting price
$699
Best M1 Mac mini prices
$599
Best M2 Mac mini prices
$1,299
Buy now
Dimensions (inches)
1.4 x 7.7 x 7.7
1.41 x 7.75 x 7.75
1.41 x 7.75 x 7.75
Weight (pounds)
2.6
2.6
2.8
Processor
Apple M1 8-core CPU
Apple M2 8-core CPU
Apple M2 Pro 10-core CPU,
Apple M2 Pro 12-core CPU
Graphics
8-core GPU
10-core GPU
16-core GPU,
19-core GPU
RAM
8GB, 16GB
8GB, 16GB, 24GB
16GB, 32GB
Networking
802.11ax Wi-Fi 6 wireless networking
IEEE 802.11a/b/g/n/ac compatible,
Bluetooth 5.0,
Gigabit Ethernet, 10Gig upgradable
802.11ax Wi-Fi 6E wireless networking
IEEE 802.11a/b/g/n/ac compatible,
Bluetooth 5.3,
Gigabit Ethernet, 10Gig upgradable
802.11ax Wi-Fi 6E wireless networking
IEEE 802.11a/b/g/n/ac compatible,
Bluetooth 5.3,
Gigabit Ethernet, 10Gig upgradable
Storage
256GB, 512GB, 1TB, 2TB
256GB, 512GB, 1TB, 2TB
512GB, 1TB, 2TB, 4TB, 8TB
Display Support
Maximum of 2:
One 6K 60Hz over Thunderbolt
and one 4K 60Hz over HDMI
Maximum of 2:
One 6K 60Hz over Thunderbolt
and one 5K 60Hz over Thunderbolt
or 4K 60Hz over HDMI
Maximum of 3:
Two 6K 60Hz over Thunderbolt
and one 4K over HDMI.
Up to 8K resolution or 240Hz possible over HDMI
Ports
HDMI,
Two Thunderbolt 4,
Two USB-A,
Gigabit Ethernet,
3.5mm headphone
HDMI,
Two Thunderbolt 4,
Two USB-A,
Gigabit Ethernet,
3.5mm headphone
HDMI,
Four Thunderbolt 4,
Two USB-A,
Gigabit Ethernet,
3.5mm headphone
The M2 Mac mini CPU we're reviewing here is an 8-core version, consisting of four high-performance cores along with four energy-efficient cores. This is similar to the M1's CPU, except the M2 runs at a higher clock speed of 3.49GHz.
It's supported by a GPU with ten cores, up from the eight-core GPU of its predecessor. Meanwhile, the 16-core Neural Engine has been boosted from up to 11 trillion calculations per second to 15.8 trillion.
The M2 also benefits from memory boosts, with the unified memory now operating at 100GB/s, up from the 68.25GB/s of memory bandwidth seen in the M1. There's even an extra memory option, with the M2 adding a 24GB capacity option alongside the previous 8GB and 16GB,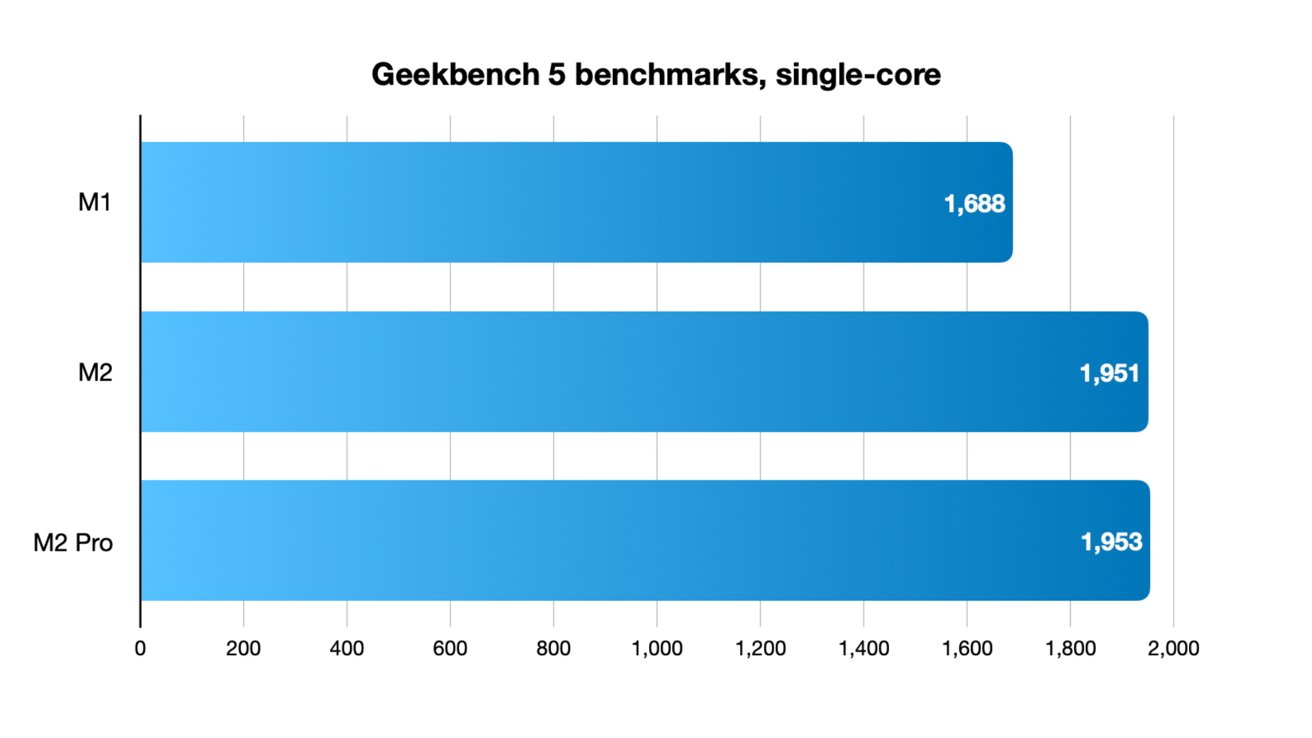 Geekbench 5 benchmarks, single-core
M2 also benefits from a full Media Engine, borrowing the ProRes and ProRes RAW hardware-accelerated video encoding and decoding capabilities from the M1 Pro. While the M1 has hardware-accelerated encoding and decoding of H.264 and HEVC, the M2 adds in the feature for ProRes and ProRes RAW.
This all adds up into a chip that is obviously more powerful than the last chip Apple used in a Mac mini. According to Apple, the M2's CPU is 18% faster than the M1, while the GPU provides up to 35% faster performance.
In terms of benchmarking, Geekbench 5 improved from 1688 to 1951 when comparing the M1 Mac mini to the base M2 Mac mini on the single core test. That is a roughly 15% improvement and close to what Apple had promised.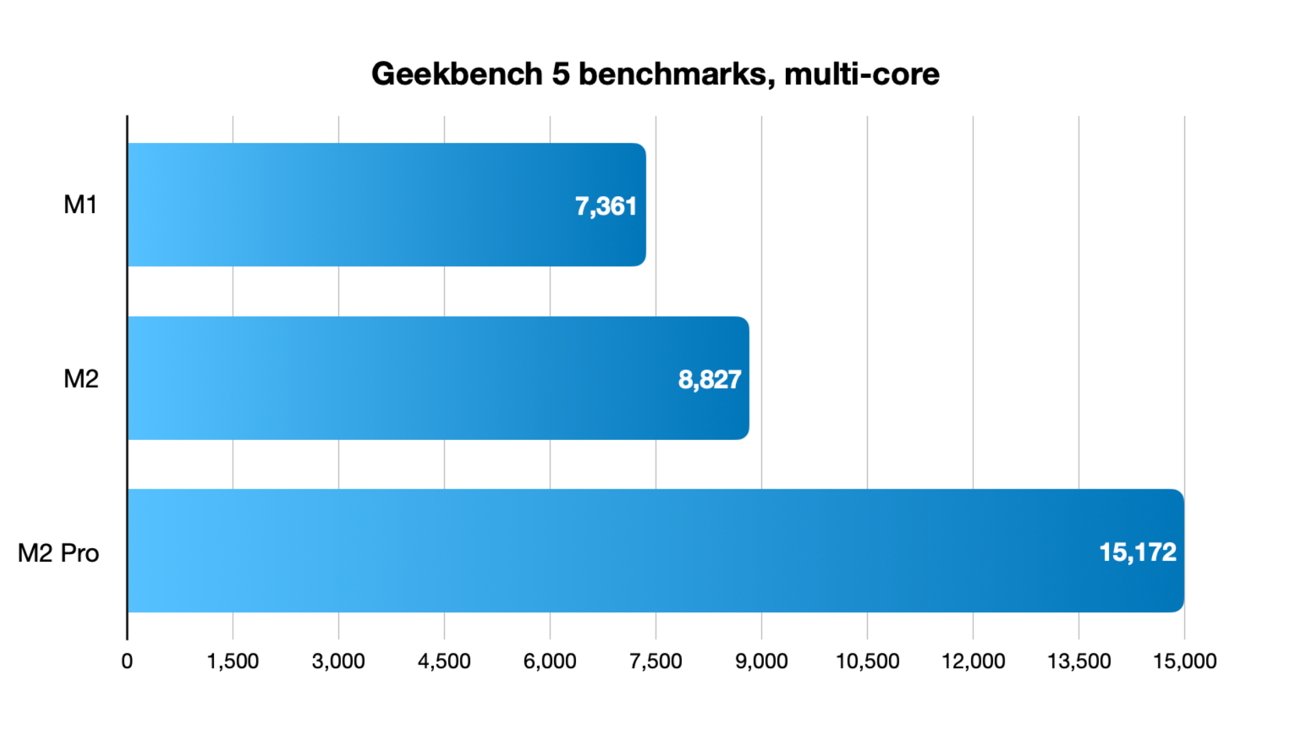 Geekbench 5 benchmarks, multi-core
On the multi-core, the M2 improved from 7361 to 8827, or a near 18% growth.
We tested the machine again on the newly-released Geekbench 6 and saw a single-core score of 2654 and a multi-core score of 9932.
Graphically, the new Mac mini touts more power thanks to two additional GPU cores on the base model. Our base unit not has a 10-core GPU which ran circles around the last-gen unit.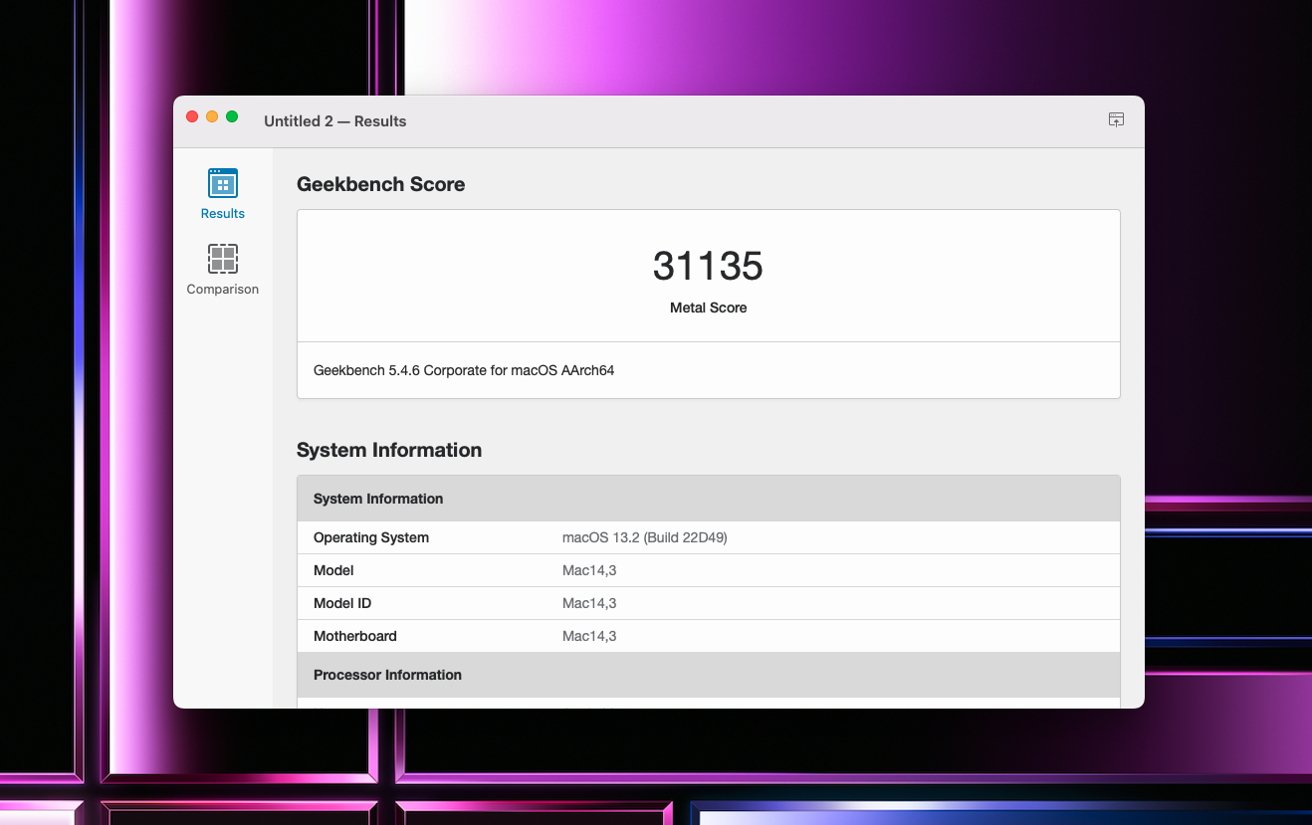 M2 Mac mini Geekbench 5 Metal Compute test
On Geekbench 5's Compute benchmark running on Metal, it went from 22871 on the 2020 M1 Mac mini with the 8-core GPU to 31135 on the 2023 M2 Mac mini with the 10-core GPU.
On the Geekbench 6 variant of the test, it scored 45187 on the graphics test.
In the Blackmagic Disk Speed Test, we only managed to see 1608 MB/s for write speeds, and 1493 MB/s for read speeds on our base unit. This is notably less than the 2600ish MB/s on the M1 Mac mini.
Let's talk about that SSD speed in the $599 model. It is worth noting, because it exists -- but that's about it for this particular model and who it's intended for.
Yes, it's a cost-saving measure for Apple. Yes, it's slower than the 256GB M1 model.
No, it doesn't matter much in day-to-day use. Your average surfer, Excel enjoyer, Word purveyor, 1080p video editor, TikTok creator, social media user won't see any difference at all.
If you time a macOS startup with the M2 Mac mini versus the M2 Pro mini, it'll be seconds slower. Where it might -- might -- noticeably come into play is higher resolution video editing. And, depending on the external drive, it may make a difference in file transfers to it.
But, the screaming and moaning about it that also happened with the M2 MacBook Air is ridiculous. If you want the best speed possible in a Mac mini, you know what you need to buy -- and it isn't the $599 configuration.
M2 Mac mini - Connectivity
We have already established that the Mac mini's externals haven't really changed that much. Not only does this relate to its general physical appearance, but also to the selection of ports you'll find around the back.
Visually unchanged from the last generation, the M2 Mac mini includes two 40Gb/s Thunderbolt 4 ports that can also handle USB 4, USB 3.1 Gen 2, DisplayPort, and older technologies using USB-C adapters. The M2 Pro version has four of these ports, which makes having half the number a little disconcerting for the M2 variant.
There is also a pair of USB-A ports to the right-hand side, as well as an HDMI port with multi-channel audio, and a Gigabit Ethernet connection that can be upgraded to a 10Gb version.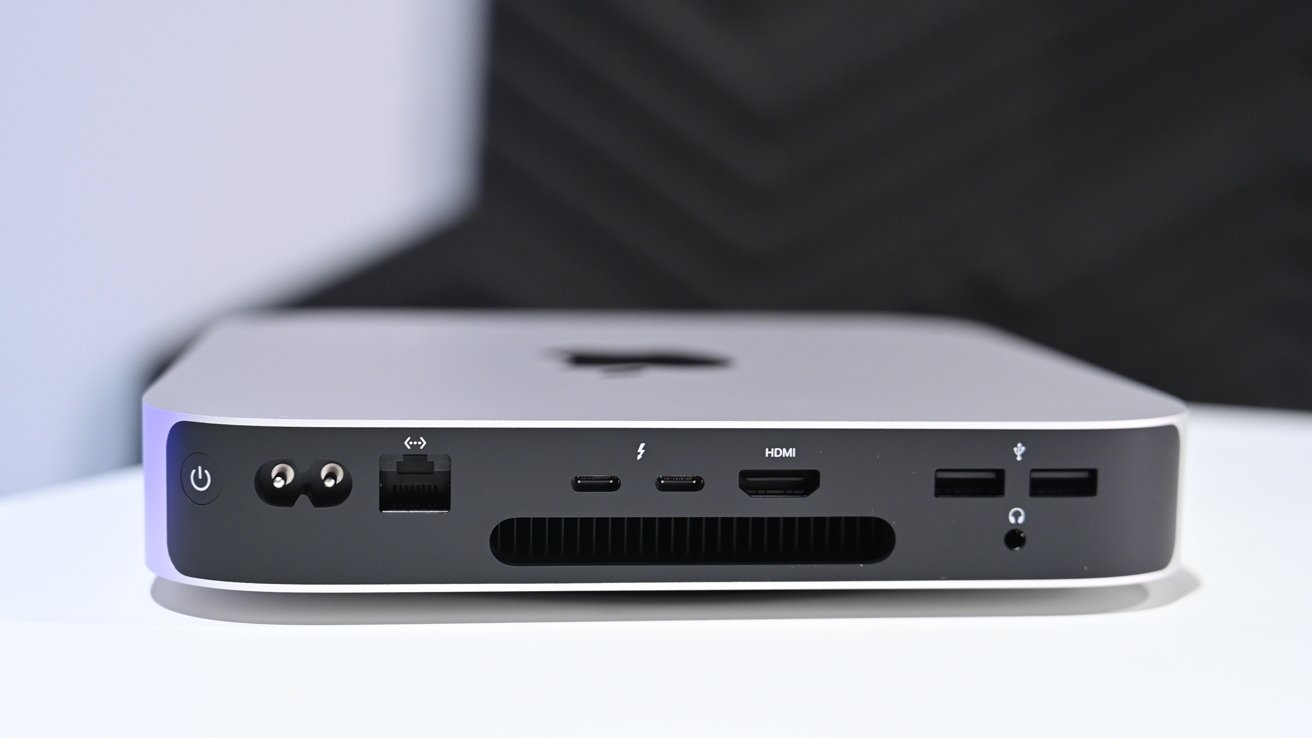 Ports on the rear of the M2 Mac mini
Below the USB-A ports is the 3.5mm headphone jack, which this time has been upgraded to a version with support for high-impedance headphones. It's an upgrade that has slowly made its way through the Apple ecosystem, and one that audiophiles will love.
Audio is also handled by the built-in speaker. As it has always been, don't rely on it for more than anything other than system sounds.
Like the M1 Mac mini, you can hook up a maximum of two displays to the base M2 Mac mini, with a 5K 60Hz screen supported over Thunderbolt simultaneously with a 4K 60Hz screen over HDMI.
The highest resolution you can get is 6K at 60Hz over Thunderbolt, but only for one display.
That video playback can include HDR in HLG, HDR10, and Dolby Vision varieties, as well as HEVC, H.264, and ProRes. Audio playback includes AAC and MP3 support, Apple Lossless, FLAC, Dolby Digital, Dolby Digital Plus, and Dolby Atmos.
For wireless connectivity, Apple has updated the Mac mini to support Wi-Fi 6E, enabling it to work with higher Wi-FI speeds -- provided its on a network that supports the standard.
Bluetooth has also unexpectedly been updated, with Bluetooth 5.3 now supported.
M2 Mac mini - Configuration options and no upgrades
The base M2 Mac mini here, is $599, which gets you 8GB of unified memory, 256GB of SSD storage, and Gigabit Ethernet.
If you want to boost the memory, it's $200 to get to 16GB, and another $200 again for 24GB. We didn't run into any issues with 8GB for most productivity tasks, surfing, and other casual use. We do recommend the upgrade to 16GB at purchase, though, for no other reason that future-proofing -- but more on that in a bit.
The 256GB SSD internal may not be enough for many power users, but you could go for 512GB for $200, 1TB for $200 more, and 2TB for an additional $400 again.
The last upgradable bit is the Gigabit Ethernet, with 10Gig available for $100. This is either future-proofing, or for enterprise. Either way, you already know if you need it, and it's cheaper than Thunderbolt alternatives.
As is usually the case for Apple's configuration pricing, it is extremely high cost for what you get. You won't get much usable free space when you're on 256GB, so expect to rely on other kinds of storage.
Since it's unified memory, upgrades here are useful since there's an effect on other elements of the M2 beyond the CPU due to the pooling of memory capacity between elements. Yes, it seems like a lot of money to go from 8GB to 16GB, but that memory boost will also impact the GPU, which will help its graphical capability too, making it a worthwhile update.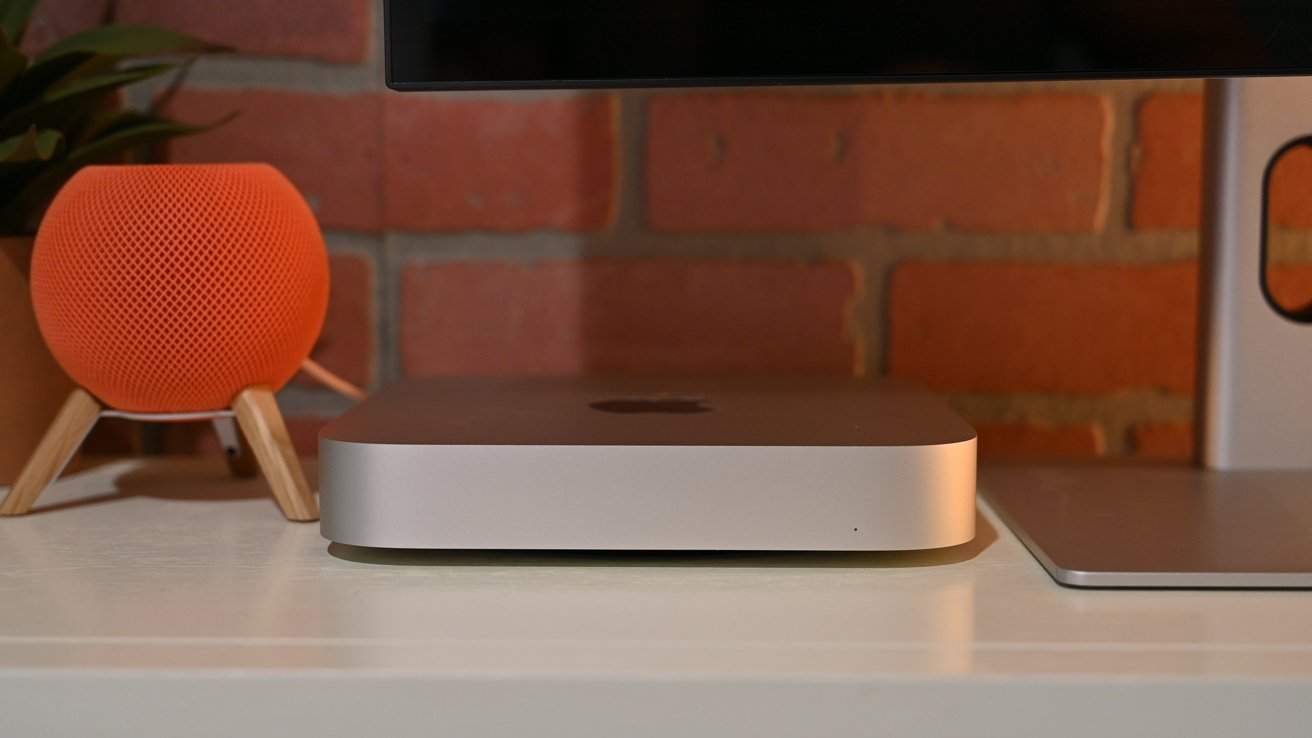 AppleInsider
generally advises to prioritize memory upgrades over storage, and to rely on alternate ways to expand storage capacity for the cost. Thunderbolt is fast enough for adding external SSD storage, and total overkill for hard drives, even if you've got a lot of new, fast ones in a 8-bay RAID.
Going for the upgrade from 8GB to 16GB of memory and going to 1TB doubles the cost of the M2 Mac mini to $1,199, which isn't the greatest way to configure the Mac mini if price is a factor.
Due to the nature of everything being located on the M2 chip, you simply can't add in extra memory or storage. It's not user upgradable in that way at all, and it's been a policy for Apple's consumer-oriented Mac lineup for a few years now.
The most agreeable solution to the configuration problem would probably be to go to 16GB of memory and 512GB of storage, which gives a usable amount of local storage and the performance upgrade for a total cost of $999 including the Mac mini.
That extra $200 that could've gone towards the 1TB storage upgrade can easily cover the cost of a higher-capacity external storage drive connected to Thunderbolt, or could go towards some network-attached storage.
Apple could eventually make the Mac mini user-upgradeable again, again down the line, but we're not expecting it. But for the moment, you either have to swallow the upgrade fees or accept workarounds.
A familiar but excellent deal
The whole point of the Mac mini is to provide consumers with an affordable Mac. Specifically, a Mac that they can buy without breaking the bank, and get going with minimal effort.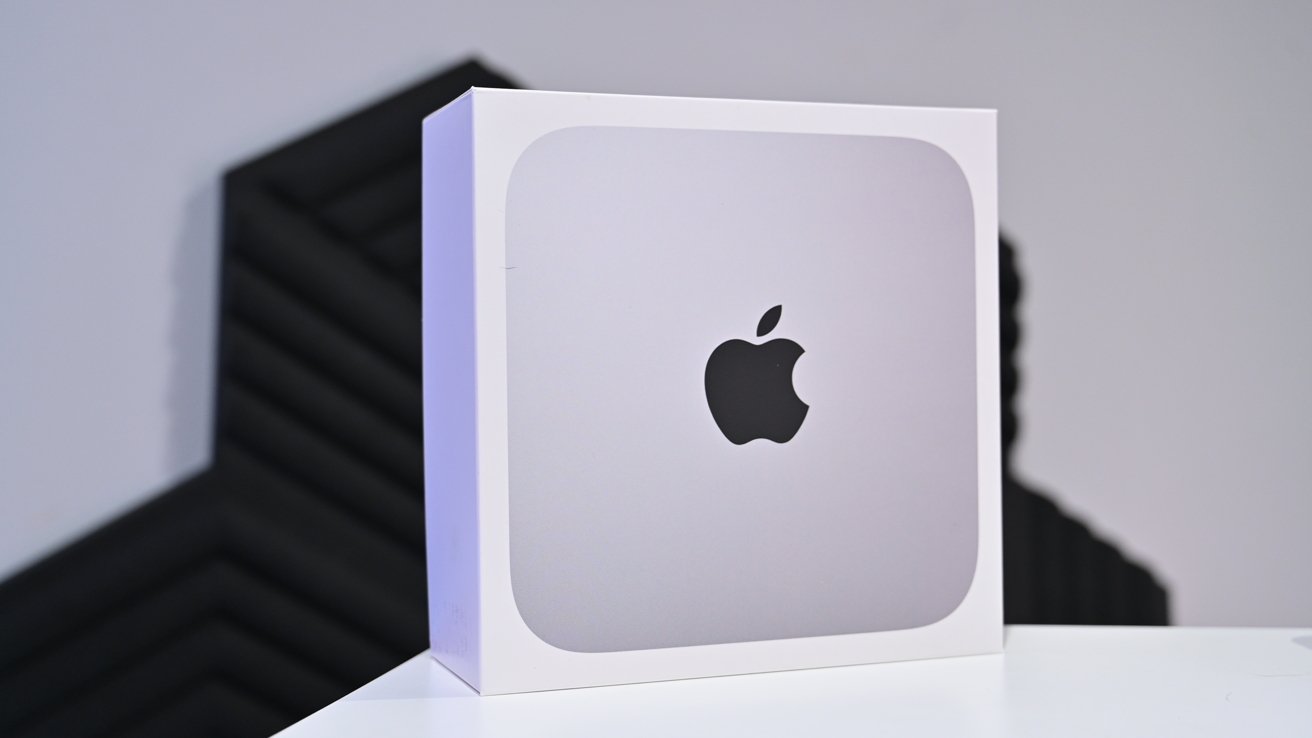 The 2023 M2 Mac mini in box
At $599, the base M2 Mac mini certainly meets that goal, especially since it's $100 cheaper than the M1 release. For educators and students, they can pick it up for an even better $499.
That's an entire Mac that, under education pricing, is half the cost of an
iPhone 14 Pro
.
We're all for squeezing every last dime out of a capital investment in computers. That said, if you're interested in performance on the cheap, the only reason to stick with an Intel Mac mini at this point is Boot Camp.
For everybody else, if you've got an Intel Mac mini of any sort, it's probably time to upgrade. The $599 configuration is faster than any Intel mac mini, and not by a little.
Nearly all the important software is Apple Silicon-native now, and non-native Mac software is faster under Rosetta than it ever was on an Intel mini.
Apple certainly hasn't made any external design changes to the Mac mini, and it may be a while before it actually implements any of the rumored alterations. But even so, the unchanged exterior is still stylish and practical enough.
Bar none, the M2 Mac mini is the best balance of computing power to cost for the computer-as-appliance crowd that you can get for the money. That's something that certainly hasn't changed.
M2 Mac mini Pros
M2 chip with Media Engine
Improved CPU and GPU performance
New lower cost
Familiar stylish and compact design
M2 Mac mini Cons
Limited Thunderbolt and USB-A ports
High memory and storage configuration costs
Lack of user upgradeability
Rating: 4.5 out of 5
Where to buy Apple's M2 Mac mini
Apple's M2 Mac mini is on sale at Apple Authorized Reseller Adorama, with exclusive promo code
APINSIDER
knocking
$50 to $100 off
select configurations.
The latest offers are at your fingertips in our
2023 Mac mini Price Guide
, which is updated throughout the day. Compare prices across numerous Apple resellers and scan the top
Mac mini deals
to select the best configuration, such as the base model in this M2 Mac mini review, to fit your needs.
Read on AppleInsider