Tesla Wireless Charging Platform review: A premium, Tesla-branded AirPower clone
Tesla has just released its latest fast charger. It isn't for your car, but rather for your
iPhone
and other Qi devices -- and it's very different.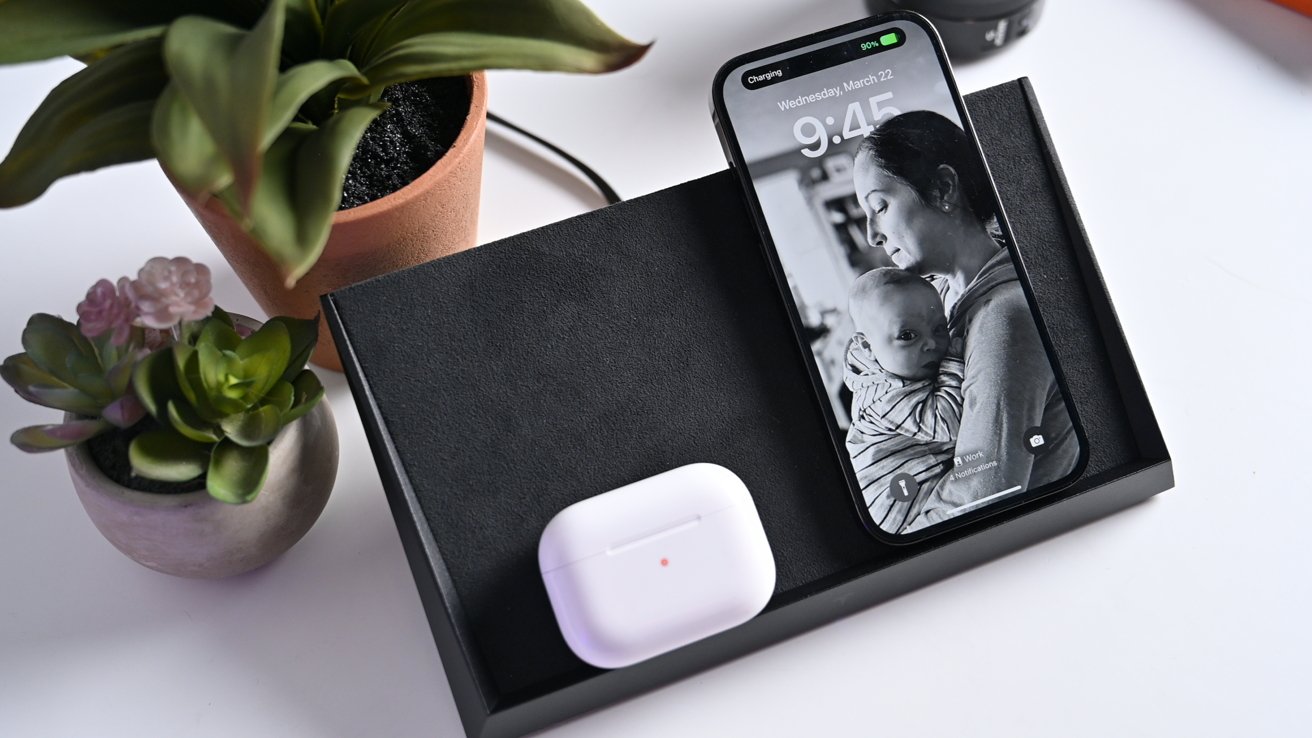 The Tesla Wireless Charging Platform
After getting a sneak preview
earlier this year
, we finally get to thoroughly review Tesla's first multi-device wireless charger.
It joins other oddities from Tesla, like its desktop cable management solution or portable wireless charger. Like the others, it aims to extend the Tesla brand as a premium accessory.
In total, it can charge up to three devices at up to 15W each and is big enough to fit two "plus" or "max" sized iPhones.
https://schema.org/
","@type":"VideoObject","name":"Tesla's NEW Charger! For Your Smartphone!?","description":"Tesla just released its new fast charger! Not one for any of its electric vehicles, but for your iPhone or other Qi device. I take you hands-on with this ultra-premium free-placement charging stand!","thumbnailUrl":"
https://i.ytimg.com/vi/1F-n22rtJ9o/sddefault.jpg
","uploadDate":"2023-03-22T14:38:54Z","duration":"PT6M46S","embedUrl":"
"}
Dark, menacing aesthetic
This Tesla charger is almost the antithesis of Apple's design language. Everything is a dark, brooding black, from the power adapter to the cable, to the pad itself.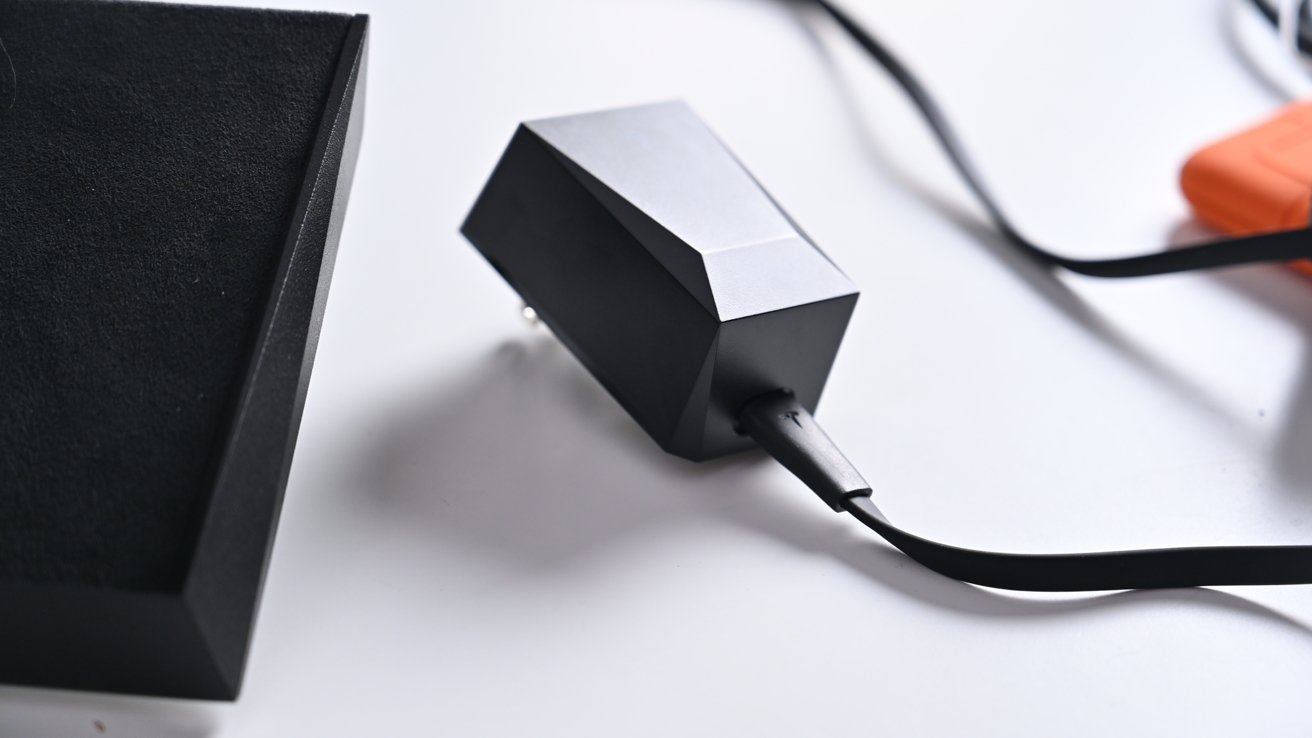 The Tesla Wireless Charging Platform power supply
While other manufacturers are stripping chargers from their products, Tesla opted to include one with its wireless charger. Not just any charger, but rather a Tesla-designed one you can't get anywhere else.
It has sharp angles like the Cyber Truck and can output 65W of power. We'd have preferred one with collapsable prongs or a secondary USB output, but it is nice to have a Tesla-styled one bundled.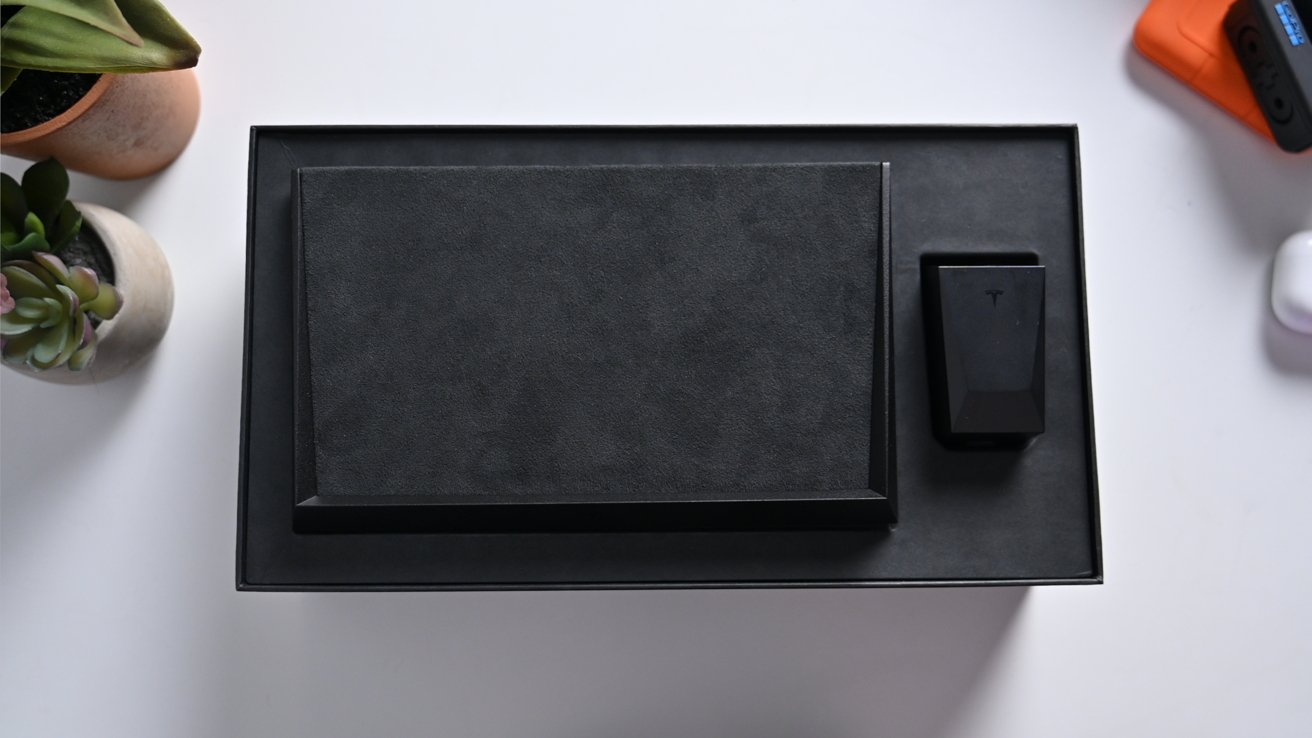 The Tesla Wireless Charging Platform and charger in the box
When you open the box, you see the charging pad next to the power adapter nestled in and on display. When you lift the charging pad, you'll notice the weight immediately.
It's all aluminum giving it plenty of added heft though the pebbled texture can give off a slight plastic appearance. The underside has silicone rails that keep it in place and grooves where the stand fits together.
The stand, also aluminum, connects magnetically. The silicone, grooves, weight, and magnets all ensure it stays securely in place without any screws, clips, or moving parts.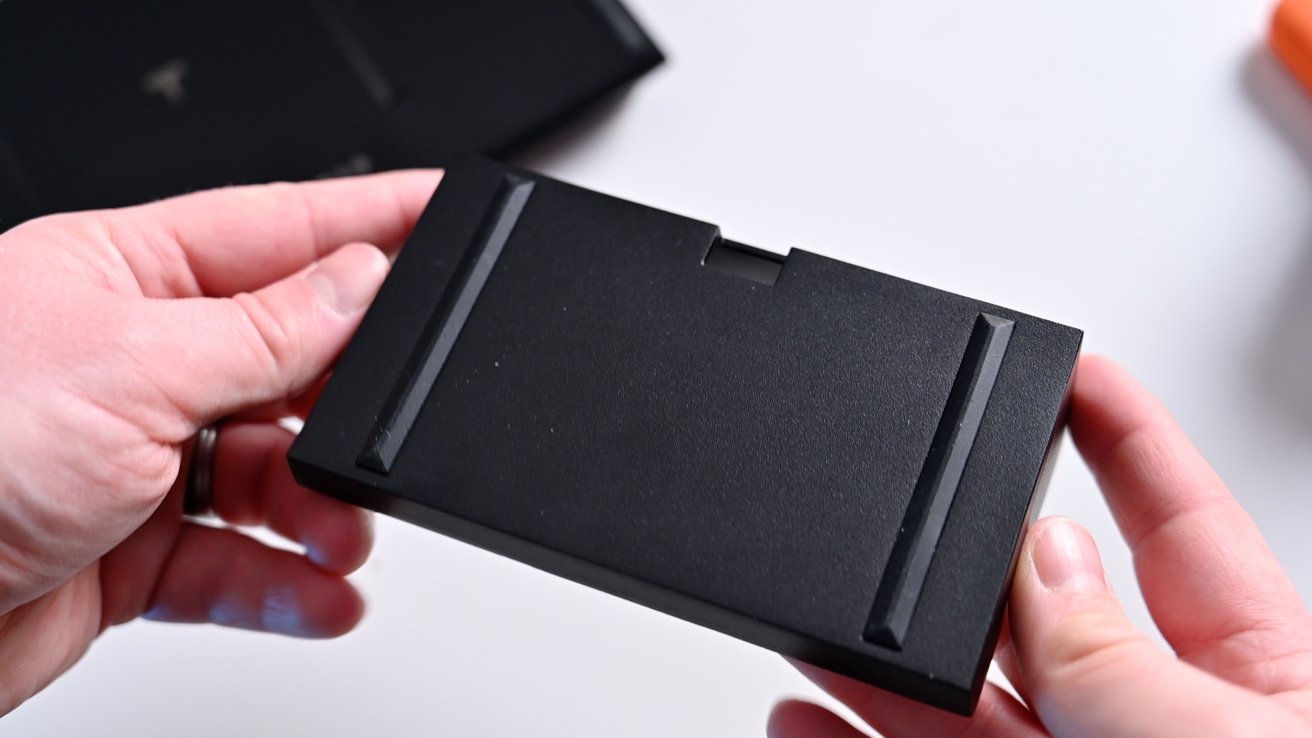 The Tesla Wireless Charging Platform magnetic stand
If you use the stand, it will prop up the charger at a slight angle, easily positioning it on your desk or nightstand to view your devices. Optionally, omit the stand, and it will lay nearly flat.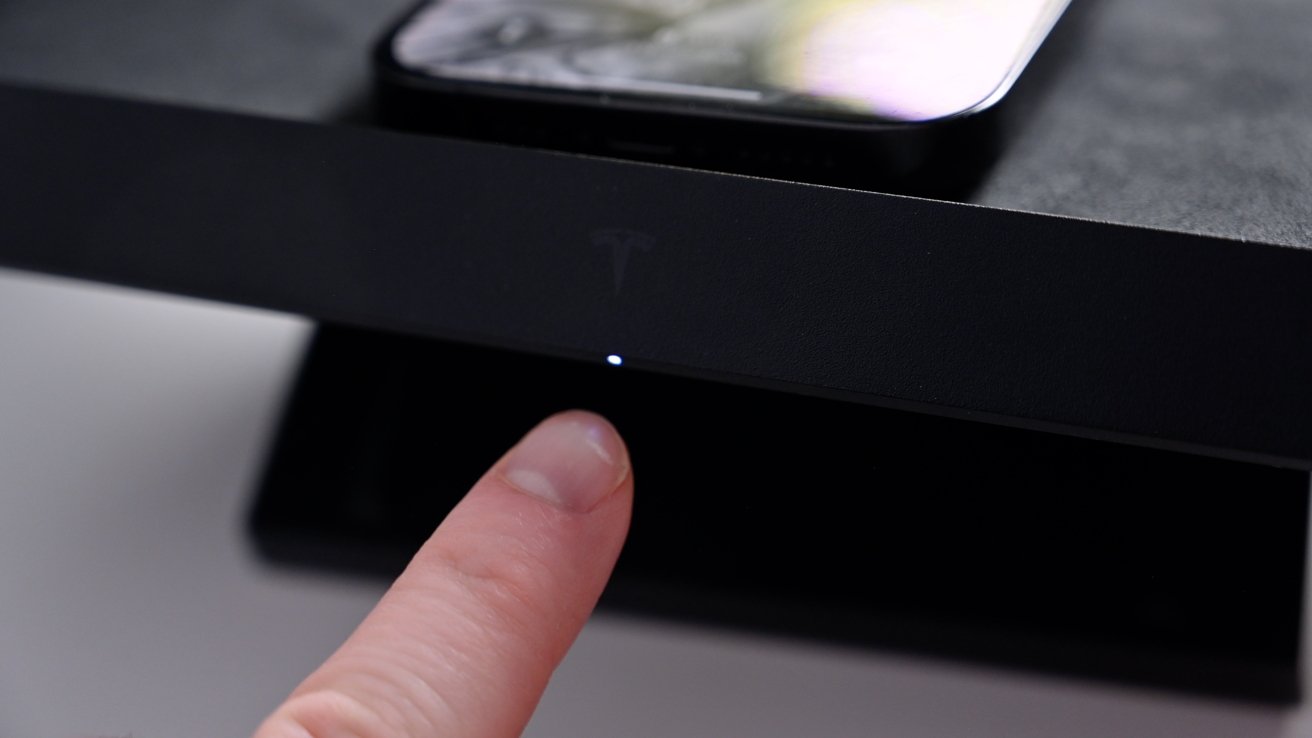 The Tesla Wireless Charging Platform status light
When a device is placed on the charger, a status light illuminates. The light comes on bright to let you know a device has begun charging but then will dim.
The light also points slightly downward, which is helpful if you place it bedside, so the light doesn't point at your face.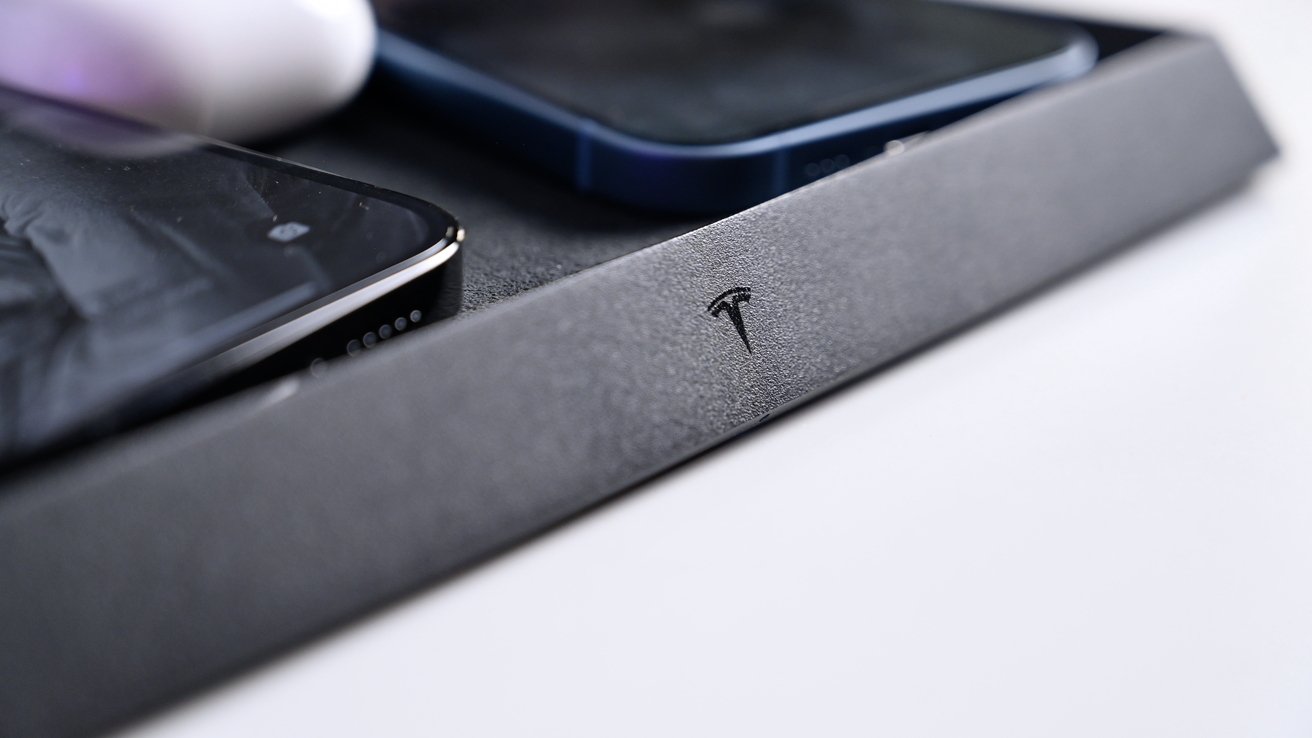 The subtle Tesla logo
Finally, there's a subtle Tesla logo stamped on the front. It's a gloss black logo on the matte black body that doesn't stand out but is there if you look for it.
Like AirPower, but it exists
Immediately what makes the Tesla wireless charger different is that it is a free placement Qi charger, akin to Apple's failed
AirPower
. You can place the phone nearly anywhere on its surface, and it will commence charging.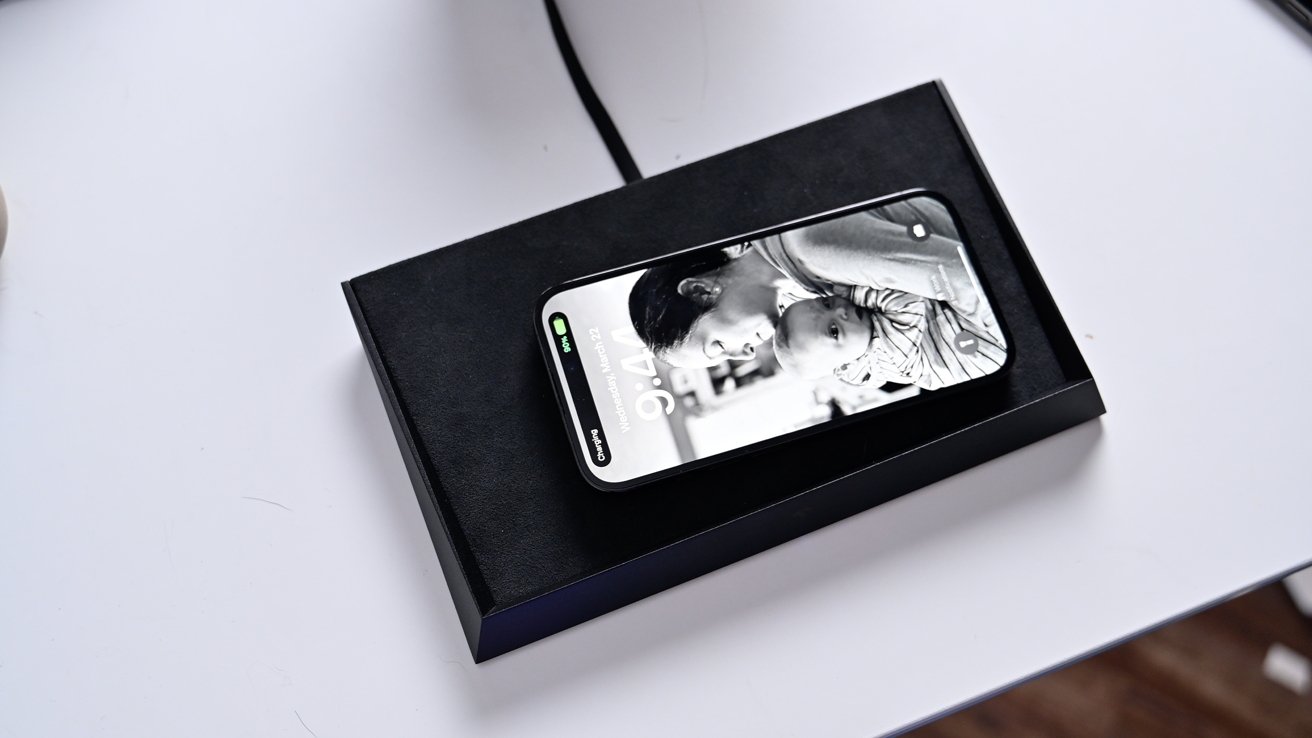 Charge your devices anywhere
The charger uses Freepower tech, which we first saw in the ill-fated Base Station Pro. Shortly after the Base Station Pro was released, Apple introduced
MagSafe
.
Apple MagSafe uses an array of magnets that interfered with the Freepower technology and made
iPhone 12
units charge far too slowly on the large surface. Since then, Freepower has been working diligently to play nice with MagSafe.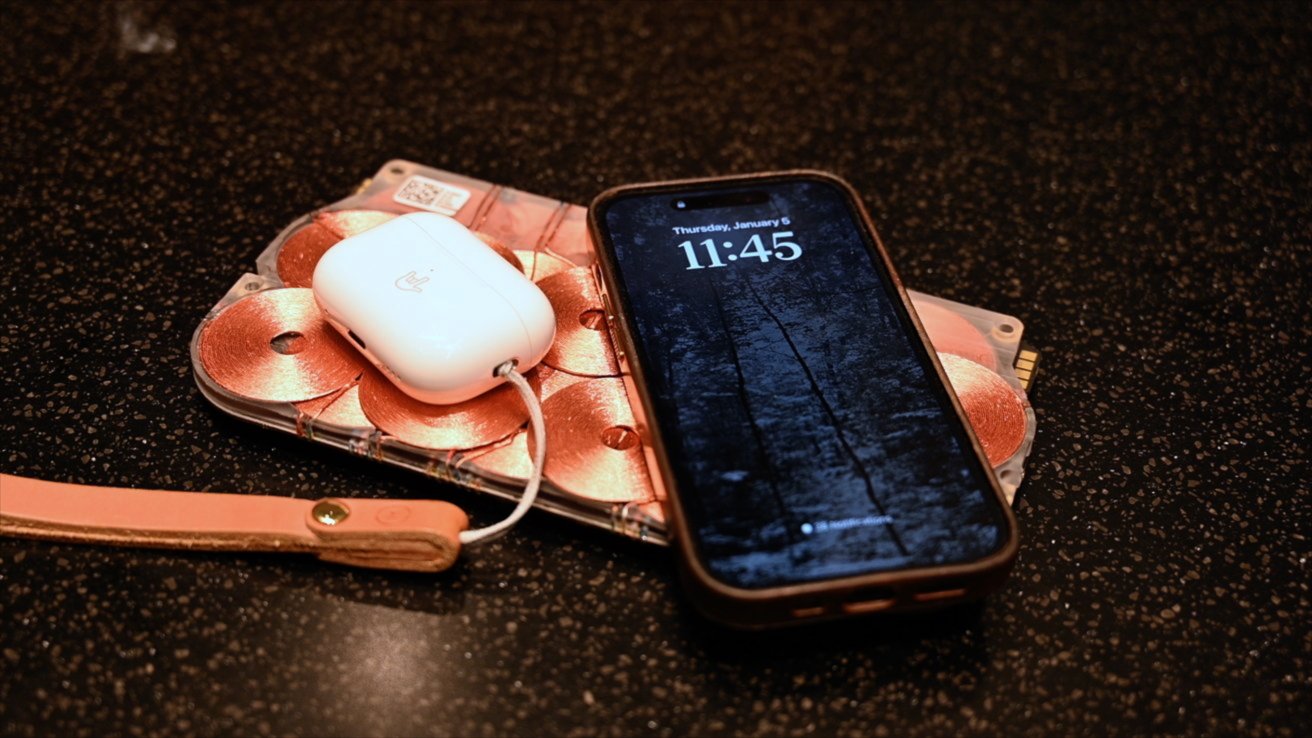 The Tesla Wireless Charging Platform uses a bunch of copper coils
This new charger shirks those initial woes and works flawlessly with any MagSafe phone, non-MagSafe phone, or Qi device. In doing so, it moved away from a printed circuit board to a more traditional copper coil layout.
The whole idea here is that you don't need to align your device for maximum charging speed. Toss down your phone, earbuds, or power bank, and you'll instantly be charging.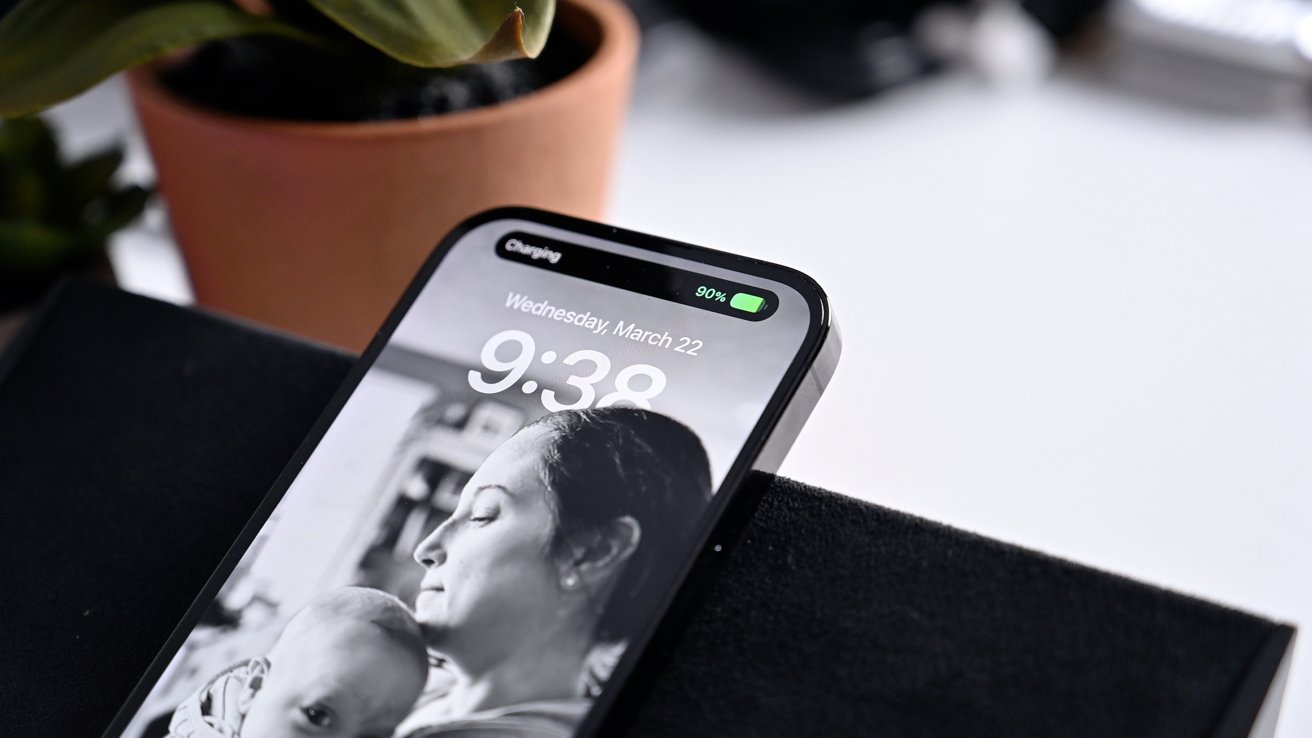 Charging an iPhone on the Tesla Wireless Charging Platform
With a standard Qi charger, any deviation off-center can drastically hurt your charging speed and efficiency. Freepower alleviates those woes.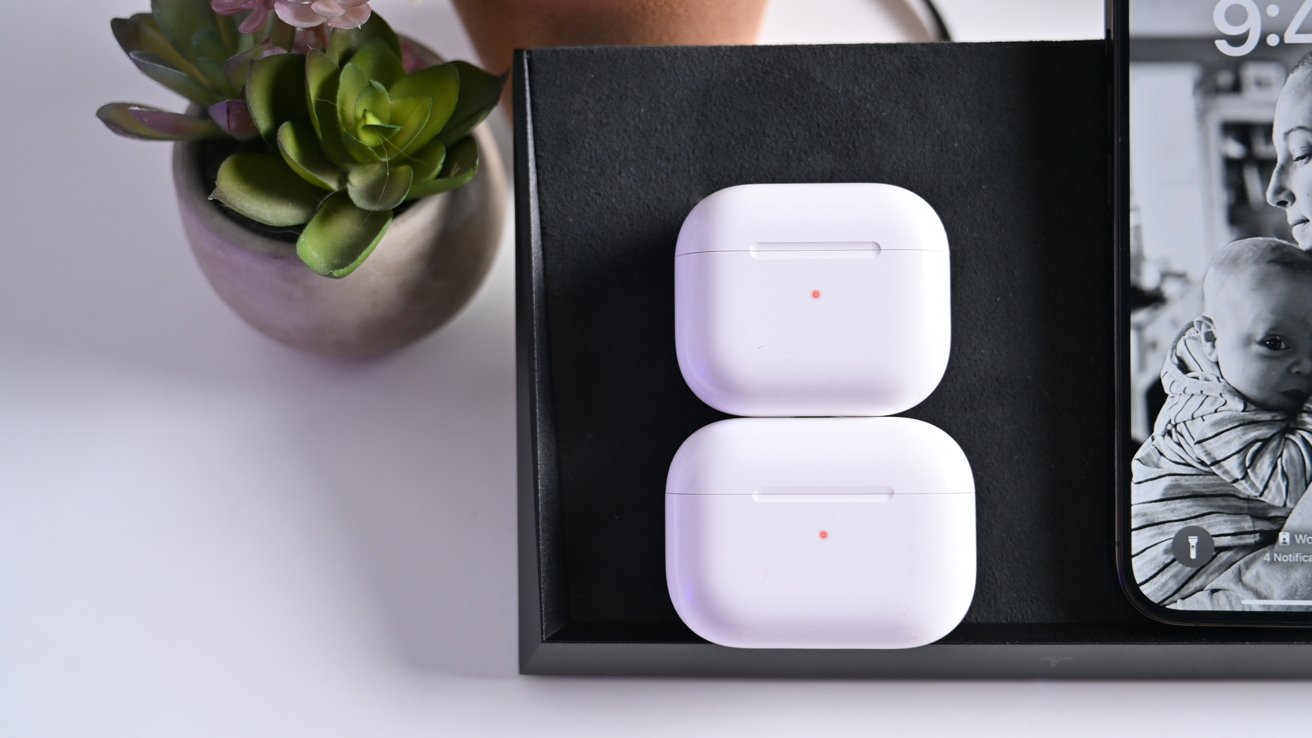 Two sets of AirPods on the Tesla charger
For iPhone users, though, MagSafe still be a more attractive option. MagSafe can reach up to 15W of charging while the Tesla Wireless Charging Station caps at 7.5W for iPhones (non-iPhones can go up to 15W).
Should you buy the Tesla wireless charger?
For as good as the Tesla Wireless Charging Platform is, there are still considerable drawbacks. For many iPhone users, this will still be a tough buy.
Functionally, this works flawlessly. It has so many little touches, such as the flat cable that can route through the magnetic stand, the status light that dims to be unobtrusive, and the massive charging surface that fits up to three devices.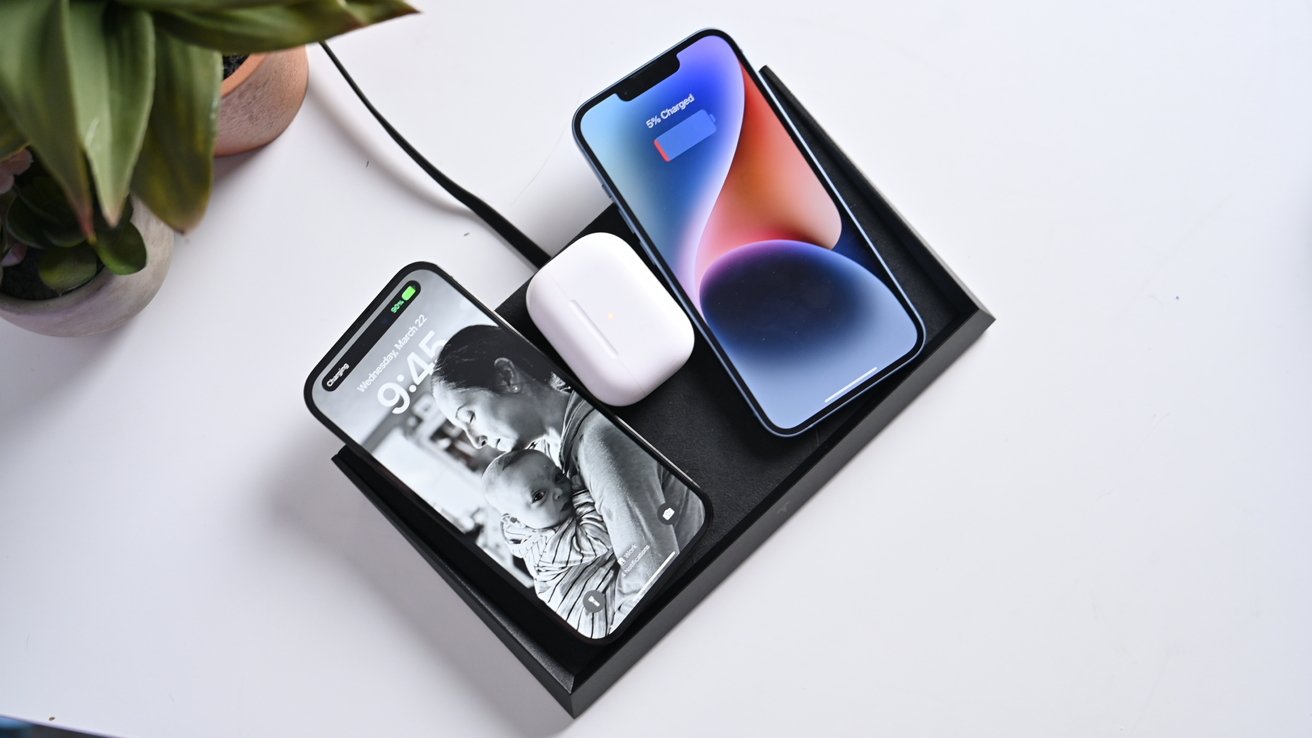 The Tesla Wireless Charging Platform with three devices
There is something a little freeing about quite literally tossing your gear onto the surface and knowing it will charge without thinking about it. For multi-platform households with some Android devices, this could be ideal.
Currently, there are no other free placement wireless chargers that work as Tesla's does.
If you're all-in on Apple's ecosystem, though, MagSafe is probably a better choice. You can get up to twice the charging speed for iPhones, and the magnetic alignment still ensures you don't have to line your phone up to charge.
The price is also inflated here, likely because of that Tesla logo emblazoned on the front. $300 is a lot to cough up for a charger.
This is possibly the nicest, most high-quality charger we've tested, with unique features and premium materials. It's just hard to recommend wholeheartedly.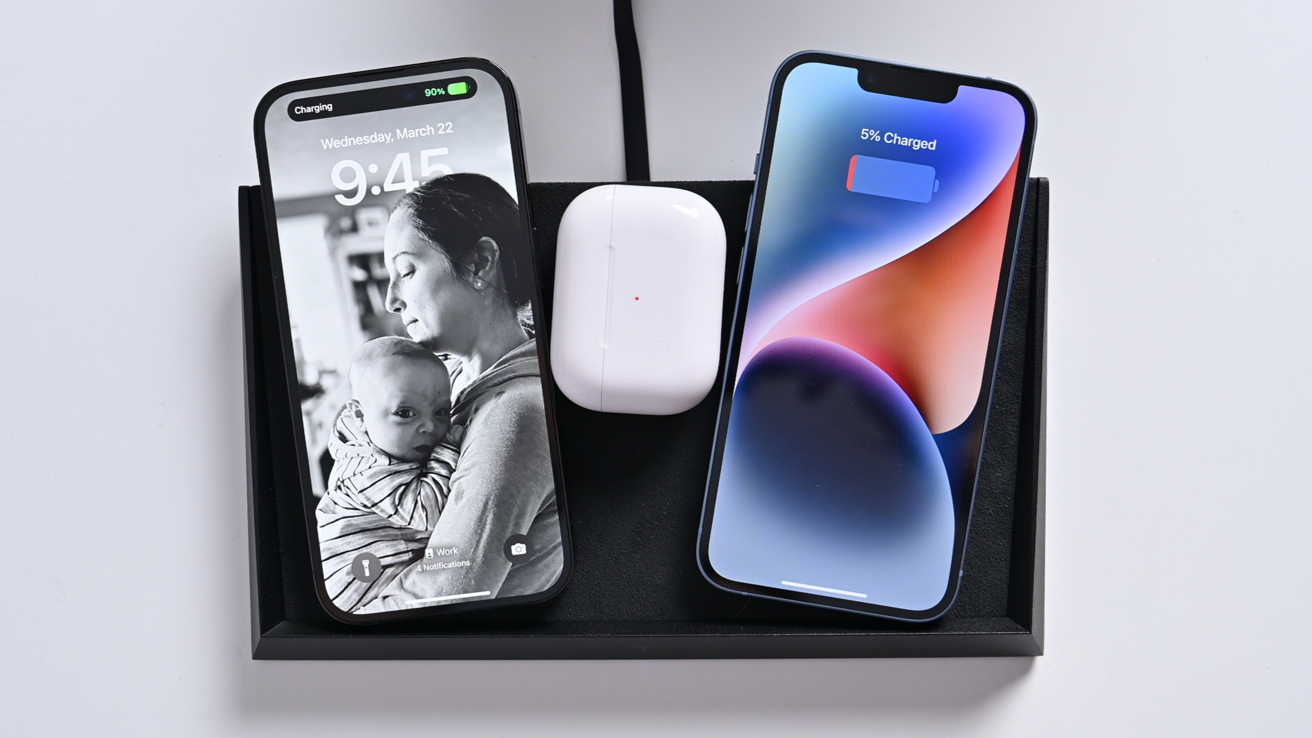 The Tesla Wireless Charging Platform
Pros
Incredibly solid all-metal construction


As premium as it gets


Freeplacement surface


Solid charging speeds


USB-C charging brick included


Optional magnetic stand


Cons
Not as fast as MagSafe


Cable is non-removable


USB-C power adapter may be superfluous
Rating: 3.5 out of 5
Grab the new Tesla Wireless Charging Platform
from Tesla's website for $300
with orders shipping in March.
Read on AppleInsider