Google is downplaying Android to focus its future on Chrome OS
Five years ago, I described how Google was distancing itself from Android and increasingly pursuing a new strategy around Chrome OS. While that was a controversial idea at the time, Google's latest announcements show that's exactly what the company had been doing.
In the summer of 2013,
AppleInsider
published
a look at Google's then-new Chromecast, a web streaming device that was based on code from Google TV rather than Android. The article noted this as additional evidence that Google was working to distance itself from the Android platform that the company had developed under the management of Andy Rubin since acquiring it in 2005.
At the time, Android seemed to be on top of the world. After first appearing as a hobbyist platform from Google in 2008, the new platform had suddenly surpassed expectations by serving as an effective software platform substitute in the production of new handsets, where it replaced JavaME, various mobile Linux distributions, Windows Mobile, Symbian and other platforms that had existed before iPhone.
A Chrome wrench in the Android works
Just as Android began taking off among phone hardware makers who were desperate to make something that could compete against iPhones, Google introduced an entirely new operating system: 2009's Chrome OS, initially aimed at netbooks. Google expected hardware makers to produce the first mini-notebooks running Chrome OS by the middle of 2010 -- in parallel with its phone-centric Android 2.0, which had just been released at the end of 2009.
Google's dual OS strategy wasn't unlike Apple's Mac and iOS, or Microsoft's desktop Windows and Windows Mobile 6.x of the same period. But, it didn't exactly work out as expected. The late 2000's netbook demand that Google planned to capitalize on with Chrome OS was wiped out by iPad in 2010. Additionally, hardware makers weren't even ready to build Chrome OS netbooks until the
middle of 2011
.
Chromebook partners like Samsung delivered their first models just as nobody cared about netbooks anymore
By the end of 2010, Apple had sold nearly 14 million iPads at around $500, solidly shifting excitement in the industry from netbooks to tablets. Google scrambled to react and ended up delaying progress on Android for phones by focusing the next major 3.0 "Honeycomb" version squarely on tablets in 2011, just as Chrome OS licensees were also ready to bring the first netbooks to market.
Steve Jobs' response to Android and Chrome OS
Both Honeycomb tablets and Chrome OS netbooks flopped out of the gate. But that wasn't the only problem for Google's Android and Chrome OS. Both had also stirred up contention with Apple, which increasingly saw Google as an assailant rather than a partner.
In February of 2010, Steve Jobs
addressed
Apple employees at a Town Hall meeting where he reportedly stated, "make no mistake; Google wants to kill the iPhone. We won't let them," while also disparaging Google's "don't be evil" mantra, calling it a "load of crap."
Animosity continued to increase between Apple and Google. The pair had previously worked together to bring Google's powerful search and mapping services to iPhone using Apple's user-friendly apps and development platform.
But, after Google mocked Apple at the release of Android 2.0, Apple stopped integrating new features of Google Maps in iOS, including its Google Latitude location tracking and the Google Maps+Navigation services that debuted with Android 2.0 in late 2009. Jobs had also announced in 2009 that Google's chairman Eric Schmidt would be stepping down from Apple's board, specifically because of Google entry into "more of Apple's core businesses, with Android and now Chrome OS."
Google now pays Apple
billions of dollars
every quarter to retain search traffic from Apple's platforms-- but at the time Google's executives acted like a rift with Apple was not a big deal. In 2011, Schmidt confidently
predicted
that within six months, mobile developers would prioritize Android over iOS, erasing the lead Apple held in mobile development and the iOS App Store. That still hasn't happened seven years later.
Google exhausts its excitement for Android
While turning its key partner into an enemy, Google's Android not only failed to take over iOS's leadership in mobile development but also failed to crack into the premium hardware markets Apple was creating around iPhones, the new iPad, and its increasingly high-end Mac offerings.
Google initially tried to beat the iPad with
2011 Honeycomb
tablets that were larger and more expensive, alongside higher-end Android phones that introduced big screens, 4G LTE, NFC, fingerprint scanners and other all-new features. Google also began releasing initiatives to make Android relevant in TV boxes with the short-lived Nexus Q and in video game consoles with Android TV and the now discontinued Nexus Player.
Google's Android 3.0 Honeycomb tablets were more like PC tablets than Apple's iPad
As these failed, Google repositioned Android as a way to power a series of low-end 7-inch tablets, notably Google's self-branded 2012-2013 Nexus 7 with an astonishingly low price of just $199. Following cheap tablets, fancy Android phones were giving way to commodity devices with collapsing prices delivering scant profits. The ideas that Android partners would steamroll iOS and that they could advance innovation faster than Apple were becoming increasingly difficult to believe.
By early 2013, Android's lackluster performance under the management of Andy Rubin resulted in Rubin being sidelined in "new projects." The Android division was handed to Sundar Pichai, the head of Chrome OS development. By 2014 Rubin was out of Google entirely.
Sundar Pichai and the turning tide against Android
Under Pichai, Google launched Chromecast in 2013 as a way to challenge Apple's popular AirPlay for wirelessly beaming audio and video from iOS devices to an Apple TV. Yet Chromecast wasn't based on Android. Instead, it used software developed for Chrome OS.
Pichai also turned the script on Google's "cheap hardware," terminating its low-end tablets and launching the Chromebook Pixel, an expensive Chrome OS netbook priced at $1300 to $1450, taking aim at Apple's popular MacBook Air rather than its lower-priced iPads.
Chromebook Pixel was neither cheap nor Android nor successful
Previous Chrome OS netbooks from partners including Samsung had been priced around $550. Pichai introduced the Pixel by
saying
, "the goal was to push the boundary and build something premium."
Pichai also clearly saw Chrome OS as the future of Google's hardware licensing.
"We're pushing computing forward," Pichai stated at the time. "It'll definitely make the ecosystem rethink touch. I think people will take the first step toward building tablets with this."
That didn't happen. Chrome OS remained unpopular and Pixel sales never took off.
The next year, Google floated another Android tablet, the Nexus 9 ironically code-named "flounder." It was designed to look just like Apple's then wildly popular iPad mini, which had been driving iPad sales into the stratosphere. It also carried a higher price, from $400 to $480, much higher than previous Android tablets from Google and its partners.
But, its Apple-like price didn't result in Apple-like sales.
Nexus 9 failed to challenge Apple's iPad or result in even a small commercial success of its own. Android tablets in general
began to sink
and the tablet market has contracted ever since.
Google's hope that smartphone apps would simply scale up to a larger screen didn't result in a desirable tablet platform. In contrast, Apple had worked to create iPad optimized apps and showcased this in its introduction of iPads, resulting in a sustainable platform and demand for iPads that could run sophisticated, tablet-optimized iOS apps.
Despite Google's hopes for Chrome OS, individuals and businesses weren't buying it. So Google began
dumping low-end ChromeBooks
on U.S. K-12 schools, many of which were happy to get any assistance in deploying low-priced computers of any kind. Four years later, that hasn't raised any tides for Chromebooks aimed at individuals or the enterprise.
As Chromebook Pixel stagnated as a placeholder product with marginal sales, Google began development of a more affordable new Chrome OS tablet that worked as a "detachable" similar to the Microsoft Surface. Shortly before its release, however, Google decided Chrome OS wasn't going to work and instead launched the device at the end of 2015 as the Pixel C running Android, starting at $500. That made for another expensive, commodity Android tablet, again tied to a platform that could only run stretched smartphone apps.
Pixel C was Google's last Android tablet
Last year, Google discontinued its
Chromebook Pixel
and the last of its
Android tablets
. Last week, Google introduced three new devices: Pixel 3 phones, a Home Hub "smart display," and a new Chrome OS Pixel Slate tablet. While it's notable that Google is again trying out Chrome OS instead of Android on its latest tablet, the company also
raised eyebrows
by dumping Android from its stationary "hub" tablet product.
Rather than running Android or its officially sanctioned "Android Things" platform created specifically to power smart displays and speakers, Google's new Home Hub is more akin to Chromecast, again running software derived from Pichai's Chrome OS team rather than from Rubin's Android.
Of the four device categories Google now sells, only one is still based on Android (Pixel phones), while its tablet, TV, and screen products have all moved on. If Chrome OS could run a phone well, Google would likely have made that shift too, but the reality is that it took Google five years to wean itself off Android in tablets. Three years after it introduced "Android Things," it's now weaned itself off of that, too.
Google is rumored to be building a new "Fuchsia" platform to replace Android on phones and everywhere else it is still used. But the question remains: why is Google abandoning Android as rapidly as it can?
Intellectual Property issues continue to hound Android
It looks like Google's shift is from a combination of Android's design as an interpreted Java implementation rather than running native code, the continuing problem of Oracle's intellectual property lawsuits involving Android's appropriation of Sun's Java code, and Pichai's natural affection for his own Chrome OS work rather than Rubin's Android.
Android fans can insist that the platform isn't inherently flawed but the reality is that Android phones require much more RAM to perform as well as iOS devices, and still can't keep up. Android also hasn't scaled well into wearables, tablets or into other devices.
Android defenders can insist that Oracle has no legal rights to Android, or that its IP lawsuit has no merit, but the reality is that the case hasn't been thrown out and instead keeps getting stronger for Oracle, threatening to involve
billions of damages
against Google -- and/or the threat of inserting new regulation or scrutiny into how Google can use Android, a far more devastating prospect than simply paying a fine.
Since we first published the idea that Google was distancing itself from Android, contrarians have insisted that this idea was preposterous. But here we are a few years later and Google is using non-Android software everywhere it possibly can: Chromecast, tablets, and screens, despite having Android code it could be using instead-- and years after delivering Android Things as a solution it expected third parties to use.
Google even distancing itself from its "dominating" Android on phones
Android is still heralded by its fans as a "dominant" platform that ships on most of the world's phones, just as Symbian did a decade ago. But among the companies that actually make any money related to Android, the brand doesn't seem very important. It's rather almost treated as a liability.
Back in 2013, Android's largest licensee Samsung was already
avoiding
any direct mention of Android in its marketing of the Galaxy S4, focusing instead upon Samsung's own user interface and security layers, which could effectively be ported to alternative operating systems. At the time, Samsung had been selling Bada and was working on Tizen, both of which aspired to replace Android.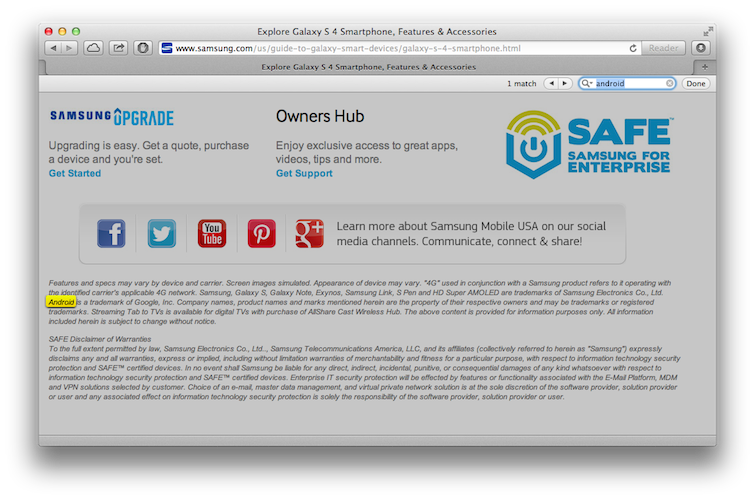 Samsung's Galaxy S4 web page made one mention of Android in tiny type
This year, even Google itself appeared to go out of its way to avoid saying even the word "Android." Writing for
9to5Google
, Stephen Hall
noted
that "'Android' wasn't said a single time during the Made by Google 2018 keynote. It marks the first time ever that Google has held a public-facing hardware event like this -- since the introduction of the operating system in 2008 -- without at least mentioning it by name."
He also noted that Google has stripped "Android" off of much of its app branding. Android Pay and Android Messages are now Google Pay and simply Messages.
New Android apps and initiatives are also given a Google branding: Google One, Google Allo, Google Tasks. For its latest Pixel 3 products, Hall added that there is "no mention of Android on the retail box. Not even a mention on the boot screen."
If Android is such a great brand and is "popular" among buyers globally, why are licensees and even Google itself avoiding any mention of it?
The answers appear to be right in line with what we predicted five years ago. Android lingers under the issue of stolen IP, and its core foundation as a platform is not only flawed but fails to mesh which Google's own core competencies and the focus of its management.
Google has always been a web services company, building web clients with web tools. It was only with the 2005 acquisition of Rubin's Android project that it got into the business of maintaining a non-web platform. Android simply hasn't worked out well. Google has invested tremendously into the platform but as years go by it hasn't been able to attract the kind of premium users that iOS has.
Apple has free rein in a world dominated by Android
The main thing that Android has accomplished is to fill up space that has prevented other potential competitors from taking root. When Microsoft tried to launch Windows Phone in 2010 to leverage its PC partners in taking on Apple's iPhone, it was stymied by the free availability of Android.
When Samsung similarly tried to get Bada off the ground in 2010, and then Tizen in 2012, it was hampered by Android's lock on smartphone apps and mindshare. Note that Samsung has shifted its own smartwatches and Smart TVs to Tizen, making it clear that it wants off Android as much as Google does.
Blackberry invested significantly in the development of Blackberry OS X, hoping that the new platform would power tablets, phones and other mobile devices. In a world increasingly dominated by Android, it didn't have a chance to get off the ground. It gave up and adopted Android and has sunk into oblivion ever since.
Sailfish, Nokia's MeeGo/Maemo/Moblin, Ubuntu Touch and other open source mobile platforms have also been unable to germinate and develop under the suffocating blanket of Android.
The companies that have used Android without Google, including Amazon's "Fire" fork and various distributions used in China, are largely increasing the legacy footprint of Android without really adding much value. If anything, this use of Android is only contributing to the difficulty in replacing Android with something better, either from Google or from an emerging competitor.
Having the entire consumer electronics world largely aligned under Android-- handcuffed by its problems and unable to rapidly and radically innovate-- has been great for Apple
On the other hand, having the entire consumer electronics world largely aligned under Android-- handcuffed by its problems and unable to rapidly and radically innovate-- has been great for Apple. It means that rather than competing against Microsoft or a radical new innovator it only has to keep ahead of a mobile platform that has never been directly profitable for its developers, and is hampered by its own legacy and fragmentation.
That has allowed Apple to focus on optimizing iOS to work across generations of iPhones, specialize it to run on tablets and higher-end PC notebook replacements in the form of iPad Pro, and to leisurely develop new platform categories in Apple TV and Apple Watch.
If Google, Samsung, Microsoft, or any other company were able to create a new platform to replace Android, they would not only face the difficult prospect of breaking through the suffocating atmosphere of the fragmented, installed base of Android. They would also find themselves in competition with an established mobile and wearable platform that generates tens of billions of dollars quarterly, one that has locked up the design of advanced, efficient silicon, and has an extremely sophisticated development platform that generates virtually all of the profits among third-party developers.