iTunes issue downgrades 4K movies to HD resolution for some customers [u]
An issue with 4K-resolution movies offered on iTunes has started to surface on Twitter, with customers complaining 4K movies bought through the digital storefront are being downgraded in resolution to HD, with no obvious reason as to why the change is occurring.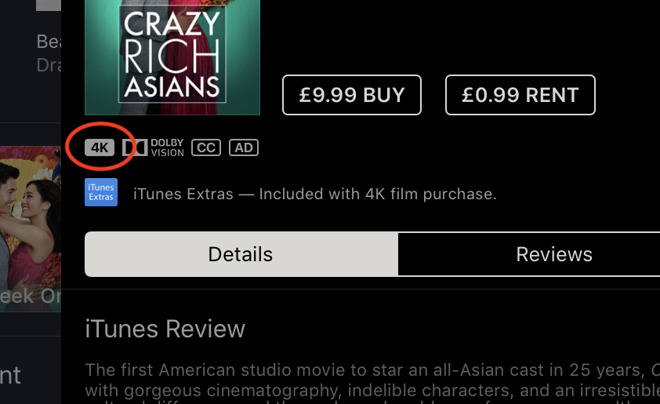 The iTunes store has offered
4K and HDR
content since 2017, coinciding with the launch of the
Apple TV 4K
, allowing customers to buy and rent movies from a variety of studios and stream them to the set-top box. Recently, some users have discovered that their 4K-resolution purchases aren't being provided to them at the resolution they paid for.
Posts to Twitter claim collections of movies bought via iTunes were previously showing the 4K logo, signifying their availability at the higher resolution. Now, some users are finding a quick check of their collection has removed the 4K logo from view, a sign that the offered content is no longer available at 4K, only at HD resolution.
Let me know what happens! I just checked iTunes on my Mac as well and the 4K logo has been removed from the complete collection! Like what the heck! Fix this! ASAP!
One customer,
Greg Paige
, attempted to clarify the situation by Apple's support teams, but had unsatisfactory responses ranging from it being "modified by the content provider" to being dismissed as only supporting up to HD in the first place, despite previously being bought in 4K.
According to a
post
on the
Blu-ray forum
, some of the affected movies include "Batman vs. Superman," "Hitch," "Matrix Reloaded" and "Matrix Revolutions" but not the original, "X-Men: Days of Future Past," and the entire "Harry Potter" franchise.
It is ultimately unclear exactly why the change is happening, but it appears to be more an issue with Apple's systems rather than one caused by a particular studio. The variety of movies allegedly affected by the issue suggests it is more a general problem with Apple itself, as it is unlikely multiple studios pulled 4K content simultaneously.
AppleInsider
has contacted Apple about the situation, and will update this post if there is a response.
Update:
The issue appears to be resolved, as 4K versions of impacted movies are returning to customer accounts.