Adobe Fresco painting app for iPad boasts accurate AI-powered brushes
Adobe has provided more information about an upcoming drawing and painting app it is developing for the iPad for release later in 2019, including replacing its 'Project Gemini' name with a proper release title -- Adobe Fresco.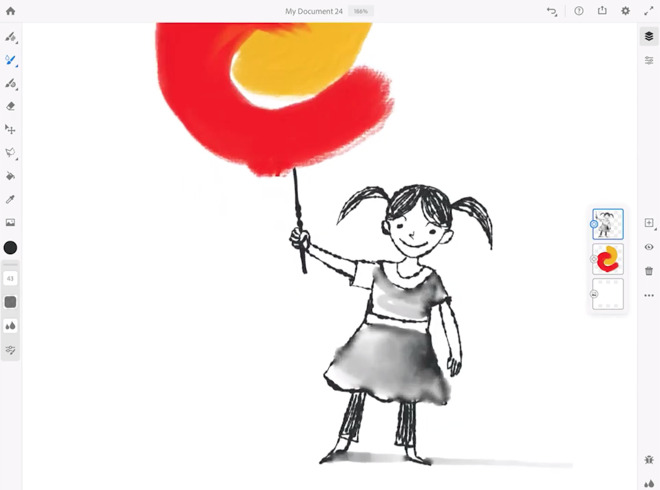 First teased by the company in
October 2018
under the "Project Gemini" monicker,
Adobe Fresco
is an artistic creation app that can be used for drawing and painting, rather than for design work. Built for the iPad and for use with the Apple Pencil, with other platforms to follow, the app aims to offer an accurate painting and drawing experience to the tablet.
Key to the app is Live Brushes, which uses
Adobe Sensei's
artificial intelligence to recreate the behavior of oils and watercolors. For example, a watercolor Live Brush will show color bloom, blending of colors at a border, and the painting of just water allowing for colors to dilute and mix on the page.
An oil Live Brush will show ridges and brush strokes with thick coats, with colors also able to swirl together. Photoshop brushes can also be imported to Fresco, while thousands are also being offered, created by digital brush maker Kyle Webster.
There are also vector brushes for clean lines and scalable shapes, the ability to create brushes using Adobe Capture, and Photoshop-style tools including masking, layers, and selections. Artworks can also be moved between other Adobe apps, and even exported as PDF for editing within Adobe Illustrator.
Adobe has not advised exactly when Fresco will be available to use, but it is currently undergoing pre-release testing. The company hopes to pitch it towards a "broad spectrum of seasoned to novice artists," and that "anyone with the right hardware will be able to draw and paint in Fresco for free."