iPhone 11 Pro review - Buy for the better camera, stay for the battery life
Posted:
in iPhone
edited December 2019
Before the release of iPhone 11 Pro, Apple took a lot of heat for what was predicted to be a very minor iteration over last year's iPhone XS. What was actually delivered is anything but inconsequential.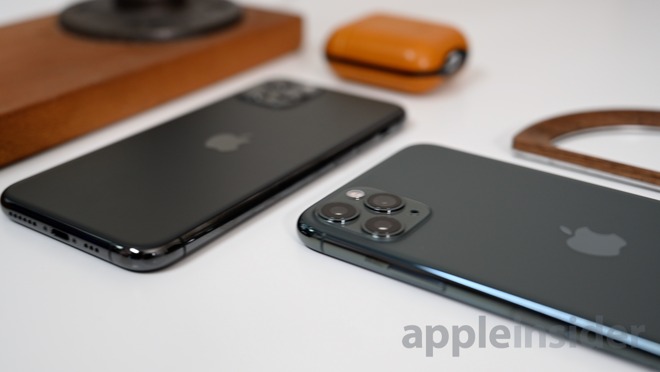 iPhone 11 Pros in space gray and Midnight Green
What it is
Announced on September 10, the
iPhone 11 Pro
comes in four colors: gold, Space Gray, silver, and Midnight Green. Just like the
iPhone XS
before it, it is available in capacities of 64, 256 and 512 gigabytes.
Aside from the difference in screen size, there is no upgrade when jumping from the iPhone XS to the iPhone XS Max. Once again, yet unlike the "Plus" models released prior to the iPhone XS Max, the smaller variant of the flagship iPhone has the exact same camera system as its larger counterpart.
We've been testing gold, Space Gray and Midnight Green iPhone 11 Pro models with 256GB of storage.
Three-lens camera
Apple has always used an excellent camera in the
iPhone
. It's easy to look back at a camera made two or three years ago, and make outlandish claims about it being "garbage."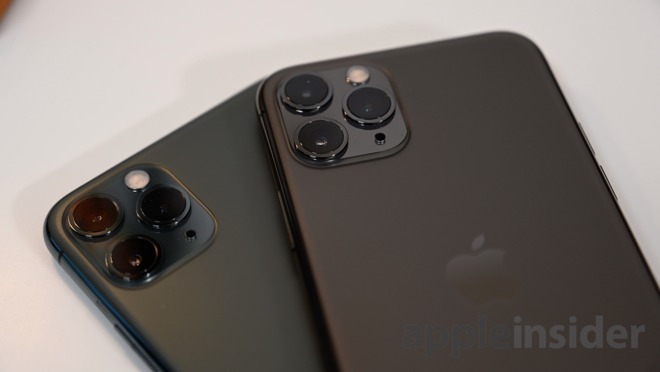 iPhone 11 Pro in Midnight Green and Space Gray sport three cameras
Of course a camera from three years ago isn't as good as the one in a newly-released iPhone. That's how this works. Technology advances.
Anyway, as
we've said before
, the clearest improvement in the iPhone 11 Pro family is the three-lens camera. In the now-square camera protrusion, Apple has included a five-element ultra-wide lens with an f/2.4 aperture and 120-degree field of view, and a six-element f/1.8 wide lens.
A six-element telephoto lens with an f/2.0 aperture has a 2x optical zoom-in, the same as the
iPhone X
and iPhone XS, but also notably a 2x optical zoom-out.
The wide and telephoto lenses have optical image stabilization.

Ultra wide lens (left) and the standard wide lens (right) on iPhone 11 Pro
What gets lost in the noise of "
The best smartphone camera is...
" headlines that abound this time of year is the video quality that is generated by the system as a whole. Video can be captured at 4K resolution at 24, 30 or 60 frames per second, and utilizes optical image stabilization on the wide and telephoto lenses.
If you shoot at night a lot, or have been anxiously awaiting Portrait mode for your pets, now's your time. Apple has improved the machine learning and computational photography in the iPhone 11 Pro, and to a lesser extent, everything that can run iOS 13.

iPhone 11 Pro Night mode (left) and iPhone XS (right)
As a result, photos in low-light environment have the detail that you want. That furry creature that lives in your house can now get the same photo treatment on your phone with bokeh and other effects that your kids or significant other did before the update.
Better photographers than us have already chimed in on the quality of the camera, the lenses, and the software.
Again
,
again
, and
again
.
Related to that camera headline proliferation, there is no one true, best camera for any given set of eyes. We'll be delving into this at much, much greater depth very soon. And, we'll be comparing the cameras to many other high-end smartphones in the coming days, so you can see for yourself.
Here's the bottom line: the
iPhone 11
has a great camera for stills and video. The iPhone 11 Pro has a greater one not just in hardware, but in software too.
...and the 12MP TrueDepth selfie camera
For most users, the upgrade of the selfie camera to 12 megapixels with an f/2.2 aperture won't make one single bit of difference. But, it does have a big utility in interviews.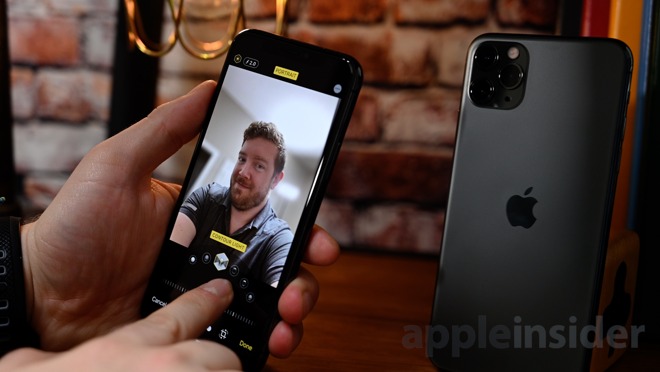 iPhone 11 Pro has a 12MP True Depth Camera System
As demonstrated during the Sept. 10 event, that camera can be used in conjunction with the back camera, and both can record to the iPhone's flash storage at the same time. This sets up a one-device dual-camera system, so an interviewer and interviewee can be captured simultaneously.
We suspect Apple has something else in mind for the future here. But, what that is isn't apparent in the tea leaves just yet.
"Super Retina XDR display" is a fancy way to say better than 2018
The 2,436-by-1,125 OLED screen in the iPhone 11 Pro isn't quite the same as it has been for the last two years. Beyond just the name change of this year's screen to "Super Retina XDR display," the iPhone 11 Pro now has a 2,000,000 to one contrast ratio, compared to 1,000,000 to one on the iPhone XS and iPhone X. Additionally, the iPhone 11 Pro has a brightness of 800 nits typically and up to 1200 nits with HDR, whereas the iPhone XS has 625 nits.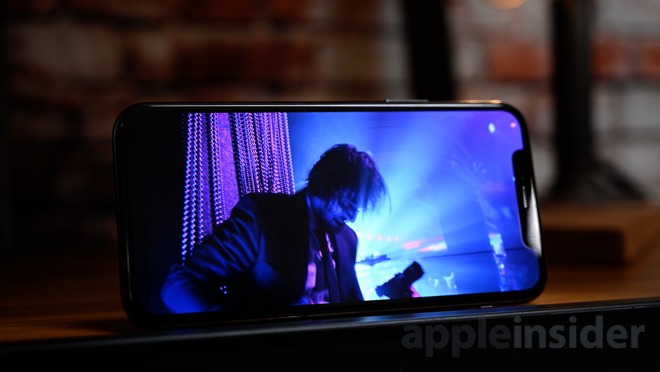 The Super Retina XDR display makes movies pop
If you're coming from an older device, like the
iPhone 8
or any other iPhone model that isn't double-digits, the swipe-up to return Home isn't a big deal. We gave our review unit to a daily user of an
iPhone SE
, and they were instinctively trying to swipe up in place of a home button hit after only a few hours of use on the newer device.
It is an adjustment, of course. It's just not a long one, nor a particularly major one.
Face ID
is still great. It doesn't appear that there are any hardware changes year-over-year, but iOS 13 has made great strides in speed since the iPhone X shipped two years ago with iOS 11.
The Face ID system requires multiple cameras and emitters, and basically mandates that notch. Some hate it, some don't mind it -- but we're not sure that on its own without Face ID, that anybody loves it.
Wireless speed & Wi-Fi 6
No, there is no 5G on the iPhone 11 Pro family at all, and there shouldn't be this year. Standards are still shaking out, carriers are still getting their act together. What works this year is probably not going to be even close to a full array of what 5G will support in the future.
It is absolutely the right decision for Apple to wait until 2020 for 5G. The technology just isn't final yet, and there are many examples practically demonstrating this. And, it's going to take years to build out the network.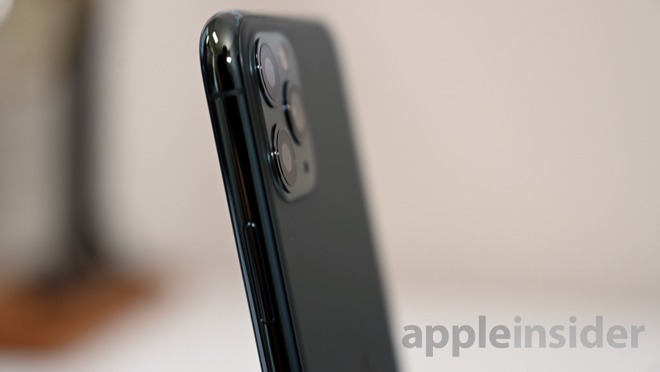 This all said, the performance from the iPhone 11 Pro on LTE is better than it is in the iPhone XS and iPhone X.
On the Verizon network, we got about 61 megabits per second download speed, and 27 megabits per second upload speed with the iPhone 11 Pro in our main test location. An iPhone XS held in the same manner, in the exact same location got about 47 megabits per second download speed, and 11 megabits per second upload speed. Not too shabby -- but either speed is more than enough for web surfing, streaming 4K, or just about any other use you can think of.
What you get for results will vary a great deal on your carrier and provisioning where you're standing at any given moment. Most of the speed testing we've performed here was in a well-provisioned commercial area in and around Crystal City, Virginia, at night with very, very few residences. We get notably less performance from LTE in our brick house, next to a hill just two miles away -- but the proportionality of the difference between the two models is maintained.
In regards to Wi-Fi, the
new Wi-Fi 6
has officially been here for a few days. There have been draft versions of it included on assorted pieces of PC hardware and the like, but the 2019 iPhone Wi-Fi incorporates the full, final version of the spec.
The underlying Wi-Fi 6 technology promises a great deal. But, like 5G, that "great deal" isn't quite here yet. It's far, far closer in Wi-Fi 6 than it is in 5G, though, in the same way that food in your refrigerator is far closer to you than the goods at the supermarket that you like down the road.
Apple's decision to include Wi-Fi 6 on the 2019 iPhone stands in contrast to its call on 5G -- for good reason. Wi-Fi 6 is finalized, and there are no revisions coming to the spec other than errata which are likely alterable by firmware updates. You can't say this about 5G, to say nothing of the fact that the modems available today for 5G are veery literally hot, and drain the battery like a cannonball hole in a water tank's wall.
The inclusion here of Wi-Fi 6 is good, and forward-thinking with no risk. There remains lots of risk on setting on a 5G chipset in 2019, assuming that iPhone users keep devices for years -- but more on that retaining an iPhone for a long time concept in a bit.
But, for now, expect 802.11ac speeds from nearly every piece of home or enterprise networking gear, because the routers just aren't here in any volume as of September 2019. This will change -- and we'll be talking about what's going on with Wi-Fi 6 and what you should know about it very, very soon.
And, when we can get a router that isn't $500, we'll run a variety of tests on the iPhone 11 Pro, and get back to you.
Battery
You wanted that thicker phone and more battery life, you got it. Specifically, the iPhone 11 Pro has a 3046 mAh battery with about the same power draw that the iPhone XS had.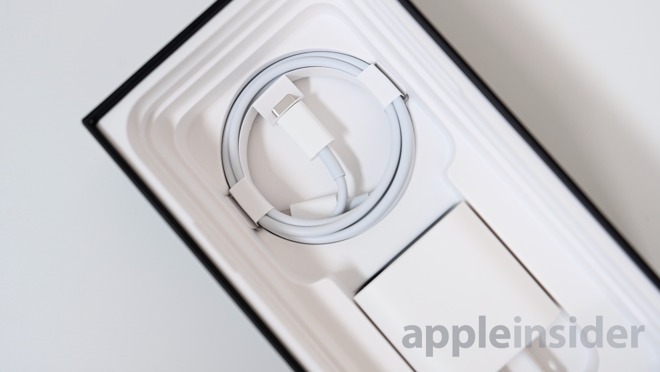 iPhone 11 Pro ships with a USB-C to Lightning cable and power adapter
The iPhone 11 Pro line ships with a USB-C power adapter, and a USB-C to Lightning cable. This is a good thing. Fast charge will slam your iPhone up to 50% charge in about 30 minutes, if you're in a pinch.
Don't let it get that far if you can avoid it, though. Qi chargers are inexpensive and convenient. And, at 7.5W of power supplied to the iPhone generally, they generate less battery-killing heat, even if they don't quick-charge like a cable will.
Get one for your desk, one for your bedside, and one for the office. You won't be sorry.
If you must know, we got results for constant use that exceeded Apple's estimated video playback time, with a run of a HEVC-encoded 4K HDR iTunes film streaming from Apple's servers over a Wi-Fi 802.11ac connection for 12.1 hours.
Regardless of what you're doing, you're going to be able to go all day. And, Apple says the
iPhone 11 Pro Max
and
iPhone 11
will go even longer.
Raw, blistering speed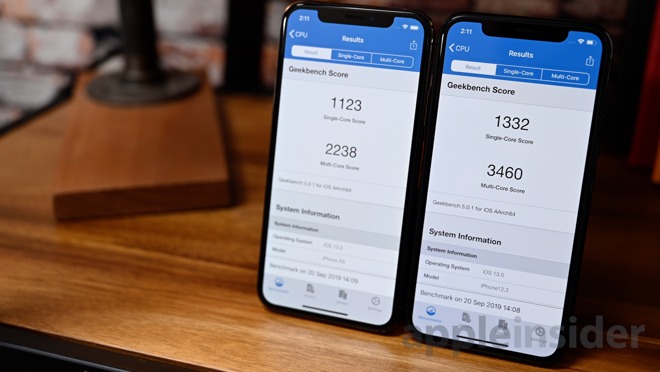 iPhone XS (left) and iPhone 11 Pro (right) Geekbench 5 results
Using the new GeekBench 5 benchmark, our iPhone 11 Pro got a three-run average single-core score of 1361. The multi-core run gave us a 3561 averaged over three runs as well. For comparison, our Galaxy Note 10 Plus that we reviewed earlier in September scored a 741 single-core score on the new suite, and a 2701 multi-core benchmark.
The GeekBench 5 Compute score leverages Metal on the Mac and iOS, and Vulkan everywhere else -- and was even more profound. The iPhone 11 Pro scored a 6309, with the Galaxy Note 10 hitting 2201.
It's fortunate that the Pixel is about to be updated. The Pixel 3XL delivered less than half the performance of the single-core test, about half the multi-core benchmark, and one-tenth the compute score.
We also ran the AnTuTu benchmark and received a cumulative score of 456760 across CPU, GPU, UX, and memory tests. That compares favorably to our results on our iPhone XS, which scored a total of 370618. It saw the biggest boosts in the CPU and GPU categories.
But here's the thing: as you can see, the iPhone 11 Pro is fast, so very fast. How much of this really matters day-to-day, today?
As you'd expect, we have a pile of iPhones spread across the
AppleInsider
staff going back a decade. Most of them still can be used as a phone, but usability with modern versions apps is questionable past about four years old.
This is the way of things. The older iPhones aren't getting slower, the demands that are being placed on them by Apple, developers, and users are escalating.
In building the fastest mobile chipset, and having done so for the last seven years consecutively, they're setting users up to use that iPhone for two years as a best in class, or near-best model. And, iPhones being used for four years or more isn't uncommon. In this regard, Apple is a victim of its own success.
Most Android phones are good enough for the year that they were released. Most are just fast enough to not be crippled by the operating system, and the flagships are good enough for now and maybe out 30 months -- assuming you can get a current version of Android for it.
The iPhone 11 Pro is not just "good enough." It will be "good enough" in four or five years, and is the best kind of overkill right now.
Ultra Wideband
Apple's got a fancy, new U1 chip in the iPhone 11 and iPhone 11 Pro. Basically, the U1 chip is used for spatial awareness, not just for the iPhone to know where it is in space, but for it to know where other objects that it can detect are.
The technology will nearly certainly be used to enhance the "Find My" app in the future, and interior navigation and Maps enhancements are obvious. We'd mentioned the
device tracker rumors
earlier -- and that seems like an obvious use as well, given the removal of the word "iPhone" from the "Find My" app title.
Most of the big-ticket features of the U1 are waiting for the imminent rollout of iOS 13.1, and not with iOS 13 that is on the iPhone 11 Pro today. The improved AirDrop with direction awareness and suggestions on who to beam a file to arrives in that version of the operating system.
Apple has high hopes for the U1. Apple says that not only does the iPhone 11 and iPhone 11 Pro have the first UWB installation on a smartphone, but it will also pave the way for new features to be added to the iPhone.
But, right now, it doesn't do much. We'll see what pops out in the next few months, or down the road.
Spatial audio
Apple likes marquee features a great deal, and one of them is the new "spatial audio." Apple says that it supports Dolby Atmos in iTunes movies, plus 5.1 and 7.1 surround sound mixes.
Look -- we like iPhone audio just fine. The speakers are very nice for as small as they are. But, to realistically call this any kind of Dolby Atmos playback, or in any way comparable to a 5.1 or 7.1 system is... well, it's ridiculous.
Does it sound good? Yes. It is louder than the previous iPhones? Absolutely. Will you be blown away by the acoustical fidelity? Nope, because the physics just won't allow it.
In theory, you can use one of several Lightning to HDMI breakouts, or AirPlay to do this, but why would you want to? Just get an Apple TV or an iTunes-compatible television and play whatever you want that way, because you just aren't going to get that fidelity with no real air volume in the iPhone speakers.
Bigger and better?
The iPhone 11 Pro and iPhone 11 Pro Max are the same, with the exception of the screen being 6.5 inches diagonally with a correspondingly higher resolution on the iPhone 11 Pro Max, and 5.8 inches on the iPhone 11 Pro. The camera system, the processor, the speed, the available colors, and the storage capacities are the same.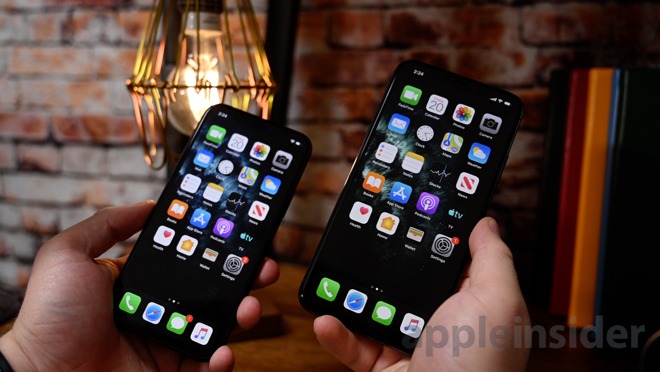 iPhone 11 Pro (left) and iPhone 11 Pro Max (right)
The iPhone 11 has a 6.1-inch screen at 326 pixels per inch, has a two-lens camera, better battery life, and the "Liquid Retina" LCD screen. As with 2018, don't let the LCD versus OLED internet battle fool you -- it is still a very nice screen.
In regards to physical usability, the iPhone 11 Pro can only charitably be called a single-hand device. You'll be hard-pressed to reach the upper corners of the screen gripping with one hand -- unless you've got a truly massive hand. This is aggravated on the iPhone 11 and iPhone 11 Pro Max, both of which are clear two-handers.
Choosing between the iPhone 11 and iPhone 11 Pro
This review isn't about the iPhone 11 Pro Max or iPhone 11. We'll be talking about both of them in more detail very soon. But, nothing operates in a vacuum, and the iPhone 11 and iPhone 11 Pro Max are available now too.
Ignoring the iPhone "Pro" branding, because
enough has been said
on that matter already, there's a lot of talk about the iPhone 11 being the phone for the masses this year, and that may be true. But, the iPhone 11 Pro is the one for those who live on their devices, and use it as the central piece of a digital lifestyle.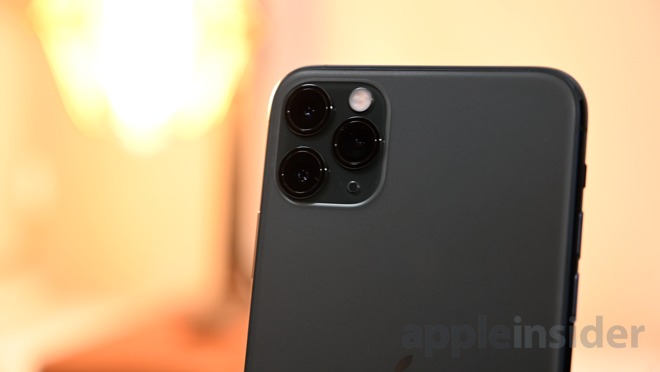 iPhone 11 Pro
If you're looking at the iPhone 11 Pro from the iPhone XS, it comes down to that camera, and maybe the battery life. We're not sure we recommend a one-year flagship-to-flagship jump, unless you
have
to have a new iPhone every year.
This reviewer is coming from an iPhone X as a daily driver, and the two-year cycle is a big jump. It is more than I thought it would be when I started assessing the new unit.
It is an even bigger shift in the iPhone experience overall if you're coming from an iPhone 8, or anything with a physical Home button. But, regardless of old habits dying hard, getting an iPhone 11 Pro of some sort is absolutely a jump worth taking if the iPhone is integral to your daily life and your iPhone is feeling pokey.
If the iPhone is just an assistant, or your Mac is the primary device in your life, stick with what you have, or get the iPhone 11.
Rating: 4.5 out of 5
Where to buy
Savings
on the iPhone 11, iPhone 11 Pro and iPhone 11 Pro Max can be found at popular wireless carriers, from BOGO offers to instant rebates and no interest financing incentives. Highlighted below are current specials, with a more detailed list available in our
iPhone deals roundup
. Please note: terms and conditions apply to each offer; please see the corresponding retailer's site for details.
iPhone 11 Pro deals