Apple TV+ chiefs speak about the service's creation and future path
Days before the launch of Apple TV+, Apple's chiefs of Worldwide Video Zack Van Amburg and Jamie Erlicht have revealed some of the work that went into building up the video streaming service from scratch, as well as hinting at the growth of the service beyond its opening year.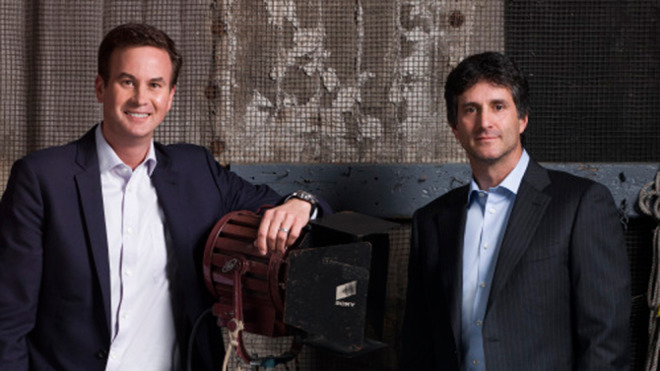 Jamie Erlicht and Zack Van Amburg
Apple will be launching
Apple TV+
on November 1, with customers able to sign up to watch the company's original video content for $4.99 per month, or be able to view free for a year if they have bought select items of Apple hardware. The ambitious nature of the project required the
hiring of executives
that could do the job, which Apple did
in June 2017
by bringing aboard Jamie Erlicht and Zack Van Amburg from Sony Pictures Television.
In an interview
with Variety
, Erlicht and Van Amburg offered insights behind the creation of Apple TV+, and Apple's ethos for the project as a whole. "This has been more than two years in the making," said Van Amburg. "We've all been working so hard to do the best work of our lives. We're anxious to begin to share that."
The pair spent time in Cupertino getting to know the various division heads that would be critical to the success of the project. "We spent a good chunk of [the first] few months flying up to Cupertino multiple times a week, figuring out how what we're doing on the entertainment side fit in with everything else at Apple," advised Erlicht. "We knew we needed to make [Apple TV+] feel seamless for the company."
The duo also had to take time to get used to a different way of working, as developing Apple TV+ is a world away from a traditional Hollywood studio. While previously elements such as budgeting, international sales, and syndication helped guide their decisions, for Apple TV+ they instead had to work to create a service that would be "worthy" of the Apple brand rather than simply going for straight revenue.
As part of their visits, they started to take onboard Apple's ethos that allowed it to create its other products, which the pair hoped to put into Apple TV+ as well.
"The guiding word is 'humanity,'" Van Amburg said about the brand. "All of our shows have something to say about the relationships we have with each other and with the world. The common denominator of all the creative people we've gotten into business with is 'Wow, they really know what they want to say with this show, and they're desperate to say it.'"
Though the pair are known for backing major shows like "Breaking Bad" and "The Goldbergs," the change from using their well-established metrics to working off their instincts has also made them confident about their show picks and how they will be received by the public. "There's no piece of data on November 2 that in any way, shape, or form can change the course of what we've been doing," Erlicht claimed.
As for down the road, Erlicht is also excited to share that there will be considerably more content down the line. "We're going to have a bigger slate in the first year than we thought we would," the executive admitted, continuing "we will be bigger in year two than year one."
Van Amburg is prepared for the intense competition Apple TV+ will be in against other streaming rivals, including the dominant
Netflix
and Amazon, along with other streaming newcomers like
Disney
,
Warner
, and
NBCUniversal
arriving in the space within the next six months. "The natural inclination is to feel that November 1 is the finish line," he states, "but actually, November 1 is the starting line."