Apple sees double-digit iPhone sales growth in China
New figures estimate Apple's sales of iPhones in China grew 18.7% year over year, even though overall the region saw a decline in smartphone sales.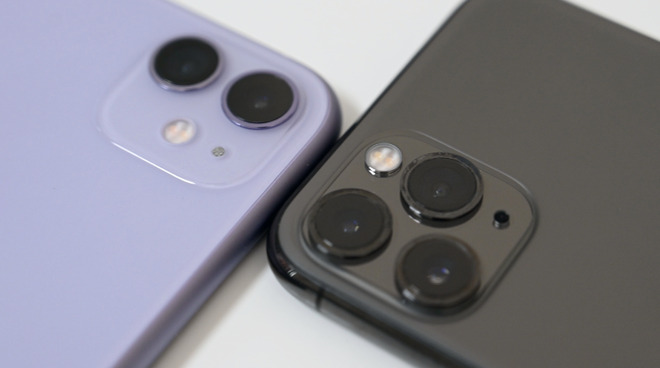 Apple's new iPhones are seeing increased sales
A year on
from
Apple
having to announce falling sales in
China
, the company is now seeing a double-digit rise in the number of
iPhone
shipments. Year over year, iPhone sales grew 18.7%, while overall the Chinese market for smartphones declined by 13.7%.
Bloomberg
reports that it has calculated these figures based on data from the China Academy of Information and Communication Technology (CAICT), and also from
Android
device shipments.
That
CAICT
data says that there were 389 million cell phone shipments in China during 2019, including over 13 million 5G phones.
Apple does not yet sell a
5G
-capable iPhone, but, according to
Bloomberg
, the current increase in sales means expectations are that the company will do well during the build up to the Chinese New Year on January 25.
This time in 2019, Apple was forced to
lower its revenue forecast
for investors because of falling iPhone sales in China. Rather than the previous estimate of between $89 billion and $93 billion, Apple announced that it was now expecting $84 billion for the preceding quarter.
"Lower than anticipated iPhone revenue, primarily in Greater China, accounts for all of our revenue shortfall to our guidance and for much more than our entire year-over-year revenue decline,"
Tim Cook
said. "While Greater China and other emerging markets accounted for the vast majority of the year-over-year iPhone revenue decline, in some developed markets, iPhone upgrades also were not as strong as we thought they would be."
Cook added said that there were international currency issues involved, but also cited "fewer carrier subsidies," and "some customers taking advantage of significantly reduced pricing for iPhone battery replacements" instead of upgrading.
Since then, Apple has introduced price cuts and trade-in deals, but by the end of 2019,
analysts were conflicted
over whether these moves had been successful.