Best Thunderbolt 3 eGPU enclosures for macOS
On Friday, Blackmagic announced it has discontinued their Vega 56-powered Thunderbolt 3 eGPU Pro. However, there are excellent -- and upgradeable -- options, that won't break the bank.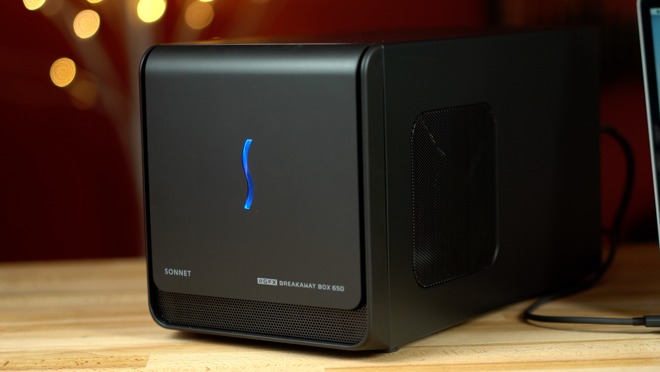 Sonnet's eGFX Breakaway Box 650
Blackmagic's eGPU line was excellent. It was quiet, and probably the most Apple-like of all the options. While the Radeon RX580-based version is still available, the higher-end Vega 56 model has only been canceled because of the discontinuation of the chipset that sat at the core of that particular model.
But, if you're in the market for an eGPU, there are options.
AppleInsider
recommends building your own.
What is an eGPU
Since the release of the
Thunderbolt
specification a decade ago, there has been discussion and work on using an external enclosure of some sort, with a PCI-E GPU card. For years, solutions relied on an assortment of hacks to work properly, and were hamstrung by bandwidth limitations.
That (mostly) changed when High Sierra arrived. An addition of the technology to High Sierra the spring following its release allowed AMD video card users to buy an enclosure for the card, and connect it to a Mac to get a boost to the chipsets included on any given Thunderbolt 3 machine.
Who will benefit from an eGPU
Benefits vary, depending greatly on the workload. Anything reliant on video frame rate will see a benefit. Additionally, there is some benefit to some video transcoding loads -- but not all of them.
As an added bonus, the eGPU keeps the heat generated by graphics processing out of the small
Mac Mini
and
MacBook Pro
. While this varies a great deal depending on workload, in our testing, a Mac mini with an eGPU connected to a
4K display
will maintain higher processor "turbo" speeds for longer, and will run cooler in periods of low load.
This all said, you won't quite get full speed out of a PCI-E video card. So, if you've got a
Mac Pro
, don't bother with an eGPU. Just get the cabling kit for your video card, and use one of the PCI-E slots in the Mac Pro instead for maximum benefit.
And, if you want to delve deeper, or hit a snag, there is a giant community devoted to the technology
at egpu.io
.
eGPU enclosure with PCI-E video card, or all-in-one eGPU
There are eGPU enclosures with built-in cards, like the
Sonnet eGFX Breakaway Puck series
. While we've suggested them in the past, at this time, it's hard to recommend them. Time marches on, and so do graphics chipsets.
There's a reason that the Vega 56 chipset for the higher-end Blackmagic eGPU Pro isn't made anymore -- it's been eclipsed by two newer releases. The Radeon VII plus Radeon 5600 and 5700 families have been released since the Blackmagic eGPU Pro, and either of which can be slotted into an enclosure.
The best eGPU enclosures for Mac
Based on our own experience with testing and daily use extending into 2020, we have two families of eGPU enclosures that we like the most, as of April 2020.
Sonnet eGFX Breakaway Box

Razer Core X and Razer Core Chroma
Sonnet eGFX Breakaway Box 650
Sonnet wasn't first to market with an eGPU case, but they were the first one anointed by Apple. Sonnet's
eGFX Breakaway Box
was used to demonstrate the technology at the 2017 WWDC, and a special version was included in Apple's bundle that was sold to developers to get them on-board with the technology.
There are several Sonnet eGPU enclosures now, but the best one is the Sonnet 650 with the beefier power supply and support for 100W of charging power to a host computer -- crucial to support full charging speeds in the
16-inch MacBook Pro
. The Sonnet 650, like the Razer, can take the cards that demand the most power like the Radeon VII.
The Sonnet eGFX Breakaway Box 650
retails for $299
.
Razer Core X
The
Razer Core X
is the first of Razer's Core eGPU lineup to feature Mac support. A tool-less drawer-style slide and lock mechanism is used to install the graphics card into the PCIe slot, secured with a single thumbscrew, with the enclosure capable of accommodating physically larger "3 slot-wide" cards. Perforated sides and cooling fans are also employed to keep the card and the chassis as cool as possible.
The enclosure supports 375 watts of power to GPU operation and 87W to the connected MacBook Pro.
The Razer Core X retails for $299 and is available at
B&H Photo
.
Razer Core X Chroma
The
Core X Chroma
has the same basic design as its predecessor, consisting of a black aluminum enclosure with a side window. It features lighting effects to illuminate the graphics card and the front, but this time using Razer's Chroma lighting system capable of producing 16.8 million colors.
Inside, the 650-Watt power supply used has been switched out for a 700-Watt version, enabling it to handle graphics cards with power requirements of up to 500 Watts. Power delivery is also provided to a connected MacBook Pro using the Thunderbolt 3 connection, at up to 100 Watts.
As well as Thunderbolt 3, the enclosure also offers Gigabit Ethernet connectivity, and four USB 3.1 Type-A connections.
The Razer Core X Chroma
retails for $399
.
What video cards can be used in an eGPU on macOS Catalina
Regretfully, there is no way to use an Nvidia card on macOS Catalina, for reasons too complicated to enumerate here -- but we have
done so elsewhere
. There is a wide array of AMD cards available, at a variety of price points.
Apple says the following cards can be used in an eGPU.
Radeon RX 470

Radeon RX 480

Radeon RX Vega 56

Radeon RX Vega 64

Prices vary a great deal, with the RX 470 retailing for about $110, and the Radeon Pro WX 9100 selling for about $1500. And, don't forget cabling -- the 18-inch Thunderbolt 3 cable that ships with the eGPU enclosure is too short to be practical in most installations.
AppleInsider
is presently using a Vega 64, Radeon VII, and RX 5700XT in eGPU enclosures from a variety of manufacturers, including the two listed here.
How to use your own eGPU with a USB-C display
Until relatively recently, it's been impossible to connect a USB-C display to a video card in a discrete eGPU enclosure. A bidirectional USB Type-C to DisplayPort Cable solves this particular problem, with the 6-foot nylon-braided cable having a
USB Type-C
connection on one end and DisplayPort on the other.
Given that this cable is bi-directional, any given eGPU enclosure that holds a video card with a DisplayPort connection -- effectively all of them -- can accelerate a USB-C display. And, if you were pressed, this can also allow an older monitor that uses DisplayPort 1.4 to be connected to a USB-C or Thunderbolt 3 connection directly, without needing an adapter.
The cable is compliant with DisplayPort 1.4 and VESA DisplayPort Alternate Mode 1.0a, allowing it to provide video at a resolution of up to 4K at 60Hz. The bidirectional conversion itself is performed between the HPD signal and Power Delivery VDM integral to the cable.
Monoprice is selling the Bidirectional USB Type-C to DisplayPort Cable
for $29.99
, in black.