Apple Silicon M1 24-inch iMac review: Computing power for the masses
Stop us if you've heard this one before -- Apple has a new line of colorful iMacs, and they're probably going to change computing forever.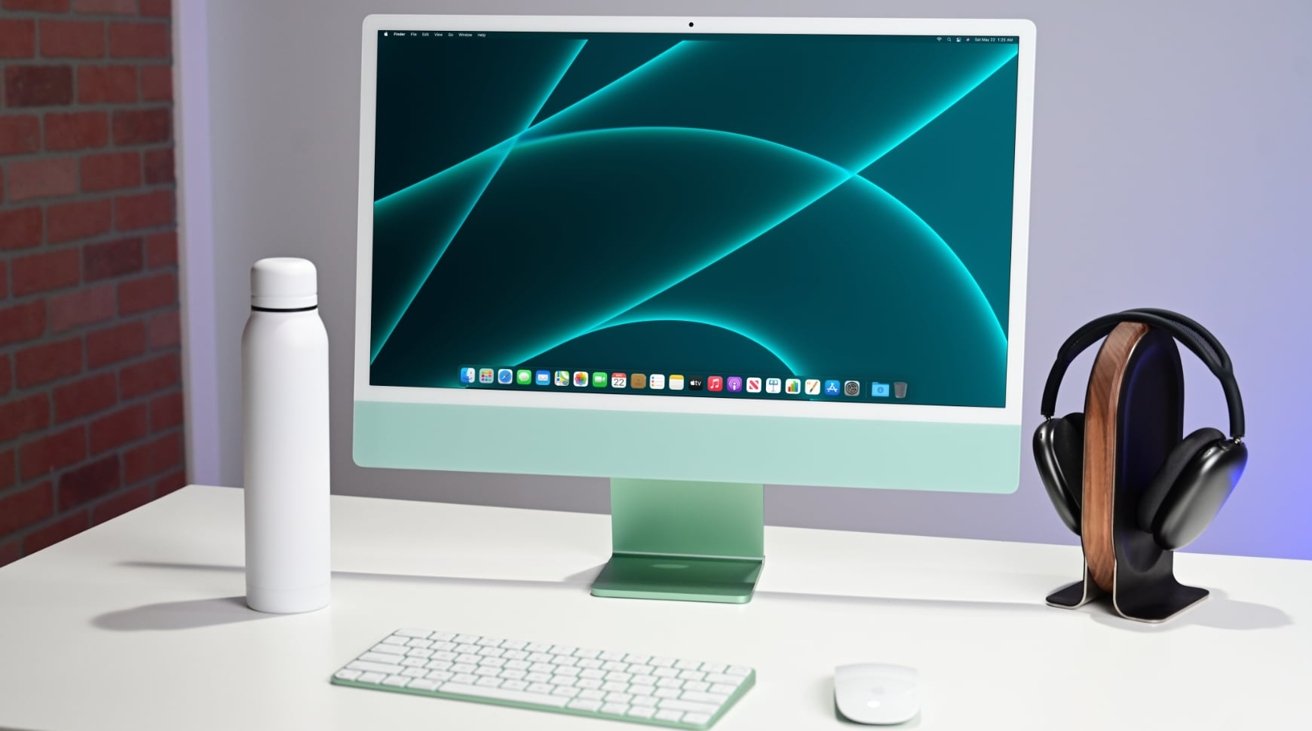 Apple's new 24-inch iMac
A month ago, Apple continued the inexorable extermination of Intel on the Mac. The latest
Apple Silicon
Mac is an update to the iMac lineup, but instead of reusing the enclosure from the previous processor architecture like it has done in the past, this time Apple has gone all out to rethink how the iMac looks and feels in its new 24-inch model.
While previous iMac range updates primarily dealt with the internal side of things, the
24-inch iMac
is a considerably different beast altogether. To go with the new insides, Apple has taken the time to perform what is arguably the most significant overhaul to its consumer-focused Mac lineup in years.
Specifications
24-inch iMac (2021, 2 ports)
24-inch iMac (2021, 4 ports)
Processor
8-core M1,
16-core Neural Engine
8-core M1,
16-core Neural Engine
Graphics
7-core M1 GPU
8-core M1 GPU
RAM
8GB unified memory,
Configurable up to 16GB
8GB unified memory,
Configurable up to 16G
Internal storage
256GB SSD
Configurable up to 1TB SSD
256GB SSD
Configurable up to 2TB SSD
Display
4,480 x 2,520 Retina 4.5K display
Wide color (P3)
True Tone
500 nits
4,480 x 2,520 Retina 4.5K display
Wide color (P3)
True Tone
500 nits
Connectivity
802.11ax Wi-Fi 6
Bluetooth 5.0
Configurable Gigabit Ethernet
2x USB 4/Thunderbolt 3
3.5mm headphone jack
802.11ax Wi-Fi 6
Bluetooth 5.0
Gigabit Ethernet
2x USB 4/Thunderbolt 3
2x USB 3.1 Gen 2
3.5mm headphone jack
Camera and Audio
1080p FaceTime Camera with M1 ISP
Studio Quality, three-mic array with directional beamforming
Six-speaker system with force-cancelling woofers
1080p FaceTime Camera with M1 ISP
Studio Quality, three-mic array with directional beamforming
Six-speaker system with force-cancelling woofers
Video output
One 6K display at 60Hz
One 6K display at 60Hz
Special features
Hey Siri support
Magic Keyboard with Touch ID compatible
Hey Siri support
Magic Keyboard with Touch ID supplied
Price
Starts at $1,299
Starts at $1,499
Apple Silicon iMac - Dramatic redesign
Like with the PowerPC to Intel shift before it, Apple's initial wave of Apple Silicon device launches solely focused on making sure an easily recognizable product was offered using the brand new technology. There was a greater need to ensure everything worked, so sticking it into tried and true industrial designs like the
MacBook Pro
,
MacBook Air
, and the
Mac mini
made sense.
While we've known that a 24-inch iMac was coming for some time, frankly, we're surprised that Apple didn't take the same route it took during the PowerPC to Intel shift with Apple Silicon iMacs. We were expecting the company to rip out the Intel-based insides of the existing 21.5-inch and 27-inch models, slap Apple Silicon in there, and call it it a day.
But Apple didn't.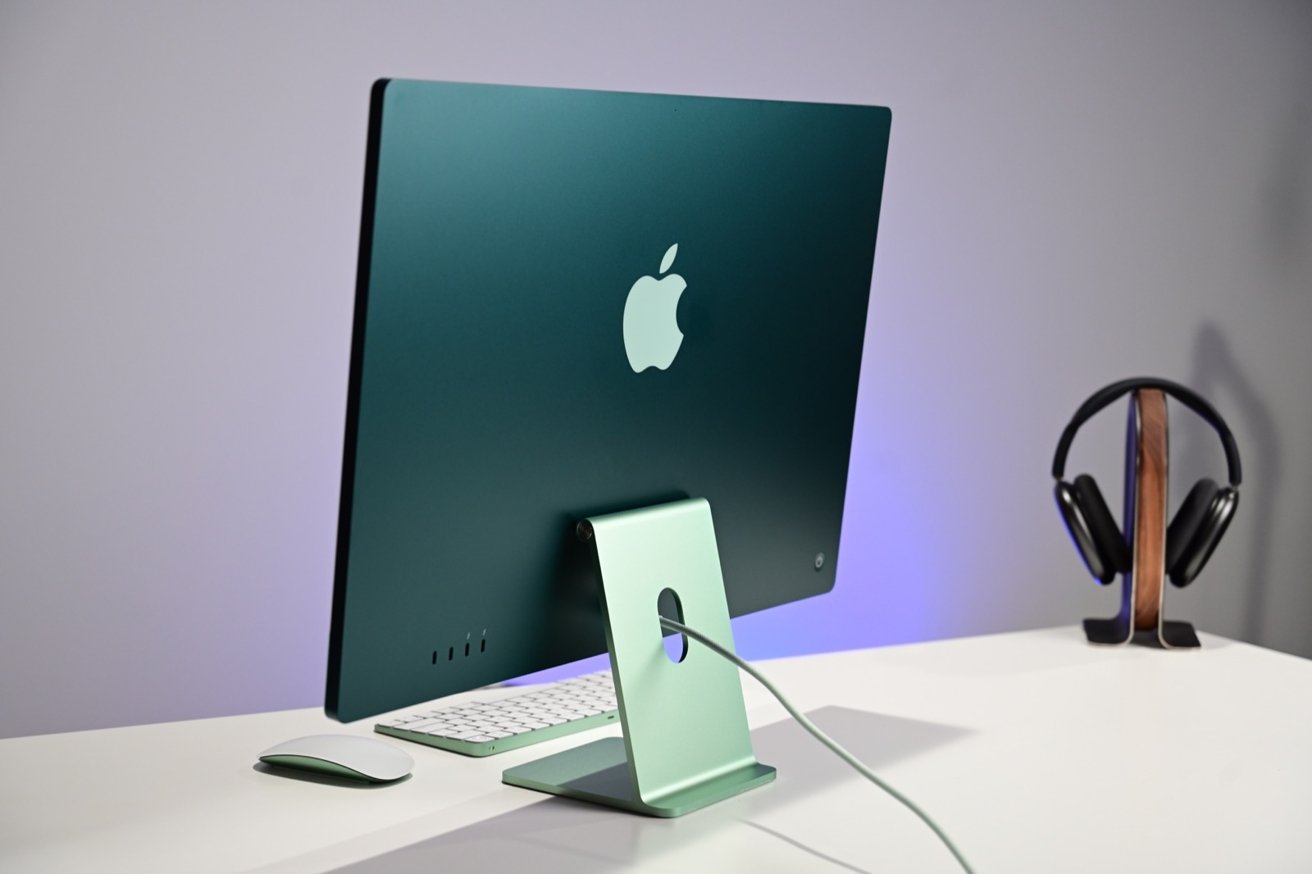 The thin design of the 24-inch iMac is especially evident from the rear.
At first glance, you could mistake it for a giant iPad Pro, permanently attached to a stand. That thin, uniform thickness across the entire device, the slim bezels, the round corners, and the defined edges certainly have more of an
iPad Pro
aesthetic than an iMac.
There are, of course, some crucial elements that firmly seats it as an iMac by design. Aside from the obvious iMac-style design, it also retains the customary chin, where the entire computer resides, though this time without the usual Apple logo on the front.
Then there are all of the more noticeable changes, such as the range of colors available harking back to not the first iMac release, but the very next refresh, more than 20 years ago.
Instead of a silver and black color scheme that the iMac has maintained since it migrated to an aluminum chassis, users can choose between Blue, Green, Pink, and Silver variants for one model, and with extra options for Yellow, Orange, and Purple on the other version.
Apple has elected to go with a 24-inch screen 4.5K instead of sticking to the 21.5-inch and 27-inch displays of its earlier models at 4K and 5K, respectively. Combined with the thinner top and side bezels, this gives the model a size that's not that much bigger than the previous
21.5-inch iMac
, but with a considerably larger screen.
Apple Silicon iMac - Party in the front, business in the back
Previously, the back panel played host to all of the ports of the iMac, which in the
27-inch iMac
consist of the headphone port, a memory card slot, four USB-A ports, two
Thunderbolt 3
connections, and Gigabit Ethernet.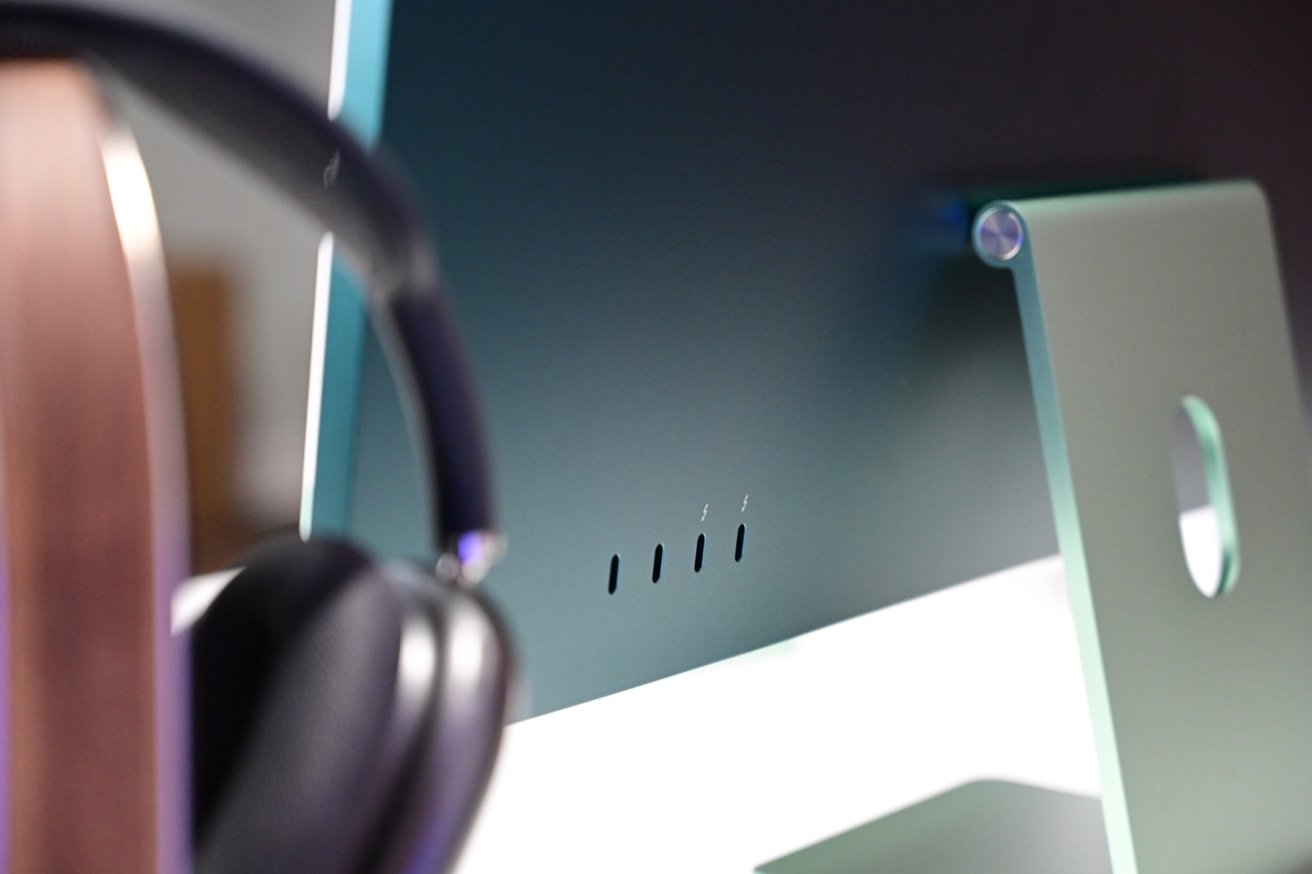 The port selection on the back of the 24-inch iMac is now either two or four ports, depending on model.
For 2021, Apple has considerably cut down the connectivity options. Both variants of the 24-inch iMac have two Thunderbolt/USB 4 ports around the back. The upper-tier versions also gain a pair of USB 3.1 Gen 2 type C ports that transfer at speeds up to 10 gigabits per second.
As we've said again and again, USB-C and Thunderbolt are best dealt with natively rather than fought. Had you bought that dock or those native USB-C cables five years ago in 2016 when the MacBook Pro with Thunderbolt 3 shipped, we'd not be having this conversation again or still. And yes, all those Thunderbolt 3 docks still work.
Bluetooth 5.0 is included, in case you wanted to go down the route of minimizing the number of cables on your desk.
The headphone jack isn't gone, but it has moved over to the bottom left-hand corner of the display, on the side edge. This certainly makes it much easier to plug headphones directly into the iMac, rather than reaching around the back or having to stand up from their chair to do it.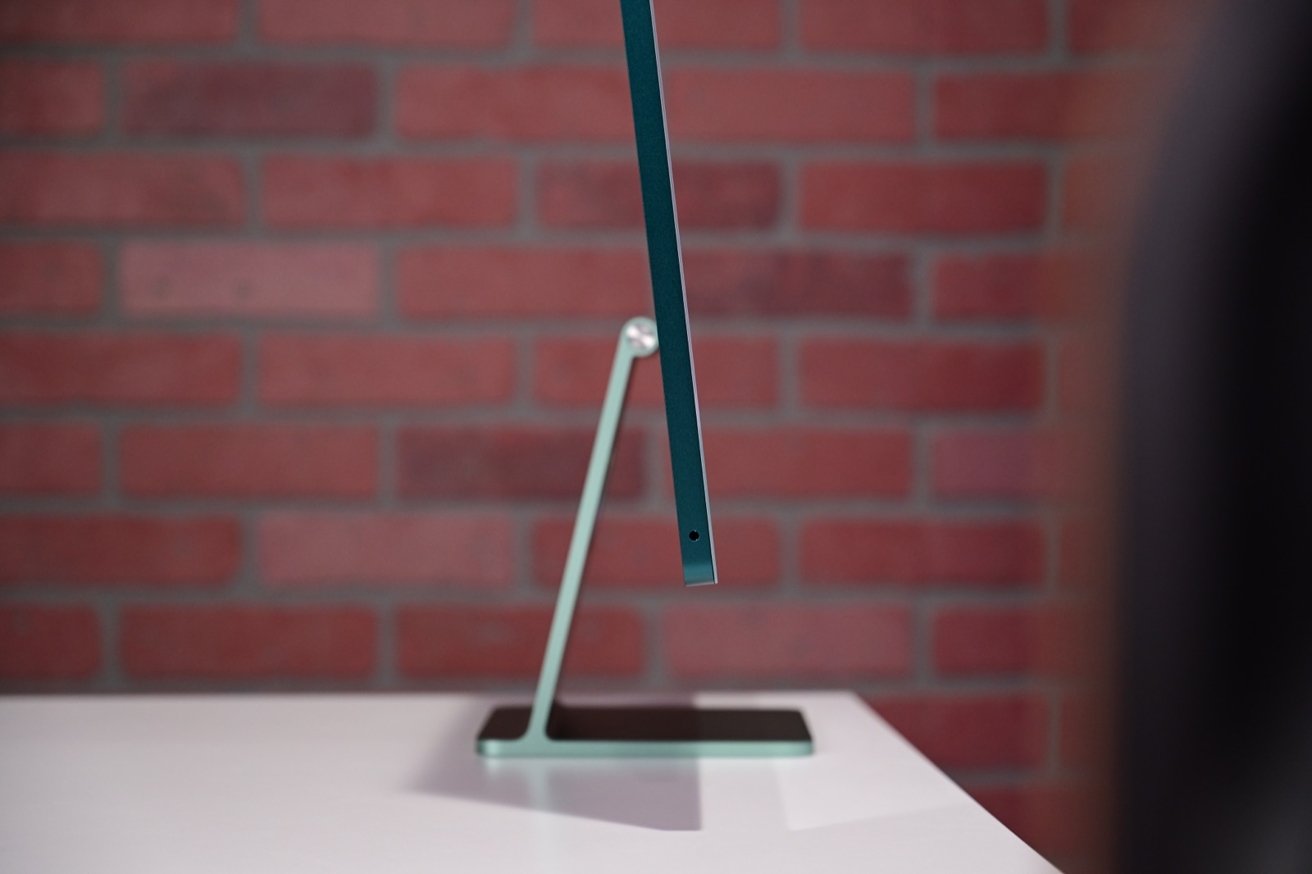 The headphone jack is now on the bottom left side of the display, which is also easier to reach than previous models.
The wired network connection has been eradicated or moved, depending on which configuration you buy. There is no wired Ethernet port on the $1299 configuration, and you either need to lean on Wi-Fi 6, or a USB-C connection of some kind.
Available by default on the higher-end, and as an add-on purchase on the lower, the power brick and magnetic connector that Apple now uses as part of its work to create a thinner iMac design versus the integrated power supply on the Intel models has a Gigabit Ethernet port. Most of the target market will be fine with the Wi-Fi 6 networking that spans all models.
Putting the Ethernet port on suitably configured machines on the AC/DC transformer makes perfect sense, given that you're getting wired networking and power from a socket of some sort on a wall.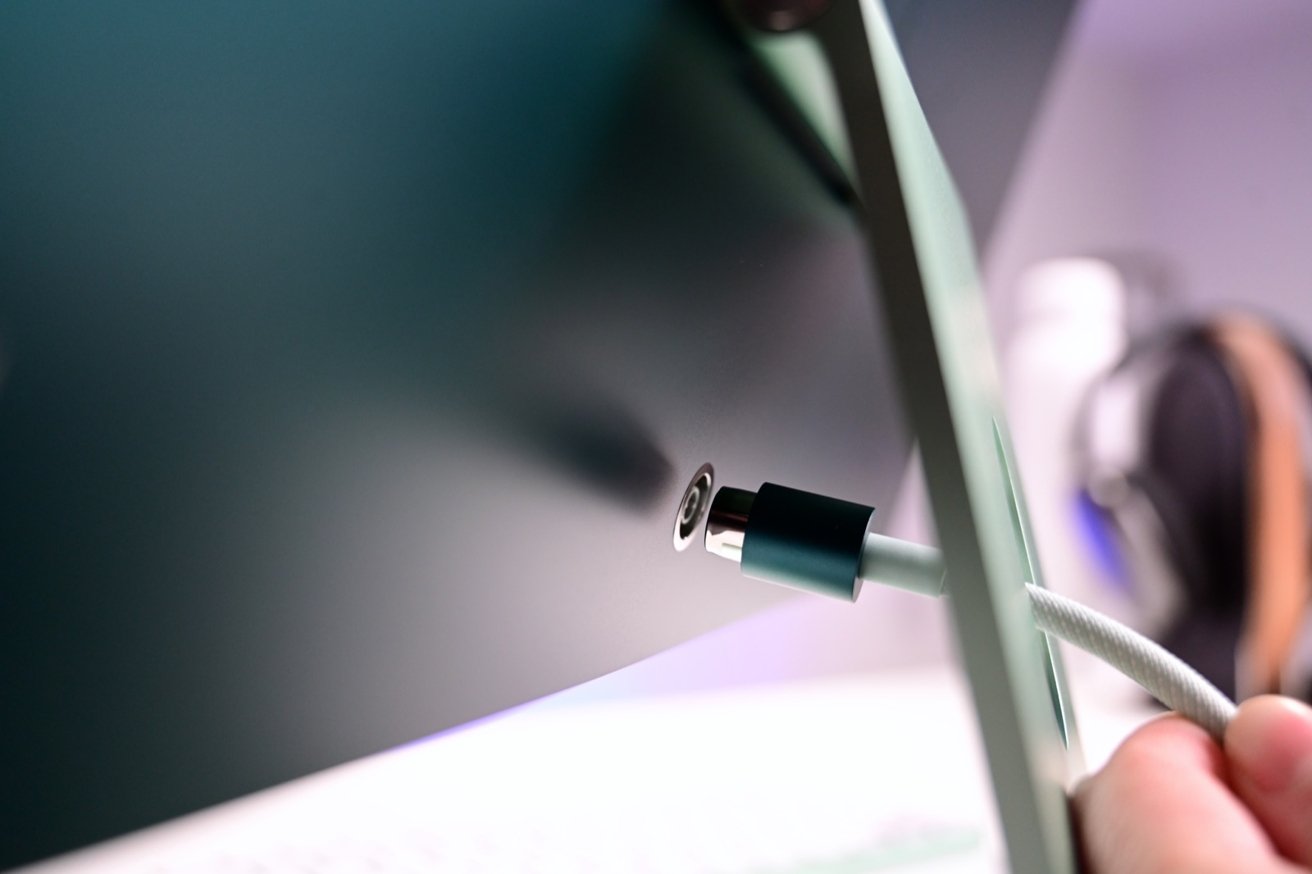 The power brick hooks in with magnets, instead of a friction fit.
It's just more of Apple's cable count reduction philosophy that it's been trying since the HDI-45 and ADC days, that didn't get much traction until Thunderbolt 3 rolled around. Expect to see something similar for power as the Apple Silicon portable line matures.
Apple Silicon iMac - M1, but two tiers
The main internal specifications of the new iMac will be familiar to anyone who has looked at the other Apple Silicon offerings, specifically the MacBook Air. You have two different M1 SoCs in use here, with only a slight difference.
Both variants use the 8-core CPU with four performance cores and four efficiency cores, and the 16-core Neural Engine. The lower-tier version has a 7-core GPU, while the upper-tier gains the full-fat 8-core GPU.
Apple uses the same unified memory options across both versions, with 8GB available alongside a configuration option that goes up to 16GB. While this may be more than enough for many users, some users may be put off at being limited to "only" 16GB at most.
While slight, the tiers of model also impact other specifications that customers can order. For example, you can configure between 256GB and 1TB capacities of SSD, but there's a 2TB option only available for the M1 with the 8-core GPU.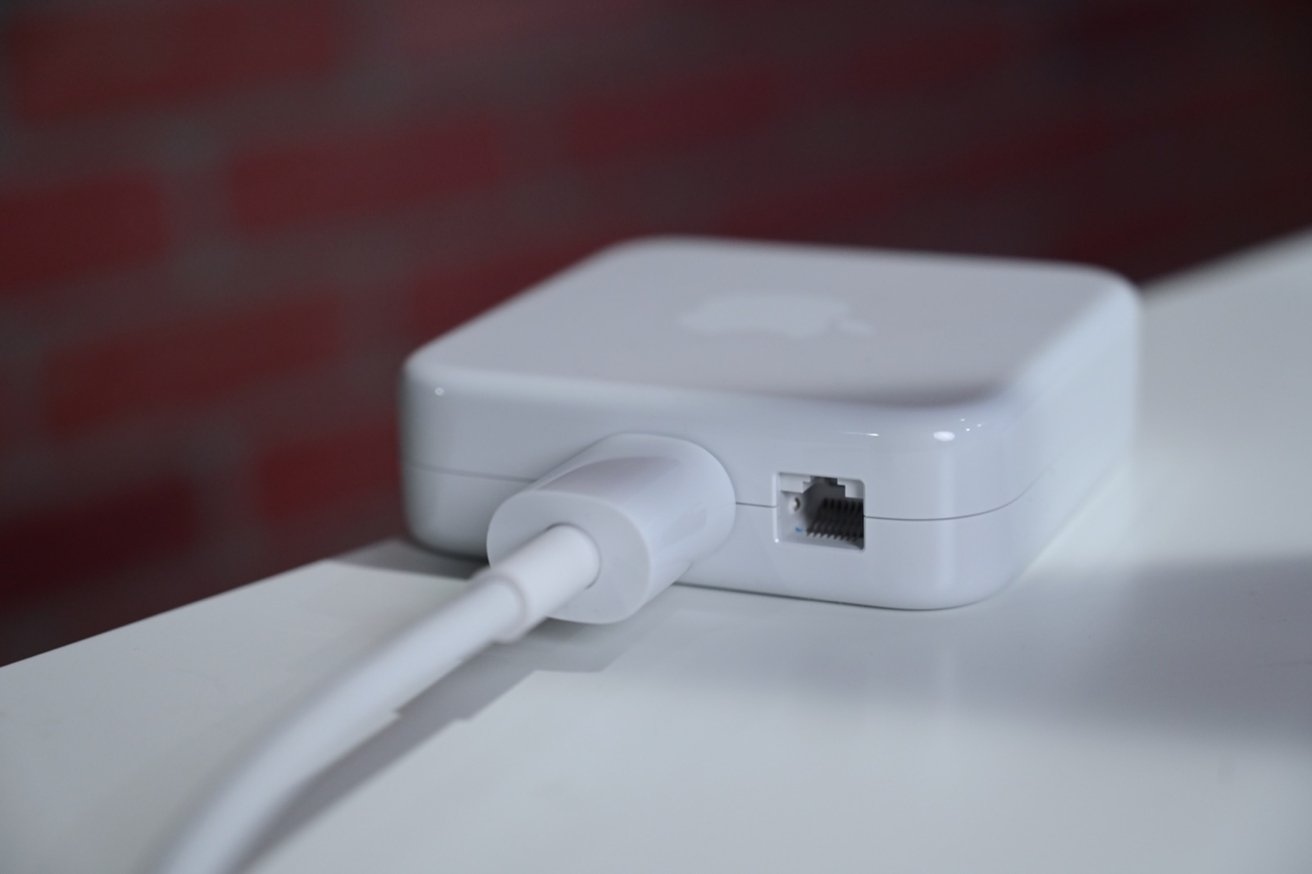 The base tier doesn't have Ethernet in the power brick by default. The upper tier models do.
There's also the aforementioned Gigabit Ethernet that's included automatically in the 8-core GPU model, but has to be added to the 7-core. The 8-core also has those extra two USB 3.1 Gen 2 ports, and there's also a variation in the Magic Keyboard that we will get to later.
If you've used the 8-core/7-GPU model of MacBook Air, you know what to expect in the low-end of the M1 iMac. If you've used an M1 Mac mini or the 8-core/8-GPU MacBook Air, you've also got a good feel for what you'll get in this iMac.
Apple Silicon iMac - Performance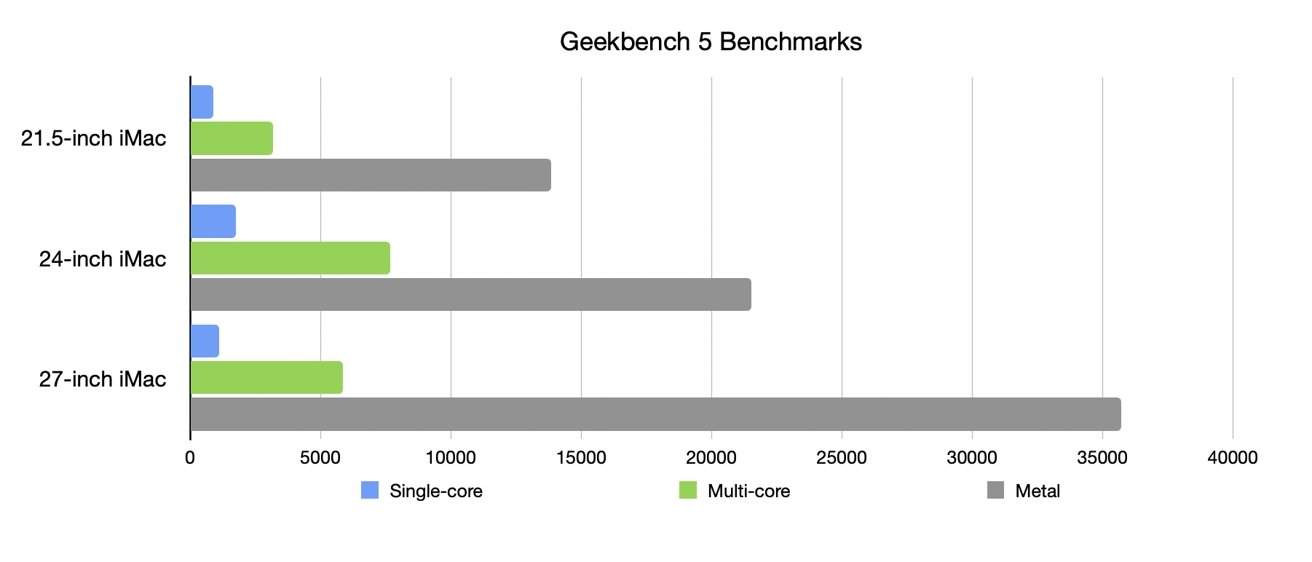 The results of the 24-inch iMac against the base models of the 21.5-inch 4K and 27-inch iMacs
In
AppleInsider's
Geekbench 5 test of the 24-inch iMac, it managed a single-core score of 1,743 and a multi-core score of 7,672. This is considerably faster than the entry-level 21.5-inch iMac 4K at 897 and 3,183 respectively, and it also beats the 1,120 and 5,871 scores of the 27-inch iMac's lowest-specification model.
On the graphics side, the 24-inch iMac stands up quite well against the discrete GPU-equipped stablemates. Its 21,536 score for Metal isn't enough to beat out the Radeon Pro 5300 with 4GB of GDDR6 memory in the base-level 27-inch iMac, which scored 35,707, but it still shows promise at being able to handle itself well graphically.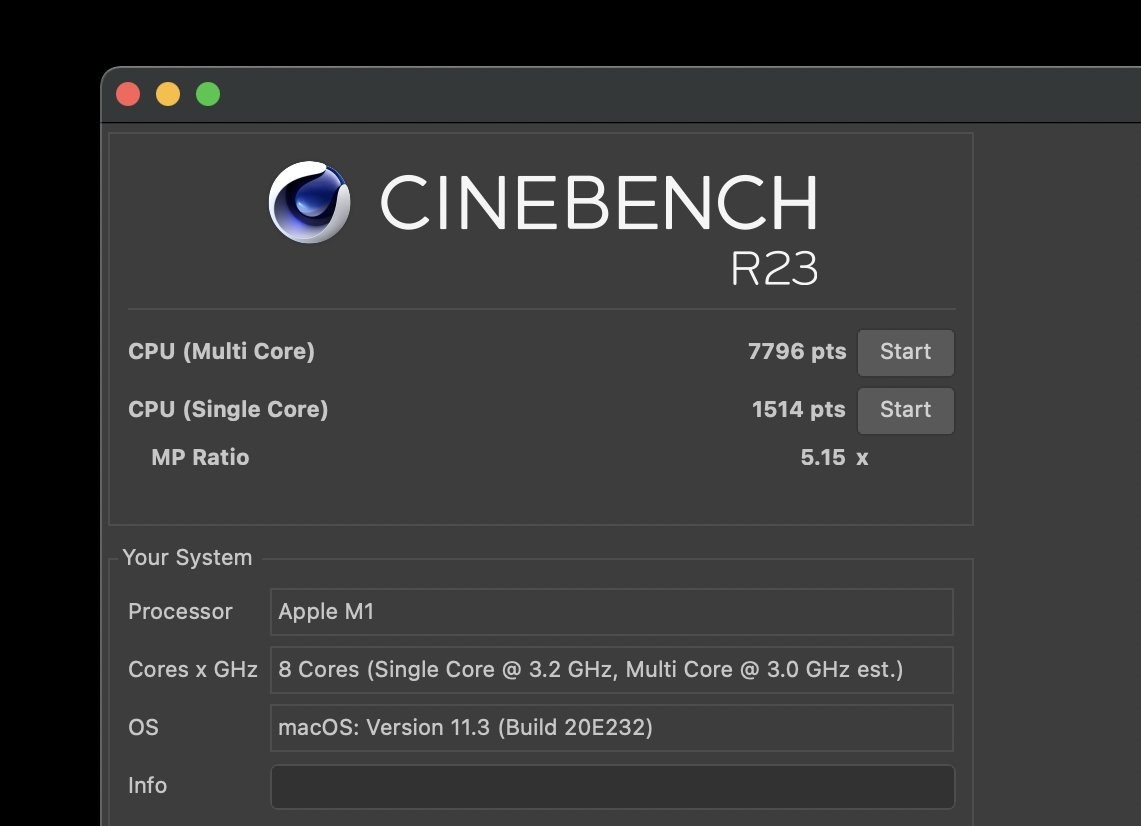 The results of the Cinebench R23 benchmark.
On Cinebench R23, the iMac's CPU managed a single-core score of 1,514 and a multi-core score of 7,796 points. This is certainly a continuation of the
results seen
in November when we tested the 13-inch MacBook Pro's M1 against a variety of Intel-based Macs and MacBooks, and shows it not only outpaces on single-core tasks, but also is near the top of the range for multi-core tasks.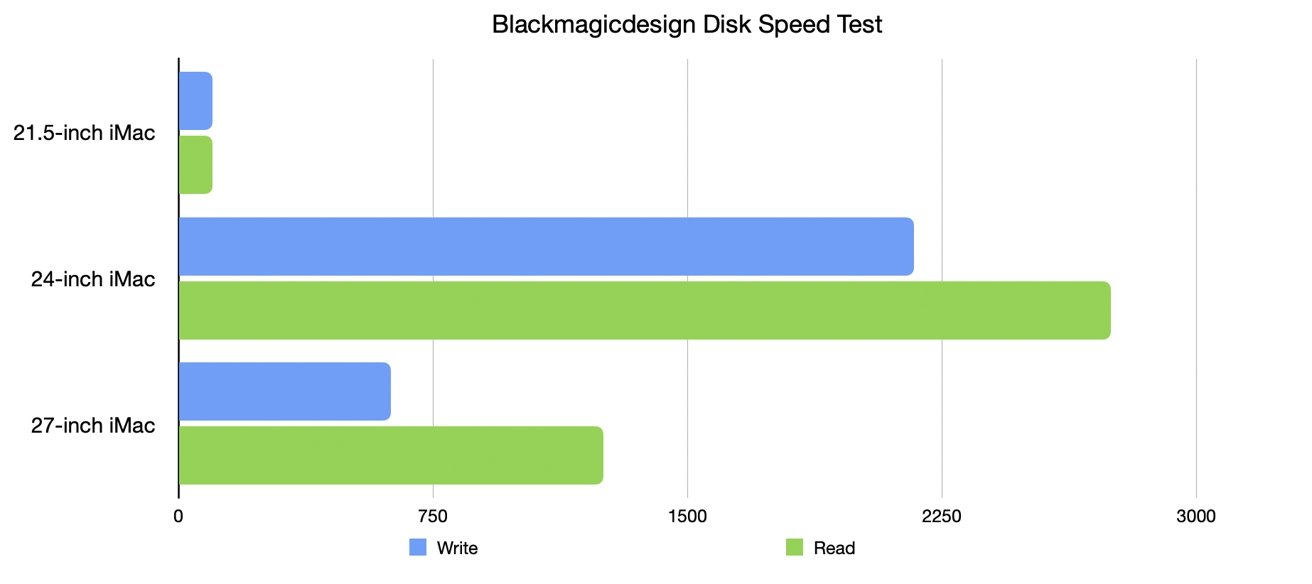 Disk speed results certainly show Apple is forging ahead with its storage speeds.
On to Blackmagicdesign's Disk Speed Tool, and the 24-inch iMac demonstrates how far Apple has come in its storage upgrades. While the 21.5-inch iMac result is considerably hampered by the presence of a mechanical drive rather than an SSD, the more startling result is the comparison between the 27-inch and 24-inch models.
For disk reads, the 24-inch model is more than twice as fast as a similarly configured 27-inch iMac. Most striking is the write disparity, as the 24-inch model is more than three times faster at putting data onto the drive versus the 27-inch version.
Apple Silicon iMac - other considerations
The display is both new and familiar. Its resolution joins its size in being between its predecessors at 4.5K, or 4,480 by 2,520 pixels, which will give a comfortable amount of virtual desk space to use.
Then again, Apple hasn't taken the same leap as it did with the iPad Pro in adding mini LED back-lighting. It retains the same 500 nits of brightness, Wide color (P3), and the True Tone that the Intel 27-inch iMac had.
Above the display is the FaceTime HD camera. This isn't the same one as on the last Intel iMac from 2020.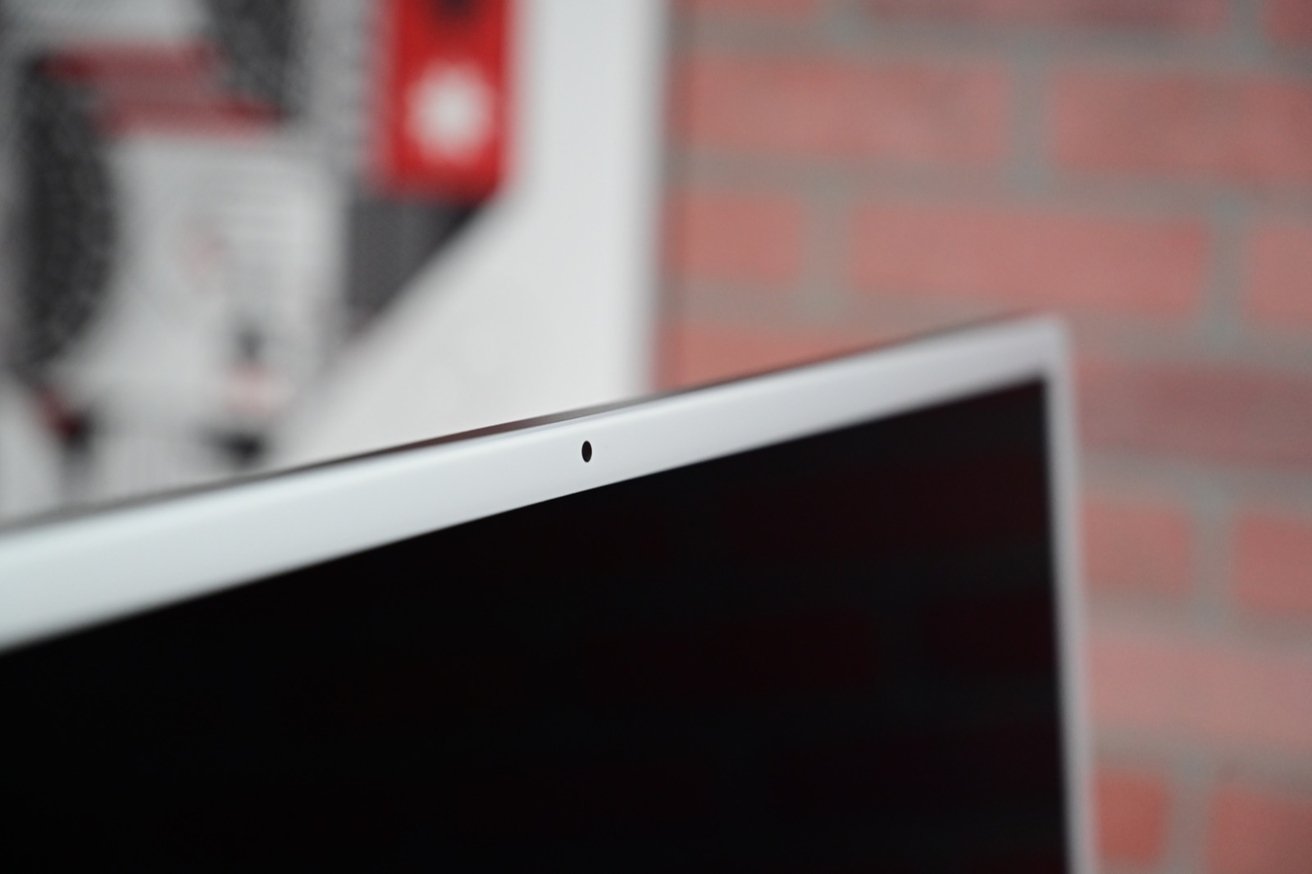 While the bezels are slimline, there's still enough space for the camera.
The new camera introduces a larger sensor, with better low-light characteristics. It also takes advantage of the M1's image signal processor.
That image signal processor adds computational video processing, including noise reduction, face detection, automatic exposure, and even local tone mapping. The image it produces is a marked step up from what you're used to on an iMac.
You also have an array of three studio-quality microphones with a high signal-to-noise ratio and directional beamforming. This is matched by a six-speaker system with force-canceling woofers and support for spatial audio for Dolby Atmos content.
This is fine, and does sound great, but the beamforming is no substitute for actual wider stereo separation. In that regard, it's not going to replace your receiver, Sonos setup, or HomePod arrays unless you're in a small space.
Apple Silicon iMac - Touch ID Magic Keyboard
Apple has updated the
Magic Keyboard
in a few ways. For a start, the keyboard ships color-matched to the iMac itself, so you've got that color coordination out of the box.
The keyboard also includes keys that enable Spotlight Dictation, Do Not Disturb, and to enter emoji characters into conversations. That last one will help those who have trouble bringing up the often-used glyphs on a regular basis.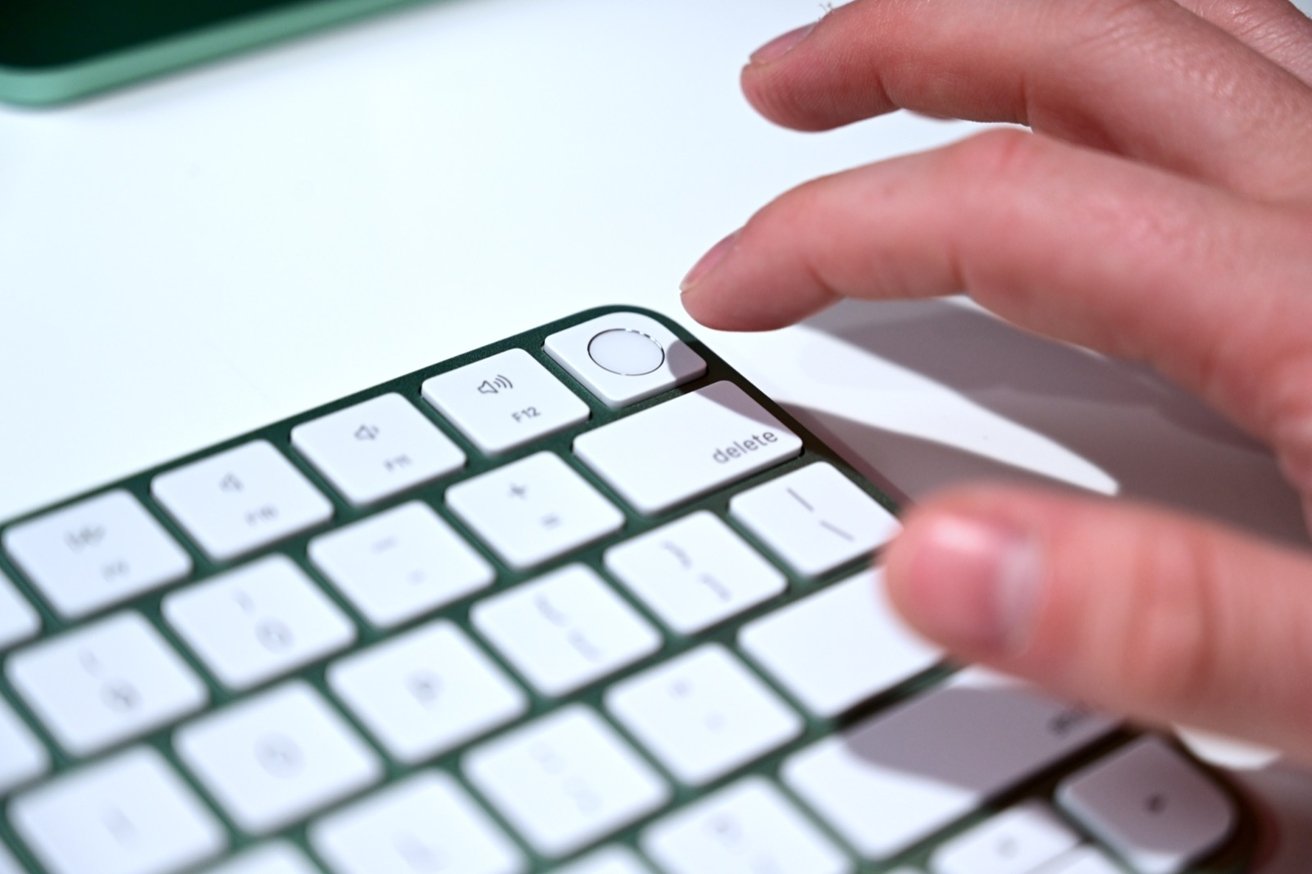 Depending on the model, the Magic Keyboard can include built-in Touch ID.
The most significant change is that the Magic Keyboard can include
Touch ID
in the top-right corner. This can be used to unlock the iMac, as well as to confirm
Apple Pay
transactions and other similar tasks.
It brings the same ease of authentication that MacBook Pro,
iPhone
, and
iPad
users have enjoyed for years.
Again, when you consider the value proposition of the $1299 tier, consider that the Touch ID addition is included with the upper-tier iMac. The lower-tier 7-core GPU version doesn't have it by default, replacing it with a Lock button -- but it can be bought separately either later, or at the point of purchase, adding to that $1299.
We've already spoken at some length about what you can do with Touch ID, so we won't be repeating that here. In our tests with the Magic Keyboard with Touch ID, we found it to be just as responsive as the one embedded in the MacBook Pro hardware on both Intel and M1 versions.
Big changes, inside and out
The first Apple Silicon M1 Mac is fast, but it doesn't occupy the same market segment an iMac Pro, and not even quite the same market as the 27-inch iMac 5K. Apple deviated from its playbook a bit with the 24-inch iMac, which seems like a gateway for
iOS
and
iPadOS
folks to come to the Mac, more than it seems to appeal to the faithful that upgrade every two years or so.
This Mac was never intended to be a high-end workstation. Instead, the new iMac is the paragon of appliance computing, with all that entails. It's un-upgradeable, which won't matter to nearly everyone in the target market, and it comes in just slight speed variances between the highest-end and lowest-end models, which, again, won't matter to most.
And, like with iOS devices, Apple remains the master of the up-sell. That $1299 iMac is attractive on its own in a vacuum. But, once you start adding things like the Touch ID keyboard and external Ethernet, you may as well opt for the middle-model and gain both capabilities, along with an additional GPU core, and four USB-C ports, even if the two additional ports are 10Gbit and not Thunderbolt.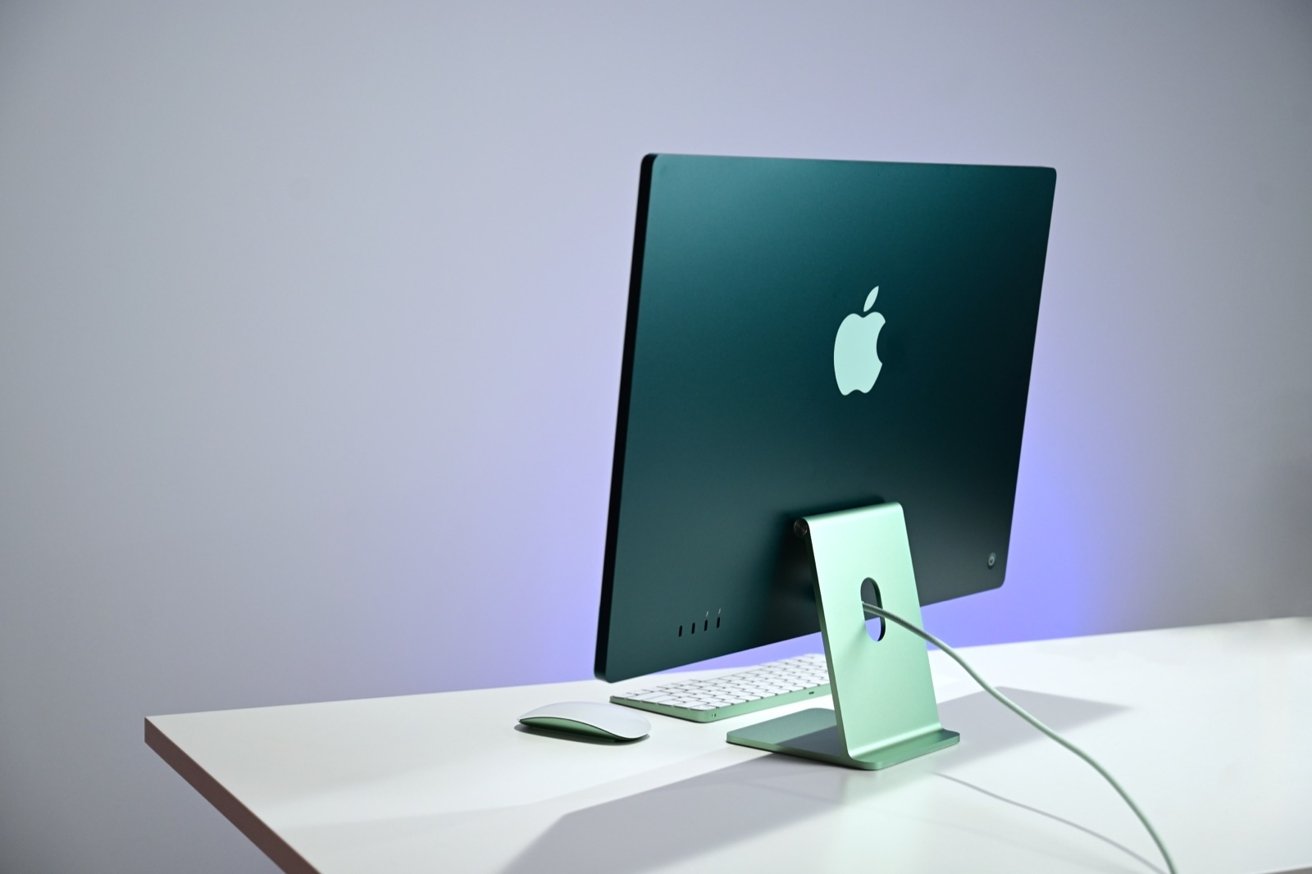 In three words, the 24-inch iMac can be summed up as thin, colorful, and powerful.
For most, there's a lot to like with the first Apple Silicon iMac. At any level, it is an excellent machine, that won't appeal to the most power-hungry or the Intel-bound. For those folks, you probably need to wait it out for another generation or two, as the M-series chip is ultimately incremented, and your Intel-stuck software migrates to Apple Silicon.
And, for the devout, there's a lot of call-backs to older Macs, like color, white bezels that started on the G4 iMac, and near-silent computing continuing to have a renaissance, after getting left behind more than 15 years ago with the G5 and Intel Macs.
Like those iMacs, it is a good "appliance computing" device to whack down on the desk, and call it a day. It has the flexibility of macOS, and the speed of Thunderbolt to appeal to those who want a bit more.
As for this reviewer, it isn't yet time to replace my Intel work machines across the board with Apple Silicon. But, that day is coming, and if the first Apple Silicon iMac is a herald of machines to come, that day isn't all that far away.
Pros
New thinner and colorful design
Powerful M1 chip
Headphone jack is easier to reach
Touch ID on Magic Keyboard
Cons
Limited port count, especially at $1299
Optional Ethernet moved to power brick
Still has a chin
Not upgradable
Rating
The different models fall in different ratings. While both machines are solid, the $1299 price feels intended to match the pricing of the original iMac which is good, but the omissions to make that price are worth the price-hike to the next model.
That $1299 model gets a 4 out of 5. We recommend the next tier up at least, which begins at $1499. For future-proofing, get 16GB of RAM.
We give the $1499 and up tiers of iMac a 4.5 out of 5. And, we're excited to see what develops from the rumors of a larger iMac later down the road with Apple Silicon
Where to buy the M1 iMac
Apple resellers are discounting the 2021 M1 iMac, with the latest
iMac deals
and product availability at your fingertips in the
AppleInsider
M1 iMac Price Guide
.
At the time of this M1 iMac review, shoppers can
save anywhere from $80 to $130
on every configuration.
">