Move over Apple polishing cloth - Samsung has Z Flip jeans
If a $19 Apple-branded polishing cloth wasn't silly enough, Samsung and Dr Denim have released the $1100 "Z Flip Pocket Denim" jeans with only a single pocket dedicated to the eponymous smartphone.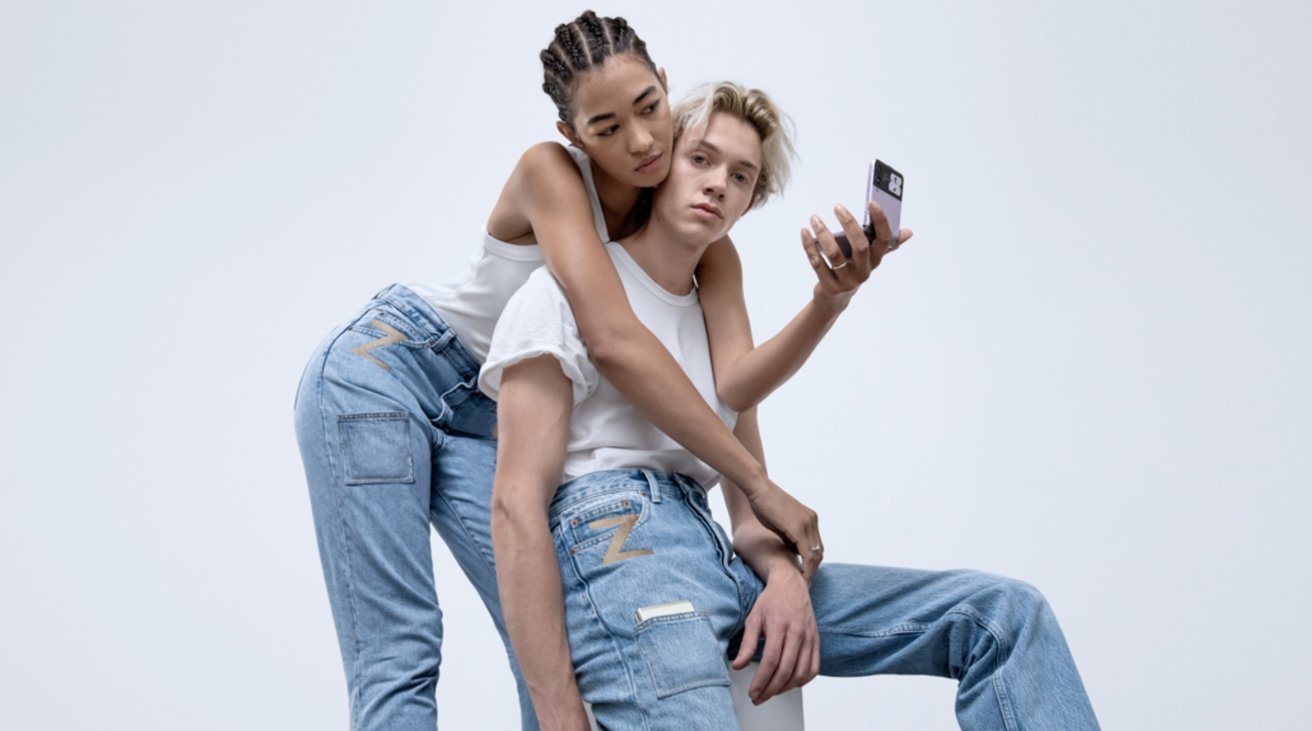 Launched on
Monday
, the Z Flip Pocket Denim is a promotional bundle which packages the
Galaxy Z Flip3
with a pair of jeans. Designed between Samsung and Dr Denim, the jeans are customized in an unusual way.
As a foldable smartphone, the Galaxy Z Flip3 is said by Samsung to provide "the very best in design and pocketability," which lends itself to the jeans customization. Due to no longer needing large pockets to hold a bulky smartphone, the jeans are ridiculously produced with just one usable pocket.
Both back pockets have been removed, with one moved to the front thigh and sized to accommodate the Galaxy Z Flip3's dimensions. The remaining front pockets of the jeans are sealed by two large sticked Zs, rending them effectively unusable except to further promote the smartphone.
"We wanted to take a classic, blue jean and rework it to create a modern and unique take that shows off the Galaxy Z Flip3," said Dr Denim's Mattias Friberg. "We feel the new Z Flip Pocket Denim is a welcome, if not limited, addition to the Dr Denim family, and we're thrilled to partner with Samsung to bring these stylish jeans to life."
Unveiled in August, the Galaxy Z Flip3 is a smartphone with a 6.7-inch Infinity Flex Display that folds in the middle, similar to a flip phone. When the 2,640 by 1,080 screen is folded up, an external 1.9-inch Super AMOLED display is visible on the outside, providing notifications.
Powering the device is an octa-core Snapdragon 888 with 8GB of memory and either 128GB or 256GB of storage. The cameras on the back are 12-megapixel shooters covering wide and ultra-wide angles, accompanied by a 10MP front-facing camera.
The limited-edition bundle of jeans and the included Galaxy Z Flip3 is limited to 450 pairs, and will use "bespoke, stylish packaging." They cost AUS $1,499 ($1,120) in both men's and women's styles, through Dr Denim's
Australia website
.
The Samsung jeans aren't the only fabric-related item connected to a tech giant that could garner criticism from observers. Apple's introduction of the
$19 cleaning cloth
prompted mockery and a tongue-in-cheek
iFixit teardown
, as well as unexpectedly high sales with delivery estimates
stretching to January
.
Read on AppleInsider