Apple's 2023 CarPlay is an Apple Car preview - and is scaring Detroit
Apple shared big updates coming to
CarPlay
at WWDC 2022. If the "Apple Car" is real we just got a sneak peek of its dashboard.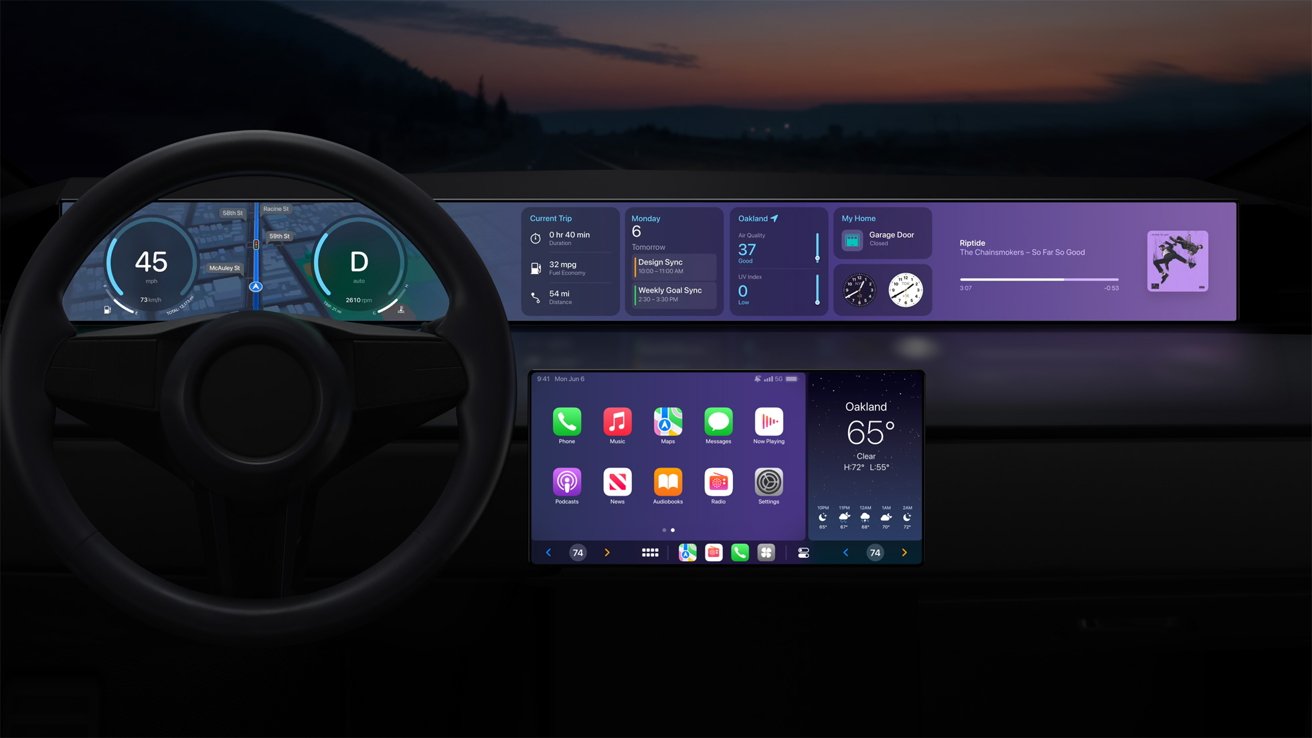 Vehicle dashboard showing the next version of CarPlay
Arriving in 2023, CarPlay will act like an operating system for vehicles. It will take over the car's instrument cluster to display gauges for fuel and oil, engine temperature, miles per gallon, and more.
There are 14 car vendors working with Apple to integrate CarPlay into their next vehicle offerings. What drivers are actually going to get depends less on Apple, and more on the vendors themselves.
Of course, a full Apple-designed Car has been rumored for about seven years.
The history of "Apple Car"
"Apple Car"
rumors claim that the vehicle will be an electric model, competing with the likes of Tesla. Known internally as Project Titan, the vehicle could even be self-driving.
Rumors go back as far as 2014 when the first leak described Project Titan focused on vehicles. Apple formed a shell company called
SixtyEight Research
and began work in a facility known as SG5 in California.
Later rumors detailed leadership departures with the design and technology of Titan constantly changing. Bob Mansfield
took over
as project lead in 2016, announcing a shift in strategy that Apple shouldn't compete directly with Tesla.
In June 2019
Apple acquired
Drive.ai, a startup in the field of autonomous vehicles. This was confirmed by Apple and the company received employees, cars, and other assets as part of the deal.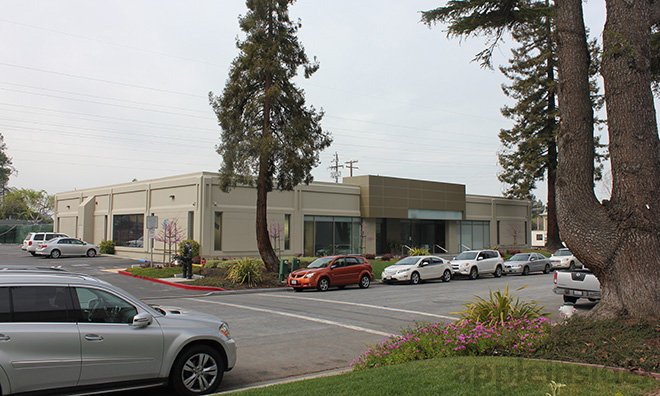 A photograph of a building thought to be connected to SixtyEight Research in 2015
Numerous patents have revealed details of the "Apple Car", such as a multi-user
display system
, automatic configuration, and private displays that are different for each passenger.
A suite of safety patents
were found
in February 2021. These include an airbag-based occupant safety system, electronic stability control system, and dynamic element protection in which the car can lock the doors.
The latest rumors in the "Apple Car" timeline are from December 2021, in which a senior director of engineering and three engineers left for an aviation startup. In November of the same year,
multiple reports
claimed a release of 2025.
Apple analyst Ming-Chi Kuo has said a vehicle launch is unlikely to happen before 2025. In August 2018 he had said the launch date could be as early
as 2023
.* Previous dates include 2020 and 2021 with delays linked to departures of team leaders.
If everything goes according to plan, TF Securities expects a launch between 2025 and 2027. Apple has approached car manufacturers such as Hyundai and Nissan, and could work with Kia for manufacturing the "Apple Car".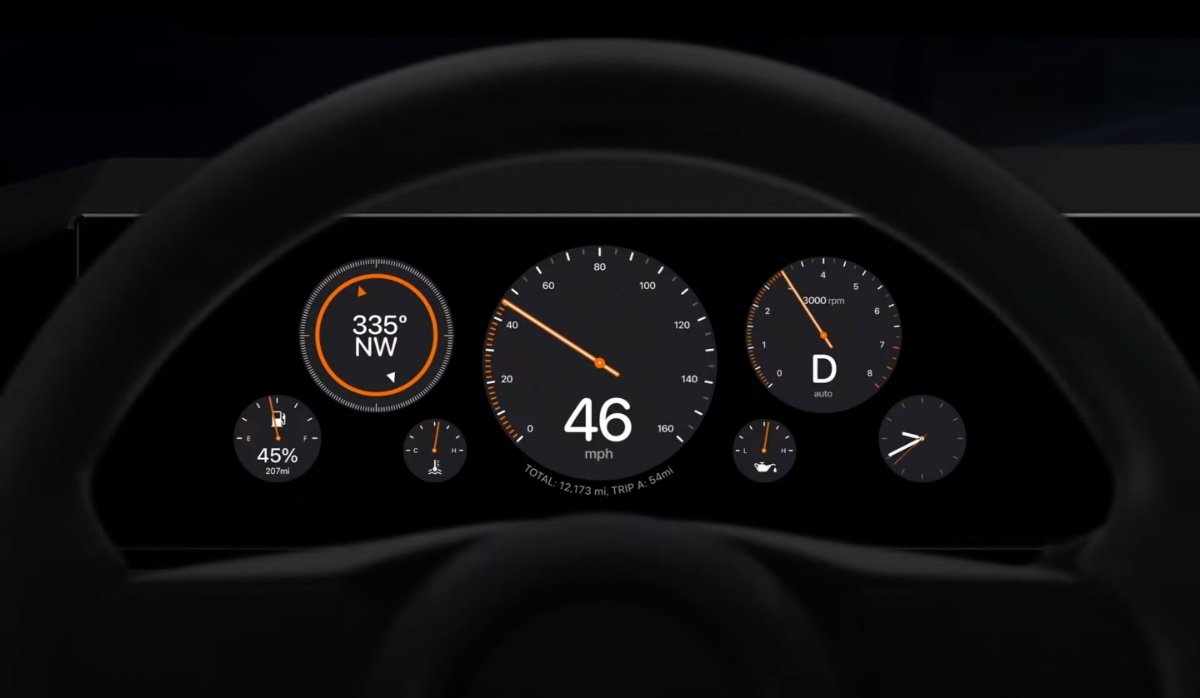 CarPlay's traditional design for the instrument panel
The new version of CarPlay could be a hint of what customers can expect in the vehicle. It's likely that the car will be mostly digital with physical controls provided as a failsafe. CarPlay could truly become an actual vehicle operating system with autonomous driving capabilities "baked in."
The next generation of CarPlay
On its face, and in theory, the update announced during WWDC 2022 makes CarPlay more capable than ever. Integration with the vehicle's hardware allows for radio tuning or changing the internal temperature. Widgets are included to display calendars, weather, smart home controls, and the current trip in Apple Maps.
This level of integration is unprecedented for CarPlay. Right now the system lets drivers access iPhone-based apps from a vehicle's dashboard. Apps included are Podcasts, Music, Apple Maps, and others.
The "next-gen" version would transform CarPlay into a full
infotainment system
, a term used to describe the vehicle's command center with media, controls, monitors, and more.
The iPhone communicates with the vehicle's real-time systems and this happens locally as a privacy measure. CarPlay's interface will be able to adapt to each vehicle's unique screen sizes. Like iOS 16, the UI can be customized to fit the driver's desires.
Apple says that automakers from around the world are working to bring CarPlay into their vehicles. Land Rover, Audi, Lincoln, Porsche, Nissan, Ford, Jaguar, Acura, Volvo, Honda, Polestar, Infiniti, and others were shown during the keynote.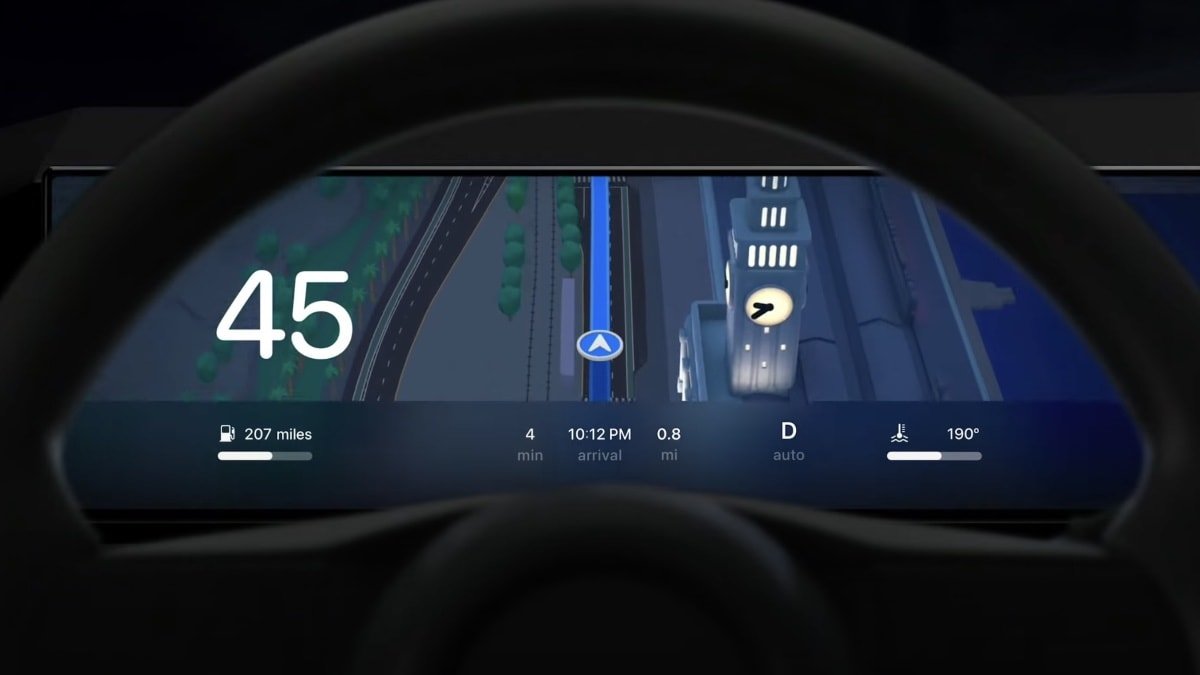 CarPlay with Apple Maps navigation
Vehicles will start to be announced late next year and Apple will share more information "further down the road."
The road ahead
Apple needs to work hard with automakers to deliver this level of system integration. Never before has CarPlay been able to interface with a car's real-time systems, and that will likely require fine-tuning.
CarPlay has to be perfect. The average weight of a vehicle is 4,156 pounds, according to a
2020 report
from the Environmental Protection Agency. That's a lot more dangerous than rolling out an iOS update that introduces a
storage bug
.
Of course, automakers also have to be on board, and 14 is a good start. Apple's own way of doing things will deepen with next-gen CarPlay, and given how automakers have been reluctant to open the door for Apple, they may not want to cede even more control.
After the preview in the WWDC keynote,
The Verge
reached out
to car manufacturers. What the publication got was a variety of non-committal responses.
The least tepid response was from BMW. It said that it has placed a "clear focus" on its own infotainment system called iDrive and will continue to evaluate CarPlay as it is now, not as promised for 2023.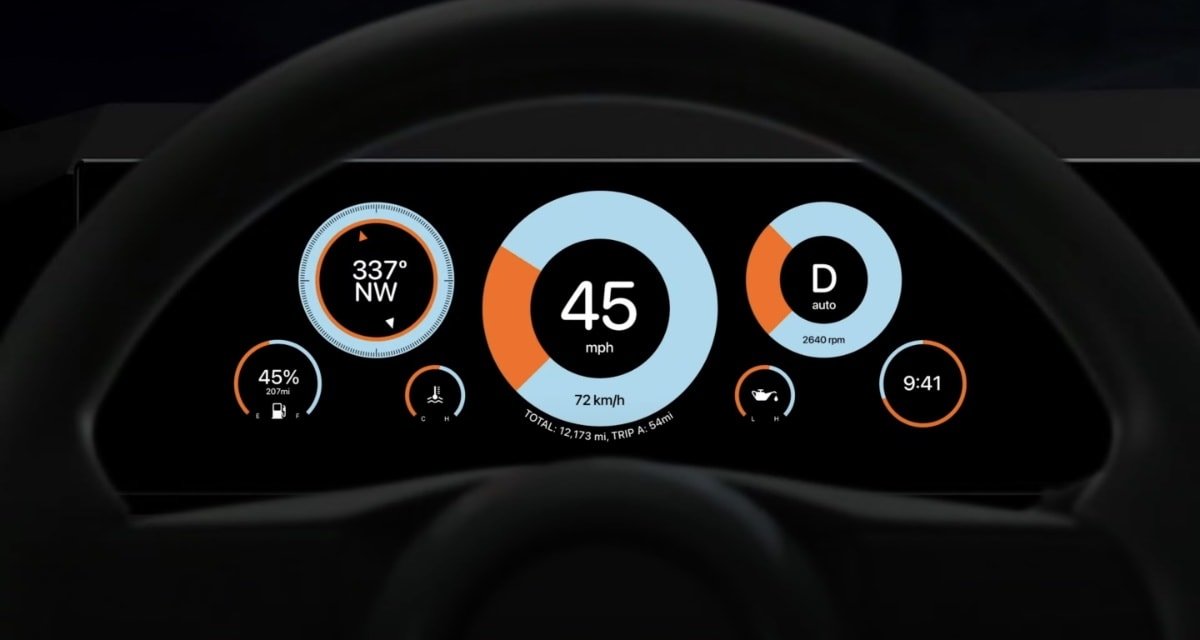 Another customization option for CarPlay
Stellantis called what Apple announced an "extension rather than a direct CarPlay upgrade." Although Apple didn't refer to it as CarPlay 2.0, it is a significant upgrade that will transform the driving experience.
The automaker is working with Amazon to develop software for delivery vehicles that will launch in 2024. Stellantis may not want to integrate car software that it holds no control over.
Like BMW, Mercedes-Benz will be evaluating CarPlay, but also plans to hold discussions with Apple moving forward. Some of its vehicles support the current version of CarPlay, and this relationship is likely to continue.
Volvo was the most committal, saying it plans to support next-gen CarPlay in future vehicles. Volvo has also worked with Google's Android Automotive initiative, and is fine to cede control over the user experience to Google.
The connection between the iPhone and a vehicle is a point to consider. Apple didn't share specifics, only saying that it will happen on-device in a private manner. A Bluetooth connection isn't enough to process all of a vehicle's real-time data, so physical wires will need to remain.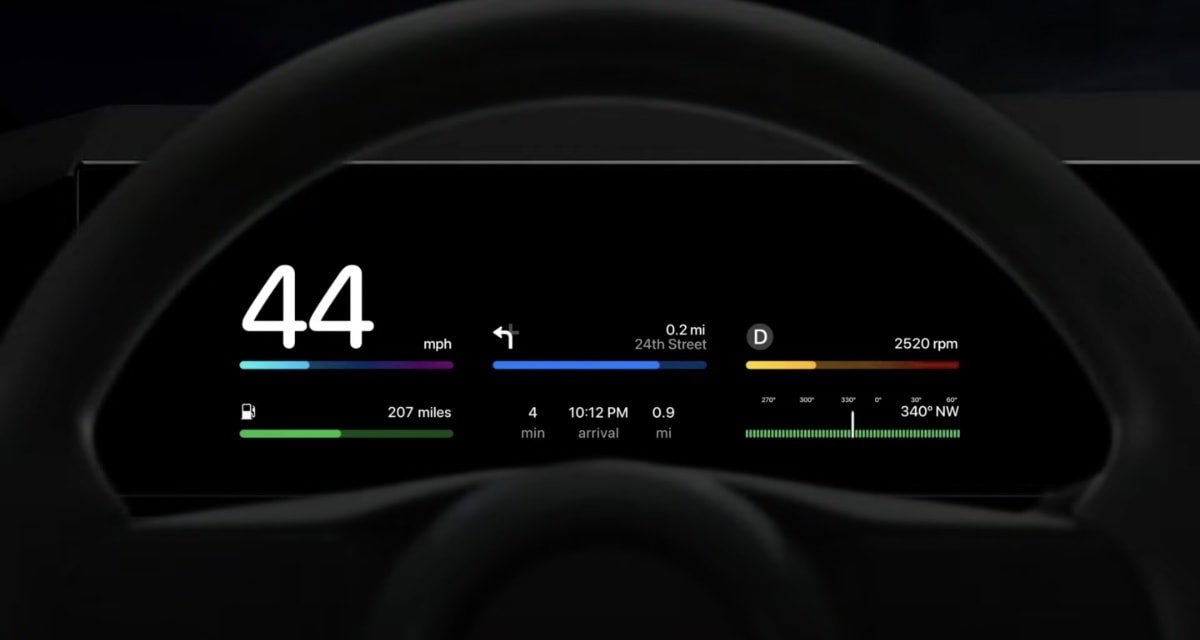 The CarPlay user interface dubbed "modern" by Apple
If the "Apple Car" launches, special connectivity could be a selling point for CarPlay. Apple would love nothing better than for a driver to slide their iPhone into a special holder so that the experience just works.
Or, an iPhone wouldn't even be needed because CarPlay could be built right in as an operating system, and leverage a car's network connection.
Even with the first announcements, it's going to take years for next-gen CarPlay to arrive in vehicles and much longer for it to be widely adopted. Like WWDC should be, the tease was future-looking.
What actually pops out from car-makers still reticent to let Apple come anywhere near systems other than the radio and in-car entertainment is still anybody's guess.
Read on AppleInsider