Face ID iPad, MacBook, Mac mini, MacBook Pro, 11-inch iPad Pro in Apple's 2018 product lin...
Nearly the entire Apple product line including the iPhone, iPad Pro, first new Mac mini in nearly four years, MacBook, MacBook Pro, iMac, second-generation AirPods, and "Series 4" Apple Watch appear to be on the cusp of release, if Ming-Chi Kuo's latest predictions are accurate.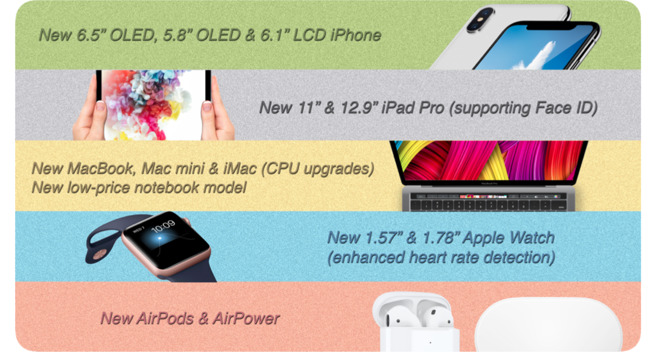 TF International Securities'
Ming-Chi Kuo
issued a new report today, spanning the entire width of Apple's product line. In the note seen by
AppleInsider
, Kuo maintains his predictions about the iPhone lineup as he has for the last several months, plus the analyst expects far more coming.
iPad
Kuo is expecting a new 11-inch and 12.9-inch iPad Pro refresh. Details are short on both, but the 11-inch model is a notable increase from the 10.5-inch model, and not previously predicted.
Both are expected to have "full screen" presumably meaning edge-to-edge, and a "removed button design"
once again implying
FaceID will be incorporated on the line.
iMac
A new iMac is apparently expected. The new model is predicted to have a "significant display-performance upgrade" in addition to a processor upgrade. It's not clear what the analyst is referring to as far as an upgrade, but a 120Hz refresh rate is a possibility.
Apple's laptops
Kuo also predicts a processor upgrade for the MacBook and MacBook Pro. While he initially predicted that the MacBook Air line would see a refresh, the analyst has "changed the previous expectation" and no longer believes that the still-expected low-cost model
will be branded accordingly
.
Questionable benchmarks have popped up, showing
what alleges to be
a six-core MacBook pro with the i7-8750H processor with 32GB of RAM. The MacBook Pro was last updated at the 2017 WWDC.
Mac mini
Specifically spelled out is an update to the processor for the Mac mini. This is the first time that the analyst has spoken about the Mac mini in any regard.
No other details on a possible Mac mini update were provided. The line was last updated in October 2014, and is
overdue for a refresh
by every account.
Apple Watch and AirPods
Kuo
reiterated previous predictions
, claiming that the Apple Watch would increase to 40 mm versus 38mm, and 45mm versus 42mm. Both new sizes are expected to have enhanced heart rate detection technologies.
Whether the enlarged screens will afford more internal headroom for additional components is unknown, though Kuo believes the updated models will feature extended on-wrist life thanks to increased battery capacity. Barring a breakthrough in battery technology, enhanced wear time equates to a larger lithium ion cell, again suggesting "Series 4" will sport a larger form factor.
Kuo mentioned enhancements to Apple Watch's built-in health sensors in the past, but still fails to detail what changes Apple has in store for the fourth-generation device. As it stands, Apple Watch incorporates a heart rate monitor, accelerometer, barometer and gyroscope to track a range of biometric data and user movement.
Also repeated is the expectation that new AirPods and the AirPower charging pad would enter mass production in the third calendar quarter of 2018.
iPhone
The
three iPhone models
currently speculated to arrive this fall include two models with OLED screens measuring 6.5 inches and 5.8 inches, while a third is equipped with a 6.1-inch TFT LCD. Most sources now claim that all three will have the TrueDepth camera array and use Face ID, but the LCD model will be singled out as a cost-effective model while the OLED versions will have more premium pricing and specifications.
There is some speculation that the LCD model
will be delayed
, due to production yield issues surrounding its touchscreen functionality, but the situation is apparently improving. Bottlenecks in integrating the TrueDepth camera array into the LCD screen are also said to be easing, removing another hurdle that could cause manufacturing delays.
Foxconn will continue to be the main iPhone assembler this year, with it said to handle all 5.8-inch OLED units and 80 to 90 percent of the 6.5-inch OLED version, as well as 30 percent of LCD model orders. Pegatron is identified as taking 60 percent of the LCD orders and between 10 and 15 percent of the 6.5-inch OLED model orders, while Wistron makes up the remainder.