Mac mini 2018 Review: Apple's mightiest mini yet
With the Mac mini finally refreshed after four years, we finally have our hands on the newest model. We've spent some time running it through the wringer to test Apple's mightiest mini yet.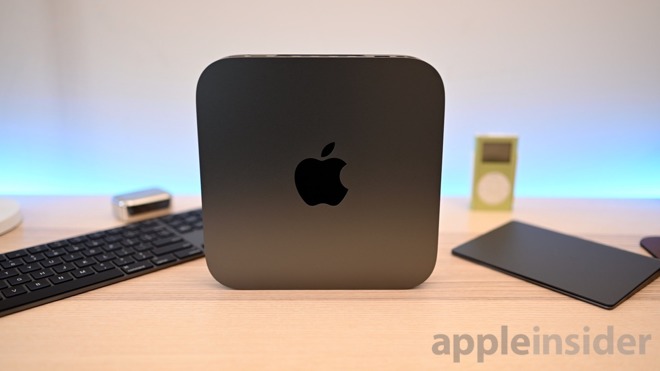 2018 Mac mini
In the box
Apple's
Mac mini
has always been a bare-bones machine and this new model still only ships with the device itself plus a color-coordinated black power cord. Keyboard, mouse, display, all are necessities you will have to provide yourself.
We also have the usual getting started guide, which walks you through the new ports, as well as highlights the Mac mini connected to a display that looks eerily similar to an updated version of Apple's long discontinued Thunderbolt Display.
Apple has teased
a new Pro display coming next year alongside a refreshed and modular Mac Pro. Perhaps this is our first look at it?
What you get
Our review unit has an Intel i3 quad-core processor with a base speed of 3.6GHz, 8GB of RAM, and 128GB of PCI-E flash storage. But, if you're so inclined, there are i5 and i7 versions with six cores, RAM options up to 64GB, and storage up to 2TB of flash storage.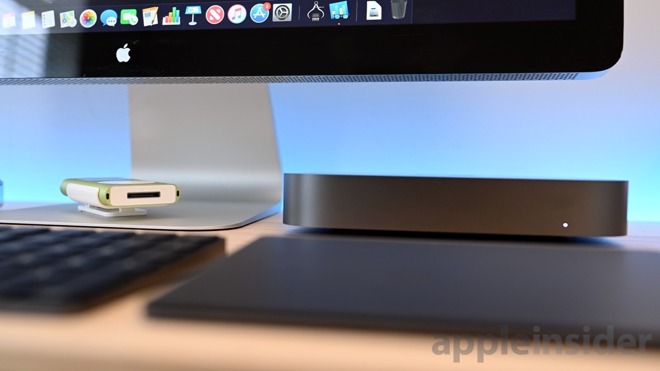 That is a wide range of configurations and is perfect for this machine that spans so many different use case scenarios, from a home media server to sitting in stacks within a render farm.
If you want a maxed out one, however, be prepared to pay -- it'll cost you over $4,200. Our configuration retails for $799.
First impressions
Initially, the Mac mini looks like a lot of the same. It has that same stout body, just with a new finish. We wouldn't hold it against you if you confused the new mini for the old.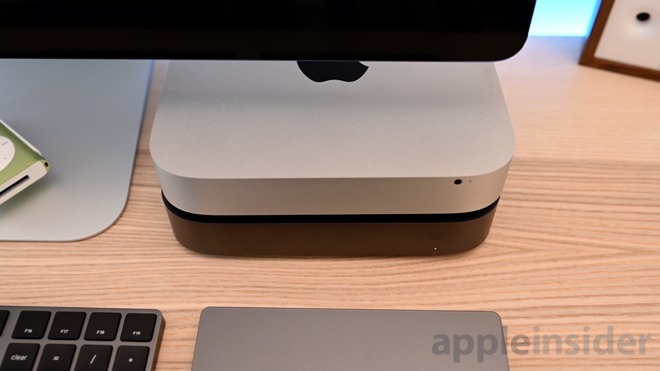 Previous Mac mini (top) and 2018 Mac mini (bottom)
Apple made a big point to note that like the MacBook Air, the Mac mini's enclosure is
made from 100-percent recycled aluminum
. The quality of the metal looks as good as ever, creating a great and minimalistic look.
Flipping it around, there is a quartet of Thunderbolt 3 ports, two USB-A ports, auxiliary audio out, Gigabit or 10-Gig Ethernet depending on configuration, and HDMI 2.0. The cooling system has been redesigned, as has the external vent on the back of the machine which is slightly narrower than the previous, four-year-old model.

2018 Mac mini ports (from left to right): power, Ethernet, (4x) Thunderbolt 3, HDMI 2.0, (2x) USB 3.0 Type-A, 3.5mm headphone jack
We're guessing there will be some tears shed over the lack of any optical audio output, but ultimately that will become a non-issue. For most users, HDMI 2.0 will do a better job and is more flexible than the optical TOSlink connector. It will pass Dolby TrueHD and DTS HD Master Audio, neither of which can get transmitted across that TOSlink cable.
We opted to pair our new Space Gray Mac mini with Apple's Space Gray Magic Mouse 2 and Magic Keyboard to complete that all-black aesthetic.
Upgradability
Our base model came with 8GB of RAM, though it can go all the way up to 64GB. Considering Apple's costs on memory upgrades, the fact that the chips are slotted and not soldered into the board is giant.
This means a user can actually open up the bottom and upgrade the RAM themselves.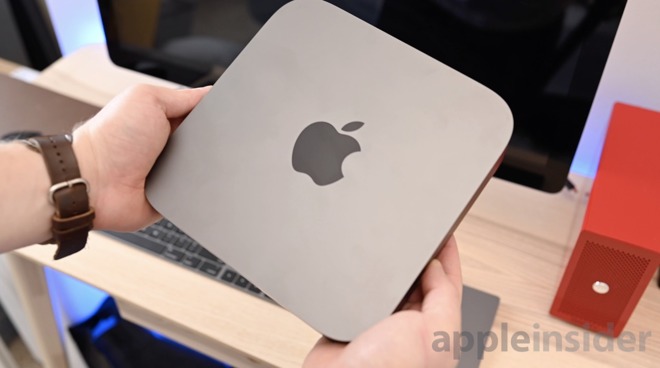 2018 Mac mini
It's a fairly simple procedure, though not as easy as some of the previous minis from 2012 and earlier, necessitating a spudger, and a set of security Torx drivers. We'll be going into the upgrade process at a later date.
Should you opt to upgrade the RAM yourself, you won't void your warranty, but if you happen to somehow damage the machine in the process, you will be out of luck.
You should also keep the original RAM handy because Apple straight won't service the mini without that original pair of chips. Luckily, since they are relatively easy to swap, it isn't a big deal to pop them back in when taking into the Apple Store or Apple Authorized Service Provider -- and frankly, if you're troubleshooting some problem, going back to the original RAM is a good test.
As a downside, the storage is soldered into place, so replacing that yourself is a not possible. Fortunately, external storage is a lot more acceptable on a desktop device.
Benchmarks
Soon, we will be putting the Mac mini through more intensive thermal testing, but for the review, we threw it up against the CineBench R15 and Geekbench 4 tests.
Now that the mini starts with a 3.6GHz quad-core 8th generation Intel Core i3 processor, it should show quite an improvement.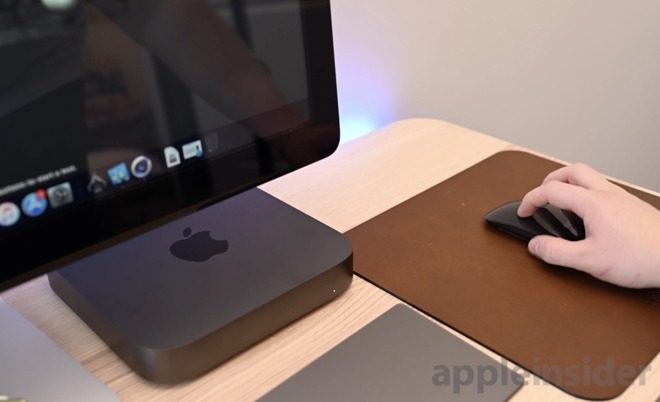 Mac min with Space Grey Magic Mouse 2
We ran Geekbench 4 a number of times, averaging 4,769 and 14,202 on the single and multi-core tests. That compares well to the late 2012 Mac mini with an i7 processor -- the previous multi-core champ -- running at 2.3GHz which pulled 3300 and 11480 on the single/multi-core tests.
This also compares very well to the 2014 dual-core 3GHz Core i7 which was the previous single-core champ with 3705 and 7062 single and multi-core performance respectively. Both of these tests put the new low-end Mac mini ahead of all previous models in the family.
The performance gap gets even larger as you go up to the six-core i7 processor, which we will be talking more about in the future.
For CineBench R15, we averaged around 40 fps on the OpenGL test and a tick above 220 on the CPU test.
A max amount of mini improvements
Other than upgraded processors and ports, Apple packed in a ton of other improvements to this year's Mac mini.
Internally, we've got Apple's T2 security chip which performs a variety of different functions. Other Mac's use it for running the Touch Bar and Touch ID, but the Mac mini doesn't come with a keyboard and so far there isn't an optional one that includes these features. So for this machine, the T2 chip is relied on for secure boot, on-the-fly disc encryption, and hardware-assisted video encoding.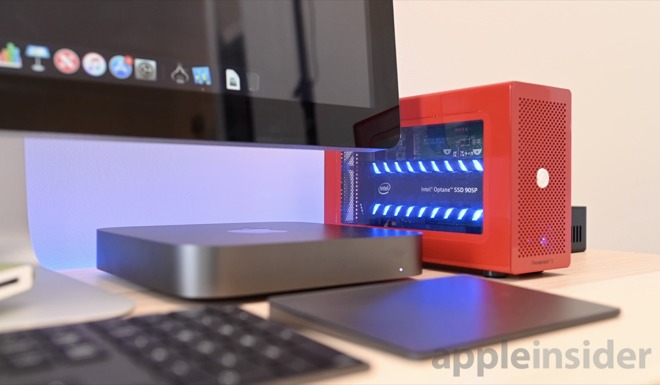 Mac mini with Thunderbolt 3 Akitio Node Lite SSD
We also love that there are so many Thunderbolt 3 ports, as many as there are on a MacBook Pro. This opens up so many possibilities from external GPUs to crazy fast SSD storage.
One area that didn't see much an upgrade is the internal speakers. They exist, but they aren't amazing. Especially as the volume goes up they start to sound a bit fuzzy and they certainly don't have much bass.
Distributed computing
Once upon a time, there was Xgrid, and it was promising, but in actuality finicky as hell and hard to configure properly. Apple killed it as a discrete product in macOS 10.8 "Mountain Lion" -- but the concept of distributed computing lives on.
Apple obliquely referred to users having a stack of them, which set off a flurry of speculation that Apple had some kind of fancy interconnect between machines. However, the truth is more mundane than that.
Apple's Compressor
has the ability
to distribute the "embarrassingly parallel" batch task for media transcoding across multiple computers connected to a Gigabit Ethernet network, and this is what Apple both talked about on stage, and demonstrated in the hands-on area after the reveal. But, at present, distributed processing can't be used for jobs sent to Compressor from Final Cut Pro X or Motion.
Coders can benefit from this stack, however. Xcode allows for
distributed builds
that can theoretically speed compiling times on big projects -- but your mileage may vary on any one of a number of factors that are beyond the scope of this review.
A huge upgrade, with a matching price
The new 2018 Mac mini is impressively powerful, even for the entry-level model. It is encouraging to see Apple deliver such a well-thought-out upgrade that was desperately needed.
We are sure that there will be a wide variety of uses for the new mini, but perhaps not as wide audience for it as there could be. The price has gone up now to $799 for the entry-level model, an increase of $300 over the previous. As a result, fewer people will be able to buy into the new mini.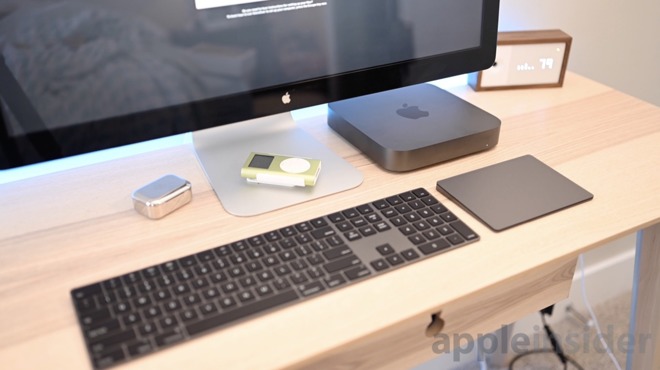 2018 Mac mini
People who are looking for a basic Mac are stuck deciding between the newly inflated price or going for the cheaper, and woefully outdated predecessor, at least while it's still available at third-party retailers.
Still, Mac mini remains the cheapest Mac you can buy and it is more powerful now than it has ever been. While the "low-end" Mac mini packs a lot of performance in a small box and is a decent value assuming you don't need a ton of storage space internal, the ecosystem could use a less expensive one, at a $499 or $599 price-point.
Rating: 4.5 out of 5
Where to buy
Apple's 2018 Mac mini is
available for preorder
from Apple authorized reseller Adorama with no sales tax collected on orders shipped outside New York and New Jersey. Orders are shipped on a first come, first served basis and your cart will not be charged until your Mac mini is ready to ship.
For a full list of deals and product availability across multiple Apple authorized resellers, be sure to check out our
2018 Mac mini Price Guide
. And for more information on how to save up to $310 on Apple's new hardware at Adorama, check out our
buyer's guide
.