Benchmarked: AMD's Radeon Vega 20 gives MacBook Pro big graphics boost
The brand new Radeon Pro Vega 20 GPU option for the 2018 15-inch MacBook Pro is supposed to substantially improve graphical performance. AppleInsider puts the top-of-the-line model fitted with the GPU and the Intel Core i9 processor against the base MacBook Pro equipped with a Radeon 560X to see how much of a difference there is between the two configurations.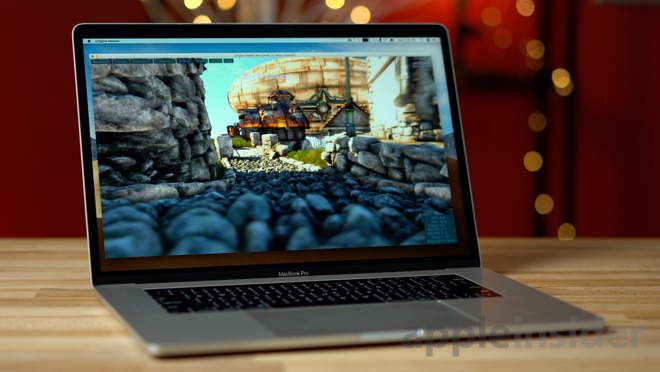 The MacBook Pro with Vega 20 running Unigine Heaven
The option to buy the recently-introduced
Vega-based GPU
configurations aren't immediately offered when customers attempt to buy a 15-inch MacBook Pro from Apple's website. After selecting the model starting at $2,799, two new options under "Graphics" are presented, consisting of a $250 add-on for the Vega 16 GPU and a $350 option for Vega 20.
Both Vega graphics options are packing 4 gigabytes of AMD's latest and greatest second-generation High Bandwidth Memory (HBM2,) which is faster and more efficient than the GDDR5 paired with the Radeon 560X. We went with the more expensive Vega 20 to squeeze out the most performance from Apple's flagship notebook, as well as opting for 32 gigabytes of RAM and the Core i9 six-core processor.
Starting with Geekbench 4's OpenCL Graphics test, the Vega 20 achieves a 37-percent better score than the Radeon 560X, which is seriously impressive. While $350 sounds like a lot to pay, if you're already spending close to or more than $3,000 on hardware, it's probably worth the extra cost for this kind of performance.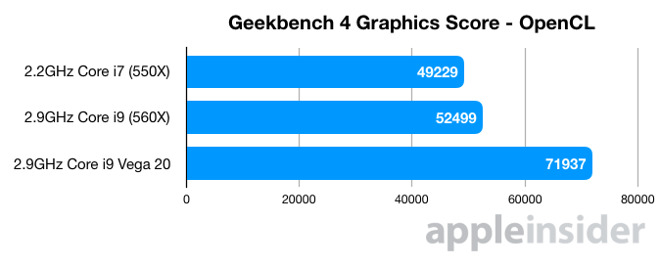 For Geekbench 4's Metal test, there's not as much of an improvement, simply because the Radeon 560X is already a strong performer. We still saw a 23-percent improvement from the Vega.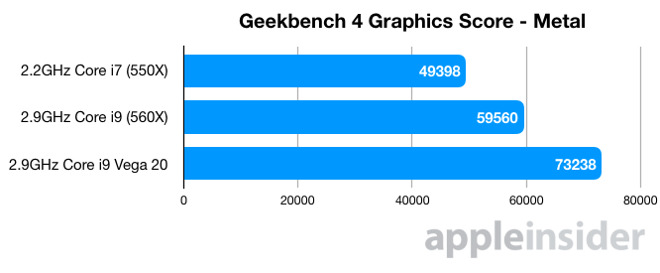 We then tested Unigine Heaven, a benchmark that uses both the processor and graphics card to simulate a video gaming scenario.
Here, the Vega 20 crunched almost twice as many frames per second as the Radeon 560X with the i9 processor, an improvement we weren't expecting to see. This might be the first MacBook capable of running some of the latest video games at high graphics settings and frame rates.

Windows 10 was then installed using Bootcamp for a retest of Unigine Heaven's benchmark, and we were surprised to see that the score went up to 49 frames per second. This shows there's a huge difference between Mac and Windows for gaming, and suggests more testing in this area should be conducted in the future.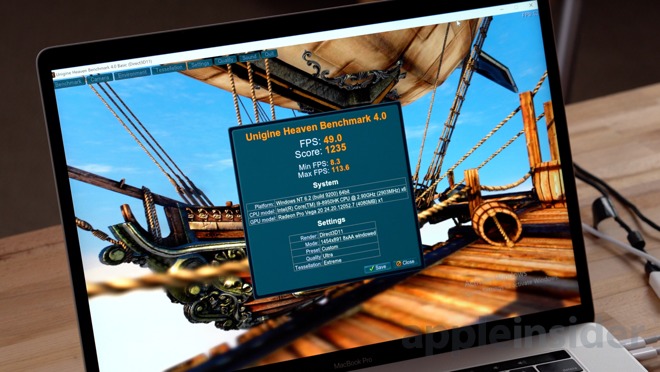 15-inch MacBook Pro with Vega 20 undergoing the Unigine Heaven benchmark in Windows 10
We were curious to see if the new models had any effect on how the i9 processor performed under Cinebench R15's CPU test. To our surprise, the MacBook Pro with the Vega 20 graphics averaged 57 points higher than the i9 MacBook Pro with 560X graphics, but we're not sure if the result is due to software improvements or possible changes made to the cooling system to accommodate Vega.
While these benchmarks certainly do show there is a considerable performance boost by opting for Vega 20, it is only part of the story.
AppleInsider
will be performing more tests in other areas, including video editing, to see how it stands up.
Save $225 to $400 on every Vega MacBook Pro
For a limited time, Apple authorized reseller Adorama is taking
$225 off
every Mid 2018 15-inch MacBook Pro with Vega 16 or Vega 20 graphics for
AI
readers. This deal, which can be activated with coupon code
APINSIDER
using the pricing links below and in our
Price Guide
, delivers the
lowest prices anywhere
on the newly released configurations. What's more, Adorama will not collect sales tax on your order if you live outside NY and NJ. For most customers, that incentive combined with our $225 coupon will save you between $470 to $790 on these brawny new machines.
To snap up the discounts, you must shop through the pricing links below or in our Price Guide and enter coupon code
APINSIDER
during checkout.
Need help?
Send us a note at
[email protected]
and we will do our best to assist.
2018 15" MacBook Pros with Vega 16 graphics
2018 15" MacBook Pros with Vega 20 graphics