Benchmarked: Razer Blade Stealth versus 13-inch MacBook Pro with function keys
At $1,600, the 2019 13-inch Razer Blade Stealth represents an incredible value, boasting a 1.8GHz quad-core Intel Core i7 processor, 16GB of RAM, 256GB of storage and a powerful dedicated MX150 graphics card. See how it stacks up to a comparable MacBook Pro.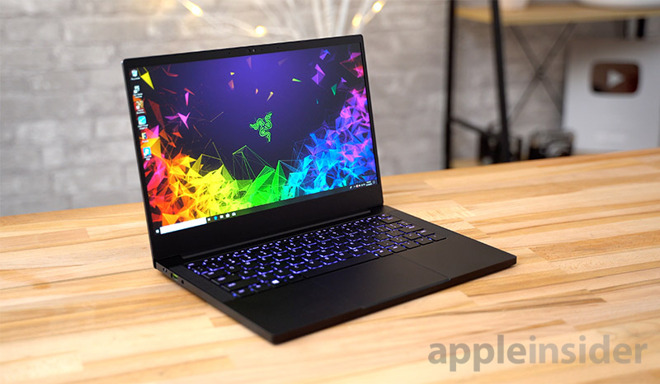 Beyond internals, the Blade Stealth tops most Windows laptops on the market in terms of build quality and design, with a unibody aluminum chassis, large trackpad, great keyboard and incredibly thin bezels around the 100-percent sRGB display.
Apple's 13-inch MacBook Pro without Touch Bar comes closest in terms of price at $1,500, but falls short on paper with a 2.3GHz dual-core Intel Core i5 processor, integrated graphics, 8GB of RAM and 256GB of storage.
We pitted the two machines against each other in a series of benchmark tests. Starting with Geekbench 4's CPU test, the Stealth achieved a single-core score that's only 8-percent better than the MacBook Pro, but in multi-core, the Stealth was much faster. The Razer managed a multi-core score of 16,017, some 67 percent above the MacBook Pro's score of 9,577.
The Stealth also topped the MacBook Pro in Cinebench R15's CPU test with relative scores of 665 and 375.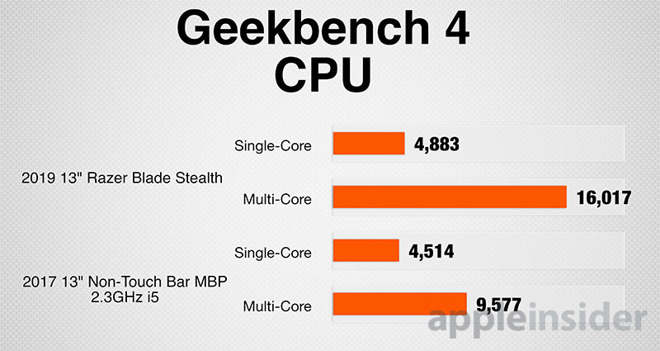 Moving on to graphics, the Stealth completely blew the MacBook Pro out of the water in Geekbench 4's OpenCL test, turning in a score of 47,516. That figure is 53 percent higher than the 31,075 score out of the Mac's integrated Intel Iris Plus 640 chip.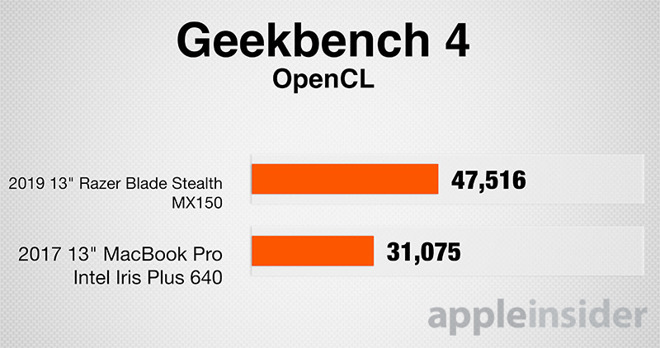 Turning to Cinebench R15's graphics test, which measures performance in terms of calculated frames per second, the Stealth again easily outperformed. Razer's laptop shot up to 86.64 fps compared to only 37.93 fps on the Mac.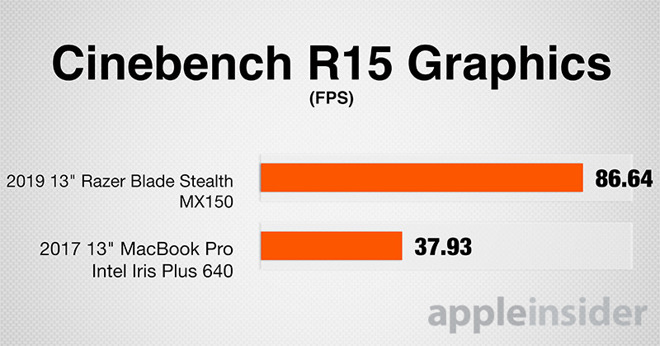 Finally, we ran Unigine's Heaven benchmark to see how well each laptop would perform under a gaming workload. The 13-inch MacBook Pro only scored 8.8 fps compared to 19.5 fps on the Blade Stealth, which is a massive difference. Keep in mind that games, and this benchmark, run better on Windows than they do on Mac due to software optimizations.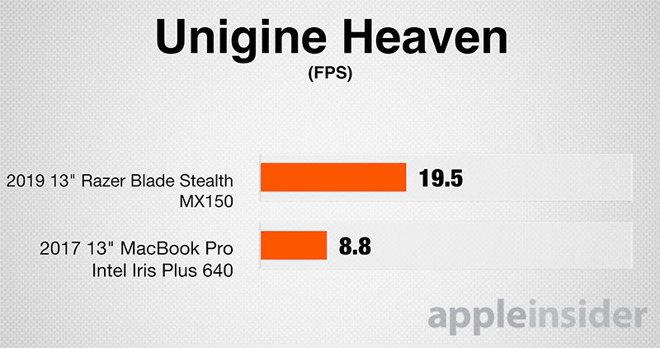 Based on the results, the 13-inch Razer Blade Stealth appears to offer incredible performance for a relatively low price point. It should do a pretty good job at gaming and even video editing, attributes made all the more surprising given its thin size.
Unfortunately, the 13-inch Non-Touch bar MacBook Pro lags behind both in performance and value.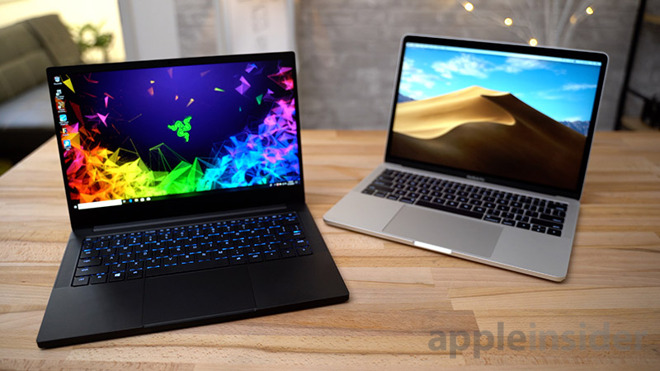 Apple's new
2018 13-inch MacBook Pro
packs a quad-core processor that might keep up with the Razer, but at a base price of $1,799, you only get 8GB of RAM and integrated graphics. The specs of that model actually match up more closely to the base Blade Stealth, which also comes with 8GB of RAM, integrated graphics and 256GB of storage. That said, the cheapest Stealth runs $1,400, $400 cheaper than the quad-core 13-inch MacBook Pro.
Overall, the new
2019 13-inch Razer Blade Stealth
is definitely a performer, offering the most bang for your buck when it comes to performance. That's not the only piece of the puzzle, however, as Mac users will note Apple laptops tout a superior design, are more reliable and come with a trouble-free operating system.