How the iPhone XS and iPhone XS Max will fare against the Samsung Galaxy S10
Posted:
in iPhone
edited January 2019
With the impending launch of Samsung's Galaxy S10 next month, rumors and benchmarking suggest that it won't be as fast as the current generation of iPhones. Based on the pre-launch processor leaks, how will the iPhone XS and iPhone XS Max fare against the next big thing to come out of Samsung?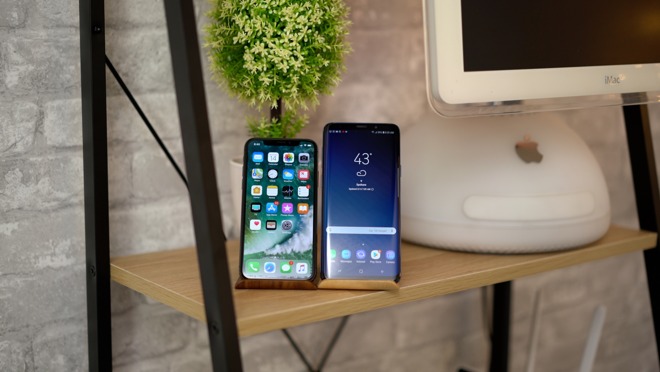 The iPhone X next to the Galaxy S9
Samsung is expected to unveil its Galaxy S10 at a recently announced special media event set to take place on
February 20th
in San Francisco. Just a few days ago, a supposedly official Samsung press image was leaked
by
evLeaks
, suggesting the upcoming Galaxy S10 lineup will feature three handsets, potentially of different sizes and capabilities.
While relatively few items are known about Samsung's device before its release, details of the performance of its processor may already have been made public.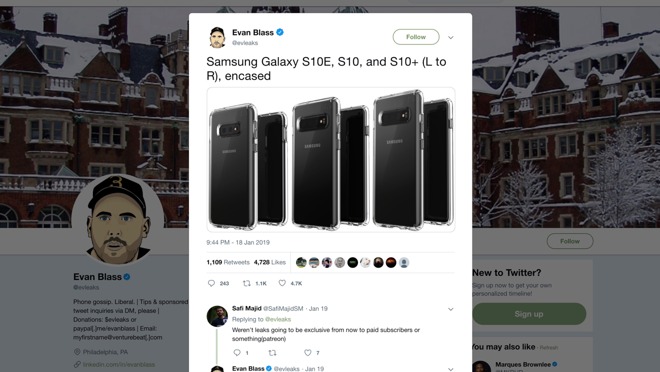 A leaked image of supposed Samsung S10 devices via @evleaks
Possible benchmarks
The top-end Galaxy S10+ is rumored to be one of the first phones to employ the Qualcomm Snapdragon 855 processor.
Benchmarks
for the Snapdragon 855 have also leaked, specifically Geekbench 4 scores, with the S10+ apparently scoring 3,413 points in the single-core test and 10,256 in multi-core.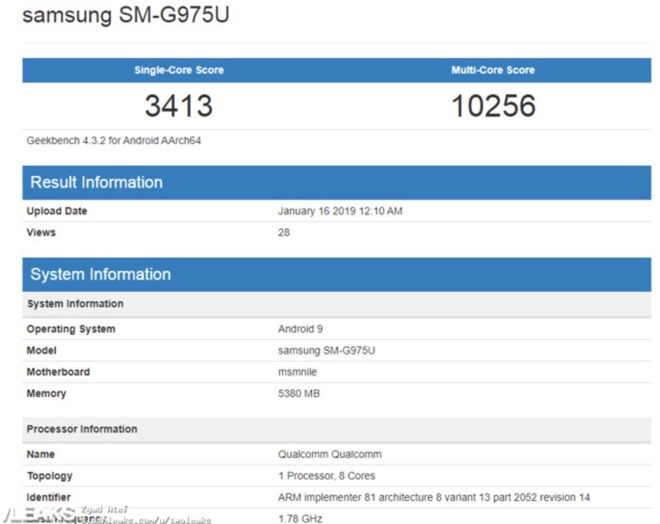 Alleged benchmarks for the Galaxy S10+ on Geekbench
Now here's where it gets interesting.
The iPhone X from 2017, powered by Apple's A11 Bionic processor, actually scored higher in both single and multi-core tests compared to the leaked Galaxy S10 benchmarks. The iPhone X achieved 4,224 points in single-core and 10,677 points in multi-core.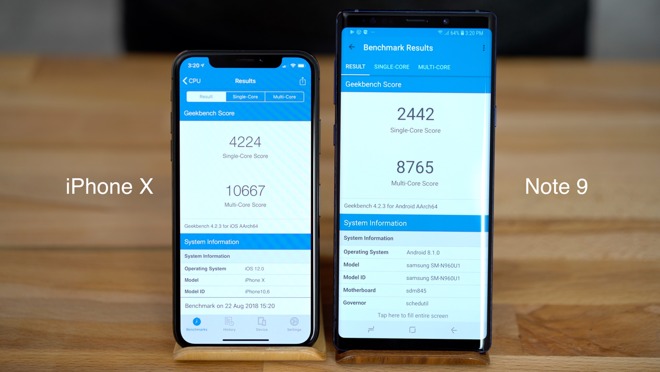 Geekbench scores for the iPhone X and the Note 9
That was the iPhone X, but what about the iPhone XS and iPhone XS Max? The iPhone XS scored
incredibly well
in everything from processor to graphics performance. In Geekbench 4, it churned out a single-core score of 4,803 as well 11,447 in multi-core, and it even managed a higher Antutu score than any other smartphone on the market with 364,287 points.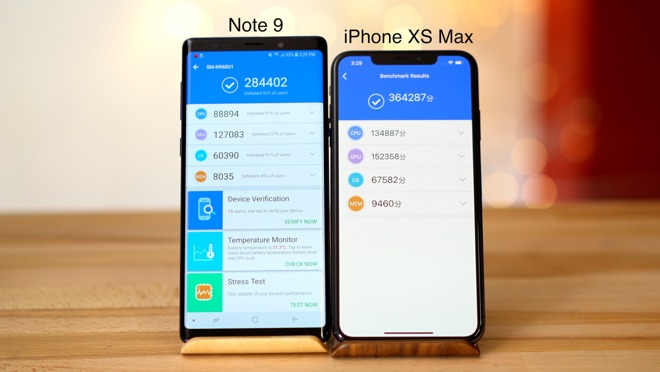 Antutu tests for the iPhone XS Max and Galaxy Note 9
However, Antutu itself recently tested a reference device packed with the Snapdragon 855. That device managed a score of 362,110 in Antutu's graphics benchmark, close to the one reported for the iPhone XS Max.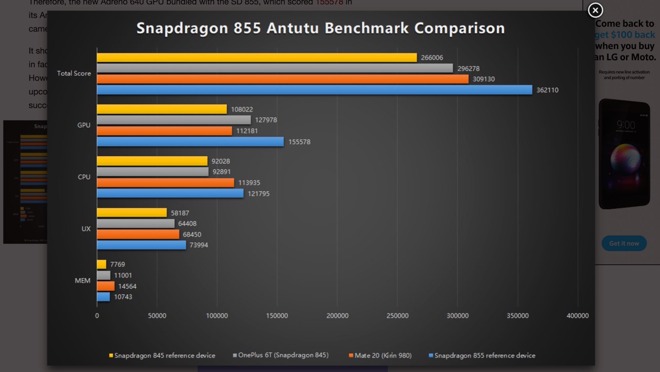 Antutu benchmarks for the Snapdragon 855
Does it matter?
So if the Galaxy S10's processor is quite a bit slower than the A12 Bionic, what does that mean for the iPhone vs Samsung Galaxy flagship debate? Not much, really.
Flagship smartphones these days are reaching such high levels of hardware performance that nearly all but the most demanding apps run as smoothly as possible. Almost everything you can do on a flagship smartphone runs perfectly fine for the vast majority of users.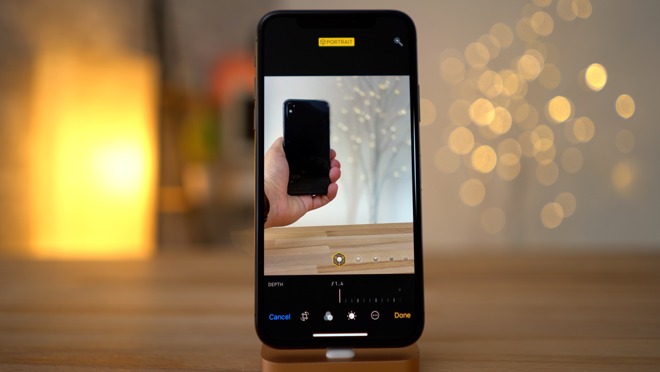 The iPhone XS Max's Portrait mode
For example, even though the iPhone XS Max is significantly more powerful than the iPhone X, you can't really feel those differences in everyday use.
Recently, Epic Games released a patch allowing 2018 iPhones to run the wildly popular game Fortnite at 60 frames per second at high settings. This makes for a pretty amazing gaming experience that you simply can't get on older smartphones.
When we last compared
Apple and Samsung
devices using Fortnite, it was the iPhone XR and the Note 9. While the XR's powerful A12 processor was able to run the game perfectly, the Note 9 struggled with some dropped frames, even at only 30 frames per second.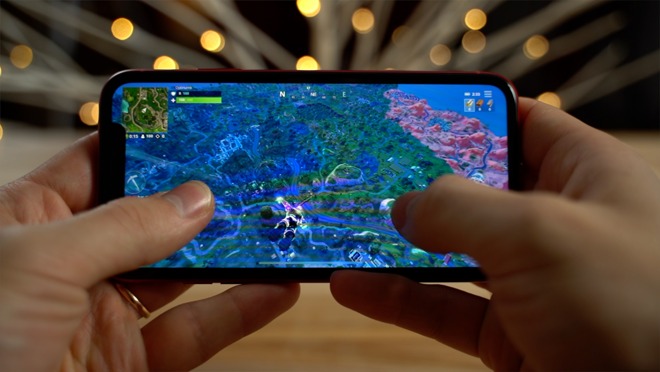 Playing Fortnite on the iPhone XR
These types of demanding apps or games are what we need to actually feel the extra power in the latest flagship phones. Unfortunately, there simply aren't that many apps that can use these phones to their full potential.
For that reason, you likely won't see much of a difference between Samsung's Galaxy S10 and the iPhone XS Max in real world use. Sure, there's differences in physicality and the interface, among others. While there is likely going to be a big difference in performance in the iPhone's favor, the vast majority of the user base just won't perceive it without closely scrutinizing both devices.
The purchasing choice you make really comes down to which operating system you enjoy using more given that prices appear to be very similar between the two.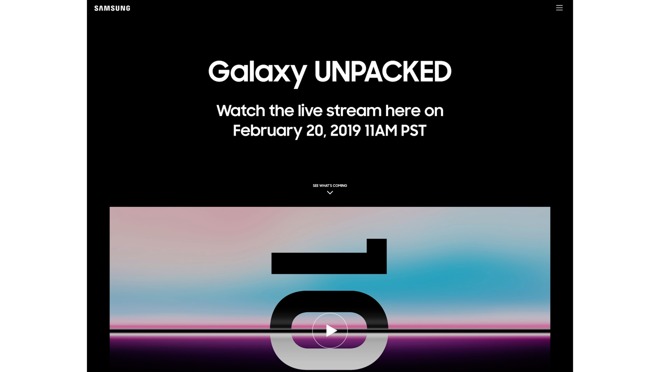 Samsung's notification of an incoming Unpacked event
AppleInsider
will be acquiring the Galaxy S10 shortly after launch to give it a thorough examination, and to pit it against the iPhone XS Max.