New iPadOS lets you use a mouse to control your iPad and iPhone apps [u]
The first beta release of the new iPadOS has a hidden and big feature -- mouse support.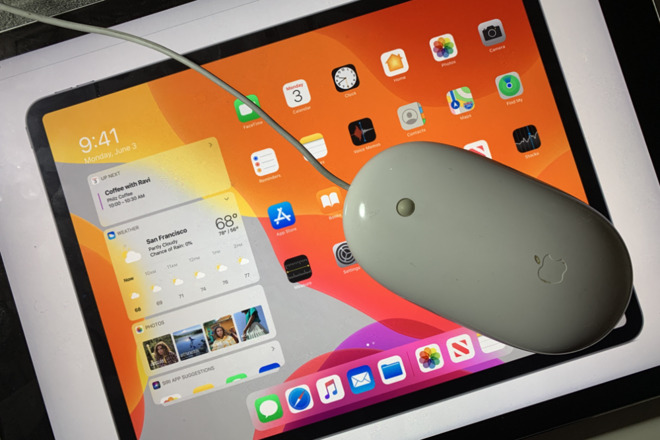 Developers using the first beta of iPadOS have found that you can control the software using a mouse plugged into your iPad. The feature was not announced by Apple, and it is a part of the accessibility options rather than a default. The same option, though, will also allow you to wirelessly connect an Apple Magic Trackpad.
Writing on Twitter, developer Steve Troughton-Smith shows an iPad screen being controlled a mouse cursor. He clicks controls within apps and also manipulates the home screen with it.
The feature is similar to the long-standing iOS one that let you replace the old physical Home button with an on-screen icon. It was intended for people who had any difficulty pressing the Home button, but also tended to be used by people whose buttons were failing or broken.
In use, the mouse cursor doesn't resemble a regular Mac one so much as a virtual finger, such as you might see in screencast recordings.
Troughton-Smith also confirmed that the same feature is available when you use an Apple Magic Trackpad paired to your iPad running iPadOS.
AppleInsider
will be reporting live throughout WWDC 2019, starting with the keynote on Monday, June 3. Get every announcement as it happens by downloading the
AppleInsider app for iOS
, and by making sure to follow us on
YouTube
, Twitter
@appleinsider
,
Facebook
and
Instagram
.
Update:
Troughton-Smith confirmed the mouse feature also
works on iPhone and iPod touch
.