Who are Alan Dye and Evans Hankey, the design leads replacing Jony Ive?
Following the announcement of Apple's chief design officer
Jony Ive
departing to his own independent design company later this year, design team leaders Evans Hankey and Alan Dye will gain more influence over how future Apple products are created. AppleInsider profiles the two design principals.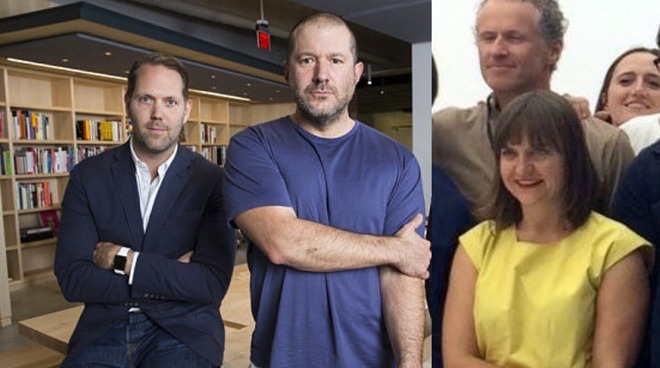 On Thursday, Apple revealed Jony Ive
will be leaving
the iPhone maker after nearly three decades at the company. His new creative firm, LoveFrom, will still allow Ive to work closely with Apple as it will be his firm's first client, but Ive won't be an actual Apple employee or member of management.
While no new chief design officer has been confirmed for the role, Apple advised in its announcement design team leaders Evans Hankey and Alan Dye will report to chief operating officer Jeff Williams.
"The team will certainly thrive under the excellent leadership of Evans, Alan, and Jeff, who have been among my closest collaborators," Ive said. "I have the utmost confidence in my designer colleagues at Apple, who remain my closest friends, and I look forward to working with them for many years to come."
Hankey position is the vice president of Industrial Design, which indicates she will be working mostly on hardware, while Alan Dye's position as vice president of Human Interface Design means he is in control of how software should appear and function to users.
Relatively little information is known about either of the two design leads, but both have served under Ive for a number of years, so both have a wealth of knowledge and experience in the field.
Alan Dye
A graduate of Syracuse University, Dye has been at Apple since 2006, arriving at the company as a "creative director." Starting from the marketing and communications team, Dye's ideas for the boxes products were packaged inside, such as painting the corners by hand to eliminate scuffs, helped propel him into new roles, sending him into the human interface group at the company.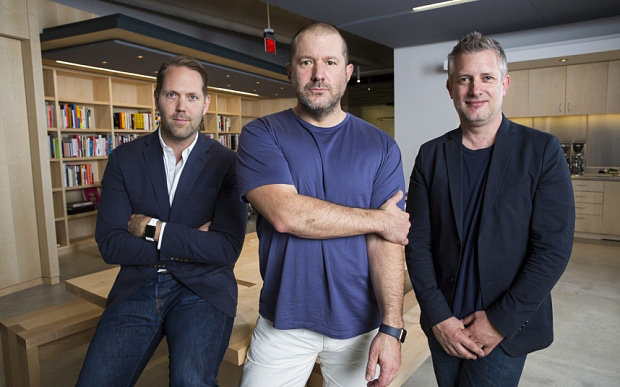 Alan Dye (left) with Jony Ive (center) and Richard Howarth [via The Telegraph]
In that role, he worked on iOS 7, and worked closely with Ive at the conception of the Apple Watch, helping create the interface for the wearable device. In a
2015 interview
, Ive said "Alan has a genius for human interface design. So much of the Apple Watch's operating system came from him."
At the time of Ive's ascent to
CDO in 2015
, Dye was joined by Richard Howarth to handle day-to-day affairs within the design teams, but their positions were diminished when
Ive returned
to have a more hands-on approach to management in late 2017.
During his time managing on behalf of Ive, Dye made appearances at Apple Stores, typically a choreographed attendance that is reserved for higher management levels, and only for a select few.
In the nine years between graduating and joining Apple, Dye had worked for Ogilvy and Mather's Brand Integration Group and as a designer for retailer Kate Spade. Dye also worked as a freelance graphic designer, with his work used by major publications and book publishers.
Evans Hankey
Few details about Hankey are available, with the design lead keeping far away from the limelight. This also extends to her
LinkedIn
profile, which simply lists her as working in "industrial design" at Apple, and having studied industrial and product design at Stanford University.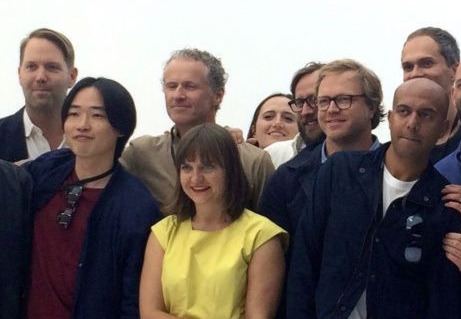 Evans Hankey (dressed in yellow) with other members of the design team [via MacGeneration]
Hankey has been working for the design team for an unknown number of years, but managed the design studio as part of her role. Her experience is likely to help as she assumes more responsibility for the design team on behalf of the company.
A former member of the design team, May-Li Khoe called Evans "undercredited in my personal opinion," advising on
Twitter
Hankey had been doing a good job at the helm for quite some time. "To be frank, I found her pretty inspiring, Khoe admitted.
Aside from helping design many iconic products, Hankey has also been credited as an inventor on
hundreds of patents
and application filings.
In one interview, Ive confirmed an iPhone photographed for the book "
Designed by Apple in California
" was owned by Hankey,
commenting
"Isn't it cool? She destroys her objects. But I thought there was something so charming about that. I thought it was lovely to put that in. We design tools to be used, and she definitely uses them!"
The name Evans Hankey was also used in the original introduction of the Apple Watch, to demonstrate the interface for an incoming call.
Given her more prominent role, it is likely more information about Hankey, as well as Dye, will be revealed in the coming months as they take up their roles.
Read on AppleInsider