All three 2020 iPhone models expected to have 5G wireless connectivity
Posted:
in iPhone
edited June 2020
Apple analyst Ming-Chi Kuo expects a trio of iPhones in 2020, and revising a previous prediction, he now thinks that all three will have 5G, instead of just two of them.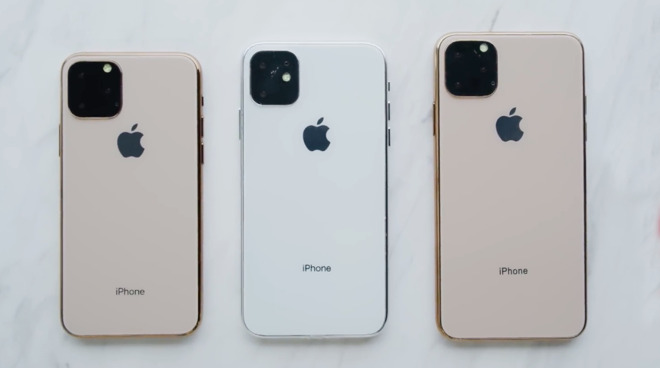 The rear cameras on dummy models of Apple's expected new iPhones, with a similar design expected for 2020. Render by Benjamin Geskin
In a research note,
Ming-Chi Kuo
from TF Securities cites competition from 5G adoption in high-end Android phones, forcing the revision from Apple. As a result of the proliferation, Kuo believes that consumer sentiment will demand that all of the 2020 models have the technology.
What isn't yet certain is if Apple will release a 5G phone without mmWave technologies for some markets like China that only will support sub-6GHz networks. Kuo believes that "Apple and EMS who are currently focusing on developing and testing mmWave may not have enough development resources if Apple would like to develop the 5G iPhone, which will only support Sub-6GHz."
For
5G specifically
, frequencies can be generally categorized into one of
two groups
-- low-frequency sub-6GHz bands, and higher-frequency 6GHz bands. The first low range consists of bands that are currently used for existing mobile network communications, as low as 600MHz and up to 2,600MHz, though it can also include "C-Bands" up to 4,700MHz.
The 6GHz band is referred to as mmWave in the US. It is the part of the 5G specification that delivers the fast speeds -- assuming that a handset is within the short range of a mmWave transmitter.
Rumors have suggested that Apple will use a smaller TrueDepth camera -- allowing it to
shrink the notch
on OLED screens -- plus a seven-piece lens system for the rear camera. A more questionable claim is that there could be
a China-exclusive model
that switches out Face ID for subscreen Touch ID.
A
recent rumor
suggests that the Taptic Engine responsible for all of the iPhone haptics will see a revision in 2019, and carried along to the 2020 iPhone.
It is generally believed that Apple will have
three models
, all of them OLED-based, in 5.4-, 6.1-, and 6.7-inch sizes. Kuo previously believed that the 6.1-inch unit would forego 5G support, relegating it to mid-tier status like 2018's iPhone XR