Analysts predict Apple Pencil support in 2019 iPhone - again
Posted:
in iPhone
edited July 2019
An analyst prediction for the 2019 iPhone refresh has suggested the inclusion of support for the Apple Pencil, a potential feature that has occasionally surfaced in rumors over the last few years, but has yet to actually make an appearance in the final product.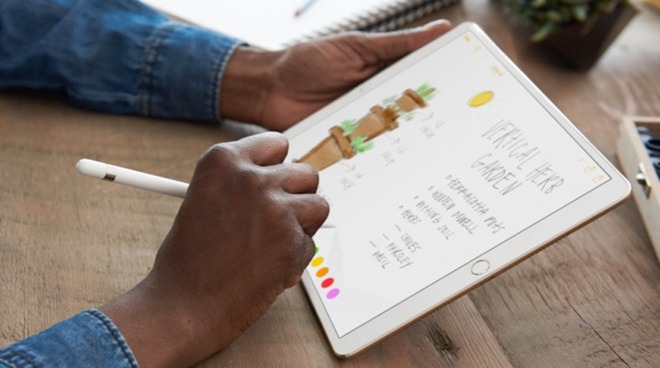 A report by Citi Research following Tuesday's Apple quarterly financial results has, as other analysts have done in their own
investor notes
, offered suggestions for what to expect from this year's iPhone updates. The list of specifications are in line with other predictions, but it notably also includes a reference to the Apple Pencil.
"Support for iPhone Pencil/Stylus" is one of the listed features Citi Research believes is on the way,
reports
Business Insider
, alongside a bezel-free screen, larger batteries, and the triple rear camera setup on two of the models. There is also the claim there will be a 10-megapixel front-facing camera, while the rear sensors will be 14-megapixel versions.
Citi also believes the two triple-camera models will cost $1,099 and $999 respectively of physical size, while the third with a dual-camera arrangement will start from $749.
The prediction from Citi Research echoes an often-repeated rumor that stylus support of some kind would be included in the iPhone.
Two reports
in
August 2018
proposed the iPhone XS and iPhone XS Max would support the Apple Pencil, while one from
October 2017
suggested Apple engineers were not only working on the concept, but that it could surface in the 2019 versions.
Since the rumors began of iPhone Apple Pencil support, Apple has already moved on to its
second generation
of the accessory, with each generation able to be used only on specific models of iPad or iPad Pro, and with the Apple Pencil 2 adding wireless charging and a tapping mechanic.
Other rumors and speculation for the iPhone class of 2019 has the collection including two OLED display models and one LCD, similar to the 2018 models, the
removal of 3D Touch
from all models in favor of Haptic Touch, and an upgraded
Taptic Engine
.